7 Affiliate Marketing Tips That Helped Me Increase My Income
One of the best ways to make money from blogging is through affiliate marketing.

What is Affiliate marketing?

With Affiliate Marketing you are rewarded for recommending and promoting products and services that you have on your blog. You will receive a commission for any sales that occur from your referral link.

For example, if you are an affiliate for a product on Amazon and post that direct link within' you post and someone clicks on it and purchases the item through your link then you will be rewarded and earn a commission. Each month I make income from affiliate marketing and it's one of my favorite ways to make money from blogging. You can literally set up your affiliate link on some of your posts on your website and make passive income every single day. This post will share how you can set up your affiliate links on your website and make extra money.
Related Posts
---
1. Write "How to"( Tutorial) posts
Have you ever seen the "How to start a blog" posts on Pinterest? If so, that's an example of a "how-to" tutorial post. I actually have a "how-to" post on my website which does really well. In the post, I show my readers how to start a profitable blog step by step. The post is more like a mini-tutorial or mini-training lesson.
In the same tutorial post, I link in my affiliate link from Bluehost, and every time someone signs up for Bluehost through my link I will receive a commission. The post shows my reader in full detail on how to start a blog in one day. I also give information and resources about how to make money from blogging and where to find free stock photos for blog posts. Click here to see an example of my tutorial "how to" post.
2. Write review posts
Have you read a great book lately that has taught you a ton about the blogging world or taken a dope Pinterest course that has helped increase your website traffic? If so, you can write up a review post about it and get paid.
If the author or course creator has an affiliate program ask them about how you can sign up to be an affiliate for their program to promote their product.
Once you get accepted into their affiliate program you can then write up a blog post about why you love the product and why your readers would love the product too. In the post, you can also let your readers know how they will benefit from the product and show them your results from the book or course. It's a plus if you include charts and graphs to show your growth from the ebook or course in the post as well.

In the post, you can include your affiliate link from the creator's program, and every time someone clicks the link and purchases the product through your link you will be rewarded and paid. It's a great idea to put the link throughout the post and anytime you mention the course or ebook.
3. Post your affiliate link within posts
Once you have some tutorial and review post written make sure to put your affiliate links within the post.
Find your top 5-10 posts and post your affiliate links at the beginning and throughout those posts. Make sure not to go overboard with affiliate links within a post. Just add your favorite 5 to 10 links within a post. Below is an image of how I link in affiliate links in some of my posts. If you are an affiliate with survey sites then you might have about 5 to 10 affiliate links in one post with different survey companies. Click here to see an example of a post with survey affiliate links that I promote to my audience. Every survey site that I mention in that post is an affiliate link that I trust.
4. Use Pinterest To Boost Traffic
So, when you've written up a review or a tutorial post, the next thing you want to do is make multiple pinnable images for the post to promote it on Pinterest.

I normally design 2 to 3 pinnable images for all my Pinterest posts right on Canva. You want to make sure to test out 2 to 3 different Pinterest images on Pinterest to see which one does the best on the platform. Make sure to promote your affiliate posts on your group boards and also your personal Pinterest boards daily.
5. Promote Products That You Trust
When I promote different products on my website I make sure to do research about the products and test out the products, ebooks, and courses myself. I honestly don't want my audience to go through a hard time or have a bad experience with a product that I promote on a daily basis. So, I always tell others to only promote products that they can totally back up and have tested out themselves. You want to build a relationship with your audience and a great way to do that is by promoting products that you trust.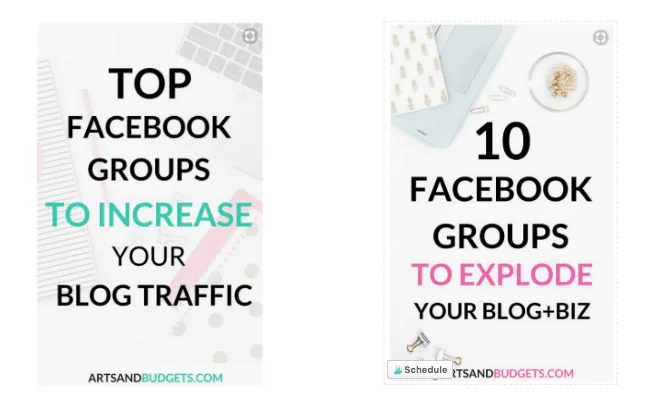 6. Leave An Affiliate Disclosure On Your Posts
On all my posts with affiliate links, I make sure to let my audience know by putting a disclosure at the beginning of the posts. The reason I let my audience know when I have affiliate links within a post is to build trust and understanding.
It's also just a friendly reminder to my readers to let them know that affiliate links are included in the post. I put my disclosure at the top of every post on my website and link it to my disclosure section on my website. Below is an example of where I put my disclosure in my posts.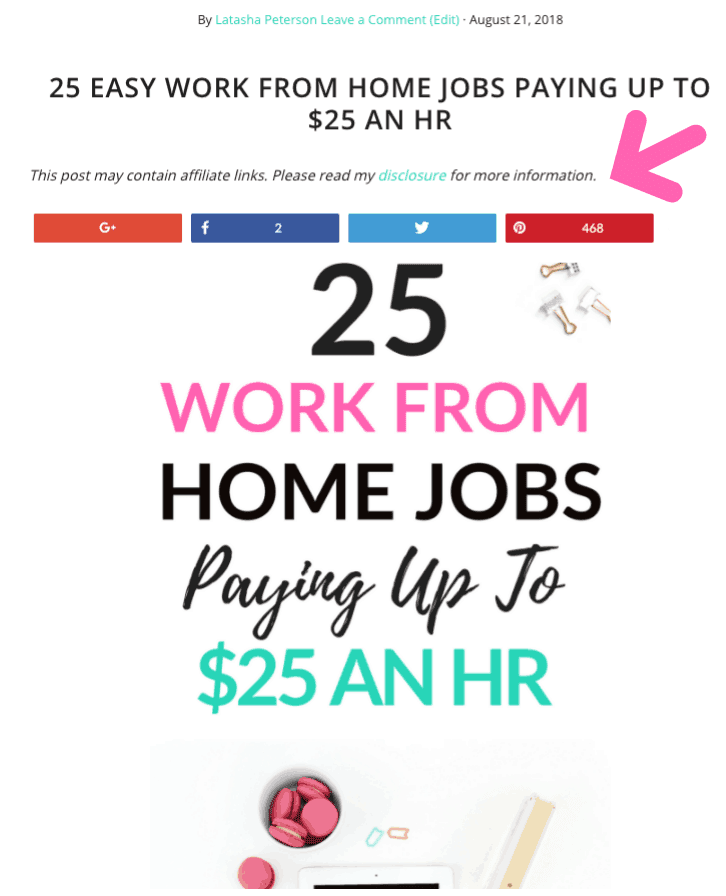 7. Promote Your Offers To Your Subscribers On Your Email List
Another great way to promote your affiliate links is to your email list and Facebook group.
Oh, if you don't have an email list read this post where I share some ways to rapidly grow your email list this month.
So, if you have an email list of any size and/or a Facebook group you can promote different products, courses, and ebooks to them that you recommend. At times, you can reach out to your affiliate marketing company that you work with and ask them if they have any deals you can give your email list or Facebook group. For example, if you are an affiliate for Siteground hosting you can ask them if they will run a deal where your subscribers can sign up for 24 hrs for a lower price. At times, the different affiliate marketing companies will do it.
Final Thoughts
So, if you are looking for ways to help boost affiliate marketing sales these 7 quick tips can help point you in the right direction. Do you currently make money with affiliate marketing? If so, what are you favorite platforms.