Last Updated on
10 Ways To Make Extra Money From Side Hustles
Looking for different Side Hustles to make extra money this month?
Last year I started researching different ways to make extra income from side hustles to start paying off extra debt and to my surprise, I was able to find a lot of great opportunities. While working full-time teaching, I decided to pick up some side hustles to save and make extra money.
Over the course of months, I ended up saving around $300 -350 per month doing different side jobs. The best thing about making extra money on the side is that some of the jobs were actually fun and interesting and didn't require a lot of time. Some of the jobs didn't even require me to leave my home.
Below I have listed numerous side hustles I've done to increase my monthly income that you can do to. 🙂 I list my favorite ones first but there is something on this list for everyone. So, if you are looking to make extra money or to pay down debt check out the list below.
Let's jump in to find out how to make extra money!
RELATED POSTS
---
1.

Start A Blog
Are you passionate about something and want to get your voice heard on topics such as personal finance, fashion, cooking, social media or more? If so, starting a blog might be up perfect for YOU!
Since I have started my blog it has SERIOUSLY changed my life. I have been able to stay at home with my first child and work my blog + biz and make over $1500 each month while doing so.
How can a person make a living blogger? There are a ton of ways a person can. Check out this article to learn about the many ways to make money blogging by clicking here.
If you are new to the blogging world and haven't started a blog yet, you can start one today! For more information on how to set up and start a profitable blog check out my step by step tutorial by clicking here!
Below are some posts to help get you started with making money with your blog this year
2. Make Money From

Surveys
About a year ago I started looking into different survey sites to make extra money and some of the ones I found turned out to be AMAZING!!!.
While working a full-time job I was able to make extra money and get gift cards from different survey sites daily.
I have used different surveys sites to pay for Christmas shopping, birthdays and more. Below are some of my TOP faves survey sites to earn extra money and rewards!
3. Drive Your Car
Yes! You can make money by driving your car around your city. One of the quickest ways to earn extra money for the holiday season is to drive for companies such as Uber and Lyft. My husband currently makes an extra $300 driving for Uber two days a week.
I thought it was uber awesome because he works a few hours both days which are typically Friday nights and Saturday afternoon and gets an extra $300 for the week. How cool is that?
If you are looking to make money QUICK joining companies like Uber and Lyft are definitely great options. Below are different ways to make extra income with your car.
4. Become A Tutor Online

If you are looking for an amazing platform to tutor students on Course Hero would be a great side hustle for you. This platform hires individuals to teach subjects such as Finance, Math, US History, Physics, Accounting, Economics and more on a daily basis.
The average tutor gets paid $500 per week and gets to pick their own weekly schedule. This company doesn't require their tutors to be certified tutors or professors but they do require that you share sufficient credentials to prove that you have expertise in your subject of choice. Check out Course Hero by clicking here!
5. Sign up for Affiliate Marketing Programs
Do you know how I made my first paycheck from blogging? I actually made my first paycheck from blogging using affiliate marketing.
I am an affiliate for different survey companies and at that time I earned my first $100 by suggesting different survey companies to my readers that were looking for ways to make extra money. I recently wrote a post on how I made over $1800 blogging in one month and most of my income for that month came from affiliate marketing!
Some of my favorite affiliate programs to check out are Bluehost, Shopify, IGain, , and Flex Offers.
6. Submit Your Receipts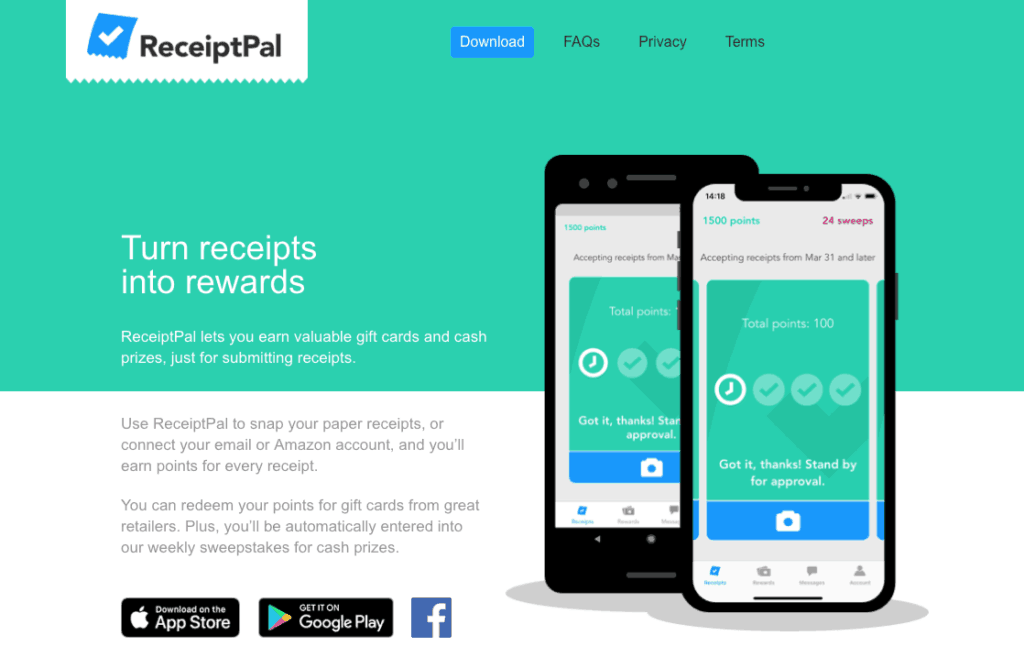 Another cool and easy to earn rewards and gift cards is by submitting your receipts on ReceiptPal! This app lets people earn rewards for submitting the receipts of their daily purchases on their Apple or Android phone.
Another huge plus in using this app is that you can keep track of all your spending in a secure location and it can help organize your receipts without the headache. Check out ReceiptPal by clicking here!
7. Virtual Assistant
About a couple of months ago, I started doing a remote Marketing Assistant gig for an on-demand storage company. Basically, I performed marketing-related tasks and assisted in the coordination of the events all while working from home.
I made $15 hr and work this job after I got off from my full-time job. It didn't take a lot to complete the tasks and I was in the comfy of my own home.
Listed below are some Virtual Assistant job platforms.
.

8. Become A Brand Ambassador
As a Brand Ambassador, I was hired to promote brands in a positive light to the public while providing consumers with a memorable face to face experience. When new events came to my town I was hired by promotion companies to help assist them with the different tasks to make sure the events ran smoothly.
The best thing about being a brand ambassador was that I could work weekends and get paid around $100 per day for the event.
Pretty Neat, Right?! Below are some of the Brand Ambassador companies I have worked with.
.

9. Rent Out Your House or Apartment
Do you have an extra room that you aren't using? Or maybe a guest house that nobody lives in? If so, you can totally put it up on Airbnb and make $1000+ a month just by hosting your place.
I recently stayed at amazing Airbnb and the host makes over $3,000 a month from renting out her guest house each month.
Check out Airbnb and sign up by clicking here.
10. Teach Students Online
Are you fluent in English? One of the coolest and funniest side jobs I signed up for is VIPKIDS. Currently, they are hiring thousands of people to work at home and teach English online to kids in China. Don't worry, you do not need to know any foreign language.
This job rocks because you can set your own schedule and you can actually do the interview process online.
You will earn between $16-20 per hour which can add up fast as many teachers are currently earning $2000+ per month. Check out VIPKIDS by clicking here!
Some other places that hire people to teach online are: TutorVista, EduWizards, PrepNow, and Cambly
11. Make Money With Your Phone
This is one of the coolest ways to make extra income and you can do it right from your phone. You can download some of the apps listed below and start earning money today. Some of the payouts may be small, but every little bit counts, right?
12. Become A Pet Sitter With Rover
Are you good with animals and love being around them? If so you can work for places like Rover. Rover is a website and app that helps connect pet owners with pet sitters and dog walkers in their neighborhood. They currently have over 85,000 sitters and walkers nationwide.
When you sign up you have to submit a photo of yourself and photos of your home and information about your own pets. They also offer customer service 24/7 via email, phone and online chat, which is amazing.
13. Freelance Write
If you love writing you can totally get paid to write for different places online. Different companies will pay you to write different subjects online. The pay varies but you can get paid up to $100 writing one article for different blogs online such as Penny Hoarder, Listverse and more. If you are looking for other places online to get paid to write check out this post which shares over 20 places online that will pay bloggers to write by clicking here.
14. Rent out your car
If you have more than one car or have a car that you don't really use as much you can totally rent out your car with companies such as Turo and Just share it and Get A Round.
The cool thing about the company Get A Round is that every trip includes $1,000,000 insurance and 24/7 roadside assistance. On the site, it also says that the average owners make an additional $6,000 per year just by renting out their car.
15. Put Your Services On Fiverr
Are you good at editing and proofreading papers or designing logos and more? No matter what type of service you offer, you can more than likely offer it on Fiverr and the awesome thing is that you can get paid for doing so. Simply create a profile on Fiverr to showcase your work to a large amount people which in turn can turn into clients.
I know a ton of people who are making full-time income right from Fiverr by doing voiceover work, data entry work and more. Check out Fiverr here.
16. Do Social Media Management
Similar to doing Virtual Assistant work you can do social media management for different clients around the world. I know from past experience that handling social media accounts can take a TON of time. So a lot of companies look for Social Media gurus to handle their social platforms such as Instagram, Facebook, and Twitter.
Pay varies but you can make great money while traveling doing what you do every day on social media. Sounds Fun?! Below are some places you can find social media gigs!
17. Sell Your Photos Online
Are you good at taking photos and want to make extra money? Then selling your photos might be one of the best side hustles to add to your list.
Photography companies are always looking for new photos to showcase on their sites. Places like Snapwire, Pexels and Istockphoto are places online where you can actually earn money from your photos. #Wowzers!
18. Do Voice Over Work
Ever wonder how much fun it would be to be a voice-over actor? The great thing about being a voice-over actor is that you can do it anywhere which is a huge plus for travelers and people on the go. Different companies hire voice over actors for radio, the Internet, and Television gigs to do voice-over work for children's audio books, cartoons, commercials, and more.
.. As a beginner, I suggest putting together a voice over demo and you can do that by going to a professional recording studio or by setting it up yourself. If you do it yourself make sure to get a great microphone and a set of great headphones.
On the demo, you would record different voices that you can do such as cartoon characters so that the different clients that you audition for can see if you would be a good fit for the role. Your demo will be your resume for auditions! To find voice over work you can check out these places: Freelancer, Upwork and Fiverr.
19. Help Test Out Websites
I started testing websites last year, and I really like how fast I could earn extra income. Each testing site varies in terms of income. Some will pay you $10 while others might pay you $12 per test so, it depends on which ones you qualify for during that time. It should take about 15 to 30 minutes to complete each task depending on the test. Test assignments vary, but a person could make an extra $100 or more per month completing the different tests, which normally pays via PayPal.
20.Background Actor in TV & Film
Yup! That's right I have done a ton of background actor work in my hometown and surrounding areas of Chicago. This is one of the many side hustles that I love to do on a monthly basis. I have worked on television shows such as The Boss, Chicago PD, Empire, Chicago Fire, Sense 8 and more.
I make anywhere between $75 to $150 per day depending on the background role. The casting companies normally have a great lunch or dinner set up for the background actors as well. To find these roles I normally go on Facebook and search the casting companies in Chicago and get updates every day on the new roles.
When looking for opportunities around the world I normally get email updates from a company called, Audition Free. You can check them out HERE. Please note, you will NEVER have to pay to be an extra/ background in any movie, commercial or television show.
21.Focus Groups
If you are looking for some great side hustles Focus group should be apart of your list. Focus group are another way to side hustle. Recently, I participated in a focus group for a new mascara product. I had to test out the new mascara for a week and give my opinion of the product at the end of the study. I also received a $50.00 Visa Gift card for my opinions on the product! Woohoo!
I normally like to do about 1 to 2 Focus groups a month. Also, while I was pregnant with my son I participated in a great focus group that wanted pregnant women to give their opinions on probiotics and newborns and it was amazing.
After the study, they give us a check for $250 for only 2 hours of our time.
Below are my favorite focus group websites.
Alright! That's it for now! What are some ways you make extra money each month with Side Hustles?
---
---
.