This post may contain affiliate links. Please read my disclosure for more information.

Hi, Creatives!
Are you currently looking to save some extra money? If so, this is the post for you!  I have always loved checking out the Dollar Store to find out which items I could buy on a budget for my house. I recently found more items a person can buy from the Dollar Store to save thousands of dollars each year.  Let's dive in to find some goodies.
RELATED POSTS:
How To Teach English From Home and Make 20Hr
15 Ways To Make Money While Traveling
10 Side Hustles I've Done To Make an Extra $300 A Month
---
10 Things You Should Always Buy At The Dollar Store To Save A Ton Of Money
Birthday and Party Items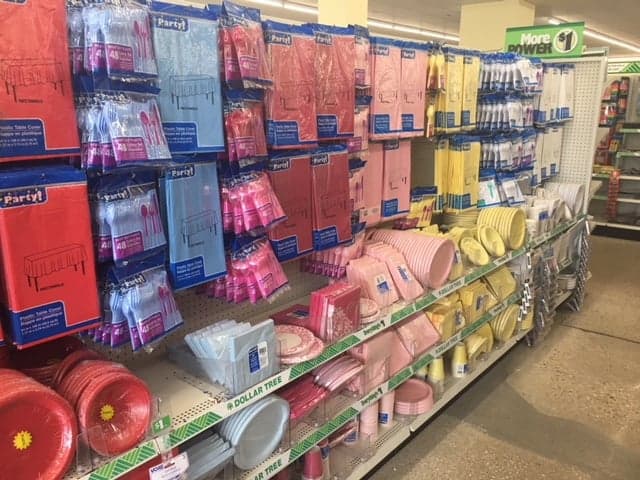 One of the main things I get from different dollar stores is event and party items. When I was pregnant I got a ton of decorations right from the dollar stores and they looked great. I purchased items such as table cover sheet, plates, cups, eating utensils and more. I even got vases and flower table decorations to decorate the tables nicely. The total budget came out to be around $50 for all my decorations and it was totally worth it.  Some  party items and decorations you can get from the Dollar Store are:
Candy and Sweets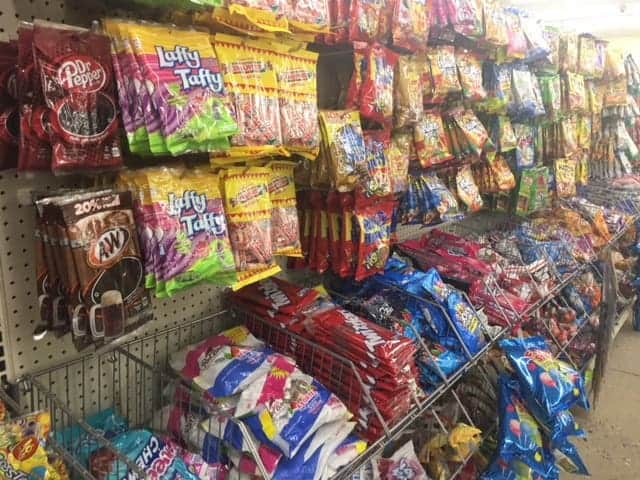 Do you have a major sweet tooth today? If so you can totally get name brand candy right from dollar stores such as the Dollar Tree on a budget. When I had my son's first birthday party I got candy from the dollar tree for the party bags to save $30+ bucks. So, if you are having a party and want to save on the candy totally check out your local Dollar Tree and stock up on all the candy you want. Some brands of candy that they dollar store have are:
Makeup & Beauty Products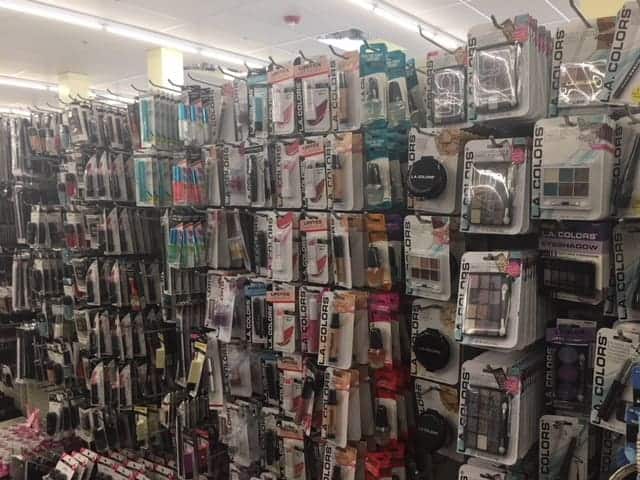 Where are the makeup lovers at? Did you know some of the top beauty gurus use makeup right from the dollar store?. I recently saw a video of a beauty blogger who used dollar store make-up and she looked flawless. The video was by a blogger named Raye and the video has over 1 million views so far. Talk about amazing.!
So, if you are looking to stay on a budget with your makeup check out Raye's video and see which make up items are the best to get from the Dollar store.
Cleaning supplies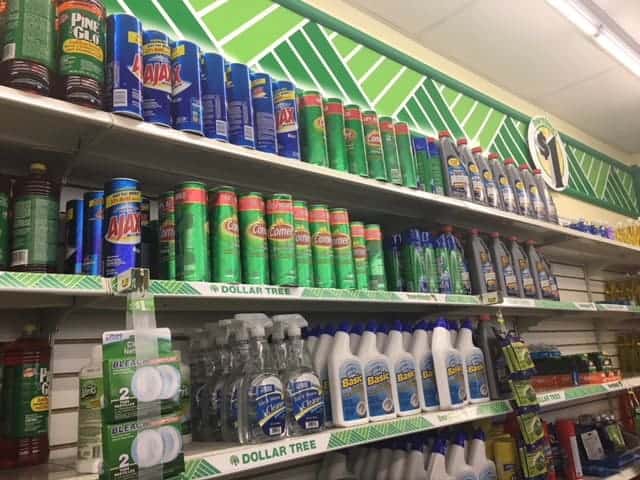 If you are looking to stay on budget and keep your house clean you can totally pick up cleaning supplies right from a dollar store. If I am on a budget I totally go to my local dollar tree and pick up cleaning items for my house. The awesome thing about picking up items from the Dollar tree is that they have name brand items such as Arm & Hammer, Dawn, Lysol and more. I normally pick up items such as cleaning gloves, bleach, and floor cleaning soap. You can find a ton of cleaning supplies right at the dollar store for a low price.
Sandwich bags
My house always runs out of sandwich bags quick so it's a huge plus that my local dollar tree has them in stock everytime I go there. So, if you have children in daycare or school you can totally get their sandwich bags for their lunches right from a dollar store and save a ton of money every month.
Hair Supplies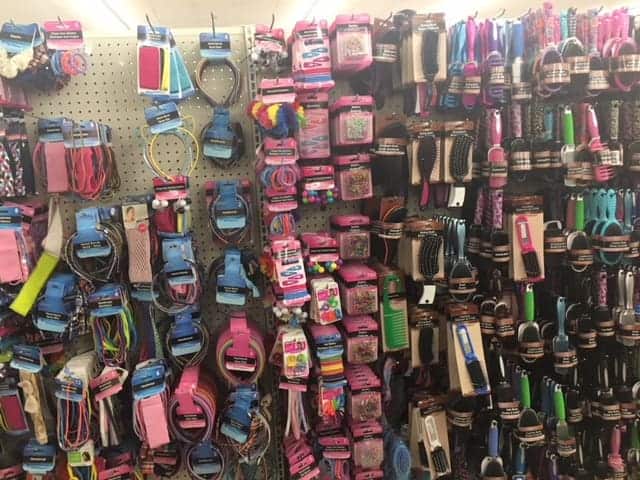 If you are looking for quick hair supplies such as ponytail holders, brushes, and combs you can totally grab them at your local store. I have gotten ponytail holders and other hair supplies right from my local Dollar Tree.  I know first hand how expensive hair supplies can be so being able to save every now and then is a plus for me.
Hand Soap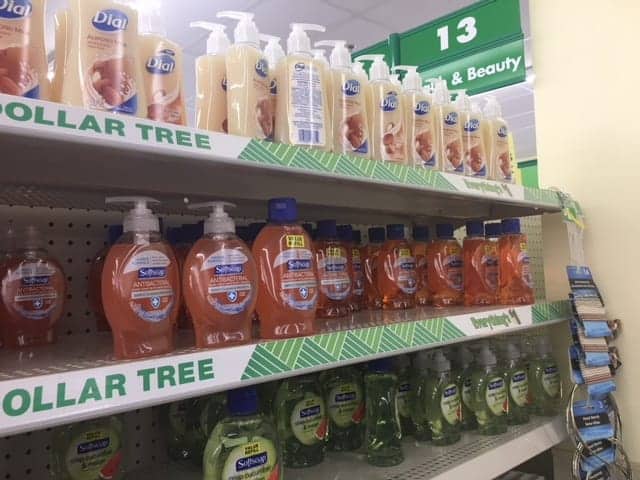 If you looking to buy hand soap on a budget you can check out any Dollar store for their collections of hand soap. From my local dollar store, I have found Dial and Soft Soap.  I tend to buy Dial and it's one of my favorite hand soaps to use at my house. So, if you're looking to save money totally check out the different brands of hand soap at your local dollar store.
Storage containers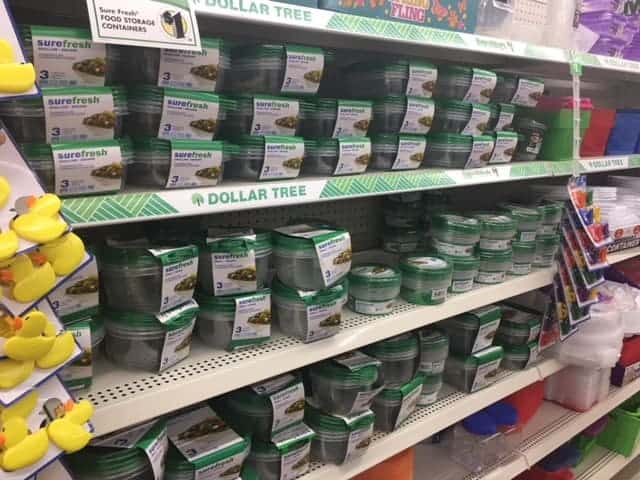 Running low on storage containers? If so, check out the Dollar Tree to stock up on new storage bins for food. If you are meal prepping buying multiple food storage bins is a great way to get super organized.  You can also get some great deals on foil for freezing meals as well.
School  and Office Supplies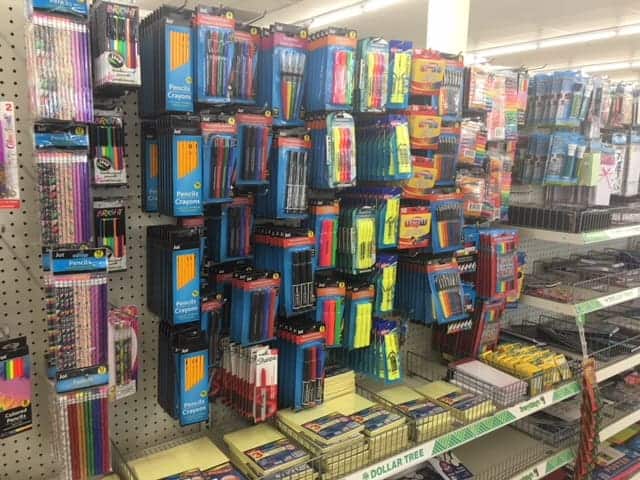 Did you know you can find great school supplies right from the dollar store? Whatttt? Yes, you can and the quality is great too. You can also find great supplies for your office such as pens, pencils, notebooks, sticky notes, folders and more. I totally pick up pens, folders, and organizers right from the dollar store and save a ton of money getting those items from there. So, if you are low on supplies for your children or even for yourself, check out the dollar store.
Toiletries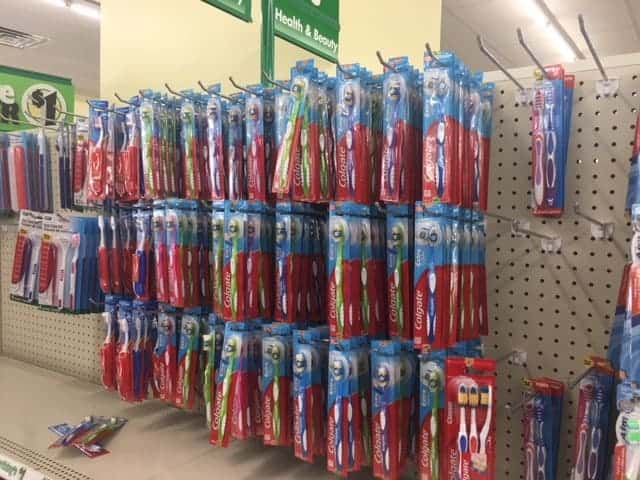 If you are going on a vacation or just want to stock up on personal and on the go items you can find a ton of great items at the dollar store. I know a lot of people who buy their toothpaste right from the dollar store every month and save a great amount of money each year by doing so. Some of the items you can find are deodorants, mouthwash, cleaning soaps and more. *Pro Tips: Buy the name brand items over the generic brands at the dollar store of toiletries.
---
TOP RESOURCES + RECOMMENDATIONS TO MAKE MONEY + SAVE MONEY QUICKLY.
QKids: With Qkids you can get paid up to $22 an hr to teach in China. Don't worry, you do not need to know any foreign language and their team also create all the lesson plans for you! #Score Check out Qkids by clicking here.
How To Start A Blog:  Starting a blog has been one of the best decision I have made thus far. I have been able to stay at home with my first child and work my blog + biz and make over $1500+ each month while doing so. If you haven't started a blog thus far but want to get started I have some resources for you.  Rock Your Blog Course: This is a free course to help beginners start a profitable money-making blog today!  How To Start A Profitable Blog Post: This post gives beginner full details on how to start a profitable blog in minutes
Pinecone Research & Swagbucks:  Both Pinecone Research and  Swagbucks are some of my favorite survey sites to earn gift card rewards and/or extra money online quickly Check out Swagbucks by clicking here and  Check out Pinecone Research by clicking here.