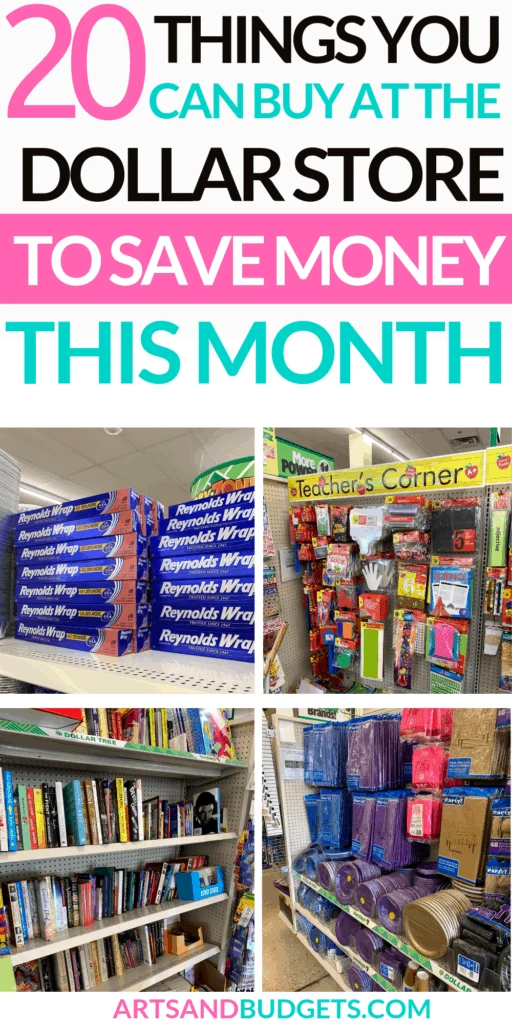 Are you a big Dollar Store fan and looking for ways to save money on different household items?
If so, this is the post for you!
One of my hobbies is going to the Dollar Store to find the best deals and hacks that any person can use to stay on budget and save money.
I have always loved checking out the Dollar Store to find items for my house and to find fun things that will entertain my children. So, when I am not finding ways to make extra money I often check out deals at my local Dollar Stores.
By going to the Dollar Store for certain items I have been able to save around $200 a month which equals out to be $2,400 a year! After seeing how much we saved from picking up certain items from the Dollar store, I decided to write a whole post on the top items that I get from there to save money.
---
20 Things You Should Always Buy At The Dollar Store To Save A Ton Of Money
1. Birthday and Party Items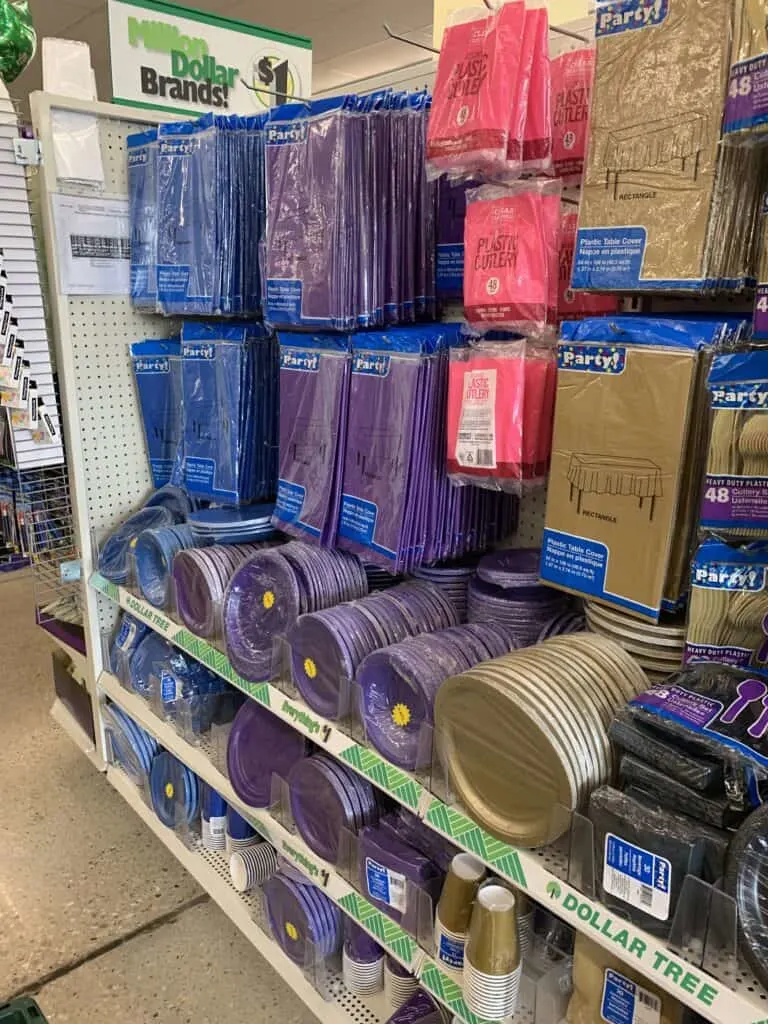 One of the main things I get from different dollar stores is party items for events. When I was pregnant with my first son I got a ton of decorations right from the dollar stores for his baby shower. I saved a lot of money on items that would have cost me much more from places such as Party City.
For his baby shower, I purchased items such as table cover sheets, plates, cups, eating utensils, and more. I even got vases and flower table decorations to decorate the tables nicely.
The total budget came out to be around $50 for all my decorations and it was totally worth it. So currently if I am put together a party for my sons or a quick event I will go to the dollar store to pick up some party items. Some items and decorations you can get from the Dollar Store are:
Gift bags
Paper plates
Cups
Table Sheet Cover
Eating utensils
Food containers
Balloons
Games items
2. Candy and Sweets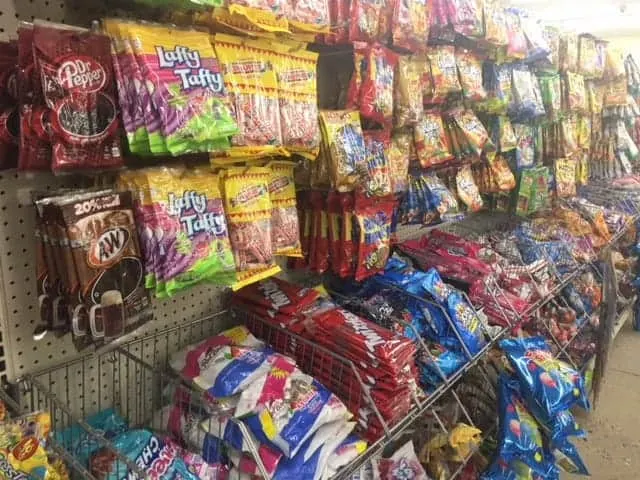 Do you have a major sweet tooth today or just looking for some candy for the party? If so you can totally get name-brand candy right from dollar stores such as the Dollar Tree on a budget. When I had my son's first birthday party I got candy from the dollar tree for the party bags to save $30+ bucks. After I got the candy I picked up some party bags and put the candy in the bags for the guest. Since I am not a huge candy person I don't buy a ton but it does come in handy for parties and events.
So, if you are having a party and want to save on the candy totally check out your local Dollar Tree and stock up on all the candy you want. Some of the brand of candy that my Dollar Store had in stock were
M & M's
Airheads
Reese's
Dot's
Whopper's
Tootsie's Roll
Snicker's
3. Makeup & Beauty Products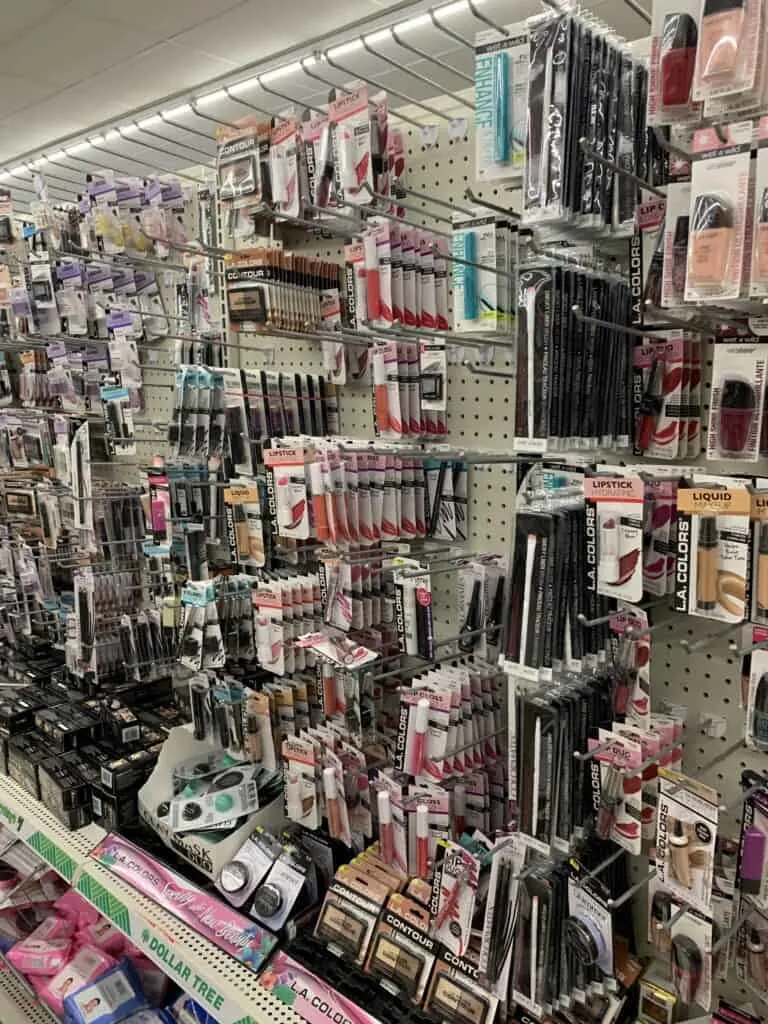 Where are the makeup lovers at?
Did you know some of the top beauty gurus use makeup right from the dollar store?. I recently saw a video of a beauty blogger who used dollar store make-up and she looked flawless. The video was by a blogger named Raye and the video has over 1 million views so far. Talk about amazing.!
So, if I need to add to my makeup collection I pick up a few make-up items right from the Dollar Store to stay on budget.
So, if you are looking to stay on a budget with your makeup check out Raye's video and see which makeup items are the best to get from the Dollar store.
4. Cleaning supplies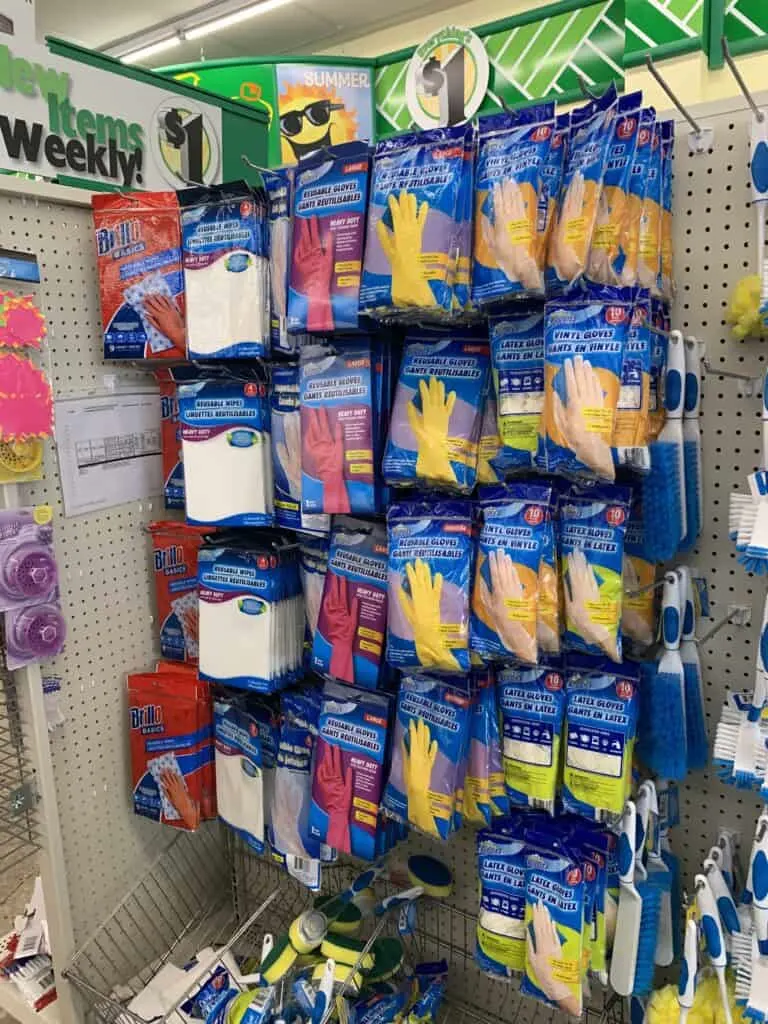 If you are looking to stay on budget and keep your house clean you can totally pick up cleaning supplies right from a dollar store. I absolutely love getting cleaning supplies from the Dollar Store because they tend to always have a large stock of different items.
So, If I am on a budget I totally go to my local dollar tree and pick up cleaning items for my house. The awesome thing about picking up items from Dollar tree is that they have name-brand items such as Arm & Hammer, Dawn, Lysol, and more.
I normally pick up items such as cleaning gloves, bleach, and floor cleaning soap. You can find a ton of cleaning supplies right at the dollar store for a low price.
5. Sandwich bags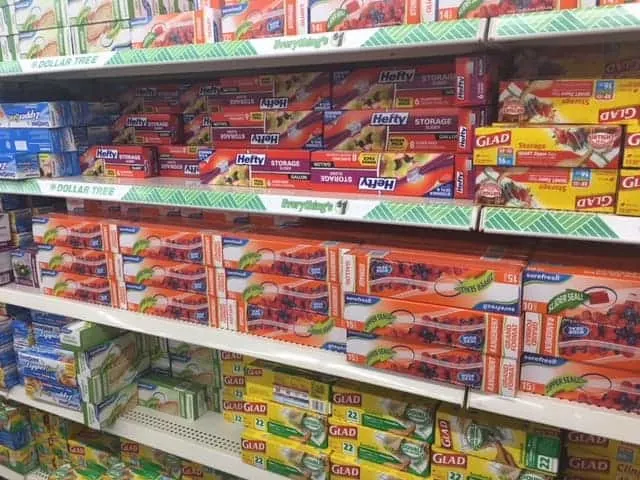 My house always runs out of sandwich bags quickly so it's a huge plus that my local dollar tree has them in stock every time I go there. My husband and I go to the Dollar Store to get a ton of sandwich bags and stock them up in my house. Since we go through sandwich bags so quickly it helps us stay ahead of the game.
So, if you have children in daycare or school you can totally get their sandwich bags for their lunches right from a dollar store and save a ton of money every month.
6. Hair Supplies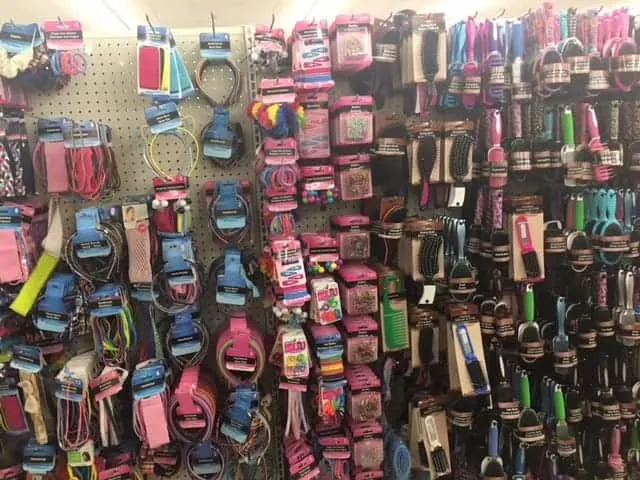 If you are looking for quick hair supplies such as ponytail holders, brushes, and combs you can totally grab them at your local store. I have gotten ponytail holders and other hair supplies right from my local Dollar Tree. I know first-hand how expensive hair supplies can be so being able to save every now and then is a plus for me.
I would often spend so much money on hair products and accessories that I knew I needed to find ways to save in that area. In the past, I would go to different stores where the supplies cost more and buy a ton of items and my bill would be over $50 almost every single time. So, checking out what my local Dollar Stores have in accessories has helped me save and budget effectively.
7. Hand Soap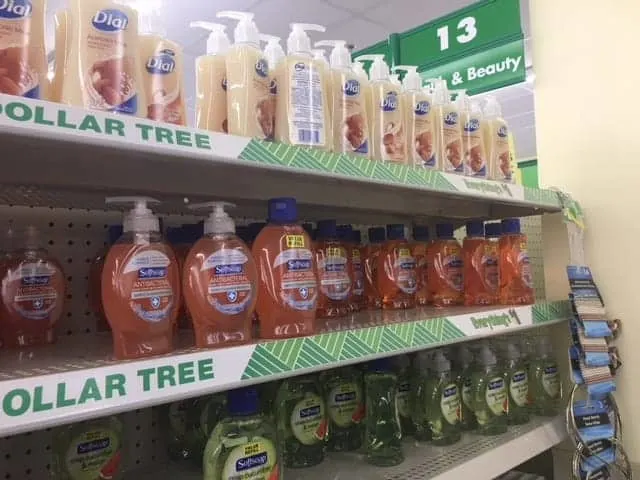 If you looking to buy hand soap on a budget you can check out any Dollar store for their collections of hand soap. From my local dollar store, I have found Dial and Soft Soap. I tend to buy Dial and it's one of my favorite hand soaps to use at my house.
It's a great idea to pick a day out of the month and go to the Dollar store and get a ton of hand soap for the bathrooms in your home. Since they are only one dollar each you can get around 4 to 5 hand soaps per month and be all set. if you have children like me you probably go through a lot of hand soap throughout the day. (smiles)
So, if you're looking to save money totally check out the different brands of hand soaps at your local dollar store.
8. Storage containers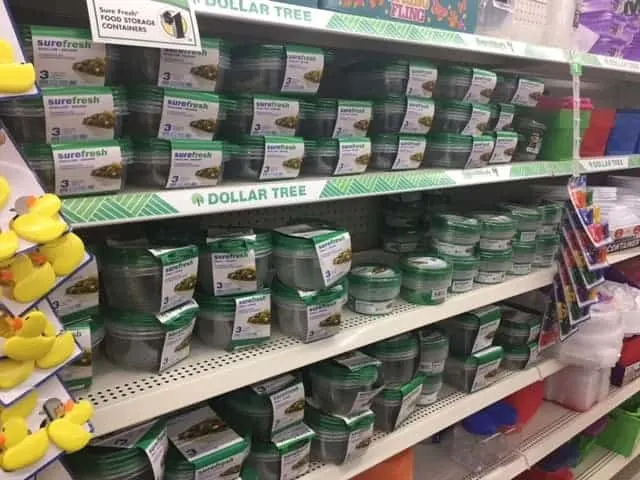 Running low on storage containers? If so, check out Dollar stores such as the Dollar Tree or Dollar General to stock up on new storage bins for food. I love buying storage containers for food from the Dollar Store because they have so many to pick from and so many different colors.
I am currently on a journey to lose 20 lbs and the containers I got from my local Dollar Store have come to my rescue and helped me save so much time and money.
So, If you are meal prepping, buying multiple food storage bins is a great way to get super organized. With my meal storage containers from the store, I map out all my meals for the week and store the bins in the fridge. You can also get some great foil deals for freezing meals.
9. School and Office Supplies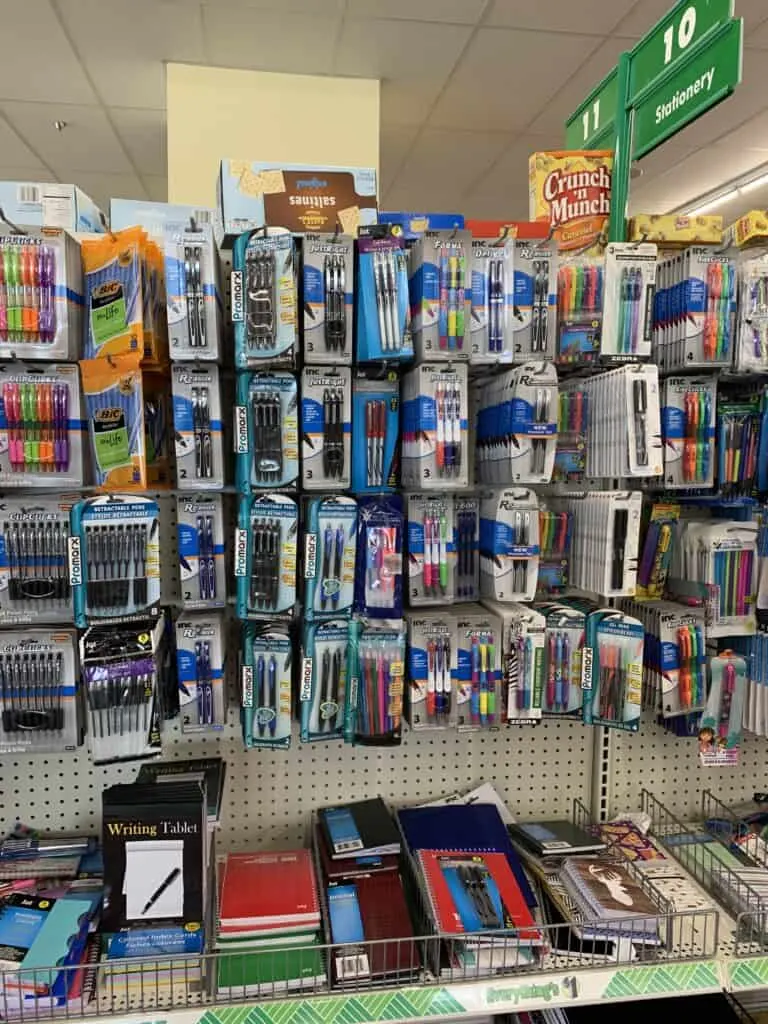 Did you know you can find great school supplies right from the dollar store? Yes, you can and the quality is great too. You can also find great supplies for your office such as pens, pencils, notebooks, sticky notes, folders, and more. I have gotten many supplies to help organize my office for my blog business.
Oh! If you are looking to start a profitable blog but not sure how to start a blog click here! It's a full tutorial on how I got this blog started and I how started making money.
I totally pick up pens, folders, and organizers right from the dollar tree and save a ton of money getting those items from there. So, if you are low on supplies for your children or even for yourself, check out the dollar store.
10. Toiletries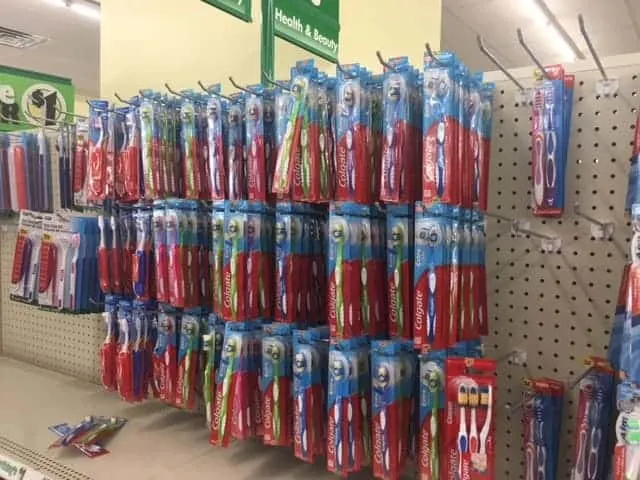 If you are going on a vacation or just want to stock up on personal on-the-go items you can find a ton of great items at the dollar store. I know a lot of people who buy their toothpaste right from the dollar store every month and save a great amount of money each year by doing so. Some of the items you can find are deodorants, mouthwash, cleaning soaps, and more.
11. Dish Soap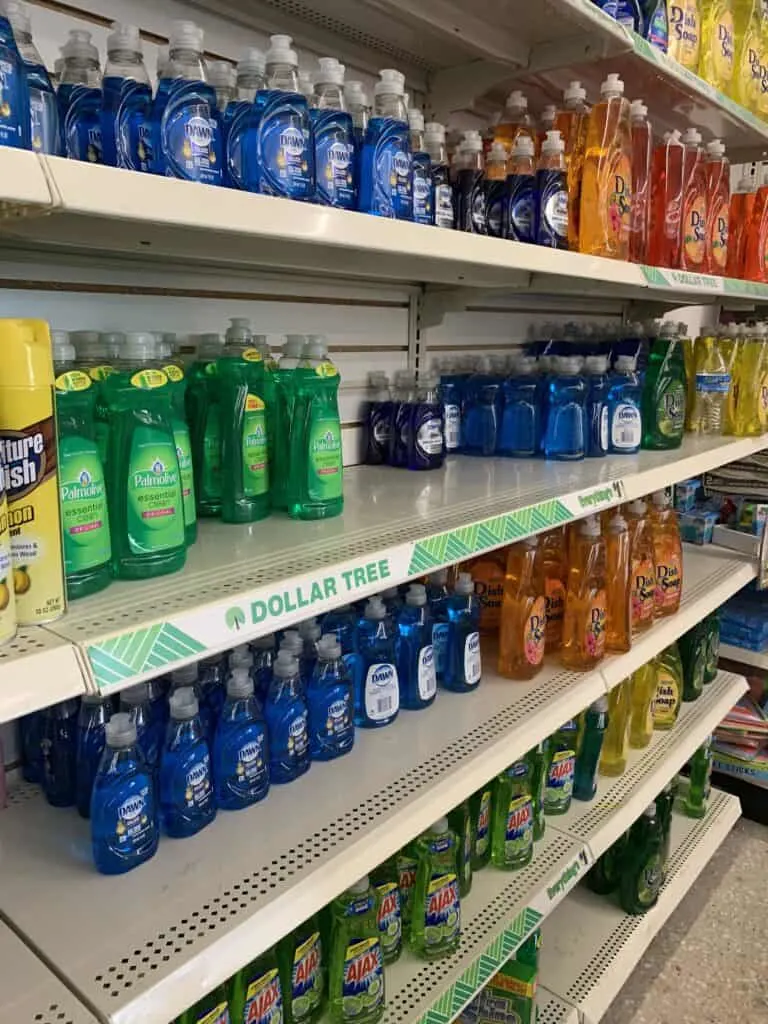 Another awesome thing to get at the Dollar Store is dish soap. At the Dollar Store, you can actually buy name-brand dish soap such as Dawn and Palmolive for only $1. To save money, I will go to the Dollar store to stock up on dish soap since I go through it very fast.
12. Birthday Cards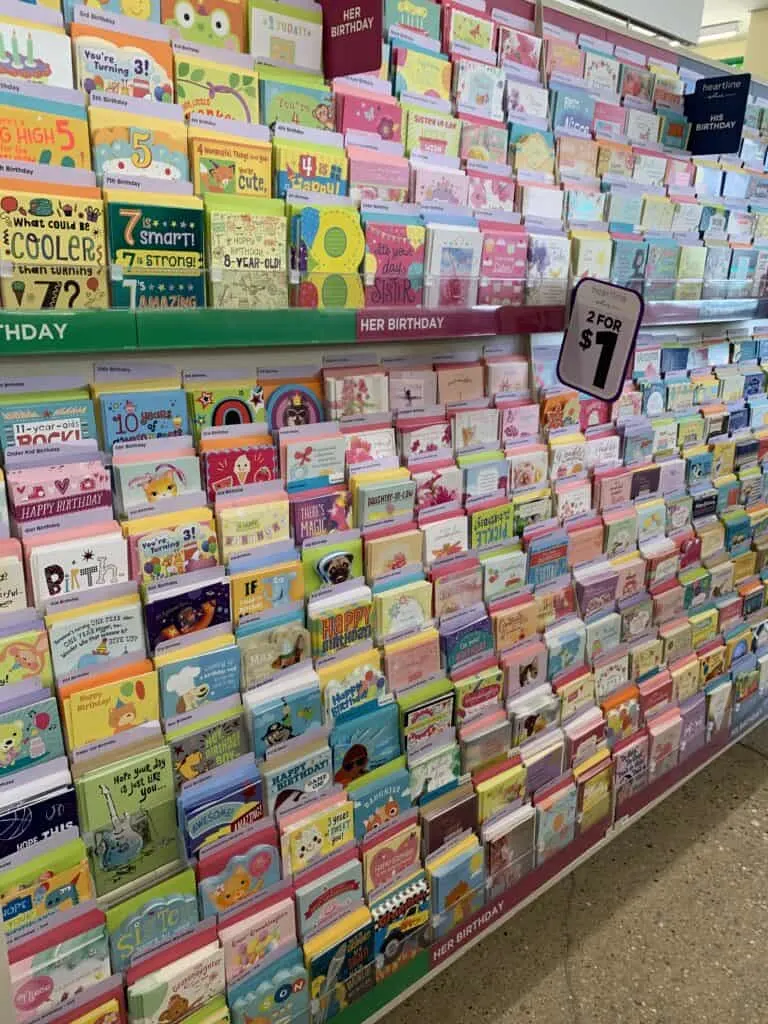 If you have a birthday coming up in your family you can purchase Hallmark cards right at your nearest Dollar general for only $1. When I went to the card section I was surprised at the many great cards that the store had and the awesome quality of the cards. So, if you are looking to stay on a budget check out the card section at your nearest Dollar store.
13. Paper Plates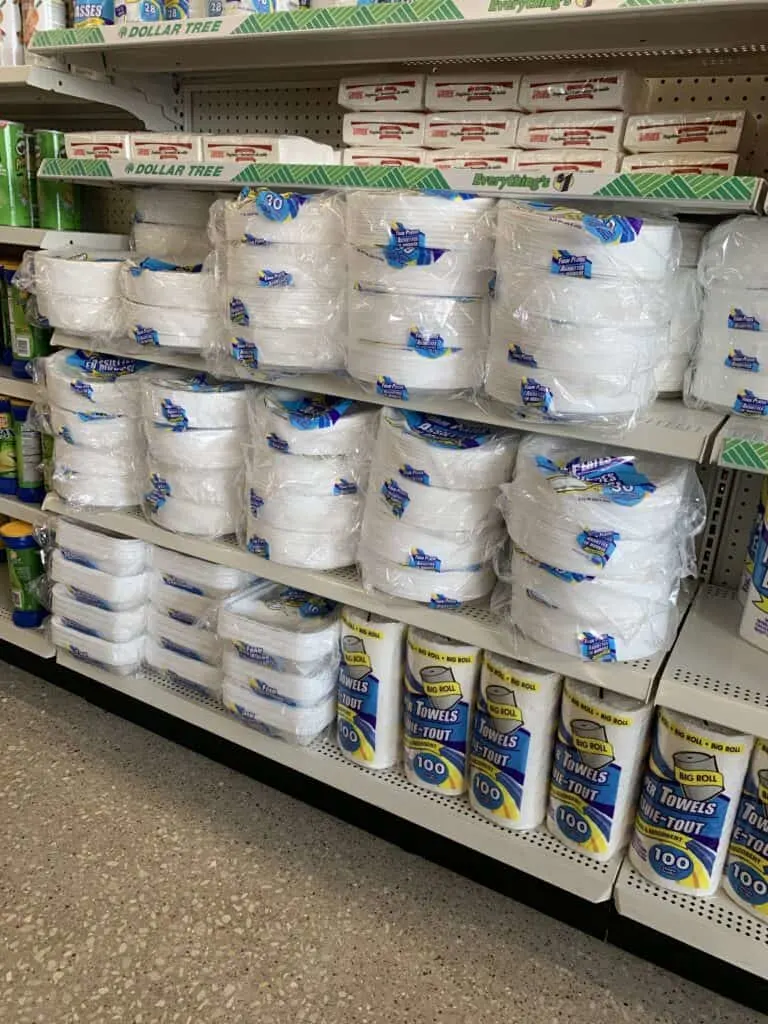 When I plan a party on a budget I always grab some Paper Plates and Plastic Cups from my local Dollar General. While they aren't the strongest quality they definitely get the job done. So, if you are looking for paper plates and paper cups on a budget check them out at your local store.
14. Baskets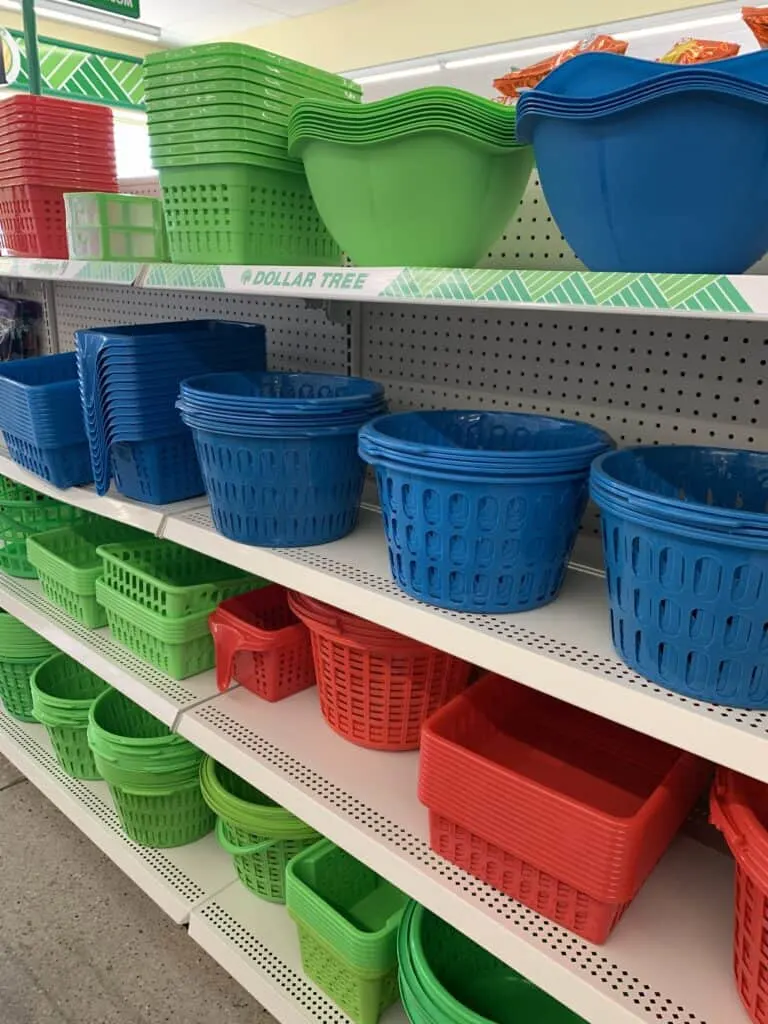 If you are looking for some cool and fun baskets to decorate your house on a budget check them out here! You can grab some really cool basket in different shapes and sizes at any Dollar general. These can also come in handy if you are creating DIY projects.
15. Back To School Supplies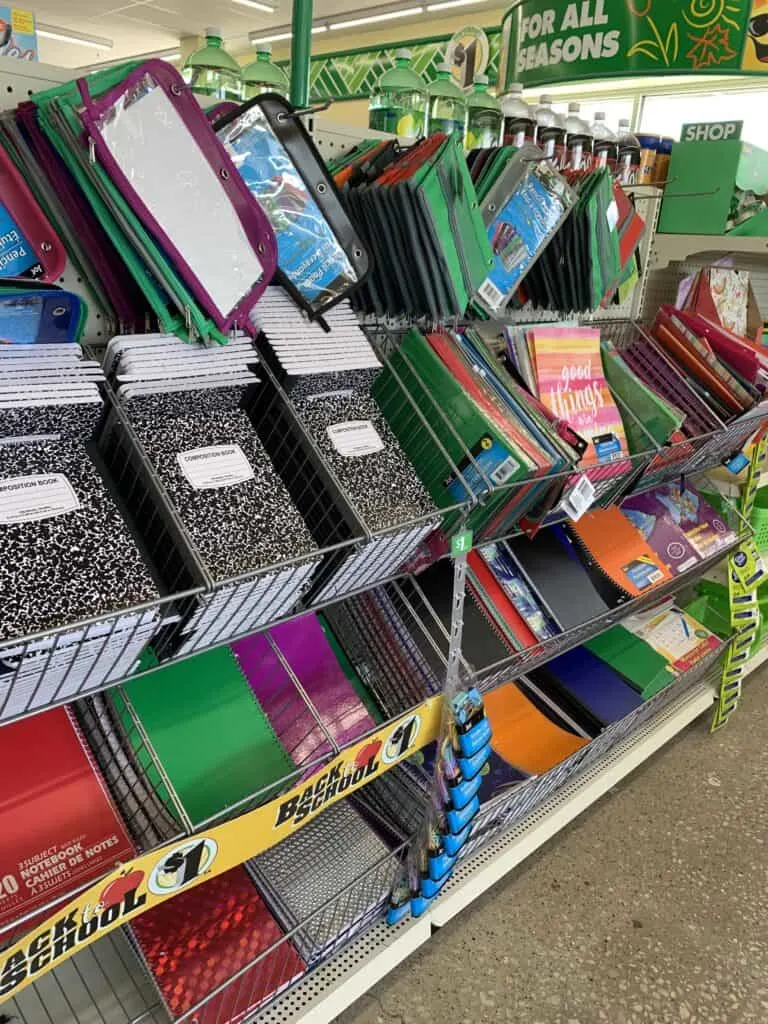 One of the best places to grab back to school supplies on a budget is from Dollar General. They have everything from folders, pencils, pens, notebook, binders and more. When Back To School time is near to check out your local Dollar Tree or store to see what great items you can find on a budget.
16. Teacher Corner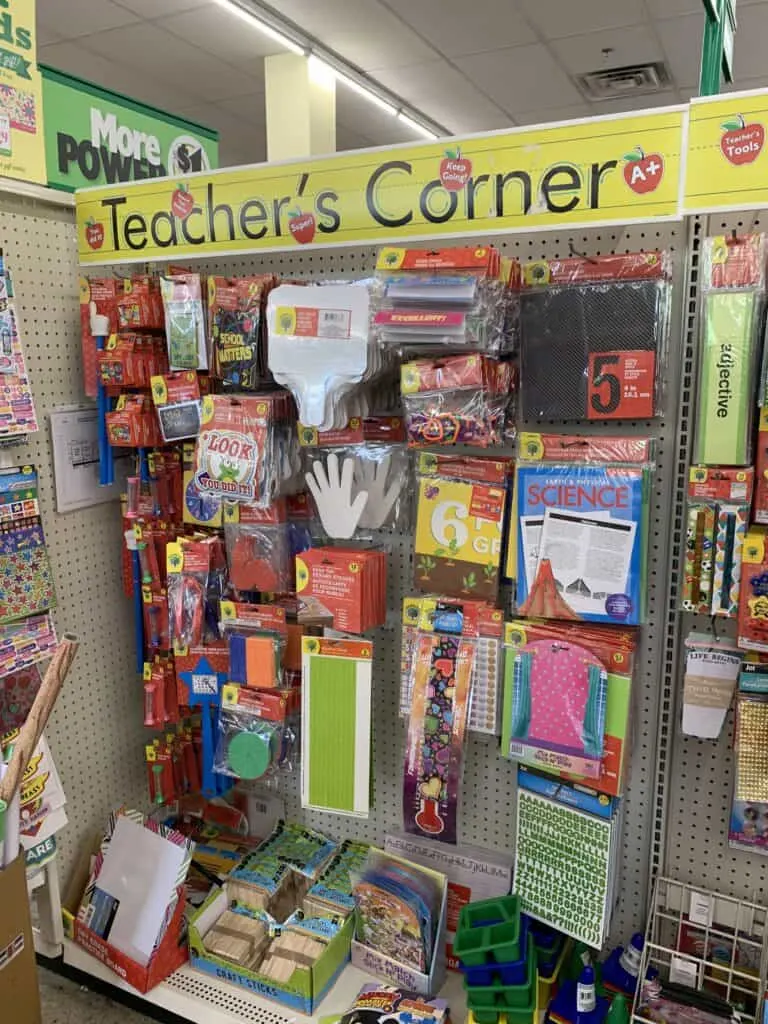 If you are a teacher then hitting up this store while on a budget is GOLD. They even have what is called a Teacher corner that has a ton of supplies and cool items to check out on a budget for your classroom.
17. Rugs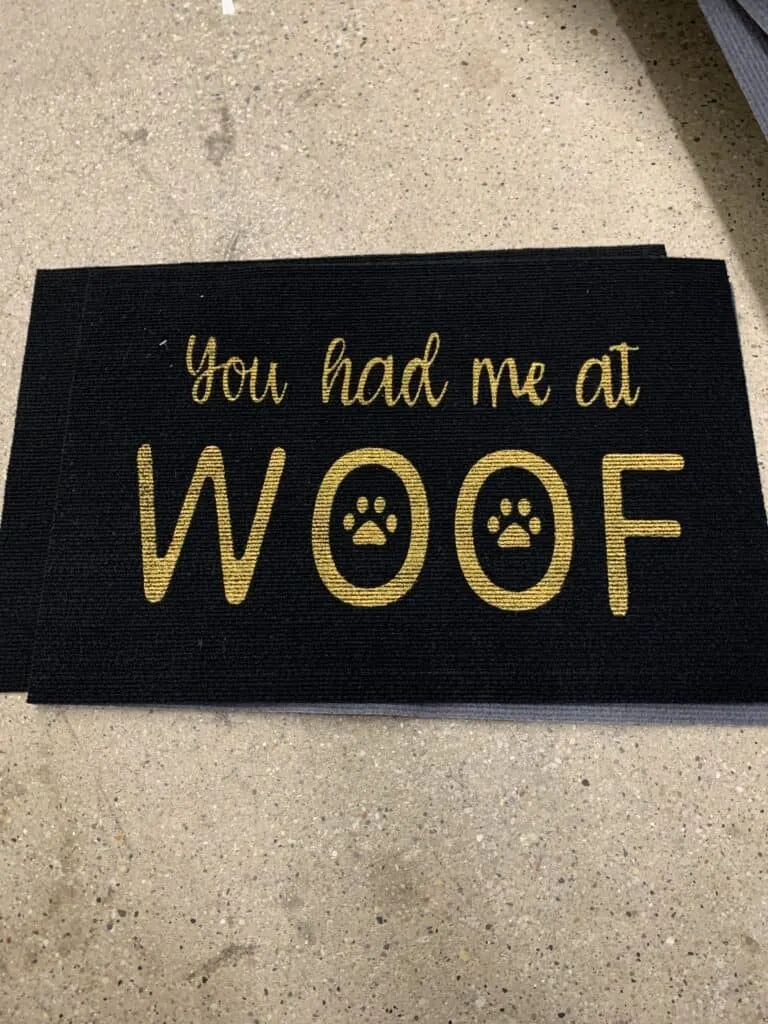 How cool is this rug? If you love dogs, this one is for you.
Can you believe I found it out at my local Dollar Tree? I couldn't believe that the Dollar store actually had rugs. I never thought to check out the rug section but when I did I was super happy to find so many great rugs to put in my home.
18. Cool Seasonal Decorations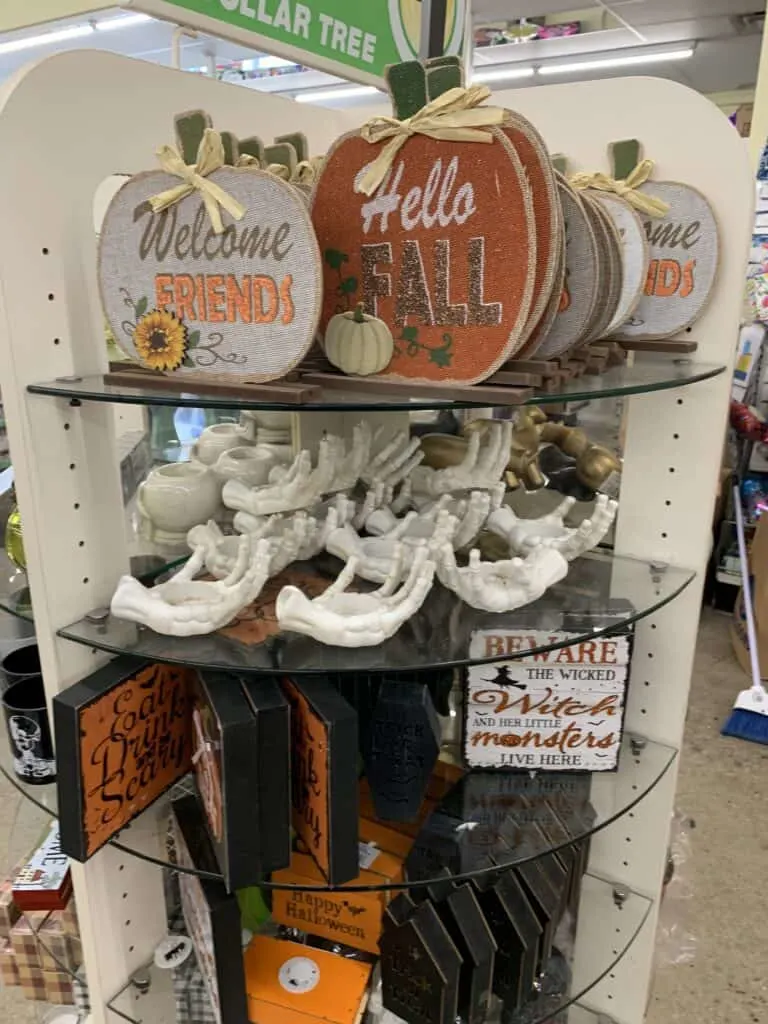 Now, I am not really a Halloween-type gal but I do love fall and when I saw this fall pumpkin decoration my heart smiled. I didn't even know that any Dollar stores carried items such as these to decorate a home. The Hello Fall Pumpkin is simply perfect!
19. Flowers Decorations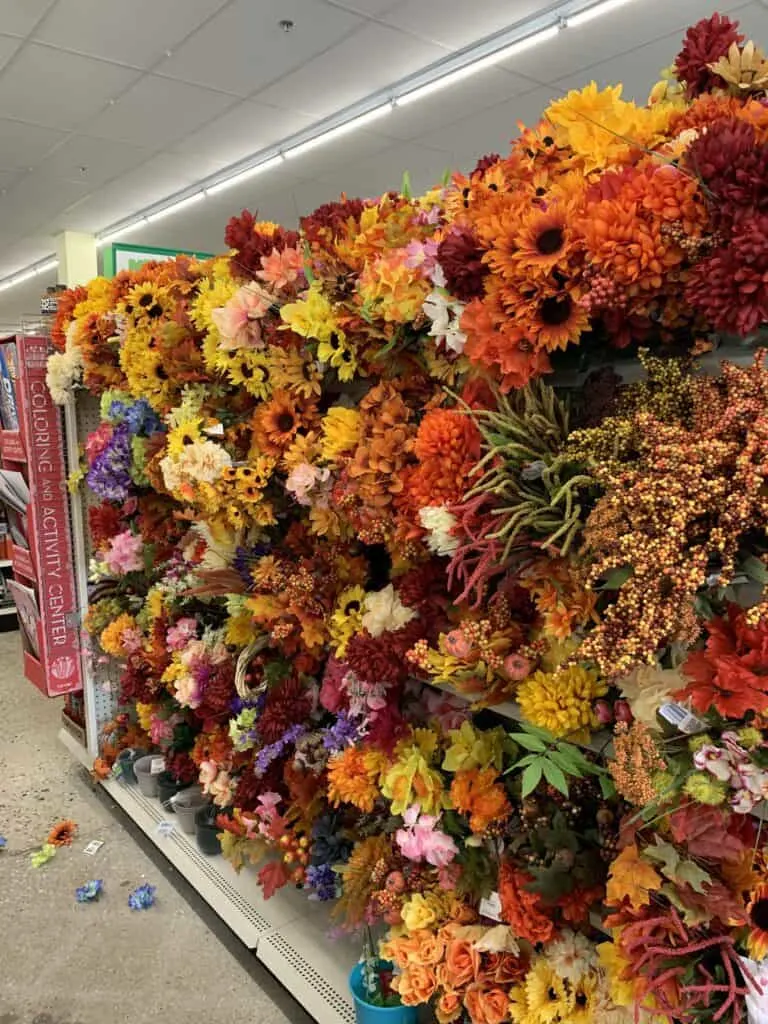 If you love flowers you can actually buy some beautiful decoration flowers to put in your home or office from here. I came across these beautiful flowers on my way through the store and they are perfect if you're looking to add a little color to your home.
20. Books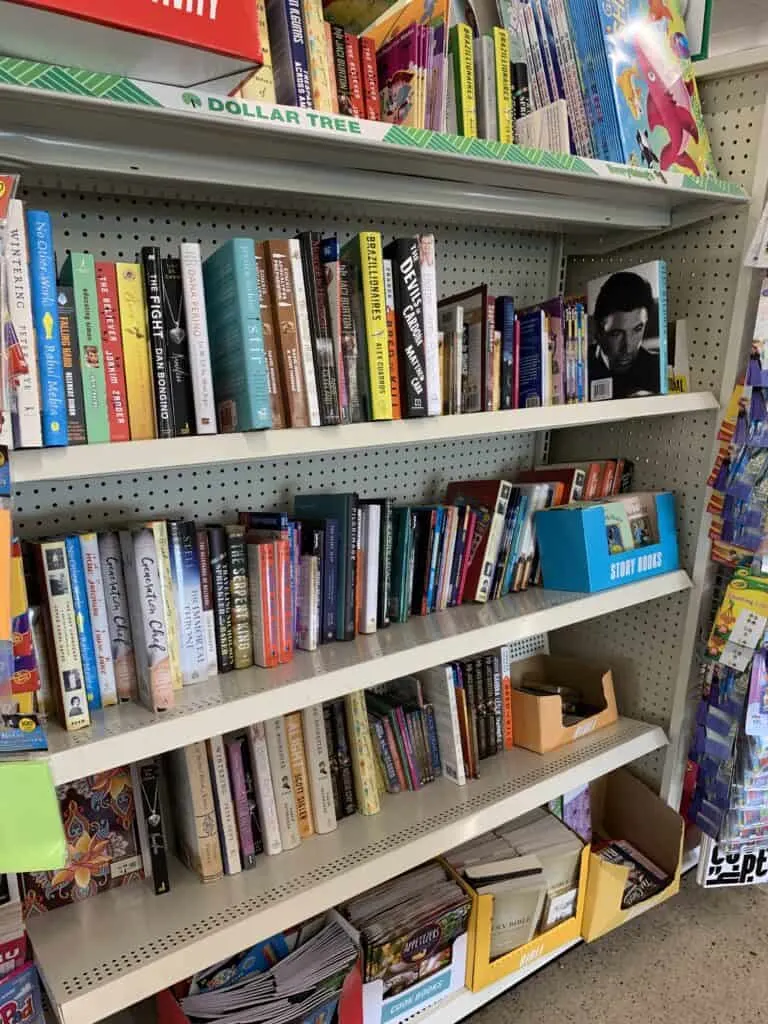 Books! Books and Books! If you love reading you can actually find some pretty awesome books on a budget in this store.
21. Cool Mugs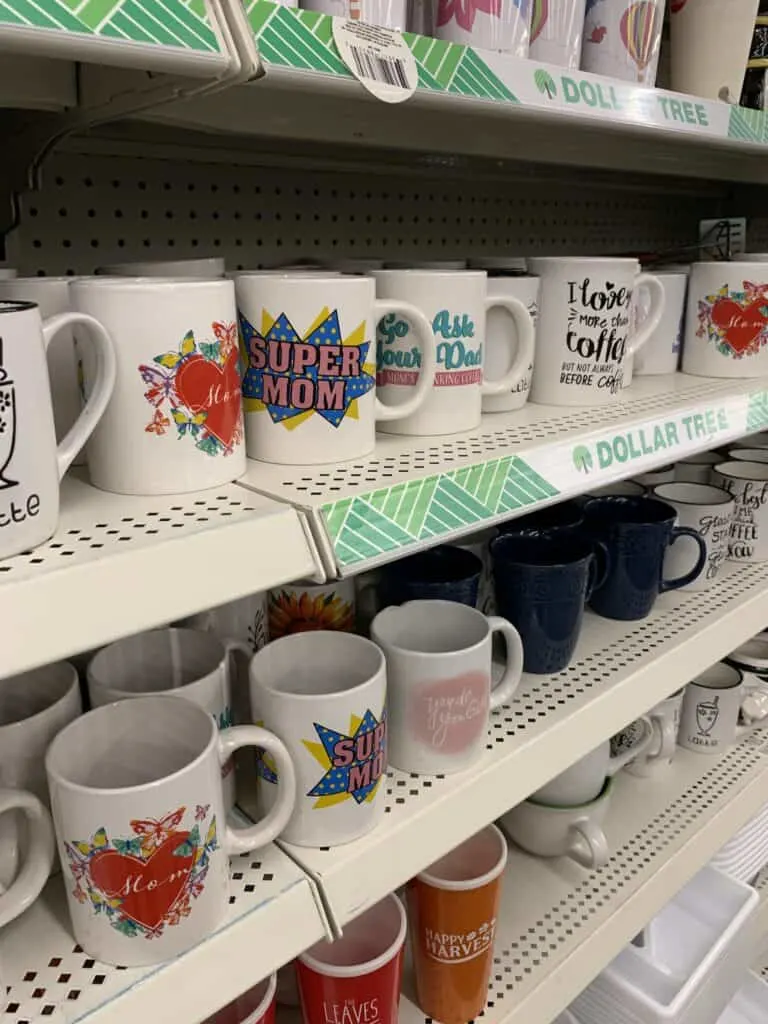 One of the coolest things I saw at my Dollar Store was the fun mugs. If you are looking for funny mugs to add to your collection check them out there. You can buy them for only $1 and there are a ton of different designs to pick from.
*Pro Tips: Buy the name-brand items over the generic brands at the dollar store of toiletries.
---
What are some Additional Ways To Make Money From Home?
One of the best ways to make extra money from home is by completing surveys online. This year I purchased most of my Christmas gifts from the money I earned through survey sites such as Swagbucks
Here are my favorite legit survey sites to join and make money:
RELATED POSTS:
---