Hi, Go-Getter!
Looking for information on how to start a blog?
or are you just unsure how to get started with making money from your blog?
Well, you are in the RIGHT place!
One of the best decisions I made last year was starting a blog. At that time, I had just found out I was pregnant with my first child so after chatting with my husband we decided that I would stay at home instead of working my then job.
Starting my blog has rapidly changed my life because I am able to do what I love and be with my now 3 sons plus make a full-time income right from my home!
I have been able to earn over $5k per month
So– Let me ask you. Are you passionate about something and like to write? Well, starting a blog might be up your alley.
What Can A Person Write About With A Blog?
Christian and Faith

Recipes

Family Life (Mommy Blogging, Daddy blogging, etc)

Personal Finance (Ways to make extra money, how to get out of debt, etc)

Fashion

Music

Theater

Beauty (Makeup)

Frugal Living (Coupons, Saving, etc)

Direct sales (Lula, Mary Kay, etc)

Weddings

Relationship ( Dating, Married, etc)

Animals ( Dogs, Cats, etc)

and MORE!
In this tutorial you will learn:
Step by step instructions on How To Start A Blog On Bluehost + WordPress.Org
How To Generate Traffic To Your Blog After You Set it up.
How To Start Making Money from Your Blog.
Let's get started! 🙂
---
How To Start A Profitable Blog Step-by-Step Guide
1. PICK A NAME:
Before you sign up for blog hosting I recommend taking a few days to pick the PERFECT name for your blog. You will want to pick something that is unique and fits your style and blog style.
For example, if you want to start a food blog having a name like "Lover Of Shirt Fashion" might confuse people so make sure to pick a name that fits into your theme.
When I first began my blog name journey I knew that I wanted to mix the worlds of the Creative Arts and Side Hustles and the Lord gave me the name, "Arts and Budgets". 🙂 It was impeccable and I had total peace with going with that name. After you pick your new blog name, you will need to register your NEW perfect name.
2. REGISTER YOUR NEW NAME WITH A HOSTING SITE:
Your new hosting location will be where your blog will be so it's very important to pick a hosting site that is trustworthy. The hosting site that I use to register my blog name is BLUEHOST. You can get your domain name directly through Bluehost and make the whole process very easy.
If you want to check out BLUEHOST click on the picture below or by clicking here: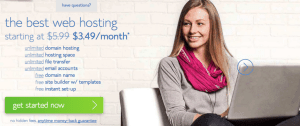 3. SELECT YOUR PLAN:
For starters, I suggest getting the basic package for 12 or 36 months! The 36-month package will give you the best deal but as stated before, go with the plan that fits into your budget during the time of sign up.!
Please note: BlueHost charges you for the full 12 or 36 months amount upfront when you sign up. You will be pre-paying for hosting and that's one of the reasons why they are actually able to offer such great hosting for the small price and I believe it's totally WORTH it! 🙂 Also, note that they have a money-back guarantee if you are not satisfied with the service during a certain amount of time.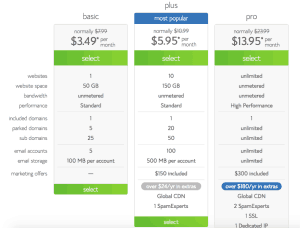 4. REGISTER YOUR DOMAIN NAME:
After that, just register your new domain name! At the moment you can get a domain name for FREE when you purchase 12 or more months of hosting!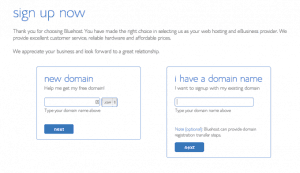 Then, enter your account & contact information: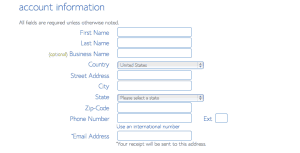 You will also have the option to add on more options but I only added on the Domain Privacy Protection and haven't added any other options currently.
Domain Privacy Protection helps keeps your personal information such as an address, email, and telephone number safe from the public. Also, remember that you can sign up for the additional features later as well.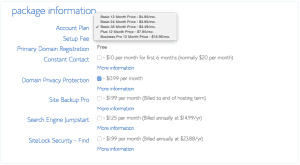 You'll then be prompted to enter your billing information and agree to the terms and conditions! Once you finished signing up and our order is processed, you should see a welcome message from BLUEHOST! Yaay! 🙂
5. INSTALL WORDPRESS:
Bluehost makes it's very easy to create a WordPress blog and it's free of charge! Yaaaay! 🙂
Next, log in to YOUR Bluehost account at Bluehost.com and then you will install WordPress!
1. When you are in your cPanel (you will receive a link to this in your welcome email from Bluehost), find the Install WordPress button under "WEBSITE" and click it.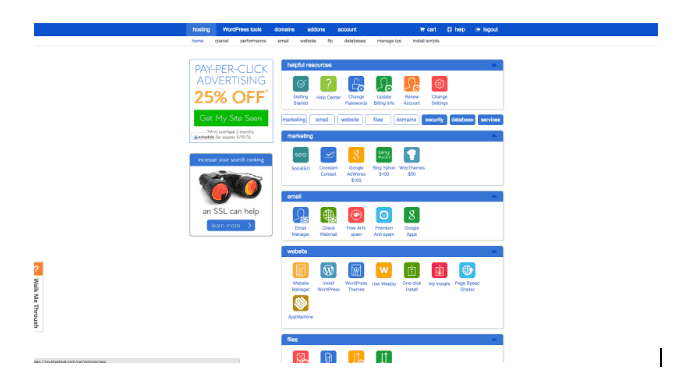 2. Then you will be redirected to the MoJo Market Place. Click on the big green Install button.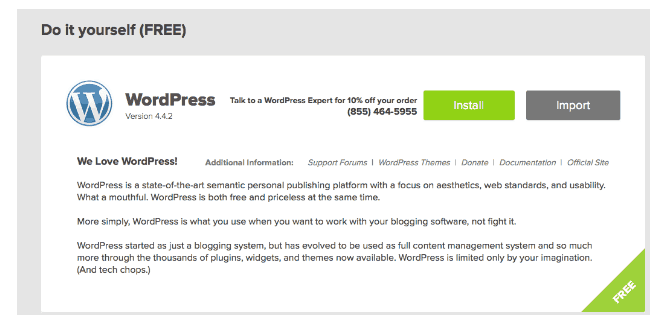 3. Then select your domain and then click "Check Your Domain". WordPress then check the domain to make sure nothing else is installed on it.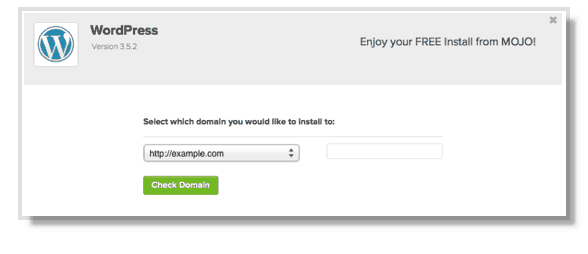 4. Next, you will fill in your site title & information.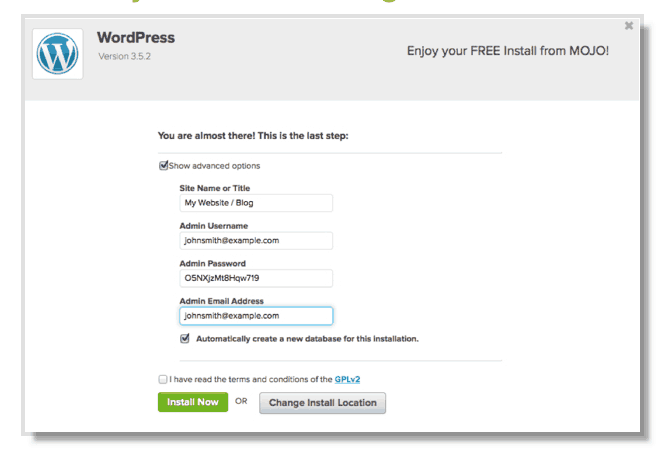 5. Then Click Install and then MoJo will go to work to install WordPress on your account. (Remember to save your username and password.)

Once WordPress has been installed, you'll type your site name in the search box and add wp-login.php to edit and update your blog/
Here is an example YoursiteName/wp-login.php (put your domain name where it says YoursiteName).
When you have your login & password from the MoJo Marketplace credential email you will then be able to log into WordPress and see your WordPress dashboard
It might be a little confusing at first but with time and practice, you will be a PRO. 🙂 Trust ME, when I started I was clueless but now I explore the WordPress dashboard with a breeze.
You have now completed your sign-up & logged onto WORDPRESS!
What To Do After Setting Up Your Website
Below are some tips and tools to help you get started with setting up your new blog! Also listed below are tips on how to start making money from your blog + skyrocket your traffic!
1. Design Your WordPress Blog
If you want to take it up a notch I recommend getting a premium theme by setting up Genesis framework + a child theme. Genesis Framework is the base that many developers use to custom their child themes. In order for your child theme to work you have to first get the Genesis framework.
Genesis Framework can be used alone but it will be very basic looking. Additionally, having both helps with not losing your custom setting during updates.
So, as a result of a lot of people normally buy a child theme. Note that, most child themes need the Genesis Framework to work so you will end up buying both the Genesis Framework and a child theme separately. But, in my opinion, it's so worth it. You can buy the Genesis framework and child theme right from Studio Press.com.
Below are some child themes on the Studiopress website. Check out that site by clicking here.
After you purchase Genesis Framework from Studiopress.com you can watch the video below to see how to install the framework.
A Guided Tour of the Genesis Framework for WordPress Theme Settings from StudioPress on Vimeo.
After you get Genesis Framework installed, next you want to get your child theme! I currently use a child theme from Restored316 Designs.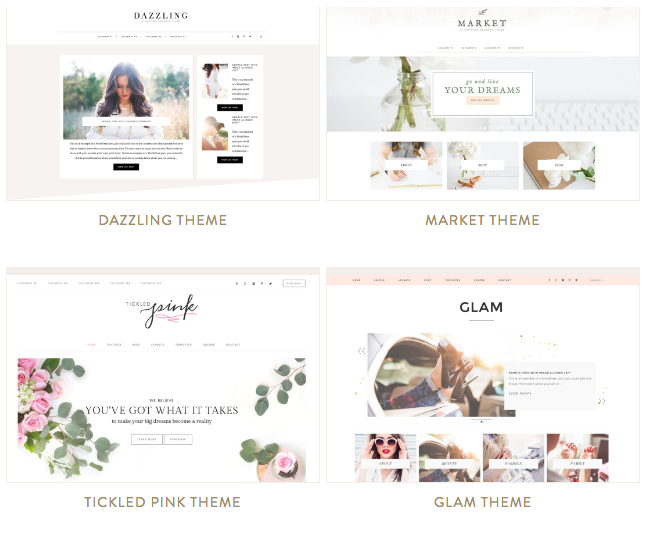 I absolutely love the themes from Restored 316 Designs and the owner Lauren is very helpful and her team responds very fast when you need help installing a theme. They also have GREAT tutorials for setting up a new theme as well.
Some other awesome places to find themes are:
2. Generate Traffic to Your site
I have a post that goes over 8 tips to grow your blog traffic like a Boss! Check it out by clicking here.
3. How To Make Money With Your Blog
Here are some of the best ways to make money from a blog.
With Affiliate Marketing you are rewarded for recommending and promoting products and services that you have on your blog. You will receive a commission for any sales that occur from your referral link.
For example, if you are an affiliate for a survey site and post the direct link on your website you will get rewarded every time someone signs up through your link. Pretty cool, right?
There something for everyone in affiliate marketing. Some of the products you can promote are as follow: Cell phone companies, digital products, other blogger's Ebooks & E-course (after you have purchased them), clothes, crafts, blog-related products such as web design, web hosting and more.The opportunities are absolutely endless in this field.
Here are my favorite Affiliate marketing programs that you can sign up for FREE!
That's right, you can get paid by having different ads on your website. I currently use Google Adsense. Basically, I have ads throughout my website and every time someone clicks on an ad on my site, I get rewarded. Check out Google Adsense HERE for more information how to sign up.
By putting a resource page on your website you can suggest the different products & services that you like. It gives the readers a chance to look into your resource list- which is very valuable! Most of the time readers want to know what you are using so they can achieve the same results.
So, having a resource page is a huge plus as it will help them achieve their goals. Having a resource page will answer your reader's questions, help increase your blog traffic and help increase your passive income (If you add affiliate links from some of your fave products to the resource list).
After you build a great relationship with your readers this page will generate passive income because your readers will trust your advice and suggestions & sign up for the great products and service that you suggest. Check out my resource page HERE to get an idea of how to set one up.
Sell your product and services, yo! Everyone is great at something and knows a lot about a subject so why not put that knowledge into an E-Book or E-course? If you have an idea or know a lot about a subject then you can make an Ebook or guide and sell it right on your website.
With brand promotion, you can share and promote products that you actually love and get paid for it. Most of the time, you have to apply to the company directly to see if you get accepted but it doesn't hurt to try, right?! Some of my favorite are: Linqia, IZEA, and TapInfluence .
For more blogging resources head over to my Recommendation page here: Recommendations.
Oh! Feel free to join my Facebook Community Creative Ninja Nation filled with other awesome Creatives by clicking here!
This page includes some affiliate links.