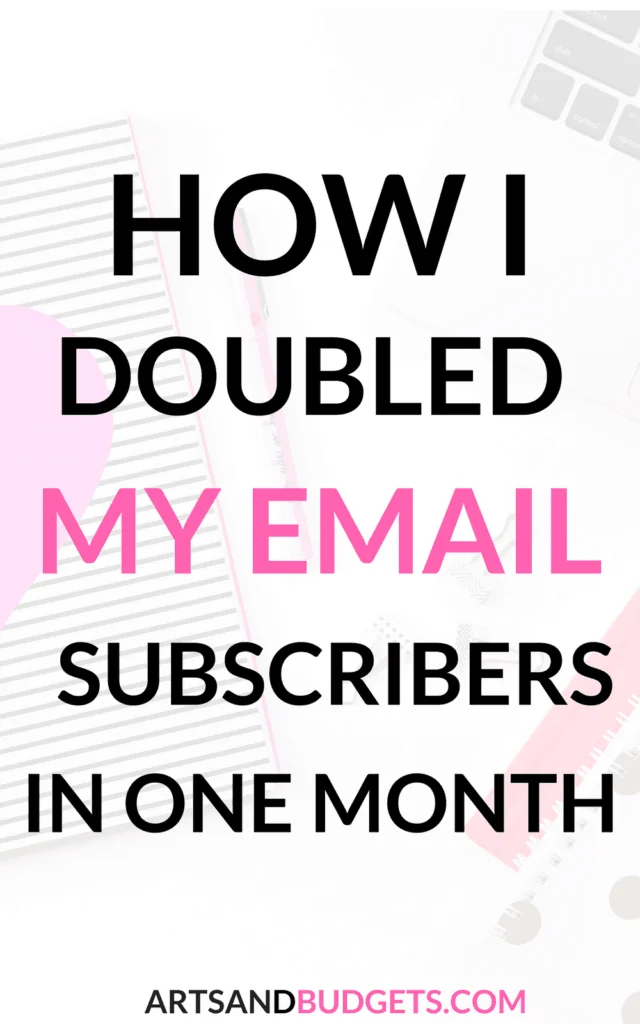 This page contains affiliate links
Hi, Creatives!
Looking for ways to grow your email list this month? If so, you are in the right place. Woohoo!
Recently, I have skyrocketed my email list sign-ups from implementing a few new strategies online and I am excited to share what worked for me to increase my list. But before we jump in, why would someone want to develop an email list?
Having an email list is a must if you want to build a connection with your readers! A lot of time, readers might not see your social media posts but with an email, you will get to send your content directly to your reader's inbox! Also, if you are looking to sell any product such as E-books or E-courses then having an email list should definitely be one of your top priorities. Email lists are much more personal and build trust within' your niche'. Your readers become your tribe so they are more willing to buy your new Ebook or E-course rather than someone who doesn't know who you are. So with that mind, let's dive into 6 strategies that can help you increase your subscribers this month!
---
6 Ways to Grow Your Email List This Month
1. Select A Powerful Email Provider
So before anything else you have to make sure you are signed up with a reliable email marketing provider. Your email marketing tool will be the place where you send emails, create opt-in forms, and store your subscriber's emails. So, it's very important to pick a marketing provider that will best fit your needs. The top three I suggest are:
Convert Kit: By far, Convert Kit seems to be a lot of bloggers favorite right now! Their platform is really easy to use and they have a great tagging and automation system. They can be a little costly but from I hear it's totally worth it. Oh, and you can try it out for FREE for 30 days to test it out.
Mailer Lite: If you are looking for a cheaper option with some of the same capabilities as Convert Kit I would say go with Mailerlite. This provider has 24/7 customer service and autoresponders all on their free plan which is pretty awesome! Oh! And they also have a landing page feature which is a huge plus.
MailChimp: When I first started out, I started with MailChimp but I am currently in the process of switching over to Mailerlite after testing it out for myself recently. One awesome thing about MailChimp is that you can stay on their free plan for up to 2,000 subscribers. MailChimp worked pretty well for me but I also had to sign up for an additional opt-in provider (OptinMonster) to help with my email marketing. If you are with MailChimp, I highly suggest signing up for OptinMonster. It helped a ton with my email marketing and made my experience with MailChimp better.
2. Create a High Converting Website
BOOM! Make sure to have your website ready to go with opt-ins easily seen throughout your site. Putting a POWERFUL opt-in right when people come to your site helps a TON with getting more email subscribers.
— What better way to do that then by having an opt-in in your headers such as the ones listed below of these girl bosses, Lindsey from HazelHaven.com and Maya Elious from Mayaelious.com


I just put up a header opt-in on my site which has skyrocketed my email sign ups! Woo hoo!!
You would call this one "Above the Fold" which means anything the users see before scrolling down on your website. As soon as I changed my header opt-in on my site my email subscriber sign-ups skyrocketed! On the first day of changing the header, I got 90 email sign-ups in one day– Whattttttt! Yup! I did! I did. Additional places to include opt-ins are navigation menu, sidebar, at the end of blog posts, in the middle of the blog post and pop up boxes. Two tools that make it very easy to develop opt-ins for your website are, Leadpages and Opt-in Monster.
.Related Posts:
3. Offer Content Upgrades
So, with your new opt-in features around your site, you will need AMAZING incentives to give to people when they sign up for your email list. Some ideas of things you can offer are guides, worksheets, printables, video tutorials, free E-course, free email course, E-book, and spreadsheets. Basically, when someone signs up on your opt-in box they will be sent your freebie.
You can also repurpose a ton of your blog posts by adding a freebie directly created for that blog post also known as a content upgrade. For example, for my Instagram post below I offered an Instagram bio guide in the middle of the post that my users will get if they sign up for my email list by clicking the green prompt box.
See- the freebie was directly related to that blog post. I normally create a specific freebie related to each blog posts and so far it has been working GREAT with increasing my sign-ups.
4. Use Social Media
Heck yea! Social media is very powerful when promoting your email list. Make sure to promote your email list on your social media outlets as much as possible. For example, on my Instagram page, I have set up a call to action using linktr.ee at the end of my bio and it links back to my site where new readers can sign up for my email list and receive access to my Creative resource library filled with a ton of resources to help creatives grow their blog + Biz!
You can offer your freebies all throughout your social media platforms in your headers, bios, on posts, etc. Oh! Of course, you can promote your awesome freebie in kick butt Facebook Groups during their promo threads such as the ones I do in my Facebook group on Fridays: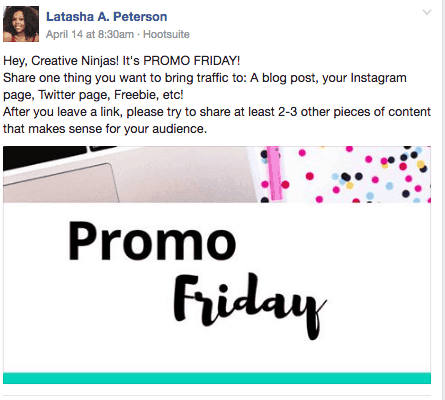 Make sure to read the rules of the thread before posting to make sure it's fine.
If you missed the last post some of my fave Facebook groups are: Creative Ninjas (this is my new Facebook Group for Creatives & Side Hustlers), Growing Social Media for Bloggers, Mom To Mompreneur and Rymixer Club,
5. Host a Webinar
This is a HUGE ONE! Have you done a webinar before? I am actually gearing up to do my first webinar and I am pretty excited about it. Some call webinars– Masterclasses and workshops but they are all basically an hour or so long video class where you teach your readers something within' your niche!
This is one of the fastest ways to grow your email list because webinars provide a ton of value. When you create a webinar registrants are required to sign up with their name and email to receive confirmation reminders. Also, you don't have to do a webinar to just pitch something that you are selling but you can also do a webinar that teaches your readers something valuable. When you have a new webinar coming up make sure to promote it like crazy on your social media platforms to keep your audience up to date and engaged. Here is an example of Melyssa Griffin promoting her new webinar via Facebook.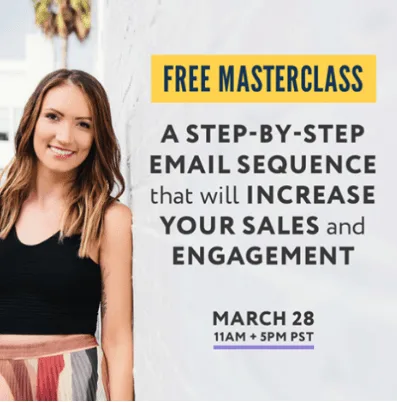 You can literally promote your upcoming webinar EVERYWHERE online. Also, you don't have to spend a ton of money on hosting a webinar because you can actually do them for FREE.COM! You just need a computer with a built-in camera, microphone, and internet connection as far as equipment goes. If you are looking to purchase a great microphone I just got the Blue Yeti and it is AWESOME-SAUCE!!!!! You can also host your webinar for free as well.
You can use Youtube Live which use to be Google Hangouts and embed the Youtube live video onto your page on your website (where you will send the people to watch your webinar) and create a registration page on your site and use your email marketing provider for the opt-in & registration form.
If are you looking for a paid option check out Leadpages which is an awesome place to host your webinars. Here is a rockstar tutorial on how to do it: Leadpage Tutorial
6. Do a Giveaway
Another great way to increase your email list is by doing a giveaway. The awesome thing about giveaways is that you can team up with other bloggers and biz owners to do them to increase the sign ups. You can give away products such as Ebooks, ECourses, gift cards and more. When the users sign up they will also be signing up for your newsletter as well, which you can let them know when they enter the giveaway. Earlier this year I saw an awesome giveaway for Moms with Elna from TwinsMommy. Elna and a ton of other mommy bloggers teamed up to do a HUGE giveaway of Epic Courses!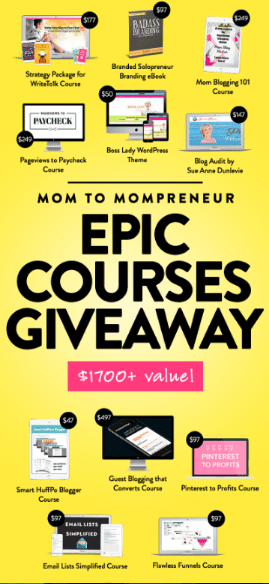 So, there you have it! 6 ways to increase your email list starting TODAY! 🙂
What ways are you increasing your email sign ups?