If you loved playing Solitaire on Windows, you'd be thrilled to learn that you can play it and make money. How? Through Solitaire Cash.
Playing Solitaire and making money off of it is easy. Most of all, the game is free-to-use. Solitaire is a game for one. But with the Solitaire Cash game app, you can play individually against other players and make money.
Choose between free games or pay an entry fee for cash tournaments. This game app allows you to compete against other players of similar skill levels and win rewards and stakeouts.
You can play free games for gems and bonuses or paid tournaments and win cash prizes. Here's everything about Solitaire Cash, how it works, and how to earn money and withdraw to your account. At the end of this guide, you'll know whether downloading this game app is worth it.
Solitaire Cash Review: Can You Make Money From the Game?
What is Solitare Cash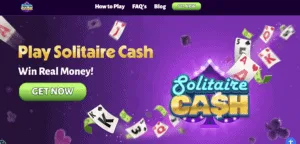 Solitaire Cash is a free-to-download and play game app that lets you play the classic Solitaire game and win real money.
You play against 3-9 players—the first three with the highest scores win a reward. There are two types of games: free games and paid tournaments.
The fun, classic card game is legit. You don't pay anything to play free roll games, and you can win rewards through gems or bonuses. Paid tournaments, on the other hand, have an entry fee, which players pay via cash, gems, or both.
How To Play Solitaire Cash
To play Solitaire cash, move cards from the tableau (seven piles that make up the main table) to the foundation pile until you reach the highest possible card in each pile. Like the Solitaire classic game, the goal is to clear the entire deck.
If there are no more cards to play, submit the score. Even if you don't clear the deck, you can still have the most points and finish first. Your raking on the leaderboard depends on speed and accuracy. You'll get bonus points for finishing early.
Note: Not all states can take part in cash games. Arizona, Arkansas, Delaware, South Dakota, Louisiana, Connecticut, Montana, Tennessee, South Carolina, South Dakota, and Vermont players can't participate in cash tournaments.
How Does Solitaire Cash Work?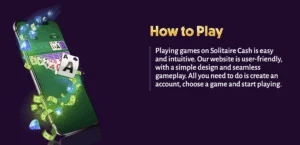 First, you must download Solitaire Cash from the App Store or Galaxy Store. Install the game and register.
After registration, you'll be whisked into a tutorial to help you understand how games are scored and prizes shared. The gameplay overview also helps gauge your skill level and earn gems.
After completing the tutorial, you will be awarded gems, which you can use to enter freeroll tournaments. These gem-based tournaments don't require you to spend real money to participate. You win gem prizes if you finish among the top 3.
In addition to freeroll tournaments, you can enter real money tournaments by depositing cash. The tournaments' entry fee is in cash, gems, or both. The entry fee is as low as $1, but you must deposit at least $5 into your account.
Depositing Money
You can deposit money into your Solitaire Cash account through Apple Pay, PayPal, American Express, Visa, or MasterCard. When you're ready to play, you'll see the entry fee, the number of players in that tournament, and the cash prizes to be won.
Players are put into teams with other players of the same skill level, but they complete a Solitaire game individually. All the players get the same deck to ensure the game is skill-based and fair. As you play and level up, you get paired with more skilled players, and the competition grows harder.
If you enter a cash tournament and finish in the top 3, you'll win cash prizes between $5 and $139.
However, tournaments have different payouts and structures. Multiplayer games have 4-9 players; those with many players have higher stake payouts.
Since people play at their pace and skill, you'll have to wait until every player in that tournament finishes so you can see how you performed against them. In the meantime, you can play in other tournaments. Besides cash prizes, there are other ways to make money on the Solitaire Cash game.
How To Earn Money With Solitaire Cash
There are several ways to earn money with Solitaire Cash.
Cash Prizes
You'll win cash prizes if you emerge among the top 3 (sometimes 4) in skill-based cash tournaments. The entry fee contributes to the prize pool, which varies depending on the type of tournament.
For example, the Adrenaline Rush tournament has a $7 entry fee and potential to win $20. Players in the 1st, 2nd, and 3rd place receive a part of the total prize pool, with the 1st receiving higher than the 2nd, and so on.
Cash Deposit Bonuses
You get two free gems for every $1 you deposit into your Solitaire Cash account. You can use the gems as an entry fee to cash tournaments.
You also get up to $7 free cash bonuses for every deposit. $15, $25, and $35 cash deposit tiers offer cash bonuses of $2, $3, and $7respectively. So if you deposit $25, you'll have $28 in-game credit plus 50 additional gems.
Daily Rewards
Besides the cash deposit bonus, you'll also earn rewards when logging into the app. Log in for three days in a row and earn $0.10 and $0.30 in cash bonus when you maintain a 7-day streak. Every day you log in earns you 30 gems instantly.
Referrals
You also make money when you refer friends to play Solitaire Cash. Earn a $1 cash bonus for every friend you refer and they join.
Watching Videos
You can also watch video ads and earn more gems. For every video you watch, you earn 10 gems, up to the maximum number of videos allowed daily. The videos are optional but earn you gems for a cash tournament to use as entry fees.
What's the Earning Potential of Solitaire Cash?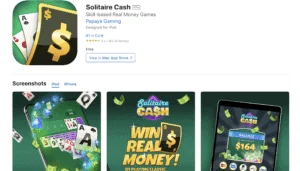 While Solitaire cash pays real money, don't expect to make significant amounts, especially if you're not skilled or a casual player.
You can win cash prizes of $100 or more, but note that it's unlikely to win that amount in one day or a single tournament. Prizes are divided among the first three finalists. So, even if the prize for a tournament is $100, you'll have to share it with the other two players.
Highly skilled players can earn between $3 and $10 daily. That's about $90 to $300 in a month. However, Solitaire Cash is not a predictable or dependable source of income.
The game depends on your skill level and is fast-paced. Your speed, accuracy, and strategy play a crucial role, and hesitating for a few seconds can be the difference between 1st and 4th place.
Additionally, the amount of cash prizes you win depends on the type of tournament you participate in, the currency, and the total prize pool.
Does Solitaire Cash Actually Pay?
Yes, Solitaire Cash pays real money and has paid more than $1.5M+ in cash prizes. The game has more than 1M downloads and a rating of 4.6 stars from 260,000+ reviews on the App Store.
Is Solitaire Cash Legit And Safe?
Yes. Solitaire is legit and safe. It was developed by Papaya Gaming, a reputable gaming development company that has developed over five other game apps. Solitaire Cash is the #1 casino games app on the App Store.
How Do I Get Money Out of Solitaire Cash?
Withdrawing your cash prizes from Solitaire Cash is straightforward. You only need
The minimum $5 in cash winnings that's required for you to withdraw

Apple Pay or a PayPal account
The in-game cashier service allows you to withdraw your external wallet easily. The minimum withdrawal amount is $5. Rack up enough prizes, then cash out through your preferred method.
According to their website, withdrawals are processed within two business days but may take up to 14 days. They review gameplay and account logs to ensure fairness and prevent fraudulent activities.
How to Withdraw From Solitare Cash
You'll need a minimum of $5 to withdraw from your Solitaire Cash account. There's also a $1 processing fee. It is easy to withdraw via PayPal, but the PayPal account you withdraw from should be in your name.
Open the Solitaire Cash app

Tap the "

Profile

" icon

Tap "

Withdraw

Cash"

Enter the amount you want to withdraw

Select PayPal

Enter your PayPal email address

Confirm Withdrawal
Before withdrawing your earnings, you must verify your account to ensure the security and integrity of the transactions. The process involves submitting identification documents to confirm identity.
To withdraw to PayPal, ensure the PayPal account and your Solitaire identification have similar details. Also, Solitaire Cash supports other withdrawal methods, such as e-wallets and bank transfers.
Ensure the withdrawal method you choose is available in your location and that withdrawal details are accurate.
Pros and Cons of Solitaire Cash
Pros
Free to download the app and play

Free practice games

Multiple tournament games

Multiple ways to earn bonuses and cash

Earn gems and use them to pay the tournament entry fee

Suitable for players in beginner to expert skill levels

Multiple ways to deposit into your account through PayPal, Apple Pay, and credit card

Easy to cash out through PayPal
Cons
Real possibility of losing money

Not every state can participate in cash tournaments

$1 processing fee for a minimum of $5 cash out

Cash prizes are divided among three players

Games are rapid-paced, and winning can be hard

Cash outs can take 2-14 days to process
What are Some Solitaire Cash Alternatives?
Other Solitaire variants and alternative game apps pay real money through PayPal and other methods. They also offer cash payouts depending on achievements.
These include:
Solitaire Cube
If you enjoy other games by Skillz Games, such as Blackout Bingo, try their Solitaire Cube. Like Solitaire Cash, tournaments involve several players, and players are matched based on skill level.
Solitaire Clash
Solitaire Clash is another Solitaire variant by AviaGames. It also offers multiplayer tournaments and cash rewards. You can also try Big Win Solitaire and Pyramid Solitaire.
Other non-solitaire games that pay cash rewards you can withdraw via PayPal include Bubble Clash by Papaya Games, Swagbucks, and Bingo Clash.
What's the Catch With Solitaire Cash?
There is no catch. Solitaire Cash pays cash rewards for your achievements. However, be careful; you'll lose money if you enter paid tournaments and fail to win. You'll lose the entry fee you paid, which can stack up to significant amounts over time.
Also,
The game is fast-paced, and winning depends on speed and accuracy.

Tournaments with high payouts have high competition

Winning cash prizes in free roll tournaments is more complex as 10 players are competing for the prizes instead of 6 players in other tournaments
Keep your risk low by avoiding tournaments that require an entry fee of $3 or more until you're consistently winning. Also, practice regularly with the free games to improve your skills and speed.
Solitaire Honest Reviews

Solitaire Cash is legit and pays real money, but that doesn't mean it's easy to win. Most players say they enjoy the game as it's fun, and they collect gems.
Playing for free is both enjoyable and risk-free. Pay if you're willing to spend some money for fun. But if you need to consistently and reliably make money, Solitaire Cash is not the best bet.
Here's what other players say.
"I did cash out once, and the money was in PayPal the first day, and PayPal automatically deposited it in my bank account the next day. I think the 14-day thing is a CYA move."
~ Due-Seesaw9003, Reddit
"I kept the Solitaire cash games after I did the offer because every day you get a bonus and every couple of days you get a little bit of bonus cash and it adds up so when I have enough for one dollar I play a real cash game and sometimes I win a few and make free money!"
~ Reddit
Fine ad-free game with some issues
I've been playing for about 2 months. I played for about 6 weeks for free and then used a deal to deposit cash and get bonus cash. The game works fine, but it's a bit tough to win a lot of money or gems. It seems like certain times of day are tougher to win.
Final Thoughts on Solitare Cash
Solitaire Cash is legit and pays real money to winners. However, you should not expect to win consistently and earn reliably from my experience. Exercise caution and manage your expectations, as individual experiences and winnings may vary.
Many users have shared positive experiences with the game, especially its enjoyable gameplay and the opportunity to earn real rewards. However, some have mentioned the need for patience and skill to maximize earnings and occasional technical issues.
Prospective players should always exercise caution and consider their skills and preferences when engaging in real-money gaming apps like this. With a mix of excitement and responsibility, Solitaire Cash is an enjoyable way to test your skills and earn rewards.