Are you looking for work from home jobs that pay well? Perfect, this post is all about work from home jobs that pay up to $60k per year.
Since working from home I have been able to have the freedom I have always desired and I have gotten the chance to work and set my own schedule. Setting up my own schedule has amazing because I have two little boys who keep me busy on a daily basis.
If you have a desire to work from home it's definitely possible. In fact, I did research and find some pretty legit work from home opportunities that you can try out today. This post will share 10 work from home jobs that have the potential to make up $60k per year.
Related Posts
---
10 Legit Work From Home Jobs That Pay Up To $60k/yr
1. Freelance writer
If you are looking to work around your current schedule and make great money look into becoming a freelance writer. Different places online such as Income Diary lets individuals submit articles to appear on their website. They pay between $200- $500 for articles of high standards. So, if you are great at writing starting a freelance writing business might be great for you.
How to get started: Check out Elna's Cain free "Get Paid To Write" email course to get started. Click here to sign up. Elna has made thousands from her freelance writing business and in her free course "Get Paid To Write"to covers how to start a profitable freelance business and how to make money quickly.
Pay: Varies $50 to $500+ Per Article
2. Teach English online
If you love teaching and working with children this job might be perfect for you. Magic Ears is a company that hires teachers to teach children between the ages of 4- 12 right from the comfort of their own home.
The great thing about Magic Ears is that they offer guaranteed teaching bookings unlike some of the other similar platforms. You can start out making $18/hr and you have the chance to go up to $22/hr pretty quickly. So, if you are looking to teach from home this might be job to look into.
How to get started: Learn more about Magic Ears by clicking here.
Pay: Varies $18-$22/hr
3. Blogging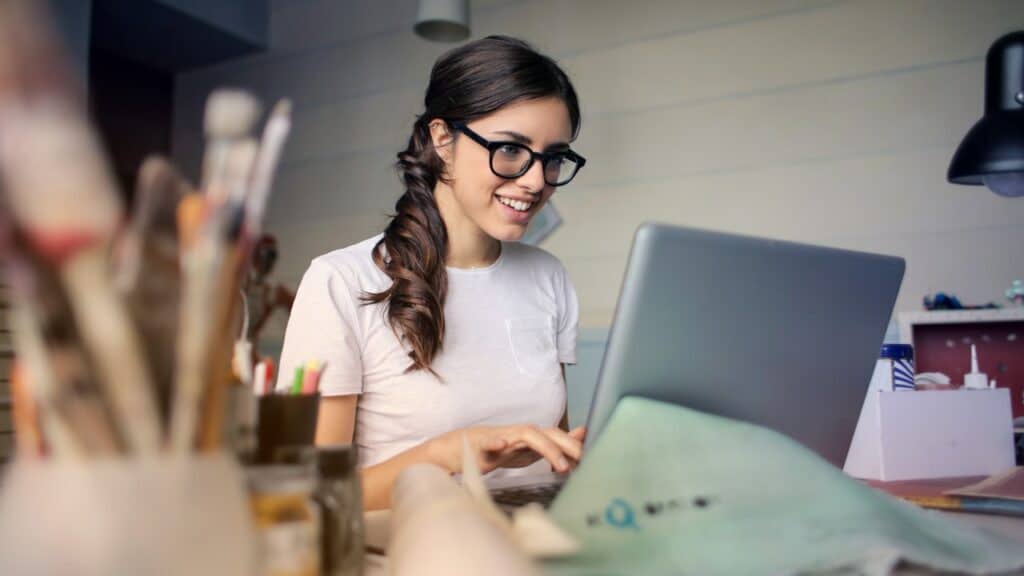 Blogging is one of my favorite ways to make money because there are so many ways to make money from a blog. When you start a blog you will be able to connect to an audience in a lot of different ways and even start growing your own community.
Since I have started blogging I have made thousands and I have turned my blog into an actual business. I currently get to stay at home and make money doing what I love.
If you are looking to start a blog there are many ways to monetize it and make money.
Some ways to make money blogging are
Affiliate Marketing: With Affiliate marketing, you get paid a commission to promote products that you love and have tried. For example, let's say you become an affiliate with Amazon and you get your referral link from amazon to promote different products that love. When someone goes to your blog and click on the link and purchase the item you earn a commission. You can also become an affiliate for different companies such as Survey companies and earn money when someone clicks on your affiliate link and sign up for the different survey sites. Read more about how to get started with affiliate marketing by clicking here.
Sponsor Posts: With sponsor posts, you get paid to promote products through a blog post or on your social media platforms. The products range from clothes, new technology, shoes and more.
Ads: If you ever go to someone's website and see ads on the site more than likely they are a publisher with an ad publishing company such as Mediavine or Adthrive. When you add ads on your site you will earn money either through PPC ads or CPM ads.

PPC ads are Pay Per Click Ads. With PPC ads you get paid a certain amount when someone clicks on the ad. CPM ads are called Cost Per Thousand Impressions ads. This means every for thousand views that the ad receives you will earn a certain amount depending on what was agreed with the ad company. I am currently using the CPM method with Mediavine and I had one month when I made over $1000 from having ads on my site. So, this way to earn money is very passive! Click here to learn about how to apply to an ad publishing company to add ads to your site.

Products: Another great to make money with a blog is through your actual products. Some product ideas you can offer your audience are, courses, books, printables, guides and more.
How to get started: Click here to read more information about how to start a blog. This tutorial will walk you through how to start a money-making blog today.
Pay: Varies $50 to $10,000+ a month
[optin-monster-shortcode id="v9jcri3ua0kudnvr"]
4. Business Coach
Coach life is where it's at because coaches can charge a lot of money for their one on one time. When I added a business coach for my business I spent over $4,000 for 6 months of coaching.
So if you are able to coach online you can make more than 60k per year taking on clients. For example, Cici from The Six Figure Chick is a business coach and digital content creator and she makes over $100,000 a month. So, think about what type of services you would want to offer in your coaching program and map out the plan.
How to get started: Check out Reese Evan's from Yes Supply.co post on how to make money as a coach by clicking here. Reese has made six-figure since becoming a coach and teaches others how to start a coaching business.
Pay: Varies $50 to $10,000+ a month
5.Proofreaders
If you are great at editing papers you can totally check out becoming a proofreader. Proofreaders and editors can earn up to 60k and more depending on the clients that they take in. Places such as Proofreading Pal and Scribe will pay professional writers to proofread documents and books.
Also, blogger and proofreader, Caltin of Proofreadanywhere makes thousands of month proofreading and helping others learn how to start a proofreading business.
How to get started: Check out Caitlin's Proofreading workshop on how to make six-figure with a proofreading business by clicking here!
Pay: Varies $100 to $4,000+ a month
6. Flip Websites
Did you know you can create a website, build it up and then sell it?
Yup! That's what website flipping is. With Website flipping, you create a website with the intent to sell it later for a profit. Websites such as Flippa lets users sell websites, domains, and apps to others and get paid.
That's exactly what Jenn of Website Flipper University does every year and earn over $100,000 a year by doing so.
How to get started: Check out Jenn's Website Flipper University by clicking here. Also, check out her free video training which shares how to flip websites for profit by clicking here.
Pay: Varies $100 to $60,000+ a month
7. Virtual Assistant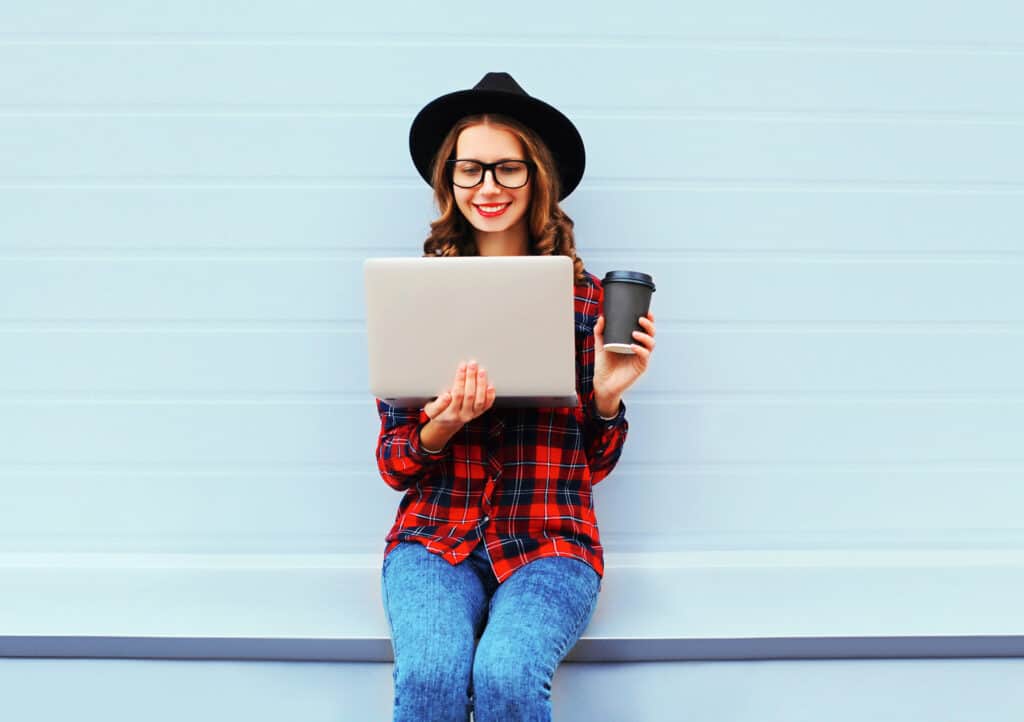 Another great way to make 60k per year is by being a virtual assistant. When you become a virtual assistant you can work from anywhere and offer services such as bookkeeping, social media management, data entry and more.
How to get started: Check out the interview I did with Chonce who is the founder of My Debt Epiphany. She shared her top tips on how to become a virtual assistant and make $100 per day. Check out the interview by clicking here.
Pay: Varies $100 + per day
8. Digital Content Creators
If you have a blog creating digital products for your audience is a great way to make money every month. Some digital products you can create and make money from are courses, masterclasses, webinars, guides, books, printables and much more. Bloggers such as Melyssa Griffin sell digital products such as courses and makes over $100,000 a month.
One of the best ways to get prepared to sell products on your website is by creating content on your actual website that helps your audience with a specific problem. For example, a parenting blog might have blog posts on ways to help parents keep their children active in the summer or they might have posts on how to handle conflict in their home.
How to get started: To learn more about how to start and sell digital products on your website click here to read a very informative guide that goes over how to sell digital products for profit.
Pay: $10- $10,000+ a month
9. Graphic Designer
Are you great at designing websites, brand logos or other graphic images? If so, then becoming a graphic designer might make a great career for you. Kara over at Simplifying design makes six-figure designing templates, photo mockups and more in Canva.
She also teaches others how to design in Canva and has a ton of resources and tools to help a beginner graphic designer.
How to get started: Check out Kara's resources on her site by clicking here. She shares a ton of information on how to design images and templates in Canva.
Pay: $50- $5,000+ a month
10. Social Media Manager

If you love being on social media a lot then becoming a social media manager might be a great field to look in to. Social media managers handle different activities online such as creating blog post images for their clients and creating social media schedules for them.
The pay of a social media manager varies but some can make up to $5,000 + a month just by handling different social media accounts for different businesses. In order to be a social media manager, you have to know knowledge about the different platforms such as Instagram, Facebook, and Twitter and now how to navigate through them.
How to get started: Check out this list of social media courses and resources on how to become a social media manager and master social media by clicking here.
You can also check out the How To Become A Freelance Social Manager course to see what it takes to be successful in the field.
Pay: $200- $3,000+ a month