You might be wondering if Swagbucks is legit. The fast answer to this question is: Yes, Swagbuck is legit. For the past year, I have been making an extra $300 per month from Swagbucks and that's why I am super excited to share my Swagbucks review with you.
On Swagbucks, there are a ton of ways you can make money, such as watching videos, taking surveys, playing games, and much more.
This is one of my favorite sites to make extra money each month because there are so many ways to earn. It's also a great site to make passive income through their referral program. I currently make the most money from the site by using their referral program and using their Yahoo-powered search engine.
This post is a full Swagbucks review, and I will share tips on how to maximize your earnings on the site.
RELATED POSTS
---
Swagbucks Review: Is Swagbucks Legit?
What is Swagbucks? How does it work?
Swagbucks is a site where you can earn points daily and turn them into gift cards or cash via PayPal. Once you get at least 300 points you can redeem the points for gift cards to places such as Target, Walmart, PayPal, Applebee's, Amazon, or for Paypal cash.
On the site, you are able to play games, watch tv shows, use it as a search engine, and more to earn points every single day. The earning potential on Swagbucks is almost endless.
Pros of Swagbucks
You can earn points daily from doing what you already do.
You can turn your points in to receive gift cards to some of the top stores around the world such as Walmart, Target, and more.
If you prefer to turn your SB points in for cash you can select the PayPal option. With this option, Swagbucks will send your payment to your PayPal account within' a week.
You can use the Yahoo-powered Swagbucks search engine and earn points every time you search the web on your computer.

The payout is super quick once you submit your points in!
How much money can you make using Swagbucks?
On the Swagbucks site, you can make a pretty good amount of money. I joined 4 years ago and I have made an extra $4,000 from Swagbucks. That's about an average of $1000 a year from Swagbucks. What can you do with an extra $1000 a year?
Is Swagbucks worth doing?
Swagbucks is absolutely worth doing. Since there are so many ways to earn on Swagbucks you can always find different ways to make money from the site.
Swagbucks has paid out more than 200 million dollars in rewards to their users. The Swagbucks review will go into more detail about how to earn on the site.
Can you get real money from Swagbucks?
Yes, you can get real money from Swagbucks. Since joining I have earned over 400,000 points which is $4,000. I have earned at least $1000 each year since I have joined this site. Because of that I highly recommend it if you are looking for ways to boost your income. You can also get eGift cards to places such as Target, Walmart, Amazon, and much more.
If you don't want to redeem your Swagbucks points for eGift cards you can redeem your points for PayPal cash.
How can I get 10000 Swagbucks fast?
On the Swagbucks site, you can earn points really fast. Some of the fastest ways to get 10000 Swagbucks points are:
Refer your family and friends to the site to sign up.

Use Swagbucks as a search engine.

Sign up for different offers on the Swagbucks site.
---
Ways To Make Money On Swagbucks
1. Get Paid to Search the internet
A great way that I make money from Swagbucks is by using their Yahoo-powered search engine. You can make 25-50 points per day just from searching the web right from the Swagbucks site. Simply go to the Swagbucks site and use their search engine at the top of the page to earn points.

You can also add the Swagbucks search as a default search on some of your computers to earn daily. Once you set it up you will be able to earn points every day from Swagbucks.
I get rewarded points every time I search for something on their search engine on my computer. This is awesome because I get paid to do something that I do every day regardless.
While on their search engine you will be able to see your points load up every time you get rewarded. The example below shows my points loaded up in the upper right-hand corner.

So the cool part is that I make money every day from having Swagbucks as my default search engine on one of my laptops. This is one of my favorite ways to earn points from Swagbucks.
2. Get Paid By Referring Your Family and Friends
Swagbucks has one of the best referral programs to join because you can share your personal Swagbucks link on your blog posts (Click here to find out how to start a money-making blog) and/or social media to promote the site. Additionally, you can share your referral link directly with your friends and family.
With the referral program, every time you refer someone to Swagbucks and they sign up you will earn points. This is one of the quickest ways to earn points from Swagbucks. At the beginning of the month, you are able to receive bonuses from the referrals that signed up through your link from the previous month.
Once you add referrals and they sign up through your Swagbucks link you will earn 10% of the points that they earn for life! How awesome is that?
3. Earn Cash-back From Online Shopping
If you do a ton of online shopping you can earn big on Swagbucks! Swagbucks partners with places such as Walmart, Target, Amazon, and more to give you a chance to earn while you shop online.
Swagbucks will reward you points each time you do online shopping and purchase items through their portal from selected stores. You can easily earn between 1-7 points for each dollar that you spend online shopping on Swagbucks.
To earn points from online shopping go to the store that you will do your online shopping with and then click on the "Activate" button on the Swagbucks extension slider that pops up in the right corner (as seen in the example below).
If you haven't already make sure to download the Swagbucks extension from Google Chrome so that you will be able to see the Swagbucks active button.
Once you click activate you will be able to earn points from your purchases. In order for the Swagbucks extension to pop up every time, you shop online make sure to download the Swagbucks extension by clicking here to add it to your browser!
You can also go directly to the Swagbucks site and click on the word "Shop" on the left side of the website and search through the different deals and cash-back opportunities they have for the day.
4. Play games
If you love to play games then Swagbucks is great for you. Swagbucks has a ton of free and popular games such as Bingo and Wheel of fortune you can play daily and make money from.
I know a lot of people who really love playing games on the Swagbuck site and earn a great number of points by doing what they love. Because this is such a fun way to earn points I made sure to include it in my Swagbucks review.
5. Watch videos
Another really cool way to earn points on Swagbucks is by watching videos on Swagbucks daily. You can earn 1-4 Swagbuck points just by watching short videos on the platform daily.
Some of the video categories are music, entertainment, politics, health, and more. When I first started on Swagbucks in 2016 I would pull up the Swagbucks videos and watch a few of them and earn points instantly. This was really great for me when I worked a full-time job. The great part is that I was able to make extra money by watching the videos.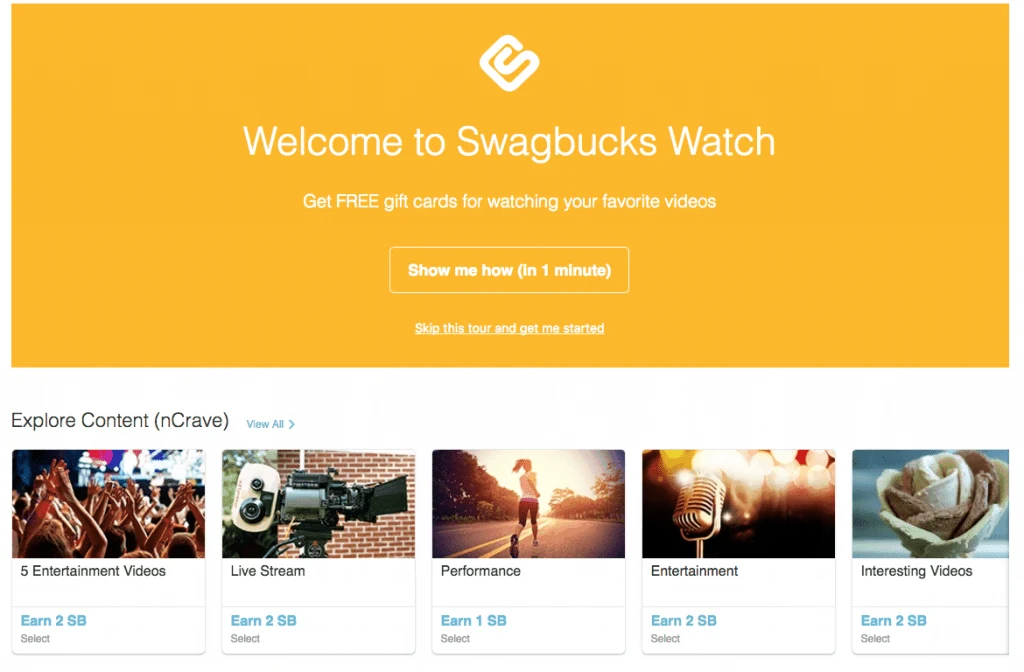 6. Discover deals
Another awesome way to earn points is by clicking on the Discover tab. This is one of my favorite ways to earn points on the site because I can sign up for new products and services.
In the discover section you will be able to find deals that you can sign up for and get mega points. You can earn points from almost anything on the Swagbucks discover section.
For example, below is a past promotion but the people that signed up for Hulul earned 500 points just by signing up through the Swagbucks site.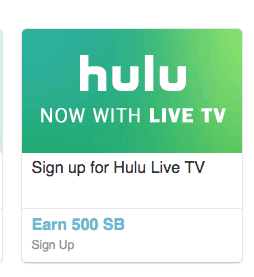 Some additional discover deals I have seen have been through Acorn, Stash, Chime, Plum, and much more.
If you are looking to sign up for a new service or new products check out the discover section on Swagbucks so you can grab those points for signing up.
7. Answer Questions on surveys
Swagbucks has some of the best surveys to earn money from online. If you have time you can also earn points by answering questions on the different surveys on the site. The survey payout will vary and be different for each survey. The amount of time needed to complete each survey will also vary depending on the survey.
I would suggest this option if you are looking to add points to your profile fairly quickly. Remember the more points you get the more money you can earn. This has been one of the best ways to earn on the website.
8. In-Store Cash-Back
Another great way to earn money from Swagbucks is by scanning your receipts from shopping and by buying certain products at your local stores.
For example, in the Swagbucks image below you will see a list of products that you can buy to earn points for on the website.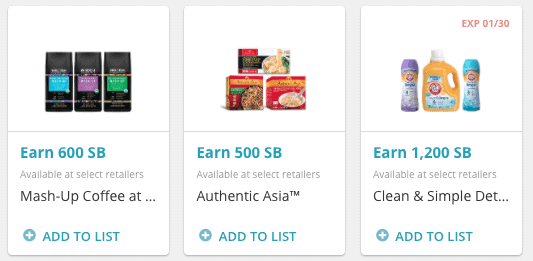 On the same page you can add the products you will purchase at your local grocery store to your list. After you go to the store upload the receipt onto the Swagbucks in-store page to shows you actually purchase the products. After that, you will earn the points listed for the product.
So if you are looking for a quick way to earn on the Swagbucks website this is one of the best options.
Frequently Asked Questions
What's the catch with Swagbucks?
There is no catch with Swagbucks. They have paid out more than 200 million in rewards and they have over 16,000 reviews on Trust Pilot. If you search Swagbucks online you will find many reviews such as mine that all recommend the site.
How many Swagbucks is $1?
On the Swagbucks site, $1 is 100 points. So, if you earn 10,000 points that will be $10.
Is Swagbucks safe and legit?
Yes, Swagbucks is safe to use online. There have been thousands of people who use Swagbucks online and have earned money just by completing tasks on the site.
So, if you are looking for a legit and safe website to earn money from every day Swagbucks is a great choice.
Final Thoughts
There you have it! A beginner's Swagbucks review to help you get started on the platform. As you can tell I totally recommend this platform and Swagbucks is legit. Since joining the site I have made over $4,000 and other people I know have made hundreds of dollars as well.
Swagbucks is seriously my favorite go-to site to make extra money so it was easy to write this Swagbucks review. I have earned money in so many ways and have even paid for all my Christmas shopping using this site each year since I signed up.
They are currently one of the most popular reward programs on the internet and have already paid more than $245,346,293 in cash and free gift cards to different individuals that use the site daily
If you are looking to try out Swagbucks today from this Swagbucks review? Grab your $10 bonus credit by clicking here to sign up!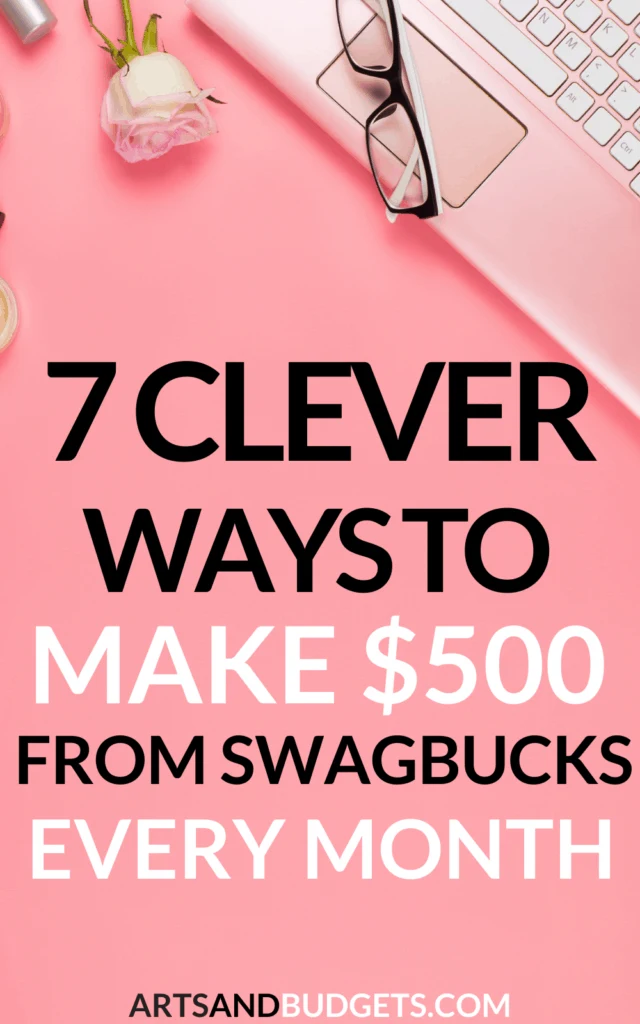 ---