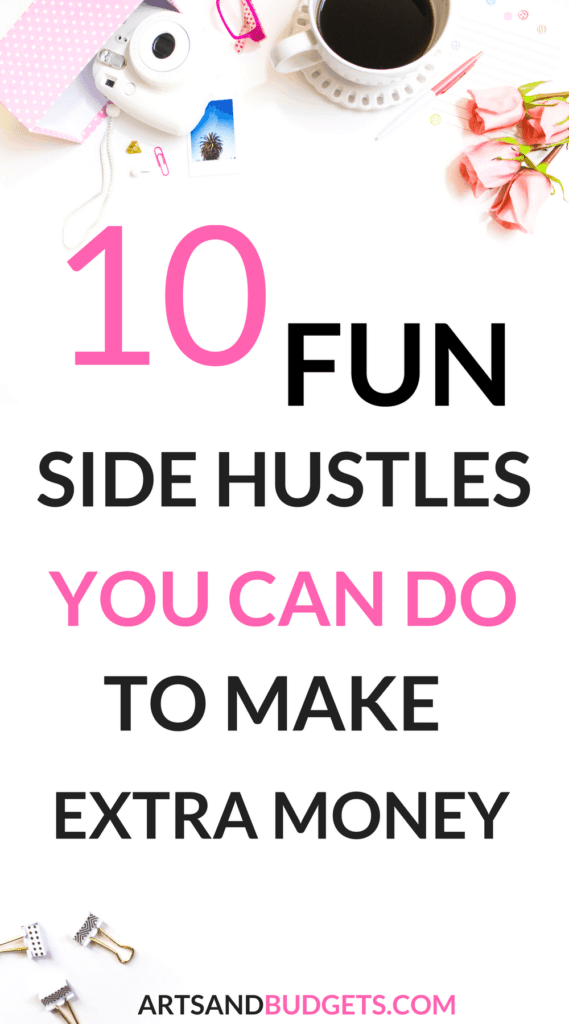 Looking for ways to make extra money by doing fun hobbies?
If so, perfect!
One of the coolest things to do while on your blogging is FUN side hustles! I have done a ton of awesome side hustles and have earn money doing so. I have also met a ton of great people along the way. I thought it would be a great idea to include some fun hobbies that you can actually turn into great side jobs to make extra money.
Since I am creative I tend to love doing things such as singing and performing in musicals in my local town and most of the time I get paid for my talents in the arts. Wouldn't it be nice to always get paid for your talents in music, theater, photography, and dance?
Yup, I think so too!
That's why I decided to write a post on creative ways you can make money doing hobbies that might do every single day.
Related Posts
---
1. Start A Profitable Blog
Are you passionate about something and want to get your voice heard on topics such as personal finance, fashion, cooking, social media, or more? If so, starting a blog might be up your alley! Since I have started my blog it has SERIOUSLY changed my life. I have been able to stay at home with my first child and work on my blog + biz and make great money each month.
When I first started my blog, my first main focus was on developing great content. With great content and a solid social media strategy, a person can make a great living as a blogger.
How can a person make a living blogger? There are a ton of ways a person can. Check out this article to learn about the many ways to make money blogging by clicking here.
If you are new to the blogging world and haven't started a blog yet, you can start one today! For more information on how to set up and start a profitable blog check out my step-by-step tutorial by clicking here!
2. Complete Surveys Online
About a year ago I started looking into different survey sites to make extra money and some of the ones I found turned out to be AMAZING. Last year I was able to pay for all my Christmas shopping with the help of this side hustle! I make the most money by referring others to my favorite sites and you can too!
One of my favorite survey sites is Swagbucks and every month I make an extra $150-200 dollars from completing tasks and referring others to their amazing website. So, if you are looking to make quick money or need a little extra money for gas totally look into completing surveys online.
Some of the other survey sites to earn gift card rewards and/or extra money online that I love are listed below
3. Sell Photos
Are you good at taking photos and want to make extra money? Then selling your photos might be right up your lane. Photography companies are always looking for new photos to showcase on their sites. Places like Clashot, Snapwire, Pexels and Istockphoto are places online where you can actually earn money from your photos.
So, get out your camera and take some photos while you on vacation or if you having fun night on the town and upload the photos on the site listed above to earn money.
4. Give Out Music Lessons
This one is for all the musical geniuses out there! If you are great at playing a musical instrument or if you have a great ear for music you can actually teach for places such as TakeLessons. Places like TakeLessons let students take private or online lessons online which is great if you have a busy schedule.
My husband actually teaches music lessons and makes $65 per 2-hour session. I think it's awesome because he is doing what he loves and getting paid for it on his own schedule.
Things In Music You Can Teach:
Production
Mixing Engineering
Vocal
Piano
Guitar
Drums
Songwriting
5. Do Voice Over Work
Ever wonder how much fun it would be to be a voice-over actor? The great thing about being a voice-over actor is that you can do it anywhere which is a huge plus for travelers and people on the go. Different companies hire voice-over actors for radio, the Internet, and Television to do voice-over work for children's audiobooks, cartoons, commercials, and more. I recently did an interview with Carrie Olsten, a full-time voice-over actor, and she makes over $5,000 a month doing voice-over for different companies.
As a beginner, I suggest putting together a voice-over demo and you can do that by going to a professional recording studio or by setting it up yourself. If you do it yourself make sure to get a great microphone and a set of great headphones.
On the demo, you would record different voices that you can do such as cartoon characters so that the different clients that you audition for can see if you would be a good fit for the role. Your demo will be your resume for auditions! To find voice-over work you can check out these places: Freelancer, Upwork and Fiverr.
6. Become an Extra Actor For TV and Movies
Looking to get into some acting on TV or movies? Doing Extra work is one funniest job I have ever done. I have worked on television shows such as The Boss, Chicago PD, Empire, Chicago Fire, Sense 8 and more. I make anywhere between $75 to $350 per day depending on the background role.
The casting companies normally have a great lunch or dinner set up for the background actors as well. When looking for opportunities around the world I normally get email updates from a company called, Audition Free.
You can check them out HERE. Please note, you will NEVER have to pay to be an extra/ background in any movie, commercial or television show. You can also check out Backstage, which is another casting company that handles extra casting for all states.
7. Go Shopping
Yup, you got it! You can get paid to shop by working with mystery shopping companies. Last Christmas, I earned extra funds from mystery shopping and didn't have to take any money from my regular income. In fact, all my Christmas spending money came from doing side jobs like the one. !
Pretty cool, huh? As always, make sure to do your research to see if mystery shopping is something that you would be interested in.
Some of my favorite mystery shop companies are BestMark, Sinclair Customer Metrics, MarketForce, Intelli-Shop, and Confero (Note: If you find other mystery shopping companies that are not listed below, NEVER pay the mystery shopping company to sign up or pay to see their shopping list! The legitimate ones never ask for payment from you. Also, check to see if the mystery company is a member of the MSPA).
8. Become A Tutor
Are you currently a teacher or tutor and looking for part-time work? As a former substitute teacher, I was thrilled to find out about the different work from home jobs in education. The great part about it is that you can do it in the comfort of your home.
Here are companies that look for teachers and tutors: HAWO, Berlitz, Cambly, PrepNow, and TutorVista.
9. Develop An Ecourse
E-courses are definitely on the rise right now and I think it's super amazing!
Don't think you teach anything? Let me be the first to say you CAN! Everyone has something that they are good at even if it's unique. So, think about what you are good at and what people ask you for help on and develop a solid plan for a new course. Places you can develop e-course online for free are Teachable and Thinkific.
10. Write For Places Online
Recently, I researched a ton of companies that actually pay bloggers to write for their websites. Pretty AWESOME, right? Writing for other companies online is a great side hustle that you can do to make extra income.
Oh, and you will be doing something that you love- writing! Some places that look for bloggers to write online are Listverese, Hubpages, Money Pantry, MetroParent, Her View From Home, The Penny Hoarder, Knowledge Nut, HowlRound, Doctor of Credits, & Matador Network.
11. Make Videos On YouTube
With so many people going on Youtube daily it's definitely a platform that many bloggers, influencers and creatives can make great money. Many paid Youtubers make thousands and even millions just from sharing videos on toy reviews, music reviews, product reviews and more.
Making money on Youtube is totally possible and is actually the main source of income for many Creatives! Just recently this young child Youtube influencer earned a whoopin' 22 million dollar from Youtube last year alone.
YES! 22 million dollars and a large portion of that comes from having advertisements on his videos.
A great website to check out Sponsorship opportunities to make money on Youtube is the Youtube Sponsorship platform called Famebit. Famebit is a trusted platform with a ton of Youtube influencers on there ranging from small to big channels.
12. Be a Brand Ambassador
Love to mingle and network at different events? If so, becoming a brand ambassador in your town might be a great side job for you! You can work events for companies such as McDonald's, Verizon Wireless, and Pepsi and get paid for doing so.
Brand Ambassadors are hired to promote the brand in a positive light to the public while providing consumers with a memorable face-to-face experience. When new events come to town many promotion companies hire brand ambassadors to help assist them with the different tasks to make sure the events run smoothly. The duration of the events varies as some maybe for a day and others lasting up to 3 to 4 weeks or more.
Working for different promotion companies totally helped me add extra funds to my income. Some companies that hire Brand Ambassadors are: Big Orange Productions, Encore Nationwide, On The Rocks Models, Event Pro strategies & you can also conduct a Facebook Search [In the search box put: Brand Ambassador + Your City] (Ex: Brand Ambassador Chicago)
So there you have it! 10 Hobbies that you can turn into actually side hustles! Which hobbies are you turning into side hustles?