Are you currently wondering if selling feet pics is dangerous? If so, you are in the right place. This side hustle has been on the rise from my research, so I collect some information to see if doing this side hustle is actually dangerous.
So this post will share vital information on whether selling pics is a dangerous industry and some things to look out for if you sell feet pics.
The laws and regulations governing the sale of feet pictures may vary by country and state. While selling feet is legal in most places, it is essential to familiarize yourself with the specific laws in your location.
Is Selling Feet Pics Legal?
For instance, selling feet pics in the United States is generally considered legal if the photographs are not explicit.
It's essential to comply with the rules and guidelines of the platform you choose to sell feet pic on, such as Instafeet or Feet Finder. These platforms usually have policies in place to protect the identities of their sellers and buyers while ensuring transactions are conducted within the boundaries of the law source.
Sell Feet Pics On Feet Finder: If you are looking for a platform to start selling feet pics on, check out FeetFinder!
If you want to sell feet, Feet Finder is a platform to look into. Feet Finder is a platform where individuals sell feet pics and make money from buyers. Currently, Feet Finder has a 4.8 out of 5 on Trust Pilot. Click here to check out Feet Finder!
Related Post: FeetFinder Review 2023: Is it Legit and can you make money from it?
Common Risks and Dangers of Selling Feet Pics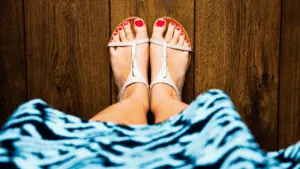 Online Scams and Fraud
When selling feet pics, make sure to look out for online scams from scammers. Scammers can pose as potential buyers or representatives of legitimate businesses, offering to pay you for your pictures.
They may try to trick you into giving away your pictures for free or sending money, so it's crucial never to sell any of your images before payment. To avoid these scams, verifying the legitimacy of any interested buyer or company before providing your pictures or personal information is essential. Also, be cautious of deals that sound too good to be true.
Identity Theft and Personal Information
Another risk related to selling feet pics is identity theft. While many sellers may try to protect their identities by not including their faces in the images, you must be cautious about what personal information you share. Never reveal too much personal information to protect your identity potentially.
Tips To Keep Your Information Safe While Selling Feet Pics
Keep your face and any identifying features out of your photos.

Never share your real name, address, or phone number with buyers

Use a separate email address solely for selling feet pics

Enable two-factor authentication for your email and any other accounts related to your feet pics business

Consider using a virtual private network (VPN) to hide your IP address and location when selling feet pics online
Other Platforms to Sell Feet Pics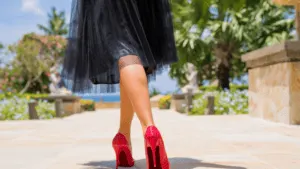 Instafeet
Instafeet is another platform where people can sell feet pics to buyers. Again, creating a seller profile and interacting with potential buyers is easy. Similar to FeetFinder, Instafeet ensures your safety and privacy while selling images.
Consider the following points while using Instafeet:
Regularly add new photos to your gallery to keep your content fresh and attractive

Engage with your subscribers to build a following

Set reasonable prices that cater to a wide range of budgets
Related Videos:
How To Protect Your Privacy and Identity While Selling Feet Pics
When selling feet pics, protecting your privacy and identity is essential. Here's how to keep your personal information safe and ensure a positive experience.
Watermark Your Photos
If you want to protect your images when you sell feet pics, make sure to watermark your photos.
Watermarking your photos helps prevent unauthorized usage and claims of ownership by others. Not sure how to watermark your photos? Check out the video below.
Payment Methods and Safety
When selling feet pics, choosing safe and secure payment methods is important. Using reputable payment processors will help protect your personal information and ensure smooth transactions.
PayPal
PayPal is a popular choice for online transactions, and it's one of my favorite platforms to use when I sell templates. Always log in via their official website and never share login credentials with anyone.
Finally, receiving payments, avoid clicking when receiving payments on any suspicious links and attachments.
Stripe
Stripe is a highly recommended payment processor for online businesses. It offers a secure platform to accept payments directly on your website. In addition, your customers' credit card details are kept from your server.
Gift Cards
Accepting gift cards as payment for your feet pictures can be convenient and offer a layer of privacy. Some of the most used gift cards include Amazon, iTunes, and Google Play. However, beware of potential scams where buyers ask for gift card codes in advance, then disappear without making a payment for your pictures.
Secure Payment Processors
In addition to PayPal and Stripe, there are also other secure payment processors that you can consider using, such as Square, Google Pay, and Venmo. Make sure to research each platform to determine which best suits your needs and safety requirements. In my opinion, Paypal and Stripe are the best ones.
Remember, when selecting a payment method for selling feet pics, prioritize your privacy and security. Avoid sharing personal information with buyers, and use reliable, secure payment processors to ensure a safe and successful transaction.
Managing Social Media Presence
When selling feet pics, it's important to maintain a careful and strategic presence on social media. Platforms such as Twitter and Instagram are great for reaching potential buyers and growing your business. However, remember to remain cautious to protect your privacy.
Social Media Pics For Selling Feet Pics
Remain anonymous:

Create separate accounts for your feet pics business. Remember never to use your real name or information. Also, avoid sharing personal information that can be used to identify you, such as your full name, address, or date of birth.
Protect your photos:

Add watermarks to your images to prevent them from being stolen and used without your permission. You can also lower the resolution of the images you post on social media, making it harder for others to use them without your consent.
Be selective with your platforms:

Not all social media platforms are equally safe for selling feet pics. Use platforms known for their safety measures and user privacy, such as Twitter, Facebook, or Instagram.
Control your interactions:

Filter your messages and block users who exhibit inappropriate or harassing behavior. If a user makes you uncomfortable or crosses your boundaries, don't hesitate to report them to the platform.
Stay updated on your chosen platforms: Social media and online regulations can change, so staying informed about any updates affecting your business is essential. In addition, understanding the terms and conditions of the platforms you use will help ensure you remain compliant and avoid potential issues.
By following these guidelines, you can create a successful and safe online presence for your feet pics business, reaching a wider audience and maximizing your earning potential.
Ethical and Personal Considerations
When considering selling feet pics, it's very important to take into account ethical and personal considerations.
Depending on your religious or personal beliefs, selling feet pics might be considered immoral or inappropriate. Evaluating your values and beliefs before deciding to engage in this activity is essential.
Tips for Selling Feet Pics Safely
As you venture into selling feet pics, keeping safety and privacy in mind is essential. Following these tips will help you avoid scams and ensure a positive experience.
Choose a Reputable Platform
Select a reliable platform to sell your feet pictures. Research various sites, paying close attention to their user reviews and overall reputations. Make sure they have a secure payment system and clear communication channels.
Protect Your Personal Information
Maintaining your anonymity is important when selling feet pics. Use a pseudonym or stage name to protect your real identity. Ensure not to include personal details on your seller's profile, such as your address or phone number. Create a separate email account dedicated solely to your feet pic business.
Watermark Your Images
Before sharing any images or photos publicly, add a watermark to protect your intellectual property. This will help prevent others from stealing or using your images without your permission.
Create Original Content
Ensure that you have the copyright to all the images you're selling and only use original content. This will help you avoid legal issues and maintain a positive reputation among your clients.
Follow Legal Requirements
In most cases, selling feet pics is legal and safe, but there are some requirements to remember, such as being at least 18 years old to sell feet pics and having a valid ID for account verification.
Maintain Professional Boundaries
Keep your interactions with buyers professional. Do not share personal information, and avoid getting involved in any inappropriate or offensive conversations.
Final Thoughts On Is Selling Feet Pics Dangerous
So from my research, selling feet pics isn't dangerous if you take extra measures to protect your identity and privacy. For example, make sure to never to give out your personal information and to never show your face in the pictures that sell. Also, make sure to use reputable platforms such as Instagram, Facebook, and Twitter to sell your feet pics.
Additionally, you can check out platforms such as Instafeet and Feet Finder but look at reviews from other sellers on the platform to see if it's a good fit for you and your business. While this side hustle isn't one that I would do, I have researched others that have earned thousands from doing it.
Additional Articles