Are you looking for free online jobs that pay daily? I have always loved finding the best side hustles to make extra money. With a background in musical theater and performing, I have often had to pick up side gigs in the past to help cover my monthly expenses. I have done everything from working with brands at local radio stations to participating in focus groups.
During this time, I developed a passion for helping others find ways to increase income to build wealth, and pay off debt through side hustles. This passion came from my experience of working in the performing art field and meeting so many amazing creatives who didn't make enough to cover daily expenses.
Also, as a creative and side hustle coach, I love hearing success stories from people who have found their niche. An online job that allows you to showcase your talents, exercise your creativity, and even make a good living. However, finding credible online jobs can be challenging, especially if you're starting. So this blog post will share some of the best free online jobs that pay daily.
Free Online Jobs That Pay Daily
As someone who's always on the lookout for new online opportunities, I've come across some fantastic online jobs that pay daily. In this section, I'll discuss a few types of gigs that fall under this category, such as survey sites, short task websites, online tutoring, freelancing platforms, and mobile apps.
1. Survey Sites
I've found that participating in survey sites like Survey Junkie, Swagbucks, Opinion Outpost, Pinecone Research, and Branded Surveys can be an easy way to earn some extra cash.
These platforms offer paid online surveys that let me share my opinions on various subjects, and in return, I receive PayPal cash, gift cards, or other rewards.
Here are some of my favorite survey sites to check out:
2. Short Task Websites
Short task websites like Clickworker, Amazon Mechanical Turk, and Gigwalk have helped me work online and get paid instantly for completing small tasks.
These tasks include data entry, website search, and registration processing. Although the pay per task may be low, it's easy to work, and you can do it in your free time.
3. Online Tutoring
Another free online job that pays daily is tutoring. If you enjoy helping others learn new things, online tutoring can be an excellent option for you. Platforms like Cambly, Chegg, and Studypool allow tutors to teach knowledgeable subjects and receive same-day pay. It's rewarding and a great way to make money online.
4. Freelancing Platforms

Freelancing platforms like Upwork and Fiverr offer various

freelance work

opportunities in areas such as writing, editing, proofreading, web design, graphic design, and more.
These platforms allow you to choose the projects you want to work on and set your prices. The cool thing about some of the platforms is that a lot of the clients offer same-day payments.
5. Mobile Apps
Mobile apps like Field Agent, Ibotta, and Swagbucks let you earn money while completing tasks.
For example, Field Agent lets people complete small tasks like taking photos of products in stores, while Ibotta lets you earn cashback for online and in-person shopping. These apps usually pay through PayPal or gift cards.
6. Start A Blog & Monetize It
In 2016 when I became pregnant with my first child, my husband and I decided that I would stay at home with our baby and start a side hustle blog. That year my blog Arts and Budgets was born, and in 2017 we turned it into an actual business after receiving my first paycheck in the summer of 2017. So that year, it became Arts and Budgets, LLC.
Today, Arts and Budgets get over 100,000 monthly page views and has helped me create ten income streams which have helped me reach my goal of creating a 6-figure business. To learn about how to start a blog from scratch, join my next free blog starter masterclass by clicking here.
7. Freelance Writing
Freelance writing and editing are other options that you can look into to work from home. You can join platforms like Upwork or Hire Writers to find various writing jobs.
As a writer, you can provide content for blogs, websites, and publications. On the other hand, You can also offer editing and proofreading services to clients, which can help you create high-quality with fewer errors.
8. Virtual Assistant
If you love helping people with tasks, maybe look into becoming a virtual assistant. As a virtual assistant, you can help businesses with administrative work, social media management, or even customer service.
This type of job offers flexibility in one's schedule and enables them to build connections with clients, potentially leading to long-term work. Click here to find places that have virtual assistant job openings.
9. Affiliate Marketing
Affiliate marketing is another work-from-home opportunity where you can generate passive income by helping businesses and brands. By promoting products or services on your website or social media platforms, you can earn a commission for each successful sale or lead. The more traffic and engagement your content generates, the higher the potential to earn money through this method.
Related Post: 7 Affiliate Marketing Tips To Make Money From Home
10. Graphic Design Jobs
For those with a creative eye, graphic design jobs are a fantastic option to work from home. You can use your web design, logo design, or visual communication skills to help clients enhance their brand's image. Websites like Upwork or Fiverr can connect you with clients seeking graphic design talent.
11. Bookkeeping
If I have a background in finance or a keen eye for numbers, bookkeeping can be a great work from home option. You can assist small businesses or individuals with their finances, taxes, and other related tasks. This job offers a lot of flexibility, and with the right experience and certifications, it can be a fulfilling and lucrative career.
Free Online Jobs That Pay Daily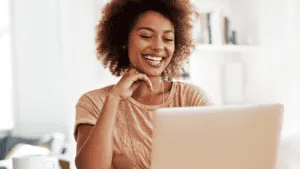 12. Website and App Testing
One interesting online job that pays daily is website and app testing. I've personally tried user testing for various websites, and it's quite a rewarding experience. Typically, these tasks involve testing websites or apps for user-friendliness, identifying any glitches, giving suggestions, or simply reviewing the overall user experience.
Payment is often within 7 days of completing the task, allowing me to earn cash instantly via PayPal.
13. Transcription Services
As someone with fast typing skills, transcription work is another great daily paid online job. Platforms like TranscribeMe offer transcription jobs where you can listen to audio files and convert them into written text.
The work is highly flexible; you can choose your hours and get paid per audio hour. Payment for my completed work is usually processed within a day.
14. Data Entry Jobs
Data entry jobs can be a quick way to earn money online. These online tasks typically involve entering information from one system into another or verifying data accuracy across different platforms.
While some sites might not pay daily, many offer a consistent, reliable income stream for completing tasks in my spare time.
15. Amazon FBA
Though it requires an initial investment, Amazon FBA (Fulfillment by Amazon) has been my go-to method for turning a profit online. You can source inventory, list products for sale on Amazon, and the system handles shipping, storage, and customer service. This way, you receive frequent payouts.
16. Postmates and Lyft
On-demand delivery and rideshare services like Postmates and Lyft can be a fun way to earn daily pay. You can sign up as a driver or courier, and then pick up orders or passengers whenever you have free time. With instant payment options you can access your payments after completing the work.
Other Ways to Make Money Online- Free Online Jobs That Pay Daily
17. Cash Back Apps and Sites
I make money online by using cash-back apps and sites! For example, when I'm shopping online, I use Ibotta to get cash back on my purchases. It's a great side hustle for those who love shopping.
18. Watch Videos and Play Games
I also like to make money by watching videos and playing games on websites like Swagbucks. It's an easy way to earn rewards, and I find it a fun pastime during my free moments.
19. Online Surveys
Another method for making money online is by taking online surveys. I've discovered that Survey Junkie offers paid surveys, which can be a convenient way to earn extra cash, either when I'm waiting for someone or during my lunch break at work.
20. Sell on Etsy
If you're into arts and crafts, consider becoming an Etsy seller! I love browsing Etsy shops for unique handmade items, and as a seller, you could turn your creative skills into a profitable side business.
As you grow your business, market it on your website and social media platforms.
Considerations for Free Online Jobs Paying Daily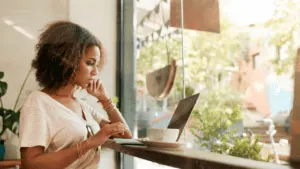 Beware of Scams
When searching for online jobs that pay daily, it's important to ensure they're legitimate. I've encountered a few too-good-to-be-true offers, and staying cautious is essential.
Some genuine online job types that can pay daily or weekly can be found through freelance writing, online surveys, and food delivery jobs. Always be sure to research a position or platform to ensure it's reputable before investing any time and effort.
Lower Payouts
Another area to look into when looking for free online jobs that pay daily is how payments can be on the lower end.
Same-day pay jobs can range from online surveys and smartphone apps to data entry and microtask websites. These jobs often offer the opportunity to earn money fast, but the earning potential can be lower than more specialized online work.
Online surveys such as Branded Surveys and Survey Junkie and food delivery services like DoorDash and Instacart are examples of same-day pay jobs.
FAQ- Free Online Jobs That Pay Daily:
What side jobs pay daily?
There are a lot of side jobs that pay daily, such as working as a driver for Instacart. You can also look into becoming a rideshare driver with companies such as Uber and Lyft. All those platforms pay daily after your assignments are done.
What can I do online to make money daily?
If you are looking to earn money online every day, you can look into becoming a virtual assistant or offering other freelance services to earn money every day.
How to make $25 dollars an hour online?
If you want to earn $25 dollars an hour, a great side hustle to check out is becoming a virtual assistant. As a virtual assistant, you can help businesses with their administrative needs, such as social media management, data entry, and much more.
How can I work online and get paid immediately?
Final Thoughts On Free Online Jobs That Pay Daily
Jobs that pay daily are easier and more manageable for most people. Some of these jobs, such as editing or proofreading, can be more specialized and offer higher earning potential. Others, like customer service representative or virtual assistant positions, can be rewarding while still offering flexibility.
It's worth noting that many online jobs that pay daily tend to be lower-paying due to their simplicity. If you're looking for higher-paying online work, you might want to consider jobs that pay weekly, offering a broader range of opportunities. Remember that with online work, the more specialized your skillset, the higher your earning potential can be.
Additional Resources –Free Online Jobs That Pay Daily