FeetFinderReview
You might be wondering what FeetFinder is and if there is a FeetFinder review to see if they are legit or not. If so, you are in the right place.
Let's keep it real, selling feet pictures is a side hustle that isn't for everyone. While some of my favorite side hustles are proofreading, starting a blog, virtual assistant, and tutoring, you can still use the feet-selling side hustle to make money too. My cup of tea to earn money is, by far, starting a blog and monetizing it. I have been able to turn my blog into a business that now earns over $10k a month through ways such as affiliate marketing, display ads, selling digital products, and more.
If you want to turn a business into selling feet pictures, you can if that's the hustle you enjoy. There are many influencers and people who earn a great living becoming foot models and selling feet pics.
One of the ways to sell feet pictures online is by joining platforms such as Feetfinder. If you are thinking about selling feet pics or want to learn more about FeetFinder, this post will give a full review on FeetFinder. This post will help you figure out if this is a great side hustle for you or not. Let's dive in.
Key Points:
What is Feet Finder, and is it really worth it.

The requirements to join Feet Finder.

Can you really make money from the Feet Finder Platform

Final overview of Feet Finder and the platform.
What Is Feet Finder & Is It a good side hustle?: FeetFinder Review
FeetFinder is a place where you can sell feet pictures online. The company started in 2019 and exclusively buys and sells feet pictures. This site is open to individuals who live in the USA, Europe, Australia, and Canada and to people at least 18 years or older.
It's currently the largest platform to sell feet pictures online. So if you are currently looking to sell feet pictures, a place you can look into is FeetFinder. This platform currently has a 4.9 seller rating on Trustpilot from reviews of sellers.
Is FeetFinder Legit?
You might be wondering if FeetFinder is legit. The short answer is "Yes" it is legit and a way for people looking to sell feet pictures to make money. This site currently has a 4.9 seller rating on Trustpilot and showcases many reviews directly from sellers.
From the reviews, remember that FeetFinder takes 20% of your earnings for the service. Additionally, FeetFinder is known for its great customer service that helps individuals when they are creating accounts on the platform.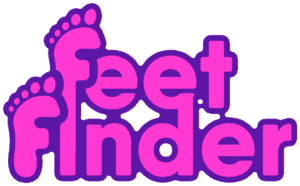 How Does FeetFinder Work?
The sign-up process for the FeetFinder takes at least 5 minutes, and all sellers are ID verified before they can complete the sign-up process. The verification helps ensure that all content that will be available to buyers will come from real people.
Buyers will then have the option to purchase individual photos and videos from sellers. Once the buyer makes an offer, the seller can choose to either accept or reject the request.
FeetFinder automatically blurs the sellers' feet images on the platform but allows the buyers to see a preview of the feet images. This method helps ensures that the sellers get paid, and the buyers get what they pay for without question.
To ensure that all transactions on the platform are fully secure, they work with Paxum and Segpay, both platforms offering secure online payment processing. US-based sellers will receive payment through Segpay, while international sellers will receive payment through Paxum.
Is Feetfinder Trustworthy & Safe?
With a 4.9/5 seller rating on Trustpilot, we can come to the conclusion that this site is legit and safe to use. FeetFinder is a safe website to buy and sell feet pictures.
Additionally, FeetFinder has extra added security on the site to ensure the safety of its buyers and sellers. The verification process is mandatory and helps keep your personal information safe.
How To Keep My Feetfinder Account Safe?
Feetfinder always adds new features & improvements to the website that help keep the site scammer free.
To help you stay safe on the platform, make sure not to tell your personal information and sign up to anyone on the platform to stay safe.
Do You Have To Show Your Face on FeetFinder?
There is no requirement that says you have to show your face on FeetFinder. Many sellers do show their faces as it has been known to help with sales, but there are no requirements that you have to show your face to sell feet pictures on the platform.
Keep in mind that when you sign up for verification purposes, FeetFinder does require all sellers to upload a valid ID photo to help ensure security and safety on the platform. But the ID photo isn't required to sell on the platform, and they don't share your ID image with anyone on the platform.
Who is FeetFinder For?
FeetFinder is for individuals who are looking to sell or buy feet pictures. The platform is open to USA, Canada, and UK residents. So if you are looking to sell feet pics, that is a good website to check out.
Is FeetFinder Free To Use?
Currently, buyers can access FeetFinder for free! For sellers, they do charge a $4.99 monthly subscription, or you can pay $14.99 for the whole year. Those expenses pay for marketing to attract new buyers for you, new features, and other business expenses.
How To Get Started on FeetFinder
Sign Up For an account
The first step is to sign up for a FeetFinder account by clicking here. When you get to the website, you can choose between "sell feet pics" or "View/Buy feet pics."
After you make your selection, you will be able to read the instructions on how to get started and then click "Continue" at the bottom of the page.
2: ID Verification
After that, you will set up your account with your name, email address name, and ID verification.
With the ID verification, you must upload your government issue ID and a selfie with the same ID. This step helps with keeping the site safe and ensures you are a real person. This also lets them know you are at least 18 years old and older.
3. Complete your profile setup
In the last step, make sure all your information is correct on your screen. You will also have to read the site's terms and conditions and privacy policy. You will also have to agree that you understand what you read about their terms and condition and privacy policy.
Lastly, you will have to click the Captcha code to make sure you aren't a robot. After that, you will be good to go and can click sign up!
4. Login into your account.
Once your account is verified by FeetFinder, you will be good to go and eligible to use the FeetFinder Platform to buy or sell feet pictures.
To log in, make sure to use the email and password you used to sign up for your login details as well. Make sure to keep your information in a safe place just in case you forget your login details.
How to make money with FeetFinder: FeetFinder Review
On this platform, you can make money by selling feet pictures to buyers.
Foot models on FeetFinder are paid 80% of their sales, while the reminding 20% is taken out from FeetFinder for the transaction and data security.
You can also join the referral program and earn 10% of sales from the seller's content when they sign up using your unique link. The 10% you earn comes from FeetFinder's fee, meaning that the sellers who sign up using your referral link will get all their sales.
Here are some quick tips for selling Feet Pics On FeetFinder
Add Photos and Videos With Detailed Descriptions
When you sign up for an account, make sure to take high-quality photo images and put a detailed description of the photo images.
Make sure to put keywords to help your content rank on the platform. For example, you might put " nail polished feet" on a photo where you have nails polished on. So, make sure to use keywords to describe your feet pictures as much as possible.
When you upload your images, they will be blurred. This help protects your content so that buyers have to purchase them first. Also, all photos shouldn't exceed over 1GB, and videos should be no longer than 10 minutes long.
Make sure your photos and videos are high-quality
Another pro tip is to make sure your photos and videos are high-quality because it can help you get more sales. If you aren't sure how to create high-quality videos and photos, see below for tutorials.
Consider Upgrading your account.
Another feature FeetFinder has is the premium feature which allows you to access all of the money-making features on the platform. For this service, you can pay $14.99 each month or pay the yearly subscription fee of $29.99.
FeetFinder Review
How much money can you make on Feetfinder?
There are many people who earn a great living doing this side hustle, but a big part of earning money on FeetFinder has to do with the following things.
The quality of your photos and videos
To help with the sale of your feet pics, remember to take high-quality photos that aren't blurry or hard to see. You can take photos on your iPhone or android phone, which are both great for capturing high-quality photos and videos.
Stay consistent on the platform
Another key way to earn money on the platform is by consistently posting content such as foot videos and pictures on the platform. This helpful if you are looking to make sales on the platform.
Marketing and Promotions.
Marketing and promoting your content plays a huge part in the sales that you can get on the platform. While FeetFinder does a lot of the marketing and promoting for you, you can sell even more photos if you also do marketing for your new business.
According to FeetFinder, one of the best ways to make sales on the platform is by connecting with the buyers on the site. It's important to communicate what they are looking for when buying feet pictures.
How Much Should You Sell Feet Pics For?
The average picture sells for an estimate of $22, and for video, the average one sells for $19. Also, according to the direct FeetFinder blog, foot models on the platform have earned over $30k from selling feet pics.
Also, according to FeetFinder it's a great idea to mix up the prices for your feet pics and videos to help with sales.
How Does Payout Work On FeetFinder?
Payout on FeetFinder will be different depending on where you are located. For US-based users, payouts are made through Segpay, and all payments are managed and made directly through FeetFinder.
For users outside the US, payments are made through Paxum, a secure platform you can sign up for to get your payment from FeetFinder.
All sellers are allowed to track their sales and request payout directly from FeetFinder. Both Segpay and Paxum are well-known trust companies with top-notch security.
FeetFinder Minimum Payout: FeetFinder Review
On FeetFinder, the payouts are made weekly once your account hits at least $30. The payment will be paid either through Segpay or Paxum, depending on where you live.
Also, remember that FeetFinder takes out 20% of all your earnings on the platform.
Do You Have To Pay Taxes On Your FeetFinder Earnings
Yes, if you currently live in the US and earn more than $600 for the year, you do have to report your earnings. You will be required to complete a 1099 form which will be provided by Segpay, and file your taxes for that tax year.
Remember, not paying taxes on your earnings can result in having a huge tax bill at the end of the year.
Here are some resources on Self-Employed Taxes in the USA
If you are outside the US, follow your tax guidelines to ensure you don't get hit with a huge tax bill at the end of the year.
---
Pros & Cons Of FeetFinder:
Pros of Feet Finder
1. 14- Day trial For Sellers: While you still have to pay the $4.99 monthly subscription fee when you sign up, you can test the platform out for 14 days. If you don't like the platform by the end of the 14 days, you can cancel your subscription and request a refund for the monthly subscription of $4.99.
2. Great Reviews: So far, the reviews about FeetFinder are actually pretty good! On Trustpilot, they have a 4.9/5 rating which is really high.
3. Customer Service is Great: From the reviews on Trustpilot, the customer service seems to be really good and helpful. The customer service team offers support for both buyers and sellers.
4. No Restrictions on closing your account: If you choose to close your account, you can do so with ease.
Cons of Feet Finder
1. The monthly subscription & fees: Along with the monthly subscription fee of $4.99, FeetFinder also takes out 20% of your earnings on the platform.
2. No FeetFinder App: Individuals who like to have an app to post feet pics on the go will have to upload the images onto a computer. There is currently no FeetFinder app available.
3. ID Verification: Some people aren't comfortable with uploading their Government ID onto a new platform. While some people aren't ok with this, it does give the platform the extra needed security that all sellers & buyers are real people.
FeetFinder Reviews
There are over 2000 reviews on Trustpilot about FeetFinder and their service. A lot of the people on Trustpilot say that the customer service is really amazing. See the reviews below from some of the new sellers.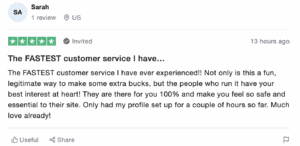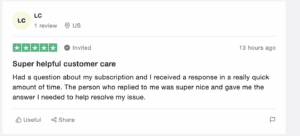 The review shows that the site is legit, and you can get paid to sell feet pictures on the platform.
Now, while FeetFinder does have a high rating, below are some reviews which expressed concerns, such as not being able to sell the feet pictures as fast and the use of the website not being as easy to navigate through.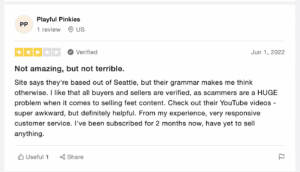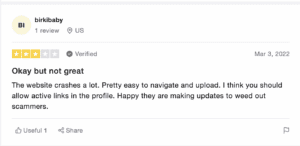 With that in mind, these are also some things to consider when deciding if this is a platform you will sell feet pics on.
Similar Sites To FeetFinder
Instafeet: Instafeet is another website where you can create a profile, post content, and sell pictures of your feet. Before you can join, you have to submit an application and get approved as well.
Feetitfy: This site provides you tools and resources to sell feet pics online and earn money. The cool thing about this site is that you will get 100% of your earnings and don't have to only get 80% like most similar sites.
FeetFinder Review FAQ
What are some other side hustles you can do to make money?
Some of the best side hustles to make money are starting and monetizing a blog, virtual assistant, proofreading, tutorial, and freelance writer. If you are looking for legit side hustles to make money click here to read my post about remote side hustles.
Is Selling Feet Pictures Legal?
Yes, selling feet pictures is legal. To sell feet pics, it's best to be 18 years old or older and keep your identity private if you don't want people to know you are selling the photos.
How Much is FeetFinder Premium?
FeetFinder Premium is currently $14.99 per month or $29.99 for a yearly subscription. The basic plan is $4.99 per month or $14.99 for an annual subscription.
Is FeetFinder good for sellers?- FeetFinder Review
FeetFinder can be good sellers, but some reviews say it's rather hard to sell on the platform if you don't have a following. With this in mind, if you still want to test it out for yourself, maybe consider the 14-day trial to see if it's good for you.
How much should I charge for feet pictures?
How to charge for feet pictures will vary for each person. But on average most people charge $22 for feet pics on Feetfinder and $19 for feet videos. I always say do what's comfortable for you and what feels right.
Is Feetfinder a scam or legit?
FeetFinder isn't a scam! There are actual people who get paid by selling Feet pics on the platform. With any freelance side hustle, you must remember that making money can take time. A big part of selling on platforms like FeetFinder is promoting your business on social media. Read more of this Feetfinder review to learn more.
Does FeetFinder Have a Refund Policy
FeetFinder only offers a refund if the transaction has to do with fraud of any kind. Once the buyer sends the money to the seller, the transaction is final. If a buyer tries to charge back on FeetFinder, their account will be taken down from the platform immediately, and they will no longer be able to use the platform.
How To Sell feet Pics Online Without Getting Scammed: FeetFinder Review
While selling pictures of your feet online is a legitimate way for many people to make money, you definitely have to beware of scammers out there. To help stay away from scammers, it's best to remain anonymous and create a business email specifically for your new business.
Remember if someone asks for your personal information or asks you to send money to them, avoid them at all costs.
Final Thoughts On FeetFinder Review
If you want to check out a platform to sell feet pics, FeetFinder might be a good option for you. In this FeetFinder review, we went over everything you should know before signing up for the site.
FeetFinder currently has high reviews on Trustpilot and has had many people say that their customer service is some of the best in town.
Keep in mind with FeetFinder; However, it can take a while to sell feet pics, so you might want to consider promoting your new page on FeetFinder on other platforms as well. If you want to keep your identity private, that might not be the route for you.
Lastly, remember that FeetFinder takes out 20% of your earnings when you make sales on the platform, so deciding if it's worth it will be totally up to you. You can, however, test out the platform for 14 days, and if you don't like it, you can get your monthly subscription fee of $4.99 sent back to you.
Do you currently do this side hustle to make extra money? What are your favorite platforms to sell feet pics? Let me know in the comment section.
Additional Resources