This post may contain affiliate links. Please read my disclosure for more information.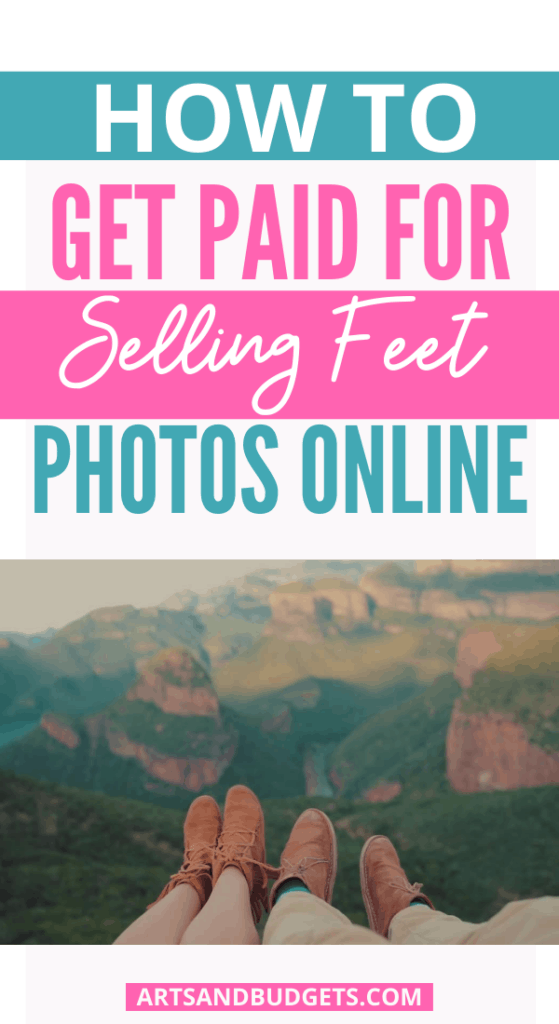 Did you know you can sell feet pics online and get paid? When I first heard about this side hustle I was super shocked because I didn't know that this side hustle was a legit way that someone can make extra money.
If you know me and the culture of my website I take pride in finding the best ways my readers can make money each month. As a result, I did research and found out that there are legit places online where people can sell feet pictures without doing anything weird.
After researching I found out that a lot of bloggers, content creators, and online entrepreneurs often buy these types of pictures to help them sell products and content.
While conducting my research I found out that a woman makes $70k per year by selling photos of her feet. I also found out that she sells her photos right on the social media platform Instagram. Her story made me realize that selling feet pictures is actually a market that many people can make extra money from. I am not saying a person will get rich tomorrow from it but it is a way to increase income.
If done correctly this side hustle can turn into an actual business where you can make extra money on the side. This post will cover how to sell feet pictures and legit places online where you can sell them.
Related Blog Posts
---
Frequently Asked Questions
Where can I sell my feet pictures in America?
There are a lot of different places online where you sell pictures of your feet. Some of the top places are Instafeet and FeetFinder. You can also look into selling feet pictures on social media platforms such as Instagram and Facebook.
How much money can you make selling pictures of your feet online?
This will depend on the client or the person buying the photos. Similar to other forms of photography you can make anywhere between $5 to $100 (even more) per photo.
Is it Legal To Sell Pics of feet?
Yes, it is totally legal to sell pictures of feet as long as they are your photos or work. Selling pictures that aren't your images is prohibited.
Do you have to pay taxes on feet pics?
Yes, like any business you will have to pay taxes on the money that you make from selling feet pictures online. The income that you make by selling feet pictures online is considered business income so make sure to track all your payments for tax purposes. To help track payments you can use a software called Quickbooks.
---
How To Sell Feet Pictures Online and Make Extra Money
1. Facebook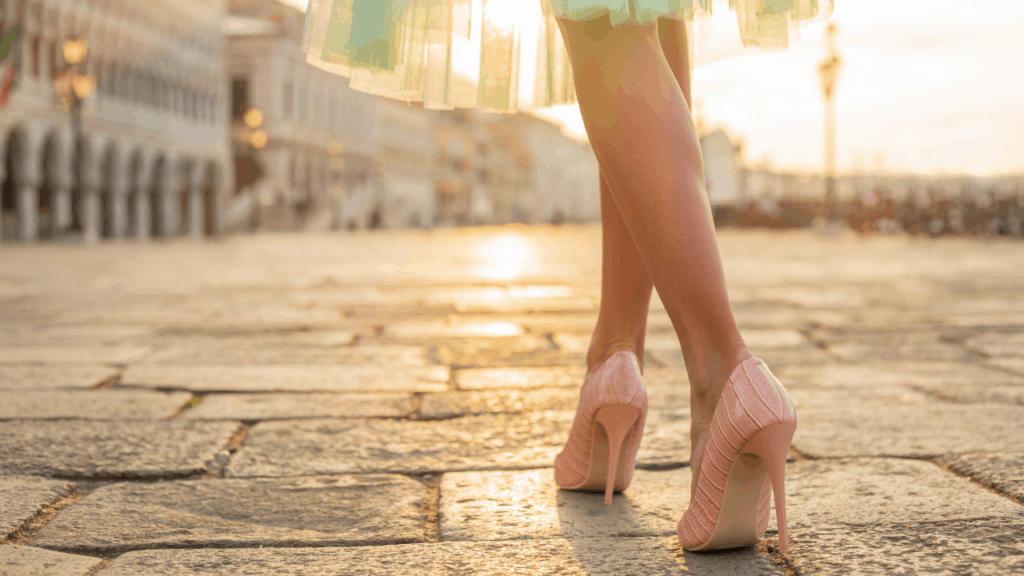 Facebook is the largest social media platform and a great place to look into to sell photos. On Facebook, some groups help individuals sell pictures of their feet to make extra money.
When you look for Facebook groups make sure to check out the rules of each group. Most awesome groups have a set of rules that have to be followed. This normally means that the group has great admins and scammers aren't allowed. If you decided to sell your photos on platforms such as Facebook make sure to use a safe transaction platform such as Paypal and not Zelle or Cashapp.
2. Start A Blog
Do you love helping people with foot care? If so, starting a blog about foot care could potentially become a great side hustle. On the blog, you can create content covering the best ways to take care of feet and you can also add resources to help people find the best shoes for their feet.
There are many different ways a blog can make money from blogging and some of those ways are through sponsored posts, selling products, and affiliate marketing.
3. Instafeet
Instafeet is a website where you can create a profile, post content, and sell pictures of your feet. Before you can join you have to submit an application and get approved. So before you can post any photos on the website your application must be approved. They also require that you read all the rules and regulations before joining. This is to help against scammers online.
With that in mind, they do not accept everyone that applies. Additionally, it could take up to 2-3 weeks to get your profile reviewed and approved.
Also, keep in mind that Instafeet takes 10% from your earnings that you make on the site and your payment will go out every month on the 1st and 15th.
4. Feet Finder
Another website where you can sell feet pictures is Feet Finder. On the Trust Pilot website, they have over 300 reviews with a 4.8 rating.
This site is free for all users and makes selling custom foot content super easy. If you are looking for a website that can connect you to buyers this might be a great start.
They currently have over 40k followers on Twitter and seem to have great customer service. Keep in mind you do have to be 18 years or older to join this site to sell feet pictures.
5. Instagram
If you want to sell pictures of feet you can join Instagram and create a page dedicated to foot care. You can also showcase different shoes and foot jewelry that you might want to sell as well.
Ways To Grow on An Instagram Account
Use Hashtags: Using hashtags such as #feetnation is a great way to get your content shown in the Instagram search. When someone types in the hashtags that are used in your post it's a good chance your photos might show up. As of right now, I use between 25 to 30 hashtags. Currently, on Instagram, the max hashtags you can use per post is 30.
Update Your Bio: Make sure to let visitors know who you are and what you do. By putting who you are and what you do in your bio it will help give the visitors more information about you and your page. It can also help build trust and building trust will help you get more sales.
Use Professional Images: Instagram is a visual platform so the images and the quality of the images that you post matter. If you post up low- quality photos then most people will pass on your profile. So, make sure to post up high-quality images. If you aren't sure where to find images of feet check out Canva and Pexels.
Stay Consistent: One of the ways I grew my Instagram profile to over 14k followers is by staying consistent on the platform. Make sure to post every day if you can because it helps get your content shown in the Instagram feed more often. If you can't post every day try to at least post every other day in the beginning.
Connect With Others In Your Niche: Another great way to grow a profile on Instagram is by connecting with others in your niche. You can do this by searching through different hashtags that you are using and going directly to profiles of some members that are using the same hashtags. Comment on some of their photos to start a conversation. This can open up the door to new sponsorships and partnerships in your niche.
6. Foap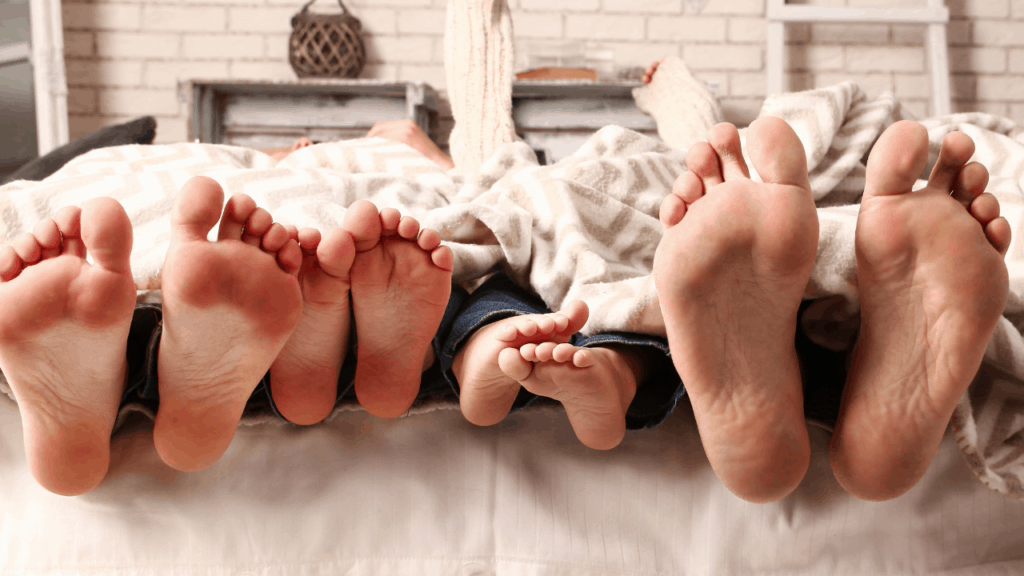 Foap is a great website to sell photography. Foap is an amazing site to connect with buyers to make a profit by selling pictures of feet. When you sign up on Foap you simply upload the photos that you want to sell and then they will be showcased to thousands of people including different brands, agencies, and much more.
When someone wants to purchase your photography from the Foap portfolio you will earn 50% of the earning the other 50% goes to Foap. So you will share the profit 50/50. Check out Foap by clicking here.
7. Sell on Etsy
If you sell foot jewelry and have photos of the jewelry you can sell the jewelry on platforms such as Etsy. Etsy is a very popular website where content creators sell their work. A lot of items that are sold on Etsy are jewelry, art, crafts, and much more.
Since this platform is great for content creators this is a great platform to sell pictures of feet to showcase jewelry that you have to sell.
Below is an example of an Etsy shop that sells jewelry for feet by a creator named Kimsically. As you can see she has a foot model in the photo to help sell her jewelry.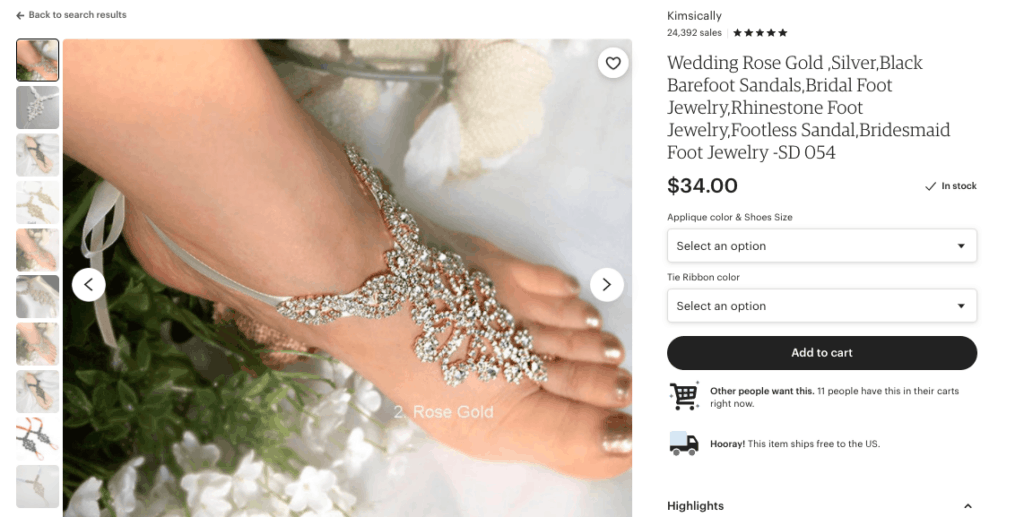 If you don't want to sell foot jewelry you can sell digital products such as actual stock photos, on the platform too. Keep in mind Etsy does charge fees to sell on their platform.
8. Sell on Zazzle
Zazzle is an online marketplace where you can create products with the help of independent manufacturers. So, if you think outside the box you can take professional photos of your feet and put them on T-shirts with funny quotes and sell them.
If you already have a group of people following you for feet photos this is a great way to make extra money through physical products. This is a fun way you can get creative and sell awesome products to different people that may come to your website or social media platforms.
9. Sell To Stock Photo Sites
If you are great at photography you can sell pictures of feet to places such as Pexels, Canva, and Shuterstock. They are always looking for new photos to add to their collection and the best part is you will get paid. These websites have thousands of visitors that use the platform daily which means stock photos are in high demand.
The images used in this blog post are actually from Canva. So if you have feet stock images totally reach out to some of the places listed above to get your work featured on their websites and get paid.
---
Tips On How To Be Successful When You Sell Feet Pics
1. Do Research
Be sure to research every platform when you are ready to sell feet pics. Like most industries, there are some scammers out there so make sure to look up the websites and companies on the Better Business Bureau website.
Look through the reviews of the companies to make sure they are legit. Remember if something seems too good to be true it probably is. To protect yourself make sure to read all reviews of each platform.
2. Take High-Quality Photos
The photos that you take can help grow this side hustle and take it to the next level. You can either take the photos yourself or hire a professional photographer.
If you take the photos yourself make sure to use a high-quality cell phone such as an iPhone or Android phone with a nice background. You can also use a top-notch camera and invest in some photography equipment.
3. Brand Your Photos
When you put your photos online make sure to brand them with your watermark. This will help prevent people from stealing your photos online.
4. Don't Sell Photos Until You Receive Payment
Make sure to always receive payment before you send your photos online. If someone wants a sample photo you can send in one with a huge watermark over the photo. This will help prevent people from stealing your photos online.
5. Create Business Accounts
When you start to sell your feet pics online make sure to create business accounts on all social media platforms and use a business email account to communicate with customers.
One of the best platforms to use to collect payment is PayPal. Platforms such as Cashapp and Venmo make it easier for scammers to take your money and make it harder for you to request a refund. To protect yourself, set up a business account on all your platforms to add some level of protection for you and your business.
6. Stay Anonymous
Even though taking photos of your feet and selling them is a creative and legit side hustle, I still think it's a great idea to remain anonymous if you don't want people to know who you are. This will help keep your identity safe from scammers.
Final Thoughts
This post shared some of the best ways you can sell pics of feet online. Remember to study and review every platform that you want to sell photos on to make sure they are the best fit for you.
If you treat this side hustle like a business you can grow it into a profitable one where you can make extra money. If you are looking for additional ways to make money here is an article on the best side jobs to make extra money this year.
Do you currently sell feet pics online? If so, how is it going for you. Share your comments down below.