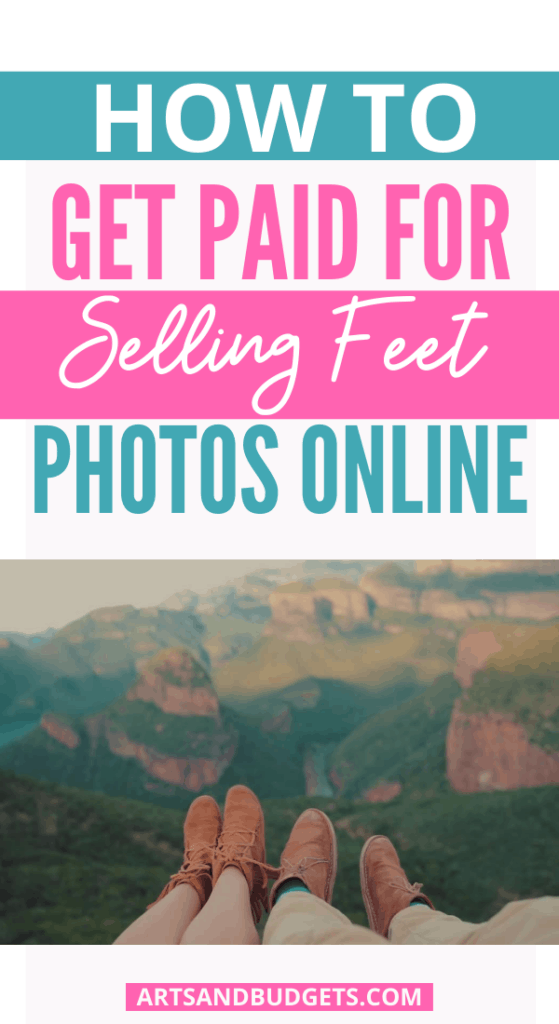 Did you know you can sell feet pics online and get paid? When I first heard about this side hustle I was super shocked because I didn't know that this side hustle was a legit way that someone can make extra money.
If you know me and the culture of my website I take pride in finding the best ways my readers can make money each month. As a result, I did research and found out that there are legit places online where people can sell feet pictures without doing anything weird.
After researching I found out that a lot of bloggers, content creators, and online entrepreneurs often buy these types of pictures to help them sell products and content.
While conducting my research I found out that a woman makes $70k per year by selling photos of her feet. I also found out that she sells her photos right on the social media platform Instagram. Her story made me realize that selling feet pictures is actually a market that many people can make extra money from. I am not saying a person will get rich tomorrow from it but it is a way to increase income.
If done correctly this side hustle can turn into an actual business where you can make extra money on the side. This post will cover how to sell feet pictures and legit places online where you can sell them.
Related Blog Posts
---
Where can I sell my feet pictures in America?
There are a lot of different places online where you sell pictures of your feet. Some of the top places are Instafeet and FeetFinder. You can also look into selling feet pictures on social media platforms such as Instagram and Facebook.
How much money can you make selling pictures of your feet online?
This will depend on the client or the person buying the photos. Similar to other forms of photography you can make anywhere between $5 to $100 (even more) per photo.
Is it Legal To Sell Pics of feet?
Yes, it is totally legal to sell pictures of feet as long as they are your photos or work. Selling pictures that aren't your images is prohibited.
Do you have to pay taxes on feet pics?
Yes, like any business you will have to pay taxes on the money that you make from selling feet pictures online. The income that you make by selling feet pictures online is considered business income so make sure to track all your payments for tax purposes. To help track payments you can use a software called Quickbooks.
What are some additional ways to make extra money?
One of the best ways to make extra money is by completing legit surveys online. I recently purchased all my Christmas gifts from the money I earned from survey sites called Swagbucks. Since joining Swagbucks in 2016 I have earned $4,000 from the site which pays through PayPal.
If you are looking for legit ways to make extra money check out some of my favorite legit survey sites below.
Why Do Guys Ask For Pictures of you?
It's not a surprise that people of all cultures love feet and are willing to buy feet pictures. The type of groups that buy feet pics are:
Modeling Companies

Production companies

Stock Photo Websites

Feet Lovers

Painters
---
How To Sell Feet Pictures Online and Make Extra Money
1. How To Sell Feet Pics On Facebook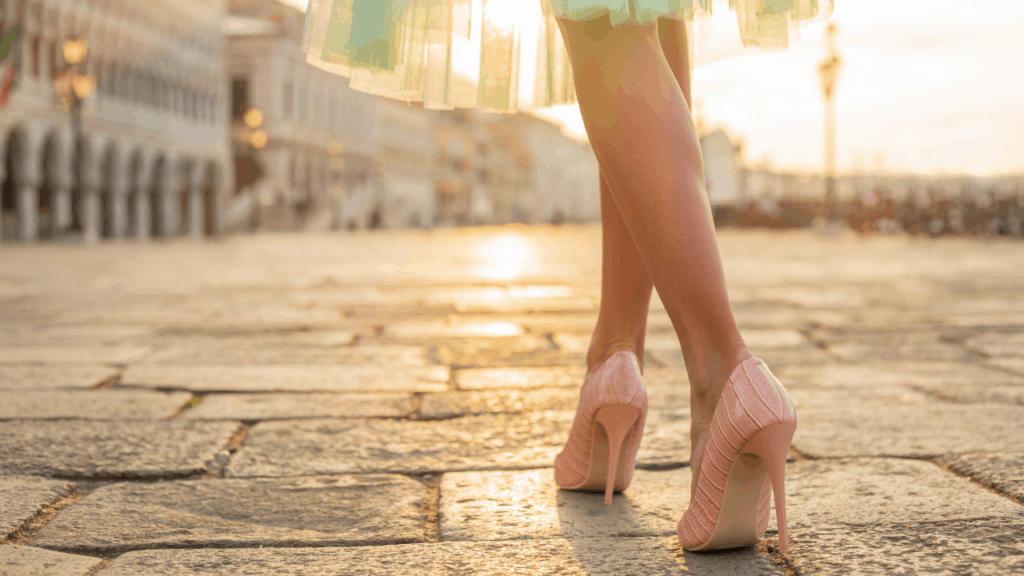 Facebook is the largest social media platform and a great place to look into for selling feet pics. On Facebook, some groups help individuals sell pictures of their feet to make extra money.
When you look for Facebook groups make sure to check out the rules of each group. Most high-quality groups have a set of rules that have to be followed. This normally means that the group has great admins and scammers aren't allowed. If you decided to sell your photos on platforms such as Facebook make sure to use a safe transaction platform such as Paypal and not Zelle or Cashapp.
How To Get Started With Selling Feet Pics On Facebook
Sign up for an account: If you haven't already make sure to sign up for a Facebook account. Since it's a great idea to stay anonymous when selling feet pics I highly recommend creating a Facebook business page.

Create A Business Page:

A Facebook business page gives you access to view your page's analytics which can help you reach more customers. Once you have your Facebook business page set up start creating and posting content. Remember consistency is key when using a Facebook business page.

If you are looking to create a business around selling feet pics you can start a Facebook Business page. When you set up your business page you can sell feet pics to potential buyers. Make sure to promote your new page on your other social media platforms such as Twitter and Instagram.

Join Facebook Groups:

Once you have a Facebook business page join Facebook groups that focus on selling feet pics. To find Facebook groups that focus on selling feet pics use the Facebook search option. Simply type in the keywords "Sell Feet Pics" on Facebook and search through the different groups to see which ones are best for you. Once you find a group or two send a request to join. Once you get accepted search through the groups to find possible buyers.
2. How To Sell Feet Pics With A Blog
Do you love helping people with foot care? If so, starting a blog about foot care could potentially become a great side hustle. On the blog, you can create content covering the best ways to take care of feet and you can also add resources to help people find the best shoes for their feet.
There are many different ways a blog can make money from blogging and some of those ways are through sponsored posts, selling products, and affiliate marketing.
3. How To Sell Feet Pics On Instafeet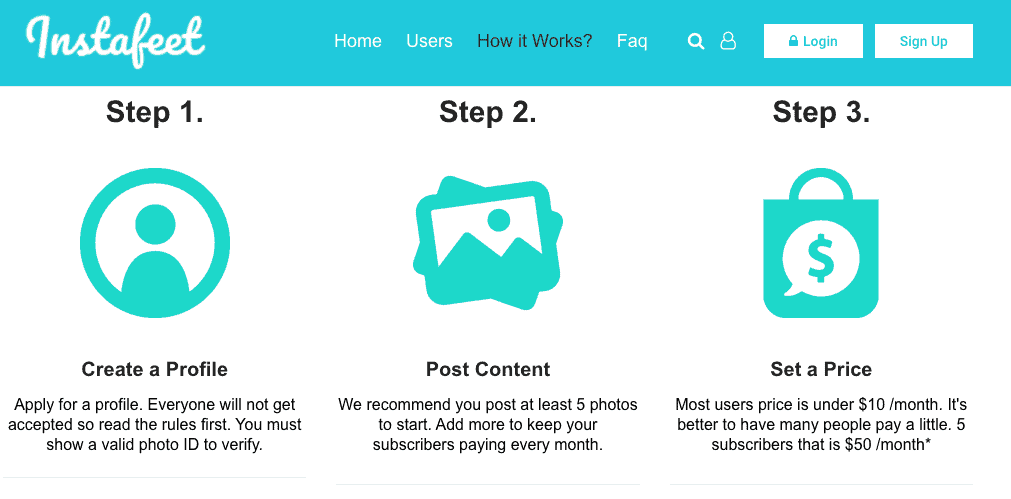 Instafeet is a website where you can create a profile, post content, and sell pictures of your feet. Before you can join you have to submit an application and get approved. So before you can post any photos on the website your application must be approved. They also require that you read all the rules and regulations before joining. This is to help against scammers online.
With that in mind, they do not accept everyone that applies. Additionally, it could take up to 2-3 weeks to get your profile reviewed and approved.
Also, keep in mind that Instafeet takes 10% from your earnings that you make on the site and your payment will go out every month on the 1st and 15th.
How To Get Started On Instafeet:
Apply For Profile: Keep in everyone will not get accepted. It's a great idea to read all the rules first before applying for a profile.
Post Content: Once your profile gets approved start posting content. Instafeet recommends at least 5 photos to start.

Set Your Price:

Set up your pricing. To make it affordable for Instafeet users most users price is under $10/month.

Get Your Link: Finally, you will be able to access your personal link.
Promote Your New Profile: Make sure to share your new profile on your social media pages to promote it.
4. How To Sell Feet Pics On Feet Finder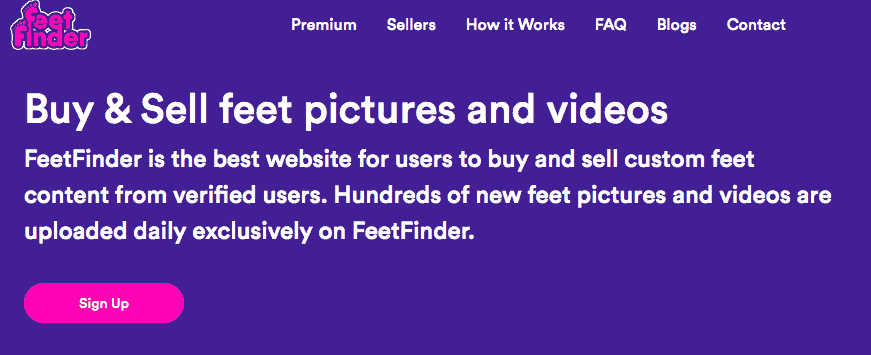 Another website where you can sell feet pictures is Feet Finder. On the Trust Pilot website, they have over 300 reviews with a 4.8 rating.
This site is free for all users and makes selling custom foot content super easy. If you are looking for a website that can connect you to buyers this might be a great start.
They currently have over 40k followers on Twitter and seem to have great customer service. Keep in mind you do have to be 18 years or older to join this site to sell feet pictures.
Check out the video below to get started
Can you make money on FeetFinder?
Yes, you can actually make money on the FeetFinder website. FeetFinder is a secure and safe site where you can sell feet pics and get paid. Similar to Instafeet, FeetFinder keep a portion of sales that happen on their site.
Is FeetFinder Worth It?
Yes, FeetFinder is totally worth it if you are looking to sell feet pics online. A lot of people have earned money from this site and been able to keep their identities safe and secure. To view videos by sellers check out the additional resources on how to sell feet pics at the end of this post.
5. How To Sell Feet Pics On Instagram
Instagram is a photo-sharing social media platform where you can share photos every day. If you want to sell pictures of your feet you can join Instagram and create a page dedicated to foot care. You can also showcase different shoes and foot jewelry that you might want to sell. Since Instagram is a visual platform it's a perfect place to sell feet pics on. Here are some quick tips to help get you started with selling feet pics on Instagram.
Create A Instagram Business Account
Before setting up your business on Instagram it's a great idea to create an Instagram business account. The Instagram business account comes with additional features such as Instagram insight which is an analytics tool that lets you view your performance on each post or story that you post on the platform.
Additionally, Instagram has a feature called "Instagram shopping" that lets users shop your photos and videos. With this feature, you can tag your images and when a user clicks on the photo tag it will send them to your sales page where they can purchase your images.
Ways To Grow An Instagram Account
1. Use Hashtags: Using hashtags such as #feetnation is a great way to get your content shown in the Instagram search. When someone types in the hashtags that are used in your post it's a good chance your photos might show up in the hashtag feed.
As of right now, I use between 25 to 30 hashtags. Currently, on Instagram, the max hashtags you can use per post is 30.
Here are some of the popular feet hashtags on Instagram to get you started.
#feet- 1.9 million posts
#feetpics- 1.5 million post
#feetstagram- 1.3 million post
#feetlove- 1.1. million post
#feetlover- 731k posts
#feetselfie- 234k posts
When you post a feet pic make sure to use some of the hashtags above to better the chances of your images getting seen by others in the feet community.
2. Update Your Bio: Make sure to let visitors know who you are and what you do. By putting who you are and what you do in your bio it will help give the visitors more information about you and your page. It can also help build trust and building trust will help you get more sales.
3. Use Professional Images: Instagram is a visual platform so the images and the quality of the images that you post matter. If you post up low- quality photos then most people will pass on your profile. So, make sure to post up high-quality images. If you aren't sure where to find images of feet check out Canva and Pexels.
4. Stay Consistent: One of the ways I grew my Instagram profile to over 18k followers is by staying consistent on the platform. Make sure to post every day if you can because it helps get your content shown in the Instagram feed more often. If you can't post every day try to at least post every other day in the beginning.
5. Connect With Others In Your Niche: Another great way to grow a profile on Instagram is by connecting with others in your niche. You can do this by searching through different hashtags that you are using and going directly to profiles of some members that are using the same hashtags. Comment on some of their photos to start a conversation. This can open up the door to new sponsorships and partnerships in your niche.
6. How To Sell Feet Pics On Foap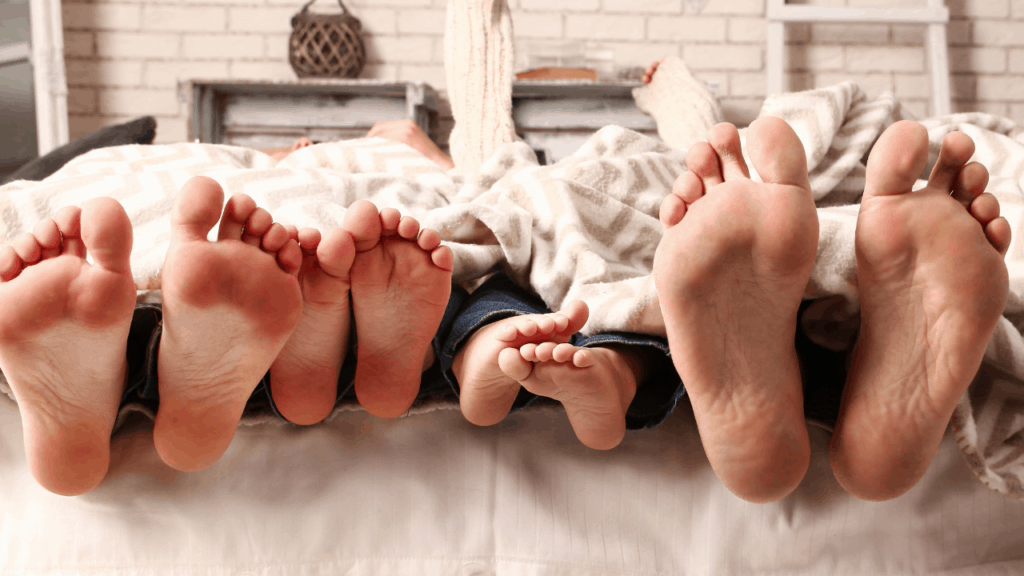 Foap is a great website to sell photography. Foap is an amazing site to connect with buyers to make a profit by selling pictures of feet. When you sign up on Foap you simply upload the photos that you want to sell and then they will be showcased to thousands of people including different brands, agencies, and much more.
When someone wants to purchase your photography from the Foap portfolio you will earn 50% of the earning the other 50% goes to Foap. So you will share the profit 50/50. Check out Foap by clicking here.
7. How To Sell Feet Pics on Etsy
If you sell foot jewelry and have photos of the jewelry you can sell the jewelry on platforms such as Etsy. Etsy is a very popular website where content creators sell their work. A lot of items that are sold on Etsy are jewelry, art, crafts, and much more.
Since this platform is great for content creators this is a great platform to sell pictures of feet to showcase jewelry that you have to sell.
Below is an example of an Etsy shop that sells jewelry for feet by a creator named Kimsically. As you can see she has a foot model in the photo to help sell her jewelry.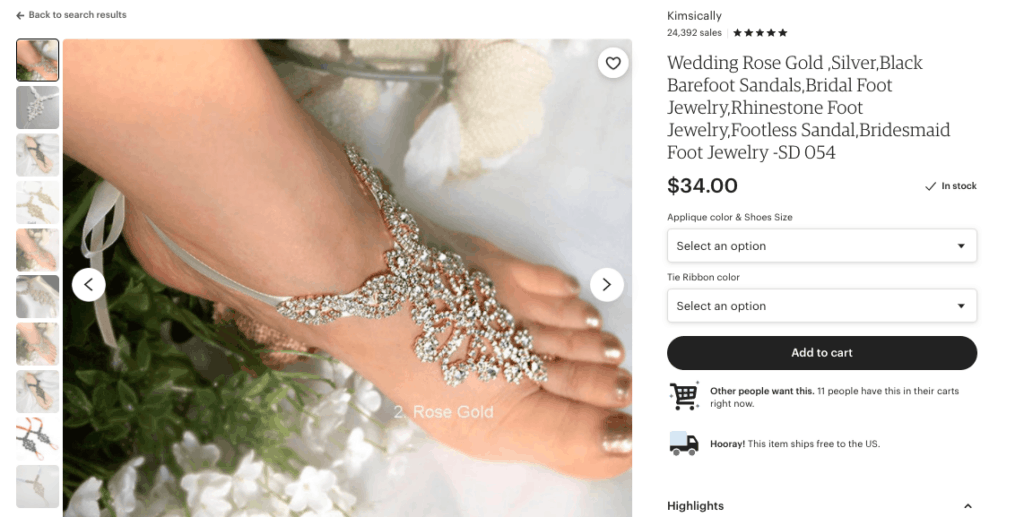 If you don't want to sell foot jewelry you can sell digital products such as actual stock photos, on the platform too. Keep in mind Etsy does charge fees to sell on their platform.
8. Sell on Zazzle
Zazzle is an online marketplace where you can create products with the help of independent manufacturers. So, if you think outside the box you can take professional photos of your feet and put them on T-shirts with funny quotes, and sell them.
If you already have a group of people following you for feet photos this is a great way to make extra money through physical products. This is a fun way you can get creative and sell awesome products to different people that may come to your website or social media platforms.
9. How To Sell Feet Pics To Stock Photo Sites
If you are great at photography you can sell pictures of feet to places such as Pexels, Canva, and Shuterstock. They are always looking for new photos to add to their collection and the best part is you will get paid. These websites have thousands of visitors that use the platform daily which means stock photos are in high demand.
The images used in this blog post are actually from Canva. So if you have feet stock images totally reach out to some of the places listed above to get your work featured on their websites and get paid.
10. How To Sell Feet Pics On Twitter
Another great platform to sell feet pics is Twitter. Twitter is a social media site where users post and respond to messages known as tweets.
Since Twitter isn't a visual platform one of the best ways to make money selling feet pics on the platform is by sending users to your website and growing your Twitter followers.
How To Grow Your Twitter Followers
One way to grow Twitter followers is by sending out high-quality tweets every day on your profile. Examples of hashtags that a person can use on Twitter are #sellfeetpics and #feetpics. Using hashtags helps get your tweets seen by other users on the platform.
Another pro tip to succeed on this platform is to follow other users who sell feet pics. Take a look at their followers and their content on their page. This will help give you a chance to find potential buyers.
11. How To Sell Feet Pics On Craigslist
Craigslist is a popular website that has been around for years and it's also a great site to make money on. On this site, you can sell almost anything and you can sell feet pics. Craigslist has over 55 million users so it's a goldmine for finding potential buyers.
Create Ads For Your Feet Pics
One of the best ways to sell feet pics on Craiglist is by creating ads on the platform. When creating an ad focus on your subject lines and make sure they stand out. For example use titles such as "Feet Pics For Sale" or " Ladies Feet Pics On Sale Online" because this will help attract more buyers to your ad.
Since the ads are displayed by the date it's super important to focus on the subject line in your ad posts. If you need inspiration on how to get started check out other people on Craiglist that are selling feet photos.
Use The Forums
Craigslist also has a section of their site called forums. Forums let you ask questions and find answers. On the forums, you can engage with potential buyers and other sellers. It helps to be an active voice in forums because the more people that see you daily the more likely they will buy from you. Remember it's a business and the more times you show up the more consistent you will be on the platform.
12. How To Sell Feet Pics On TikTok
TikTok is a new platform with over 600 million users and one of the best platforms to interact with new people. To get started on TikTok simply create a free account and set up your bio.
TikTok Influencer Deej has made thousands of dollars selling her feet pictures on the TikTok platform. To get started on TikTok start by creating short videos with special fun effects showing your feet.
The more videos you upload the better the chance you will be featured in the TikTok main feed. Once your engagements increase TikTok will start showing your videos to more people. This will help your video on viral on the platform which can help get more people on your TikTok page.
Use The Search Bar For Inspiration
If you aren't sure how to get started on TikTok use the search bar. In this case, simply go to the search bar and type in the keyword phrase "Sell Feet Pics". When you do that a lot of different videos will pop up of other users who sell feet pics. This will help give you inspiration on what's popular on the platform.
Remember the more entertaining your videos are on TikTok the better since it's a video-based platform. Also, make sure to post consistently because you never know when one of your videos might go viral on the platform. If one of your videos does go viral make sure to have a business email set up where you can send your new customers so that they can buy images from you.
13.How To Sell Feet Pics On SnapChat
Snapchat is another social media platform with millions of daily users. This platform focuses on short videos that each user can send to the other.
With Snapchat, the videos and photos that you send to other users on the platform will only be visible for 24 hours. That's one of the reasons some of the people who sell feet pics like this platform. This can help protect their privacy as well.
Create a Snapchat Premium Account
To sell feet pictures on Snapchat I suggest creating a Snapchat premium account. A Snapchat premium account is a way that you can charge users a monthly fee to access your content and in this case, it would be your feet photos. With a Snapchat premium account, you can charge a monthly subscription between $5 to $50 per month. To help manage your monthly subscription check out the Fancentro platform.
The premium accounts are private and only available to subscribers on the Snapchat platform. When you have a premium account you get the chance to monetize your content on the platform and earn money from your fans. To find out how to create a Snapchat premium account check out this Youtube video: How To Start A Premium Snapchat .
Promote Your Content On Your Public Account
To help individual find your premium account you have to have a public account. The idea is to funnel potential customers from your public account to your premium account to sign up for your monthly paying subscription. When you set up your public account make sure to upload content every day since your video content will disappear on Snapchat after 24 hours.
The best way to be successful on Snapchat when selling feet photos is to post content every day. When someone sends you a message about your feet pics send them to your sales page or to your premium account to sign up.
14. How To Sell Feet Pics On Reddit
Reddit is another social platform where your content is voted on by others on the site. When you post something on Reddit it will rank on the platform based on popularity. Your content on the platform can either go viral with a lot of upvotes or get de-ranked if it has a ton of downvotes.
If you are looking to sell feet pics on this platform it's a great chance that it can get a lot of upvotes that can send users to your page.
15. How To Sell Feet Pics On Dollar Feet
Dollar feet is another platform where you can sell feet pics and videos on. With this platform, it takes 24 hours to see if you get accepted, and once accepted you can start selling feet pics.
What makes this site cool is that the users on the platform can buy feet pics directly from you. Additionally, for each accepted video on this platform, they will pay you $7-$10. So if you upload 5 videos you will get paid around $35 -$50. Professional foot models get paid more on the platform.
A downside that I saw from this site is that if you don't show your face you can't apply. To me that huge bummer because most people don't want to show their face when selling feet pics. But, if you don't have a problem with showing your face you can check them out by doing a Google search and typing in the keywords "Dollar Feet".
16. How To Sell Feet Pics On Only Fans
Only Fans is a subscription-based platform where users can change the public to access their content. This is a great way to make extra money each month if you are looking to sell feet pics. What makes this platform awesome is that you don't need a third-party service to process your payments. OnlyFans has the payment processor built into the application.
Keep in mind that OnlyFans does, however, take 20% of the earnings that make each month on their platform. Also, since this is a subscription-based platform you will need to make sure you stay active on the platform giving your users new and fresh content.
---
Tips On How To Be Successful When You Sell Feet Pics
1. Do Research
Be sure to research every platform when you are ready to sell feet pics. Like most industries, there are some scammers out there so make sure to look up the websites and companies on the Better Business Bureau website.
Look through the reviews of the companies to make sure they are legit. Remember if something seems too good to be true it probably is. To protect yourself make sure to read all reviews of each platform.
2. Take High-Quality Photos
The photos that you take can help grow this side hustle and take it to the next level. You can either take the photos yourself or hire a professional photographer.
If you take the photos yourself make sure to use a high-quality cell phone such as an iPhone or Android phone with a nice background. You can also use a top-notch camera and invest in some photography equipment.
3. Brand Your Photos
When you put your photos online make sure to brand them with your watermark. This will help prevent people from stealing your photos online.
4. Don't Sell Photos Until You Receive Payment
Make sure to always receive payment before you send your photos online. If someone wants a sample photo you can send in one with a huge watermark over the photo. This will help prevent people from stealing your photos online.
5. Create Business Accounts
When you start to sell your feet pics online make sure to create business accounts on all social media platforms and use a business email account to communicate with customers.
One of the best platforms to use to collect payment is PayPal. Platforms such as Cashapp and Venmo make it easier for scammers to take your money and make it harder for you to request a refund. To protect yourself, set up a business account on all your platforms to add some level of protection for you and your business.
6. Stay Anonymous
Even though taking photos of your feet and selling them is a creative and legit side hustle, I still think it's a great idea to remain anonymous if you don't want people to know who you are. This will help keep your identity safe from scammers.
7. Take Care Of Your Feet
Since your feet will be your moneymaker it's a great idea to take care of your feet by getting pedicures. Having great foot care will also help enhance your photos and help get more buyers. If you are on a budget you can do your own pedicures right at home. To get ideas click here to see a pedicure tutorial.
8. Learn Different Feet Poses
If you want to get a head start against your competitors learn new feet poses that you can do. Be creative and take photos with different socks, foot jewelry, with shoes on and off. This will help give you more photos to work with when selling.
Also, make sure to use a professional camera or your smartphone to build your portfolio when taking photos. Keep in mind that lighting plays a huge page in photo quality as well. If you need more inspiration check some other sellers that sell feet pics on Instagram and see what type of photos that they sell.
---
How To Sell Feet Pics and Make Money
While building this side hustle you want to make sure you start to make money. Here are some quick tips to help you earn your first check selling feet pics.
1. Promote
With any side hustle, it's a great idea to promote your new hustle online on places like Instagram. Instagram is one of the best platforms to sell feet pics on. Make sure to use the tips listed above in this post to boost exposure on Instagram.
2. Join Apps To Sell Feet Pics
Check out some apps to sell feet pics such as Foap, Snapwire, and Twenty20. Make sure to take clear and professional images because high quality tends to sell better.
3. Stay Consistent and Firm
Make sure to stay consistent and firm on your prices. Staying firm is a great way to get paid what your images are worth. Additionally, make sure to handle all transactions professionally by setting up a professional email for the business.
---
How Much To Charge For Feet Pics
From my research, the average price people sell feet pics for is between $10- $100. Pricing will depend on the person and their situation. Since everyone is different make sure to list a price that you are comfortable with.
How To Collect Payment
Paypal:

Paypal is one of my favorite platforms. Paypal is a great platform to sell items on because they have extra protection to help against scammers. This platform is trusted by millions and an amazing platform to use that is safe.

Venmo:

Venmo is a mobile payment service that is owned by Paypal. With this app, it's a great idea to set up a business account. With this app, you can pay someone and get paid on their secure platform.

CashApp:

Cashapp is another app that you use to collect payments for selling feet pics. Keep in mind this site doesn't have as much security as Paypal which is why it wouldn't be my top choice off this list but it is highly used by thousands of people. If you are looking for a platform where you can receive a refund if something goes wrong go with Paypal.
---
Additional Frequently Asked Questions
How Do You Sell Pictures Of Your Feet For Money?
One of the simplest ways to sell feet pictures is by signing up for sites such as FeetFinder and Instafeet. These sites are dedicated to individuals looking to buy and sell feet photos. You can also use any of the sites and apps above to sell feet pics.
Can You Sell Feet Pics Legally Online?
Yes, you sell feet pics legally online. To sell feet pics it's best to be 18 years old or older and keep your identity private if you don't want people knowing you are selling the photos.
How To Start Selling Feet Pictures
One of the first things you want to do is take some professional photos of your feet. Make sure that your feet are clean and ready to be photographed. Then check out a few sites such as Instafeet and FeetFinder to see which ones stand out to you the most. After that, sign up for the sites and apps that you like the best and start uploading your photos.
Keep in mind each site and app will be different and have different requirements to use their platform. So make sure to read all the rules to stay within their guidelines.
How To Sell Feet Pics Online Without Getting Scammed?
Like any other industry they can be scammers out there so you have to be careful. One of the things I suggest when selling feet pictures is to be anonymous and to create an email account for your feet selling business.
Additionally, never give out your personal information and try to collect payments on platforms such as PayPal with high security to protect yourself.
Furthermore, watermark all your photos so that others don't sell your images. Lastly, if something seems off report it quickly and stop communication with the person.
---
Additional Resources & Top Reviewers on How To Sell Feet Pics
Final Thoughts
This post shared some of the best ways you can sell pics of feet online. Remember to study and review every platform that you want to sell photos on to make sure they are the best fit for you.
If you treat this side hustle like a business you can grow it into a profitable one where you can make extra money. If you are looking for additional ways to make money here is an article on the best side jobs to make extra money this year.
Do you currently sell feet pics online? If so, how is it going for you? Share your comments down below.