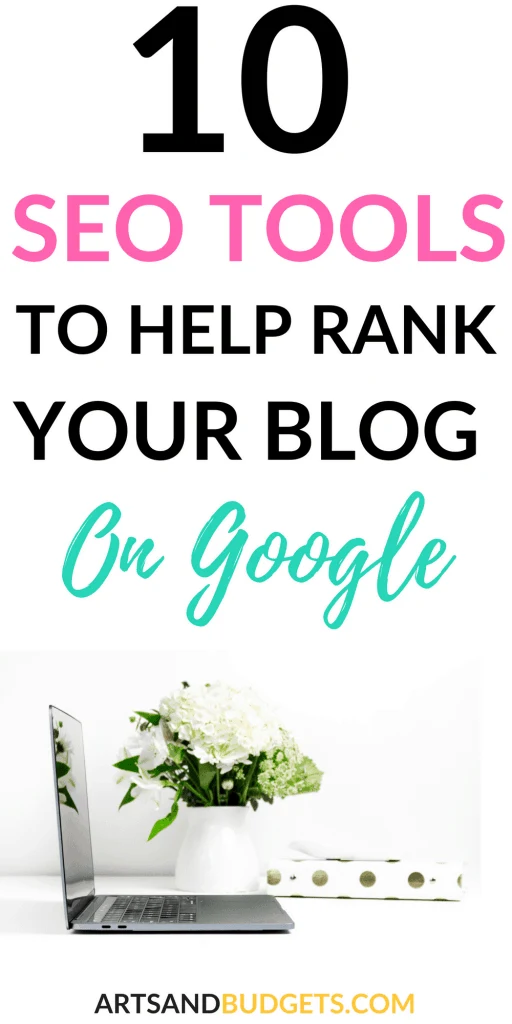 Ready to start generating some REAL, targeted traffic to your blog? If so, then Search Engine Optimization (SEO) is the strategy for you! Whether you have been dabbling in SEO for a while, or are just getting started, having the right tools to help you along the way can make all the difference!
From keyword research to link building to content planning, I am breaking down the 10 BEST SEO tools to help you grow your blog, without breaking the bank!
---
Related Posts
---
10 SEO Tools To Rapidly Grow Your Blog Traffic This Month
1) SEMRush
SEMRush.com is by far my favorite SEO tool and fortunately, there is a free version for you to use if you are on a tight budget. Though best known for being a keyword research tool, it is SO much more! With SEMRush, you can not only research what keywords to use and the data behind them, but run an audit of your existing site, compare your strategy with your competition, see where your traffic is coming from… and the list goes on and on. Use this tool to decide what keywords you are going to focus on for your blog based on the number of searches each term gets per month and how much competition there is. Though the free version is limited, you can still get some great info!
However, if you are serious about your SEO strategy, I highly recommend their paid version at $100 per month. There will be much more data available to you and you can track the traffic and position of your own blog. SEMRush is always my #1 choice!
2) Ahrefs
Ahrefs.com is perhaps one of the most well-known SEO tools and is a close rival to SEMRush. If you are trying to decide between the two (the paid versions), I suggest trying out their free trials and going with the one you are most comfortable with. Though I obviously love SEMRush for keyword research (which ahrefs is great for as well), ahrefs is the go-to site for tracking backlinks. It is the most trusted resource for monitoring and measuring this information, so if that is a big focus of your strategy, ahrefs may be the best fit for you.
3) Screaming Frog
Screaming Frog is one of the best, free SEO tools out there when it comes to auditing your site and doing on-page SEO. The free version allows you to scan up to 500 URLs on your website and gives you tons of great information. For example, it can tell you how many links are broken, what pages are missing titles and descriptions if images are optimized, and more! Definitely download this tool and use it about once per month to keep an eye on your site and work on your on-page SEO.
4) Keywords Everywhere Chrome Extension
This free tool is great if you are just dipping your feet into keyword research or are wanting to know the data behind new keyword opportunities. If you download the Chrome extension, you will be able to type a term into Google and see how much search traffic it gets the competition level, and cost per click (for Adwords). This can help advise you on what keywords you want to focus on for your blog. This tool works for YouTube as well!
5) Google Analytics
If you haven't heard of Google Analytics already or aren't yet using it for your blog, you definitely should! This is the best tool for monitoring your own site's traffic, where it's coming from, and more. Without Google Analytics, it will be hard for you to tell if your SEO strategy is working. And within it's dashboard, you can get loads of info on what is working well, what pages are performing best, and what keywords you are ranking for. This is also where you may want to collect info about how much traffic you are getting to give to sponsors/brands if you hope to make money with your blog.
6) Google Search Console
Google Search Console is another Google tool but less robust than Google Analytics – though they are both free. I recommend configuring your site with both so that you have all the data you can get!
Google Search Console is best at identifying certain errors you may have with your site, like broken links, and showing you the position your blog is at for certain keywords. This way, you will know what to fix on your site and where you should focus your efforts when it comes to SEO.
7) Google Trends
Google Trends is a great resource for thinking up content ideas for your blog. You can examine current events, trending topics, and more to help you think of what you write on your site that will be SEO-friendly and can even go viral! If you can hop ahead of a trend and write an informative piece of content on a topic, then people are likely to land on your blog and/or circulate your content on social media.
8) Spyfu
Spyfu.com is another great keyword research tool (like SEMRush and ahrefs) but I particularly like this one for scoping out your competitors.
If your competitors get decent traffic, you will be able to see what keywords they are ranking for and where they are getting their traffic. You can, of course, do this for your own blog as well, but I love looking at competitor data to get ideas on what keywords I should be focusing on.
9) MozBar
Like the Keywords Everywhere extension, MozBar is a free extension that you can add to your toolbar to gain even more SEO insights. The MozBar will give you metrics about any page/site you are looking at, including your own. This can help you identify what keywords sites are using in their on-page SEO and more. You can also easily assess the authority of a site and its probability for ranking.
10) Answer the Public
Ever get stuck with "writer's block? Not anymore you don't!
With Answer the Public, you can simply type in your main topic and get a robust web of questions and terms… which all present keyword opportunities! You will be able to see the most commonly searched questions about your topic, which you can then address in new blog posts. That way, you know it will be content your audience wants AND is SEO-friendly. Win-win!
---
Author Bio: Jessica Foster is the Founder and Editor in Chief at TrueToast Magazine, an online resource for and by millennial entrepreneurs. After graduating with a BA in Psychology, she realized the entrepreneurial drive and shifted toward a career in Copywriting, Technology, and SEO Consulting. She lives in the very beautiful and very hipster Seattle, Washington.