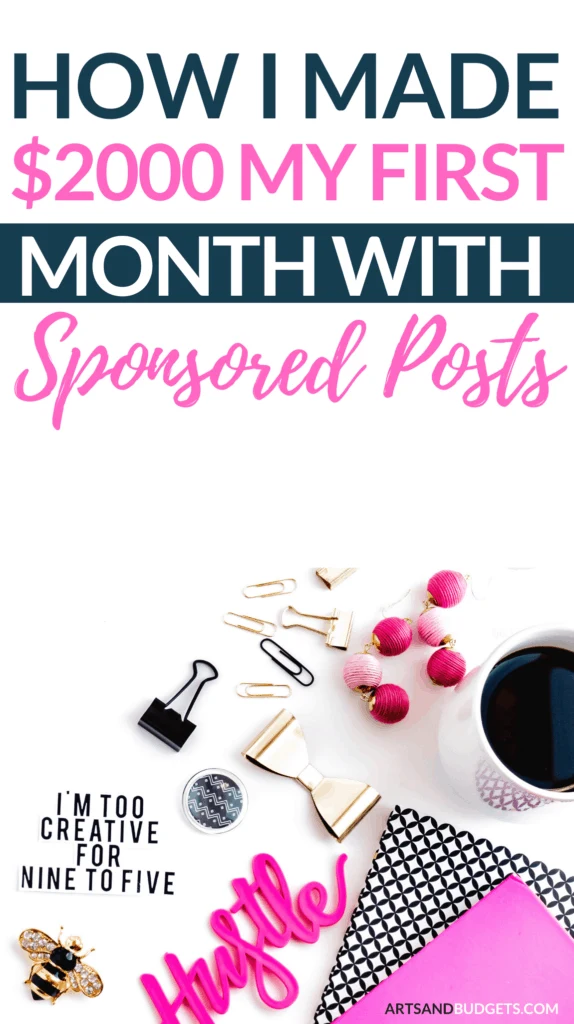 A few months ago, I developed a vast interest in writing sponsored posts. So just recently, I did a lot of research on how to get started.
I soon learned that many of my friends online were making most of their money right from writing sponsored posts. So, I create my media kit and started the process of landing my first sponsored post.
Within' 2 weeks, it happened! I landed my first two sponsored posts!
The first sponsored post I landed paid me $300, and the second sponsored post I landed paid me $150!
I was super shocked! Within' 2 weeks, I landed my first two sponsored post opportunities.
I was super excited, and on a roll because a week after that, I landed a major sponsored post opportunity, which paid me $1600. Within a month, I earned $2,050 for writing sponsored posts for brands that fit in with my niche. If you are not sure how to get started with landing sponsored post opportunities, this post will share what I did to prepare and the steps I took to get started.
Related Posts:
---
How I Made $2000 With Sponsored Post Opportunities In 1 Month
1. Prepare Your Website
One of the first things to do is updated all your website content and social media profiles. Brands often inquire about social media following and website page views when a person signs up or apply for an opportunity.
To help with increasing website traffic, I have a set of resources on my website filled with resources and tips on how to use Pinterest to grow traffic to your site rapidly. Click here to access the posts.
Another area to focus on is growing your social media following on platforms such as Instagram, Facebook, and Twitter. Building your audience on social media will help with landing sponsored post opportunities, as well.
2. Create A Media Kit
When applying for sponsored post opportunities a media kit a plus. A media kit is a pre-packaged resume of information about you, your business, and social media platforms. It is often given to brands and companies when you apply for sponsored post opportunities.
If you aren't sure what to include in a media kit or how to make one go to Canva.com to create one. They have a ton of media kit templates to choose from, which are free to use. When I first started, I created my media kit right on Canva and saved a lot of money and time. An example of my media kit is listed below: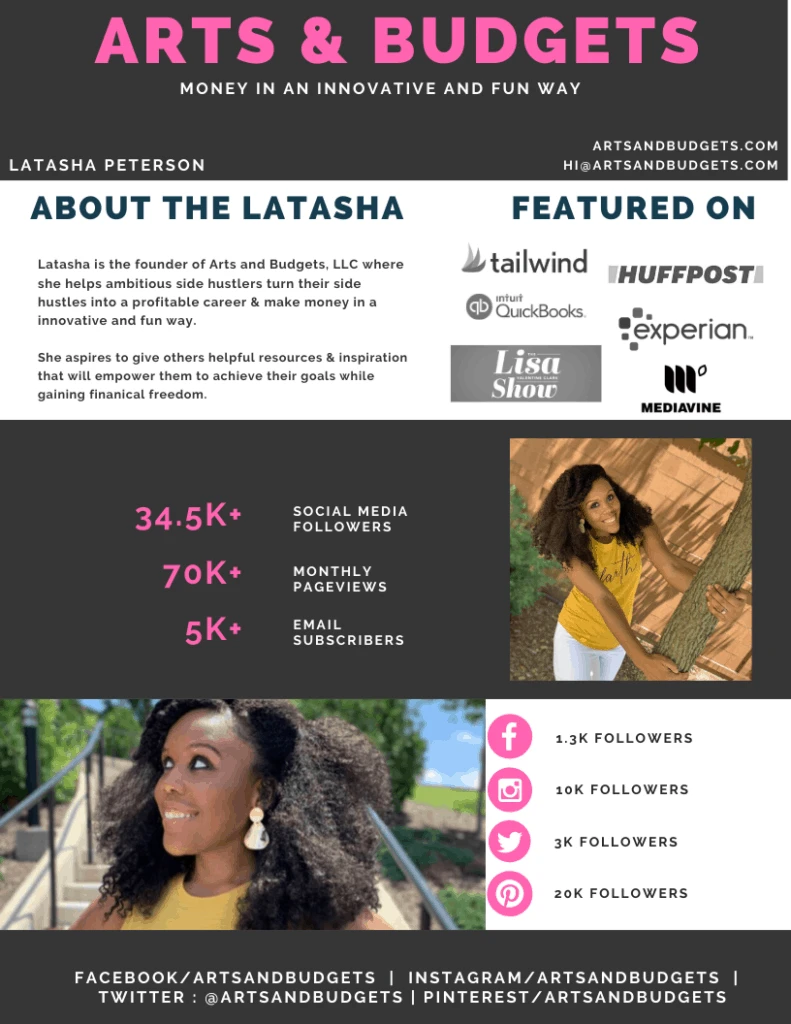 3. Set Your Rates
Another area to focus on before you contact brands is how much you will charge for social media posts and blog posts.
Pricing will vary depending on each person, but when I started, I didn't charge less than $300 for blog posts and no less than $50 for social media posts.
Currently, I charge a little bit more since my website page views, and social media following has increased.
The more social media followers you have, the more a brand will be willing to pay you. That's why it's essential to grow your pageviews and social media following to help increase the amount that brands will pay you.
[optin-monster-shortcode id="jhwgtegxtc0fjmgsibog"]
4. Sign Up For Sponsorship Websites
One of the first ways I landed my first opportunity was by signing up for sponsorship websites. There are a ton of sponsorship websites that have daily opportunities that any blogger or entrepreneur can apply for regularly.
All you have to do is sign up and apply. That's it!
After you sign up, create a profile with your website and social media information and stats. After that, search the site for new opportunities that fit in with your brand.
Pro tip: Make sure to apply for opportunities that fit in with your brand. When I first started, I made sure to apply for opportunities that fit in with the personal finance niche because I didn't want to confuse my audience with random posts on both my website and social media platforms. If you are ready and looking to sign up for some excellent sponsorship website, check out the ones listed below to get started.
Here is a list of sponsorship websites to sign up for:
5. Reach Out To Brand
Another way to make money with sponsored post opportunities is by reaching out to brands directly that fit in with your niche.
When I first started, I had no idea that I could reach out to brands about sponsored post opportunities.
Actually, one of the first sponsored posts I booked was because I reached out to a credit union company about partnering together. It turned out we were a great match, and the whole experience working with them was terrific.
To reach out to brands, look for brands that fit in with topics and content that you already post. For example, if you a personal finance blogger, you might want to reach out to budgeting apps or a credit repair company.
Once you find a brand that could be an excellent match for you and your brand, find their contact information and email them inquiring about partnering with them on sponsorship post opportunities. Make sure to include why you would be a great fit to work with them in your email and any results you may have had from their services or product. When I email brands, I also make sure to include my media kit. If you don't have a media kit, make sure that you create one to include in your email to brands.
6. Connect With Other Online Entrepreneurs In Facebook Groups
If you aren't in Facebook groups, you totally should be!
Facebook groups are great if you are looking to network with others in your niche. When you join a Facebook group, use the "Search " option to see if anyone shared a post about sponsored post opportunities.
When you find one, response to it for more information. You can also start a new post in the group asking about sponsored post opportunities as well. If you are looking for some Facebook groups to join I have one with ambitious side hustlers called The Side Hustle Collective! Join here!
7. Sign up for A Sponsorship Newsletter
If you are new to looking for sponsored post opportunities signing up for a sponsorship newsletter might be great for you. The sponsorship newsletter that I am a member of is called The Blogging Money Newsletter.
So far, my experience has been nothing but fantastic working with them.
When you join the Blogging Money newsletter, you will receive 10-15 of the best-sponsored post opportunities three times a week. See an example below from one of the emails that I have received from the newsletter with opportunities.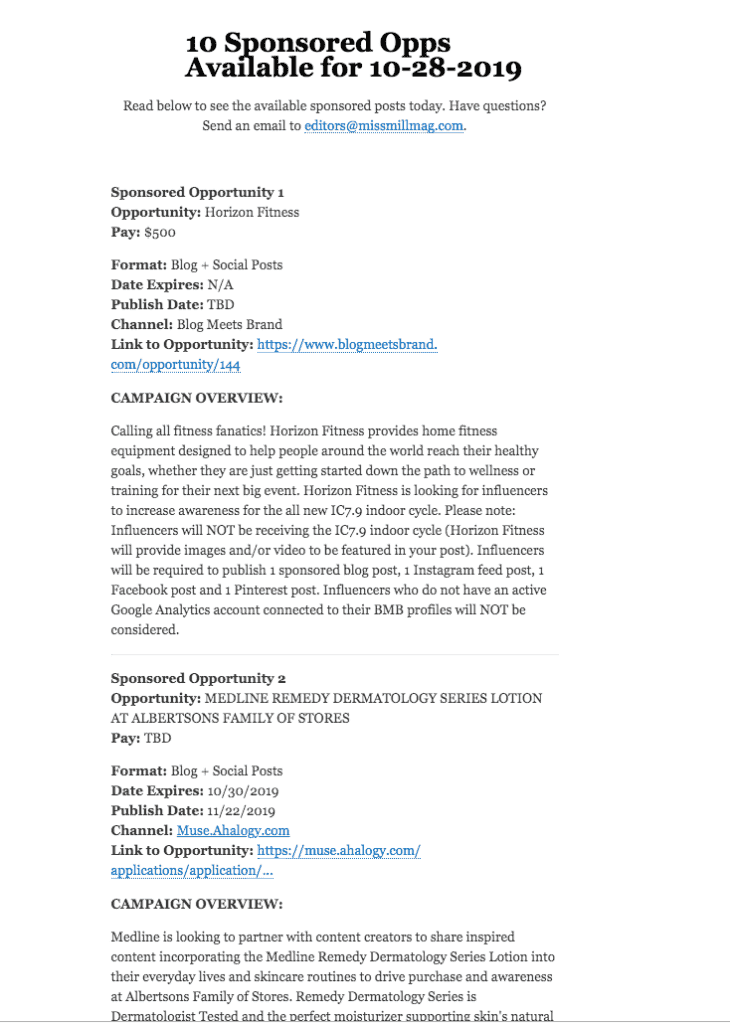 The payouts for the opportunities range from $65 to $5000. The monthly cost to join is $19.99, and you can cancel at any time. To me, the monthly price is so worth it! Since joining, I landed a sponsored post opportunity, which paid me $1600! This opportunity was one of the first ones that I booked. Click here to join and see more information!
8. When You Get Your First Post Put Up A Disclosure
After you land your first sponsored post, make sure to put up a disclosure to let your audience know that the post is sponsored by the company you partnered with.
An example of how a disclosure looked on one of my posts is listed below. Not only does it help build trust with your audience, but it's also the law.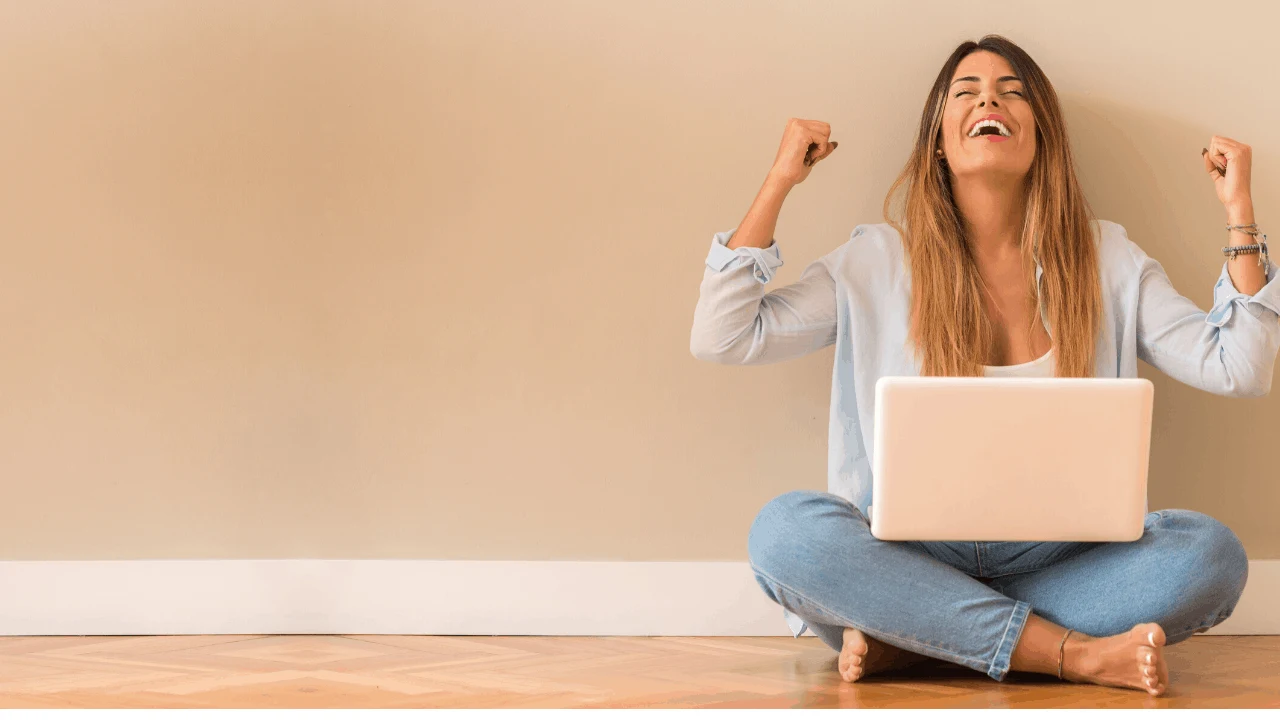 ---
Resources To Help Land Your First sponsored post
1. Tailwind
If you don't have Tailwind, I highly recommend it to help boost your website traffic using Pinterest. Tailwind is a scheduling app that schedules your Pinterest pins on autopilot. This tool has helped save me so much time and has boosted by website traffic. Click here to learn more about Tailwind.
2. Canva
Canva is my favorite online tools to create designs! It's also a great tool to use if you want to create a media kit very quickly. To get started, go to Canva.com and search for media kit templates. For fast access, click here to see the Canva media kit Templates on Canva.