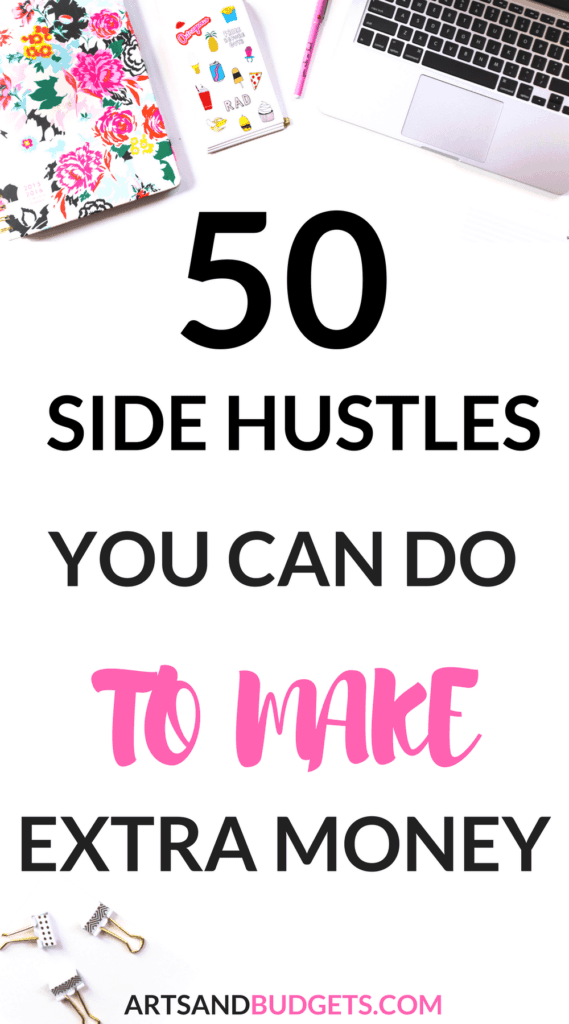 Are you currently looking for side hustles to increase income? If so, you are in the right place! I absolutely love learning about new side hustles and have come across some pretty amazing ones!
Making extra money can be life-changing and has been for me. I believe every little bit count and with extra funds, you can:
Pay off debt.

Put together a solid saving.

Travel the world.

Pay off Bills.

Fund Your Blog + Biz
I have compiled a HUGE list of over 50+ side hustles you can do starting today and make extra money! Most of the side hustles listed in this post are ones that I have already tried before and LOVE doing! Woo hoo!
---
What are the best ways to make extra money?
One of my favorite ways to make extra money is by completing surveys online. Last year I purchased most of my Christmas gifts from the money I earned from survey sites. My favorite survey sites are:
Let's Jump In
---
Ways To Make Money Blogging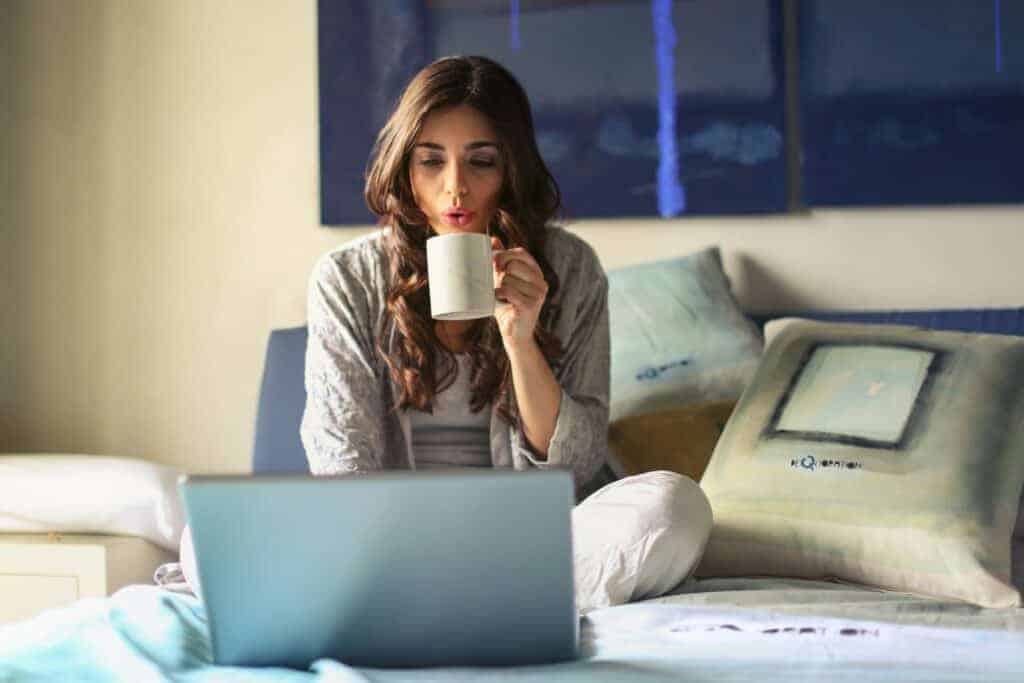 1. Start A Blog
Starting a blog has been one of the best decisions I made thus far. Not only can I make a living doing what I love but I get to meet amazing new people on the journey! I currently make over $ 1500 per month in passive income with my blog. So, if you are passionate about a topic you can totally start a blog this month and start making money from it.
If you are looking to start up a blog check out my step by step tutorial on how to get started today by clicking here.
Wanna see how I make income from blogging?
Check out my "5 Ways To Make Money Blogging" post by clicking here!
2.Affiliate Marketing
With Affiliate Marketing you are rewarded for recommending and promoting products and services that you have on your blog. You will receive a commission for any sales that occur from your referral link.
For example, if you are an affiliate for a survey site and post the direct link to your website you will get rewarded every time someone signs up through your link. Pretty cool, right?
My Favorite Affiliate programs are ShareASale, OfferJuice, Bluehost, Linqia, and Amazon Associate.
3. Ad Revenue
That's right, you can get paid by having different ads on your website. Basically, you can have ads throughout your website and every time someone goes to your website you have the opportunities to earn extra money.
I am currently with Mediavine and this month alone I almost made $900 just for having ads placements throughout my site.
My favorite ad revenue programs are Adthrive, Mediavine, and Sovrn!
4. Sell Products
Yesss! Sell your product and services, yo! Everyone is great at something and knows a lot about a subject so why not put that knowledge out and make a product such a checklist, daily journal, or printables? If you have an idea or know a lot about a subject then you can make an Ebook or guide and sell it right on your website.
A great example of this method is from Regina at ByRegina.com! Check out her product page HERE. She has a ton of different products ranging from $5 bucks all the way up to $ 300 bucks. Every little bit counts.
5. Brand Deals & Promotions Online
With brand promotion gigs, you can share and promote products that you actually love and get paid for it. Most of the time, you have to apply to the company directly to see if you get accepted but it doesn't hurt to try, right?!
Some of my favorite are: Linqia, IZEA, and TapInfluence
Ways To Make Money In Education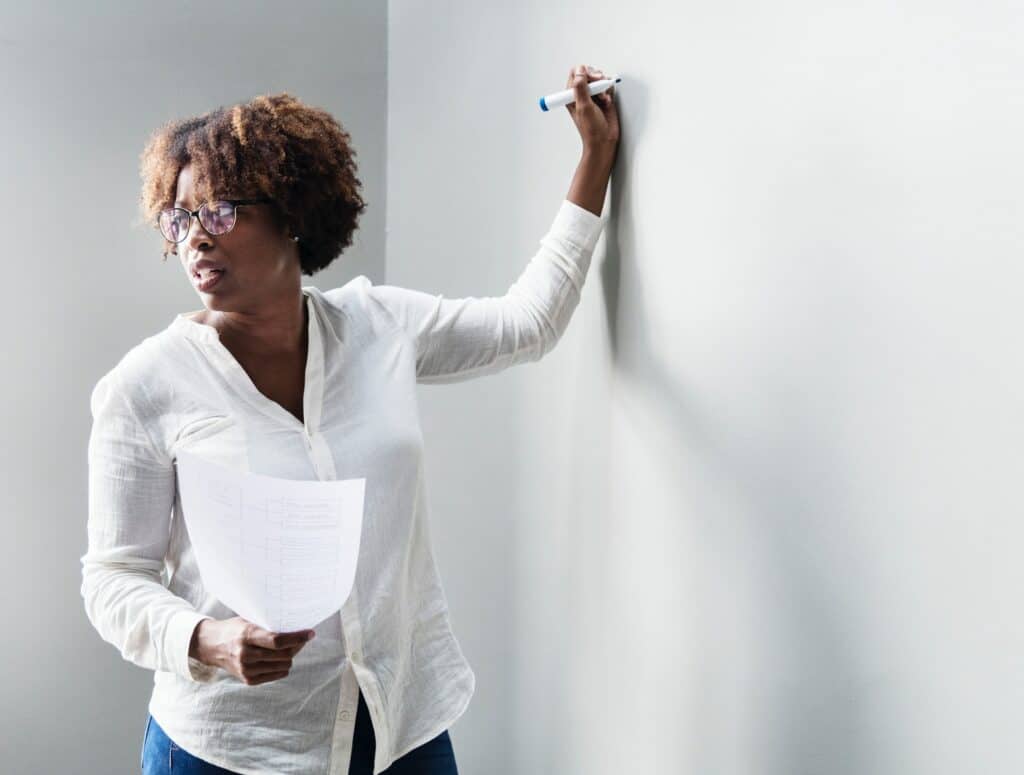 6. Create a course
E-courses are definitely on the rise right now and I think it's super amazing! I am currently developing my first mini and full E-courses and I am super excited to share it soon.
Don't think you teach anything?
Let me be the first to say you CAN! Everyone has something that they are good at even if it's unique. Places you can develop an e-course online for free are Teachable and Thinkific.
7. Create an Ebook
Do you have an interesting story to share or have expertise in a specific subject? If so, you can write an Ebook! If you have an idea you can totally create a book and let your voice be heard. You can sell your book on places such as Amazon and Gumroad.
8. Tutor Online
Are you currently a teacher or tutor and looking for part-time work? Well, you can actually work online tutoring! The great part about it is that you can do it in the comfort of your home.
Here are companies that look for teachers and tutors: HAWO, Berlitz, Cambly, PrepNow, TutorVista,
9. Sell Educational Material
If you are a teacher and looking to sell educational material such as worksheets and lesson plans you can totally check out some companies such as Teachers Pay Teachers and Enotes.
These companies actually purchase educational items.
10. Substitute Teach
This is definitely one of my favorite ways to side hustle! If you have a bachelor degree in any subject you can qualify to sub teach at your local schools.
The quickest way to do this is first by getting your sub teaching certification in your state and then going to local school district offices in your hometown and inquiring about their sub teaching process.
It normally takes about 2 to 4 weeks to get everything done.
11. Give Music Lessons
This one is for all the musical geniuses out there! If you are great at playing a musical instrument or if you have a great ear for music you can actually teach for places such as TakeLessons. TakeLessons lets students take private or online lessons which is AMAZING.COM! So, you can actually teach lesson online
12. Write For Places Online
Recently, I researched a ton of companies that actually pay bloggers to write for their websites. Pretty AWESOME, right? Writing for other companies online is a great side hustle that you can do to make extra income.
Oh, and you will be doing something that you love- writing! Some of my favorites places to write for online are Listverese, Hubpages, Money Pantry, MetroParent, Her View From Home, The Penny Hoarder, Knowledge Nut, HowlRound, Doctor of Credits, & Matador Network.
13. Teach A Class In Your Town
Did you know you can actually teach others in your own town on your own schedule? Yup! Places like Dabble lets you take full control of your teaching schedule and teach what you are passionate about. I have seen people teach classes such as photography, fitness, and music with Dabble.
RELATED POSTS
How To Make Money With Your Blog
Top Ways To Pay Down Debt Quickly
20 Places That Will Pay Bloggers To Write
Places Online To Make Money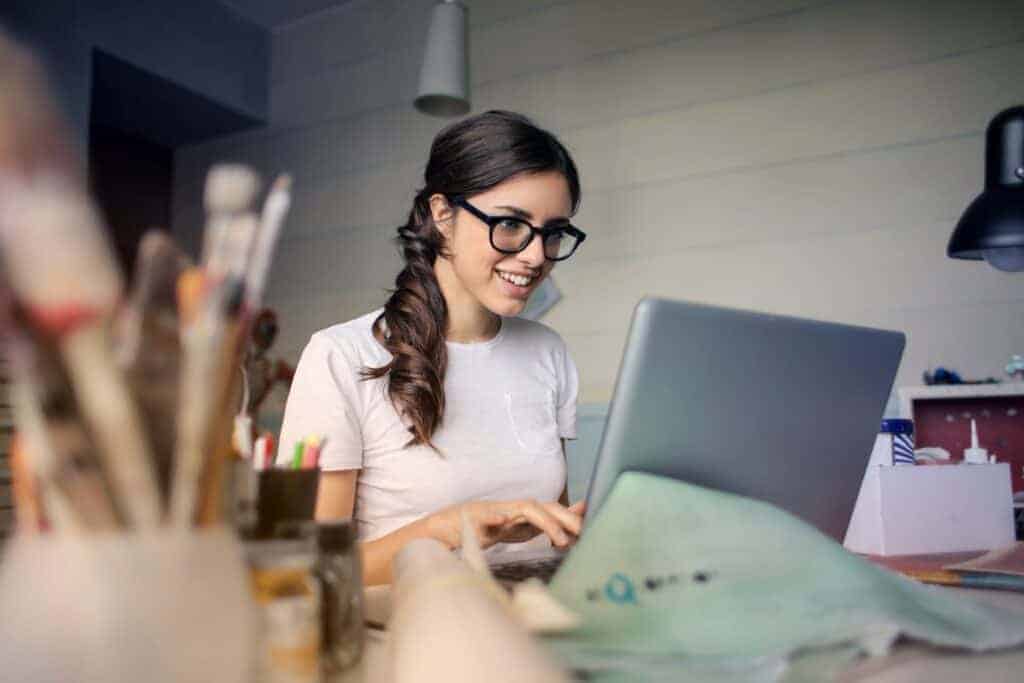 14. Complete Surveys Online
About a year ago I started looking into different survey sites to make extra money and some of the ones I found turned out to be AMAZING!!!. Last year I was able to pay for all my Christmas shopping with the help of this side hustle!
My favorite survey sites to earn gift card rewards and/or extra money online are:
15. Test Websites Online
I started testing websites last year, and I really like how fast I could earn extra income. Each testing site varies in terms of how much you will make. Some will pay you $10 while others might pay you $12 per test so, it depends on which ones you qualify for during that time.
It should take about 15 to 30 minutes to complete each task depending on the test. Test assignments vary, but a person could make an extra $100 or more per month completing the different tests, which normally pays via PayPal.
My favorite companies are UserTesting, Enroll, YouEye, and WhatUsersDo.
16. Be a Search Engine Evaluator
Yup! You got it. You can become a search engine evaluator for companies online. Job openings vary, so make sure to check out each site to see what opportunities are currently available. Some search engine job sites are Leapforce, Appen, and LionBridge.
17. Start A Freelance Business
If you design websites, or if you are great at writing and handling social media accounts you can start a freelance business and earn money. Check out this post on how to start and grow your freelance business.
18. Open Up An Online Shop
If you are great at designing invitations or making jewelry you can totally set up a creative online shop on places such as Esty which is a platform that let you sell your amazing creations right online.
Make Money In The Creative Arts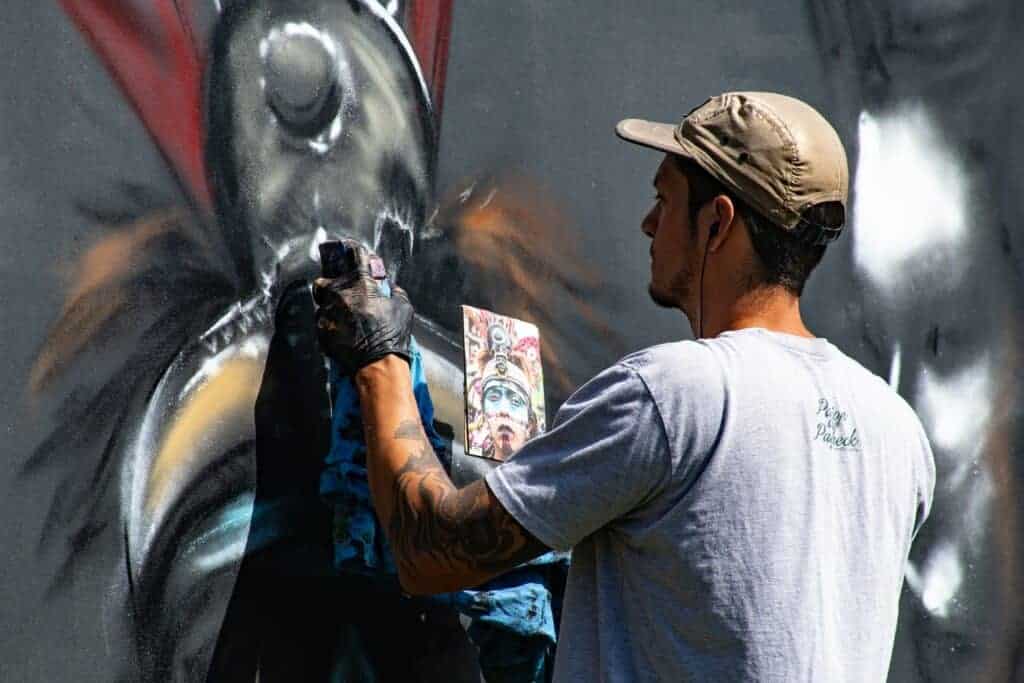 19. Be an extra in a movie
Looking to get into some acting on TV or movies? Doing Extra work is one funniest job I have ever done. I have worked on television shows such as The Boss, Chicago PD, Empire, Chicago Fire, Sense 8 and more. I make anywhere between $75 to $350 per day depending on the background role. The casting companies normally have a great lunch or dinner set up for the background actors as well.
When looking for opportunities around the world I normally get email updates from a company called, Audition Free. You can check them out HERE. Please note, you will NEVER have to pay to be an extra/ background in any movie, commercial or television show.
You can also check out Backstage and Project Casting, which are other casting companies that handles extra casting for all states.
20. Do voice-overs
Ever wonder how much fun it would be to be a voice-over actor? The great thing about being a voice-over actor is that you can do it anywhere which is a huge plus for travelers and people on the go. Different companies hire voice over actors for radio, the Internet, and Television to do voice-over work for children's audiobooks, cartoons, commercials, and more.
To find voice over work you can check out these places: Freelancer and Fiverr.
21. Produce Music
If you are currently a music producer then you can totally work with other artists and produce their music for their albums. My husband did this for years and made amazing money. He was able to set his own rate and hours.
If you are looking for work or places where you can submit your work MusicXRay is a great place to start!
22. Photography
If you are talented at taking photos you can look into doing some photography work for weddings, birthday parties, graduation and more. If you are just starting out you can check out this FREE photography Ecourse, Click Cartel!
23. Do Music Performance Gigs
If you love singing and performing then you can get paid to do local shows in your town. Not only can doing shows build your fan base but it can also help with funding your next project. The more fans you have, the more possibilities for funding you can get from gigs.
Here some sites that can help with finding gigs in your area: SonicBids, Reverbnation, GigFinder, GigZolo, Indie On The Move, and MusicClout.
24. Sell Your Merchandise
Once you have your gigs lined up, having merchandise to sell is always a great way to gain revenue to fund your project. Here are some sites that can help you create custom merchandise for sale at your gigs: Bands on a Budget, Merch.ly , Merch Hero, and My Custom Band Merch.
25. Brand Ambassador
As a Brand Ambassador, I was hired to promote brands in a positive light to the public while providing consumers with a memorable face to face experience. When new events came to my town I was hired by promotion companies to help assist them with the different tasks to make sure the events ran smoothly.
The best thing about being a brand ambassador was that I could work weekends and get paid around $100 per day for the event. Pretty Neat, Right?! Here are some of the Brand Ambassador companies I have worked with.Big Orange Productions, Encore Nationwide, On The Rocks Models, And Event Pro strategies.
Sell Stuff To Make Money….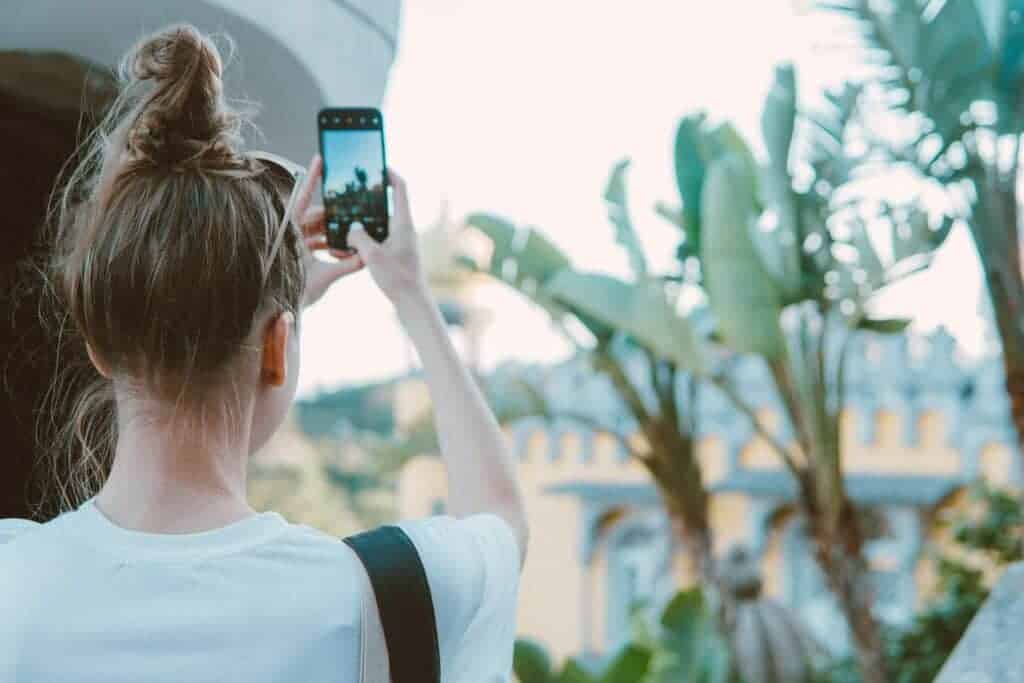 26. Sell Your Photos
Are you good at taking photos and want to make extra money? Then selling your photos might be right up your lane. Photography companies are always looking for new photos to showcase on their sites.
Places like Clashot, Snapwire, Pexels, and Istockphoto are places online where you can actually earn money from your photos. #Wowzers!
27. Sell Old Clothes
One of the fastest ways to make extra money is by selling old or unwanted items in your own home. Right before I had my son we had to get rid of a lot of stuff so we sold the majority of the items around our house we didn't use anymore. We ended up having around 6 to 7 boxes of stuff that we were willing to sell.
Some of my favorite places to sell online are: Facebook Market Place (this should be located at the bottom of your Facebook app when you log in– It's right next to the notifications and friend requests option at the bottom of the screen), LetGo, Gazelle, Swap, OfferUP,
28. Sell old books
If you have unwanted books you can actually sell them online at Bookscouter & Cash4Book and get cash-back.
29. Sell old Electronics
If you are looking to sell things like old CD's, phones DVD's and games then check out DeCluttr. This site will buy your old items and you will get cash back! Check them out here.
30. Have a Garage Sale
If you have items that you don't want around your home you can actually set up a garage sale and make money really quickly! Just pick a good day and put up flyers about the garage sale and normally people will stop by to see the items that you have for sale.
Make Money With Your Car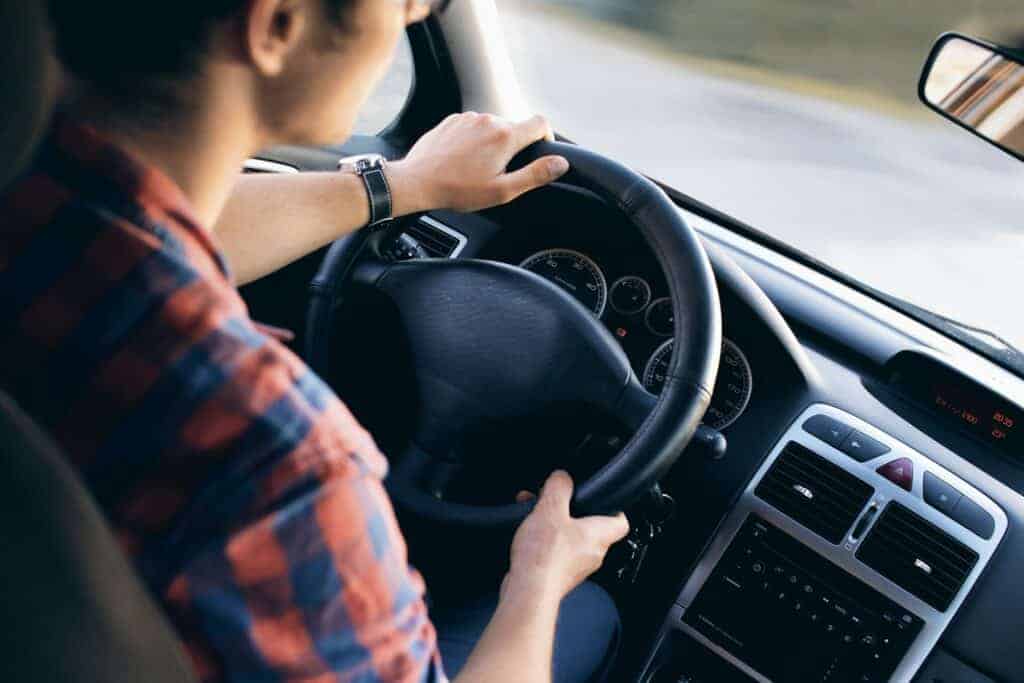 31. Pick Up and Drop People Off
Yes! You can make money by picking up and dropping off people. Now, this will vary from city to city but I know a lot of different people who make great extra income with Uber, and Lyft. by picking up and dropping people off. My husband currently drives Uber and make around $500 extra dollar each week by doing so.
32. Deliver Groceries
If you have a reliable car you can sign up to deliver groceries in your hometown. Places like Instacart let you sign up if you are 21+ and have transportation to do so. This is a great side hustle to make extra money.
33. Deliver Packages For Amazon
You can deliver packages for Amazon Flex and be your own boss and make extra money. Like most side hustles you will be able to create your own schedule. In order to work with Amazon Flex, you do need an android or an iPhone.
34. Deliver Food
Delivering food is a pretty quick side hustle and can be great if you are looking to make extra money in your town! Places like Door Dash and Postmates pay people pick up delivery orders via a phone app.
Make Money In The Administrative Field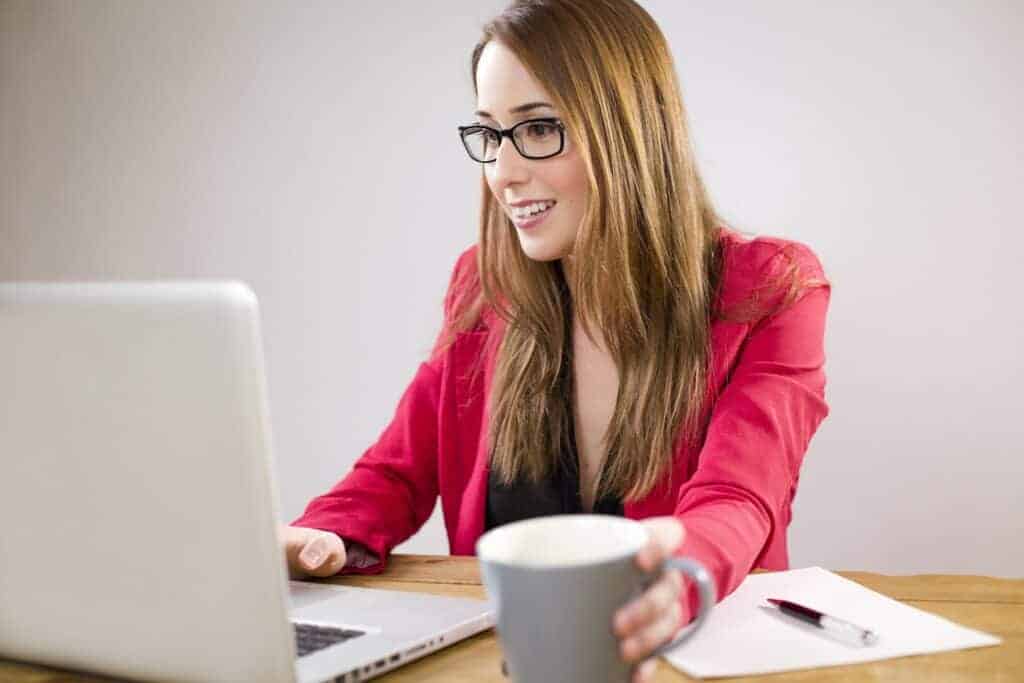 35. Become a Virtual Assistant
About a couple of months ago, I started doing a remote Marketing Assistant gig for an on-demand storage company. Basically, I performed marketing- related tasks and assisted in the coordination of the events all while working from home. I made $15 hr and work this job after I got off from my full-time job. It didn't take a lot to complete the tasks and I was in the comfy of my own home.
Here are my favorite Virtual Assistant job platforms.Task Rabbit, Elance, Fancy Hands, Time Etc, EaHelp, and Red Butler
36. Put Your Services On Fiverr
Are you great at designing logos, or editing photos? Well, putting your services on Fiverr might be a great option. Tons of people put their services on Fiverr and make great money. You can do what you love and make extra money while doing it. That sounds Rockstar to me! Check out Fiverr here.
Interesting Ways To Make Money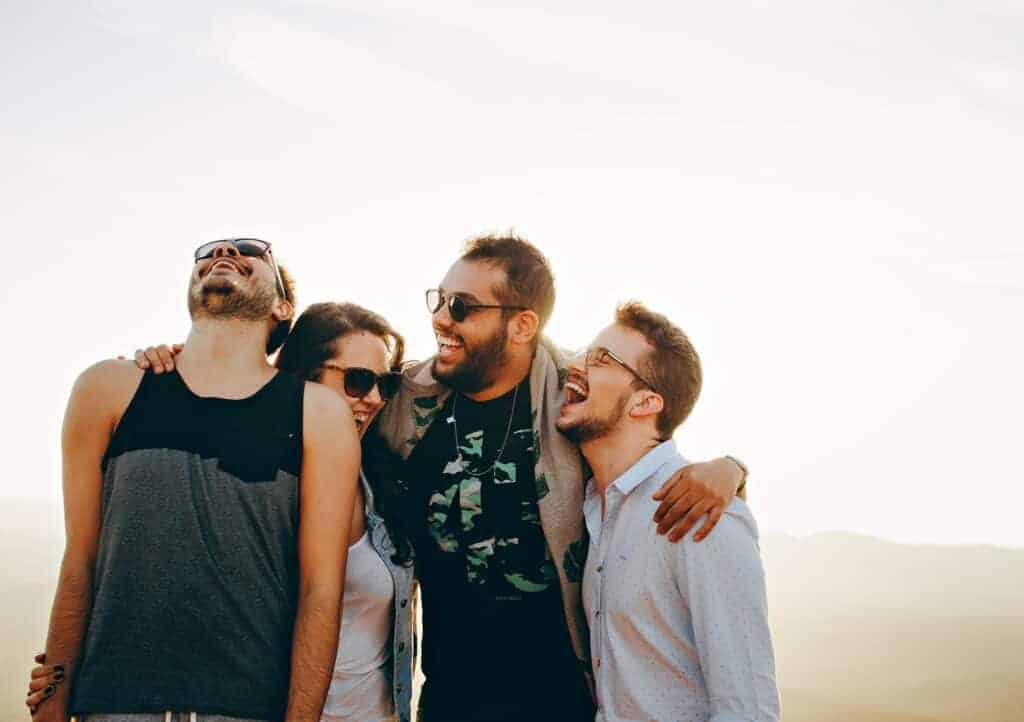 37. Make money with your phone
Did you know you actually make money with your phone? Yes! You can download different apps and do different tasks for companies just by using your phone. Check out this post which list 25 apps you can use to earn money from your phone.
38. Sell Breast Milk
If you have extra breast milk you can actually SELL It! Places online such as Onlythebreast buys breast milk from Mommas to help other Mommas out! This company is really big on receiving fresh and healthy breast milk so as a result, they do have a screening.
39.Rent Out Your Home For Airbnb
If you have extra space in your home, you can totally rent out a room with a company such as AirBnb and make extra money! I have a ton of friends who use AirBnb and love it.
40. Walk/ Pet Sit
If you love animals you can pet sit and make extra money. Rover is an awesome company that lets you sign up to become a pet sitter or dog walker.
41. Become a Babysitter or Nanny
If you love children and currently looking for ways to make extra money you can totally become a Nanny or babysit when you have time. Great places to look for babysitting jobs are SitterCity and Care.com.
42. Listen To Music Online
If you love music you can totally listen to music online and earn money. Places online such as MusicXray and SlicePie will pay you to review and listen to music online.
43. Sell Unused Gift Cards
Do you have gift cards that you never used but want to make money quickly? If so, perfect! Places such as Raise will pay you for all your unwanted gift cards right on their site.
44. Rent Out Baby Stuff
If you have baby items such as strollers, car seats and other items that children might need you can actually rent the stuff out to local families during their trip. Check out GoBaby for more information on how you can rent out your children items and earn money.
45. Join Focus Groups
Focus groups are another great way to side hustle. A couple of years ago I participated in a focus group for a new mascara product. I had to test out the new mascara for a week and give my opinion of the product at the end of the study.
I also received a $50.00 Visa Gift card for my opinions on the product! Woohoo! I normally like to do about 1 to 2 Focus groups a month. Here are my favorite focus group websites. Focus Group Global, 20|20 Panel, FieldWork, Intelli-Shop, and Confero
46. Get Paid to Shop
Yup, you got it! You can get paid to shop by working with a mystery shopping company. As always, make sure to do your research to see if mystery shopping is something that you would be interested in. My favorite companies are, Sinclair Customer Metrics, MarketForce, Intelli-Shop, and Confero.
47. Sell Your Makeup
If you have unwanted makeup you can totally sell it on Glambot! On Glambot they will send you money for your new or unwanted makeup!
48. Rent Your Car
If you have extra cars, you can actually rent them out on Turo.com! The company will set your car's rental price based on the market value, time of year and location to make sure you get a boost in your listing competitiveness on their site.
49. Earn Cashback from shopping
Shopping online is always fun for me but what makes it even better is when I am able to earn cash back from shopping. Ebates let me do just that! With Ebates I am able to earn money back from my online purchases which is pretty amazing. Check Ebates out here!
50. Install Apps on your phone
A ton of companies will pay you to download an app on your phone then pay you to keep it installed. The apps collect data to help companies better understand mobile usage better. My faves apps to do this are, Nielsen Mobile, Smart Panel, and Survey Connect.
51. Become a Closed Captioner
Yup! You read it right! You can actually become a closed captioner and help the hearing impaired. Places such as Vitac and Caption Media Group hire captioners to work for them
There you have it! Over 50 side hustles you can do to make extra money! 🙂
What side hustles do you do to make extra money!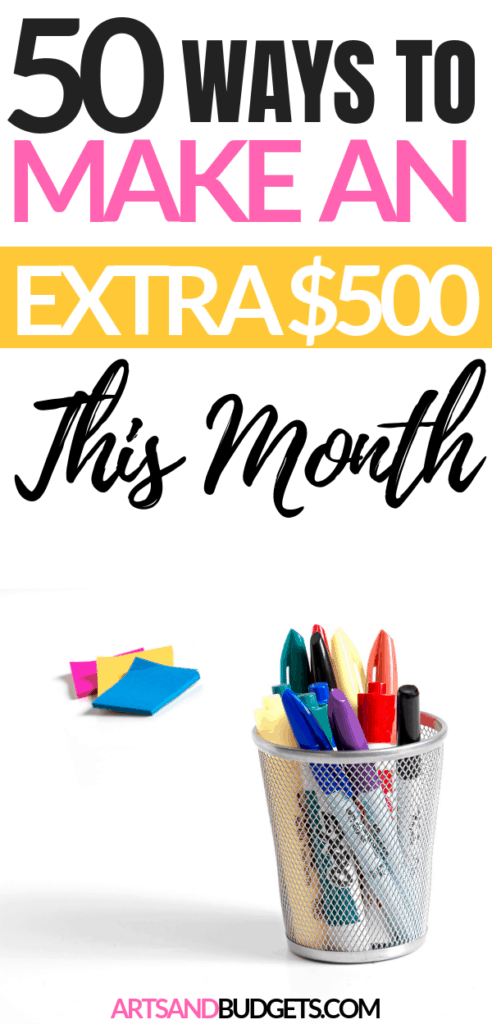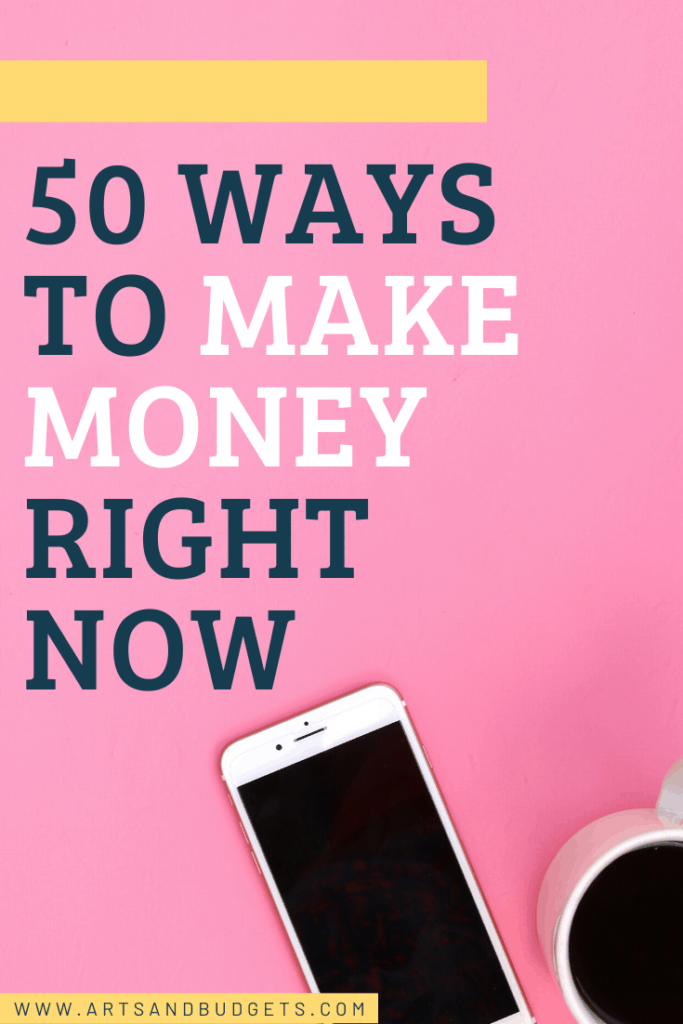 ---