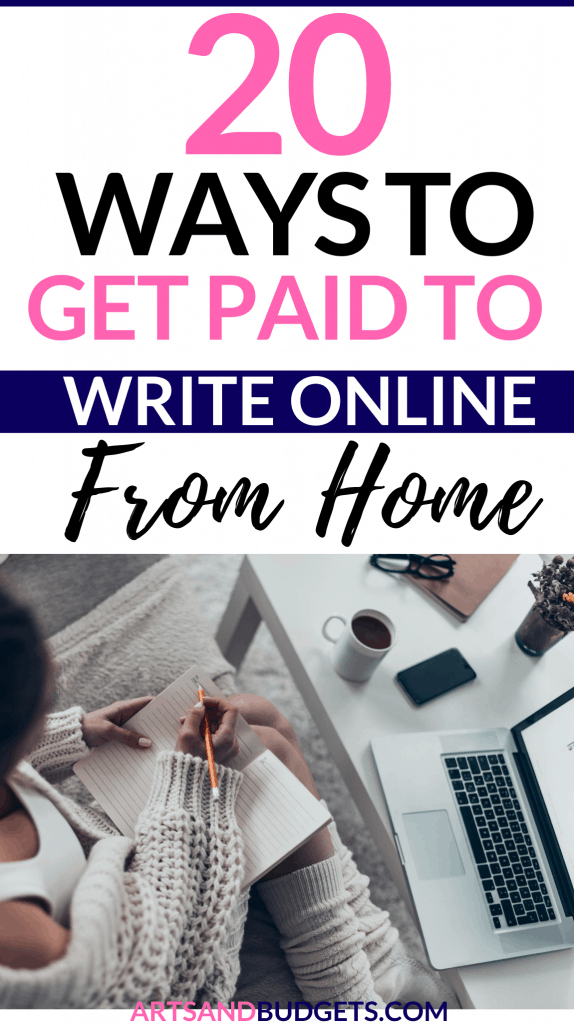 Do you have a love for writing and looking for ways to make extra money with your gift of writing this year? If so, this post will help you find new opportunities that can help land you your next freelance writing job.
Recently, I researched a ton of companies that pay writers to write for their websites.
Writing for companies online is a great side hustle that you can do to make extra income. Oh, and you will be doing something that you love- writing!
In this post, I share 10+ places that pay bloggers to write from their companies to help get you started.
Related Posts:
---
10 Places Online That Will Pay You To Write
1. Listverse
Are you good at writing lists such as "10 Comic Book Heroes Who Could Theoretically Exist" or "10 Celebrities With Historically Important Parents"? If so, Listverse might be perfect for you. With this site, You write your list (10 items per list minimum & can be on any topic), then you send it in and if approved they will publish it and send you $100 by PayPal. Pretty awesome, right! Check them out by clicking here.
2. Hubpages
Hubpages is a revenue share writing site. Revenue share writing sites are large collections of user-submitted articles about any topic. Revenue share sites don't directly pay you for writing for them. Instead, you earn a little of the ads and affiliate links that appear on the articles you post. Check them out by clicking here.
3. Money Pantry
Do you have a unique or unusual way of saving money? If so, then submit a post to the Money Pantry. They are always looking for new cool articles on unusual ways to save money. Generally, they pay between $30 to $150 per post & pay via Paypal as soon as your post goes live. Check them out by clicking here.
4. Cosmopolitan
If you have a memorable, crazy, hilarious, or touching college experience Cosmopolitan might be a great route for you. If they publish your essay on Cosmopolitan.com, they will pay you $100 — and write to you about for future assignments. Check them out by clicking here.
5. Her View From Home
This site looks for articles on faith, recipes, lifestyle, fitness, fashion, family, humor, grief, and kids. They also want you to be familiar with their website before submitting it. Payments are based on unique views and paid once you've met your threshold. Payments are sent via PayPal 30-90 days after your article is published. Check them out by clicking here.
6. MetroParent
Metro Parent tends to look for a good mix of fun and substantive local stories of interest to local parents. They normally pay $150-$350, depending on the complexity of the topic and the number of sources required. Payment is upon publication. Checks are usually sent out within the first week of the month of publication. Check them out by clicking here.
7. IWorkwell
This site looks for writers that write about human resource content. They pay between $20 to $200 depending on the article. Check them out by clicking here.
8. Wonderlist
This is another site that looks for lists such as, "Top 10 Animals With Incredible Superpowers' or "Top 10 Most Unbelievable Celebrity Lookalikes". They will pay you $5 via Paypal for every article that gets approved. Check them out by clicking here.
9. How Stuff Works
This site looks for writers with a background in Journalism especially science writing, who want to write shorter pieces They also look for writers with a background in research and writing. Check them out by clicking here.
10. Pro Blogger Job Board
If you are looking for a variety of different writing gigs, check out this site. It is filled with a ton of different companies looking for writers for gigs that pay. Check them out by clicking here.
11. The Write Life
This is a freelance site that will pay you $75 for well-written, practical, actionable advice, posts that will help writers on their own writing journey. Check them out by clicking here.
12. A Fine Parent
This site pays $100 per post, and you can earn bonuses for popular posts! Cool, right? Check out their site here.
13. Matador Network
The site looks for original writing and visual stories about travel, culture, and political commentary. Payment for articles starts at $20 but can go up to $60. Check out their guidelines here!
14. Knowledge Nut
Similar to Listverse, this site pays its contributors $10 to contribute a short "nut" of obscure knowledge! Check them out here.
16. HowlRound
Theater lover? If so, this might be the site for you! This site looks for writers who are deeply invested in and committed to the theater field. A well-written essay can earn you $150 and an in-depth, performance critique can earn you $100. Check them out by clicking here!
17. Dealspotr
This Deal Saving site will pay you to write a review about their site. I just recently received $50 for writing a review for them & completing some simple tasks. It's actually one of the best saving sites I have visited in a long time so it was very easy for me to write up the review. Check them out by clicking here.
18. Grammarly
I love Grammarly! It makes sure everything you type is easy to read, effective, and mistake-free. It corrects over 250 types of grammatical mistakes, while also catching contextual spelling errors and poor vocabulary usage & it's FREE! If you sign up for their affiliate program they will pay you to write a review about their service. They pay $25 for the review. Check them out by clicking here! 19. Doctor of Credit
This site pays $50 for every guest post that they use on this site. They look for writers to help give a different perspective on deals and consumer credit. Check them out here!
There you have it! A ton of places to look into if you are looking to make extra money from your writing.