Are you hunting for an online job from home without an investment? Perhaps you're a stay-at-home parent like me, a college student, or someone who prefers the flexibility of working remotely. No matter your situation, there are plenty of opportunities to make money online without investing a dime.
As a Blog Business Coach and Side Hustle Expert, I love hearing success stories from people who have found their niche. An online job that allows you to showcase your talents, exercise your creativity, and even make a good living. However, finding credible online jobs can be challenging, especially if you're just starting.
That's where this guide comes in. We'll give you a breakdown of what you can expect from the online jobs industry and where to find reliable platforms with consistent online gigs. So, whether you're looking for a full-time career or just a side hustle, this guide has everything you need to get started. Let's dive in!
What Kind of Work Can I Do From Home With No Experience?
This guide explores 17 online jobs you can do from home without any upfront investment. From freelance writing to virtual assisting, many jobs require little more than a computer and an internet connection.
1. Data Entry
If you are looking for online jobs from home without investment, look into the data entry field. Data entry is a lucrative job for anyone looking to work from home. You only need a stable internet connection, a computer, and good typing skills to land a position. It also offers flexible working hours for freelancers. Alternatively, you can take up a remote full-time job in an organization.
Most employers request a high school diploma or equivalent credentials for entry-level data entry jobs. Various industries offer data entry jobs, including healthcare, retail, financial institutions, and the government. Data entry jobs are time-consuming and need high accuracy. If you're looking for a less tedious and time-consuming job, it's best to consider other online jobs. Click here to learn more about data entry job opportunities.
2. Online Tutor
Online tutoring is an excellent opportunity for teachers, retirees, and other professionals. You can also land a job if you're a subject-matter expert or a student with good knowledge of a subject. Most online tutoring companies ask for ID and proof of education before hiring. You also need to complete a test covering the educational scope of your preferred subject.
Tutoring platforms like Tutorme and Tutor.com offer great benefits for online tutors. You can teach K-12 or higher education learners based on your skill level. Students request tutoring sessions with their preferred tutors through on-demand sessions. Also, tutors set a timetable for their sessions depending on their schedule.
3. Freelance Writer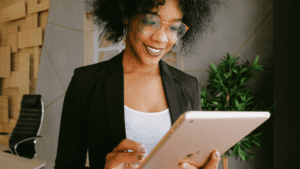 Freelance writing involves content creation for articles, blogs, publications, scripts, and more. While some freelance writers specialize in a niche, others build their skills in all categories. As a freelance writer, you need to learn various writing styles and Search Engine Optimization (SEO). Learn from other writers how to get writing gigs and the rates they charge. As a beginner, you'll probably charge less since you're inexperienced.
It's crucial to create a routine to meet clients' deadlines. You also need a payment method, for instance, a bank account or an online payment service. Create a portfolio on job sites like Problogger, Upwork, and Fiverr. When applying for jobs online, include some samples of your work. Most importantly, work on improving your writing skills.
Related Posts:
21 Remote Side Hustles To Make An Extra $1,000 A Month
4. Online Surveys
While this side hustle won't make a person rich, it's still a pretty good one to look into if you are looking for online jobs from home without investment.
Taking online surveys is one of the most straightforward online jobs from home without investment. Survey tasks require no skill or education, and each task takes a short time. The more tasks one can complete, the more one earns. Even though the payouts are minimal, expressing your opinions on brands, products, and general questions is enjoyable.
Several survey sites that pay cash include:
On Swagbucks, you could earn $1 to $5 a day (or $365 to $1,825 a year) on average. To increase your chances of doing surveys daily, register on multiple sites. It's also essential to check their reward system since some sites offer payouts in gift cards or points.
5. Transcribe
Transcription is a great work-from-home opportunity with a flexible schedule. It involves listening to audio recordings and typing everything that is said. It needs fast typing, typically 50 or 60 words per minute. You also need a good pair of headphones since some words may be inaudible or have strong accents.
GoTranscript offers free tests that you can use to grow your transcription skills. Practicing helps improve typing speed and accuracy. With fewer spelling, grammatical, and punctuation mistakes, you'll spend less time editing and covering more daily work.
6. Virtual Assistant
This is a great job if you are looking for online jobs from home without investment!
A virtual assistant does administrative, technical, and clerical work for an individual or company. VAs also offer customer support and manage social media accounts for a business. All VAs work remotely and only need to dedicate daily hours to their duties. To qualify as a VA, you must take training courses and learn from experts.
Flexjobs and Upwork are popular websites for VA jobs. They connect VAs with reputable companies or businesses. While it's free to join both websites, you'll need to pay for access to job listings. As a beginner, it's worth paying a small fee for their endless opportunities. Also, you get to set your hourly, daily, or weekly rates.
7. Social Media Manager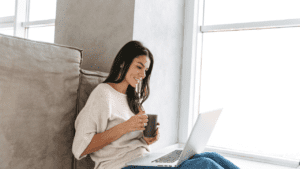 With most companies relying on social media marketing and online sales, the demand for social media skills is also rising. A social media manager is responsible for marketing products or services and building the brand's reputation. They also communicate with customers and resolve any issues that arise online.
You'll need visual design and copywriting skills for a successful social media manager career. You must also be a good researcher and generate sales from your online audience. Apply on ModSquad to work remotely as a social media manager and also get a chance to work with notable brands worldwide. As a mod, you choose the tasks you'd like to participate in and set your work schedule.
8. Start A Blog
Blogging is a lucrative way of making money online. You don't need to invest chunks of cash in starting a blog; you can earn from it in multiple ways. Pick a niche you're passionate about while focusing on what people need help with. Top blog niches that make a lot of money include food, personal finance, DIY and interior design, and more.
Through consistency and positive audience feedback, artsandbudgets generated 100,000 monthly pageviews and made $120,000 in revenue in 2022. Since starting this blog in 2016 as a side hustle, I've helped creative people find more ways to earn money through fun and innovative means.
My blog's revenue has also helped me pay off more than $40,000 of student loans, car loans, and credit-card debt. Some ways to earn from blogging are affiliate marketing, ads, and product offerings. Starting a blog is one of the best online jobs from home without investment
9. Website Testing
Website testing companies pay reasonable rates to test the design and usability of a website and provide feedback on the site's performance. Familiarity with Java and other programming skills is necessary for these jobs. For product reviews or testing a site's usability, you only need to be 18+ years to contribute and don't need prior experience.
You can find website testing gigs on Fiverr and Upwork. Most tests take 10-25 minutes to complete, and pay around $10 per test. Respondent and Ferpection are also well-paying sites dedicated to website testing jobs.
10. Proofreader
Proofreading involves correcting errors in written work before it's published or posted online. The average hourly rate for a proofreader in the United States is $24- $31, with experienced proofreaders getting up to $55. As a novice, you first need to identify your target proofreading jobs. You can specialize in books, academic papers, blog posts, legal documents, and more.
Proofreading services and Upwork offer endless opportunities for proofreading services. You must also market your services on social media platforms like LinkedIn and Twitter. Keep track of the jobs you've completed to show your experience to potential clients.
If you are looking to get started with Proofreading, check out the free Proofreadinganywhere course!
Proofreadanywhere covers general and transcript proofreading courses, starting from the basics. With their free workshop, you can learn how to become a good proofreader and how to market your skill. Check out the ProofreadingAnwhere workshop to get a jumpstart on your proofreading career by clicking here.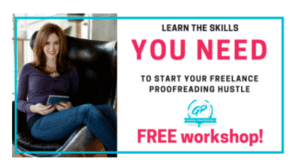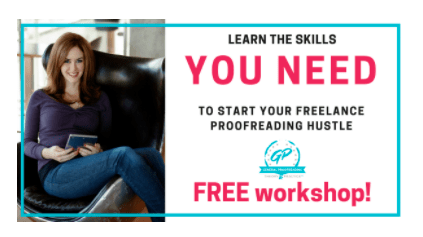 11. Graphic Designer
Graphic designers create logos, website front ends, advertisement materials, and more. For entry-level jobs, most companies ask for a degree in graphics design. A strong portfolio also increases your chances of landing graphic design jobs. You need knowledge of online tools like Adobe Creative Suite, Microsoft Office, HTML/ CSS, and basic UX/ UI design.
Full-time positions need you to dedicate at least eight hours daily. Freelance websites like Upwork allow designers to bid for jobs. As you perfect your craft, you could charge lower rates and increase them as you gain experience. Building positive relationships with your first clients is also crucial since it increases your chances of getting referrals.
12. Copywriter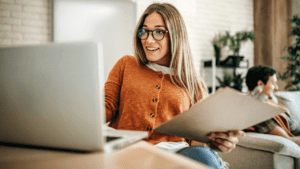 Another great side hustle that you can start with an investment is a copywriter. A copywriter collaborates with a graphics designer to create copy for ads and marketing campaigns. Copywriters create copy for newsletters, blog posts, and publications. Their job includes research to make engaging written content and editing the work. Their purpose is to increase product sales through written content.
If you have a medical, technology, or marketing background, you qualify for copywriting positions. Certifications compensate for lacking experience and help you stand out to employers. For copywriting jobs, apply on LinkedIn using keywords like ad copywriter, commercial writer, digital marketing writer, or technical writer.
13. Etsy Store Owner
Creating a seller account on Etsy is free. The platform allows the sale of authentic handmade items, vintage goods, and craft supplies. You can only sell handmade items made by you, so you can't resell items. You could also partner with a manufacturer to create custom products for you. While many items you can sell on Etsy, printables are the easiest and most profitable listings. There are many entrepreneurs who now earn 6 & 7 figures with their Etsy shops.
Creating unique printables such as budgeting templates, life, and cooking templates is doable on Canva. Etsy charges $0.2 for every listing and makes it available to 40+ million buyers on the site. You can also link your shop to your social media accounts to maximize sales.
14. Product Tester
Some companies send out products for people to use and give their honest opinion about the products. While some compensate you with the product, other companies pay cash for a review. To make money reviewing products, register with sites that offer cash payouts like American Consumer Opinion (ACOP) or Pinecone Research.
The Johnson and Johnson review program sends out free products to people before launching them. You also get to keep the products after submitting your review. Joining numerous programs gets you more products every year and increases your earnings.
Related Post
20 Companies That Send Free Products To Review At Home
15. Bookkeeper
Bookkeeping requires low to no start-up costs and is a well-paying job. Bookkeepers post and update financial records, collect payments, and reimburse employees for work-related expenses. Bookkeepers oversee companies' financial records.
An employer may ask for post-secondary education, competence in math, and computer skills. Some companies also provide on-the-job training. Before applying for jobs, you must familiarize yourself with several accounting programs and software. For freelance bookkeeping jobs, check into Upwork, Indeed, and Fiverr.
16. Voiceover Artist
A voice-over artist uses their voice to create a character in film, theater, radio, television, and commercials. To qualify for voice-over jobs, you need to be eloquent when reading from a script. You could practice by reading words out loud to avoid sounding robotic. Taking part in voice-over classes will also teach you how to project your voice without stuttering or making unnecessary pauses.
You'll need a pair of headphones, a microphone, a shock mount, a microphone stand, and editing software for your audio recordings. Most voice-over artists use Voice123, Voices, and Bunny Studio to apply for remote jobs. Marketplaces like Upwork, Fiverr, or Freelancers also list job opportunities for beginners.
17. English Teacher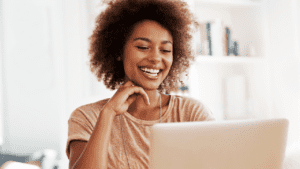 Working as an English teacher can be a lucrative online job if you have a strong command of the English language. Platforms like VIPKid and Magic Ears allow you to teach students worldwide from the comfort of your home.
VIPKid is a Chinese online education platform that allows teachers to earn up to $22 per hour. You need to have a bachelor's degree and be a native English speaker. The application process involves passing a video interview and completing a demo lesson.
You'll need to meet the same qualifications to join Magic Ears and have experience with children. Magic Ears teachers earn up to $26 per hour, and the online tutoring platform provides lesson plans and materials. So, if you are looking for a work from home job without investment, check out becoming an online English teacher.
Frequently Asked Questions (FAQs) – Online Jobs From Home without investment
Which Online Job Is Best Without Investment?
There are a couple of online jobs that require little or no investment. Some of the best jobs without investment include freelance writing, online tutoring, virtual assistance, data entry, and online surveys. These jobs allow you to work at the convenience of your home and don't require a lot of specialized skills.
How Can I Make Money Online at Home With No Money?
There are several ways to make money online at home if you don't have money to invest. Some of the most common forms include becoming an affiliate marketer or starting a blog or YouTube channel. You can also offer your services on platforms such as Upwork and Fiverr.
What Is the Easiest Online Job for Beginners?
The most straightforward online job as a beginner depends on your interests and skills. Data entry and conducting online surveys are some of the most detailed online jobs for beginners.
What Is the Easiest Online Job That Pays the Most?
The most straightforward job that pays the most is subjective. It also depends on your skills, experience, and demand. Blogging, becoming an online tutor, software development, and graphic design are some of the most straightforward jobs that pay the most.
Final Thoughts on Online Jobs From Home Without an Investment
Finding an online job that allows you to work from home without any investment isn't challenging. Online jobs will enable you to make extra income without needing significant upfront investment.
Many online jobs suit your skill set and interests. It's worth noting that every online job requires a significant amount of effort for you to succeed. Most online jobs offer a flexible work schedule and the potential for financial independence.
While some online jobs won't make you a fortune, they're best for covering light expenses. Do you have other online job ideas you'd like to share? Please drop them in the comment section below.