This post may contain affiliate links, which means I may receive a small commission, at no cost to you, if you make a purchase through a link.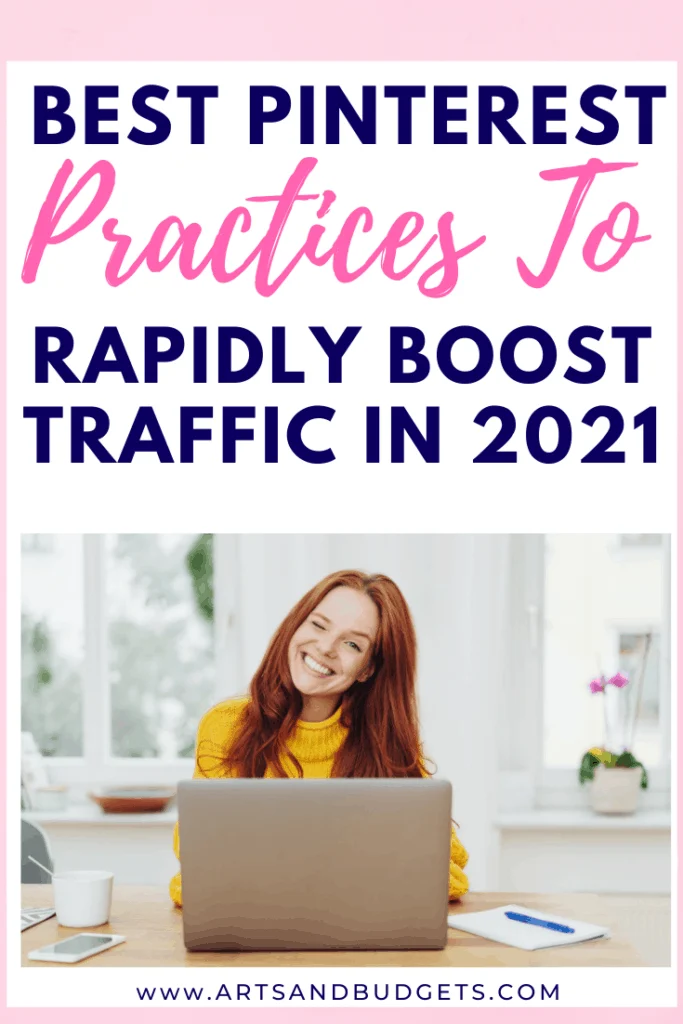 Pinterest is seriously one of my favorite platforms to grow a blog and/or online business. When I first started my online business using the Pinterest platform helped me earn my first paycheck and still, today helps me generate full-time income each month. So, if you aren't on Pinterest and you have a blog or online business I highly suggest it.
Recently Tailwind launched a webinar that shared the best Pinterest practices it was gold. On the webinar, we learned that creating fresh new pin images is one of the best ways to boost exposure on Pinterest on a daily basis. This post will go into detail about how to boost your exposure on Pinterest and it will also go into the best Pinterest practices to use this year.
Related Posts
---
Best Pinterest Practices To Rapidly Boost Traffic In 2021
1. Create Fresh New Content
One of the best ways to boost your exposure on Pinterest is by creating fresh new content on a weekly basis. When I say fresh new content I mean creating new Pinterest pin images for your blog posts and videos. Remember when you create new Pinterest pin images to keep your audience in mind and high-quality create pin images. A few great Pinterest pin images are better than low-quality Pinterest pin images.
Once you create your new Pinterest pin save the pin to all your relevant boards. For example, if I created a pin image for my blog post "20 Side Hustles To Make Extra Money This Month" I would save this image to all my side hustle and make money boards because it's relevant. I wouldn't save it to my recipe board because it isn't relevant for that board. Let's dive into deeper what is fresh new content on Pinterest.
What's Fresh new content?
Fresh new content on Pinterest is when you create a whole new Pinterest Pin image or video that hasn't been seen on Pinterest before from your profile. You can create a ton of images that link back to the same blog post, video or sales page. When you create a fresh new pin image you have to make sure to change the image of the Pinterest pin.
Below is an example of two different pin images that I created for one of my blog posts. Each pin image would be considered "fresh new content" when I upload it directly from my website onto Pinterest.
Pinterest prioritizes fresh content because pinners respond strongly to fresh new content on a daily basis. The Pinterest algorithm favors content on the platform that is relevant and also timely. When you create new fresh pin images that will help you get more exposure on the Pinterest platform with your content.
That means more of your followers will see your content and you will get more of your content shown in the home feeds and search results which can result in more traffic being sent to your website
[optin-monster-shortcode id="rqzlmqyv11dfo70lvrf3″]
2. Pin Content Everyday
One of the best ways to maximize your exposure on Pinterest is by being consistent with your pinning schedule. Currently, I pin around 25 to 45 pins each day which includes some of my new Pinterest pin images, older pins, and 3rd party pins. 3rd party pins are other pinners in my feed pins. I pin 3rd party pins to my relevant boards to help make them stronger.
So, try to put at least 15 to 35 pins each day which can be a mix of your pins and 3rd party pins. This will help boost your exposure on the platform.
3. Use The Tailwind's SmartGuide Feature
Recently Tailwind just launched the Smart Guide Feature which helps you stay within' the best practices on Pinterest. The Smart guide helps protect your account against getting marked as spam on Pinterest.
The smart guide will help monitor your pinning and let you know if something that you are doing might reduce your reach or put you at risk on Pinterest. The Smart guide will also help maintain a healthy pinning schedule on Pinterest. If you are currently using Tailwind you can use the smart guide every single day. If you haven't tried Tailwind I highly recommend it and you can click here to test out the platform.
Below is an example of how Tailwind Safeguard can help you while you set up your Pinterest schedule for your blog posts. It will give you a warning and then give you a recommended action to help you have the best experience on Pinterest and not get marked as spam on the platform.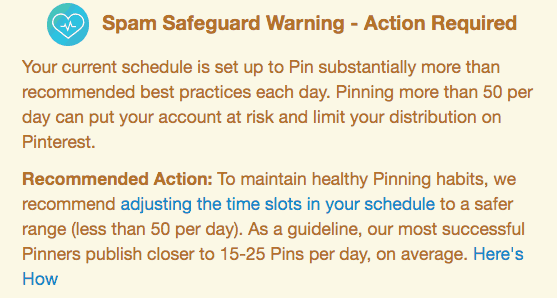 4. Find The Best Keywords
One of the best ways to gain exposure on the Pinterest platform is by finding the best keywords. Whenever I host a Pinterest masterclass I always put a lot of importance on finding the best keywords for my student's blog posts and videos.
One of the ways I find the best keywords is by using the Pinterest Search box daily. Once I finish writing a new blog post I go on the Pinterest website and type in some of the keywords from the blog post into the Pinterest search box. After I type in the keywords, Pinterest populates other popular keywords that I can add to my Pinterest pin description.
Below is an example of how I use the Pinterest search box to find other relevant keywords. In the search box, I typed in relevant keywords to one of my blog posts and then Pinterest populated other relevant keywords phrases that I can use in my pin description.

Also, after you click enter Pinterest will populate even more popular keywords below in colorful boxes to add to your pin descriptions.

5. Put Keywords In Your Pin Descriptions
After you get a list of the best keywords to use for your blog post it will be time to add those keywords to your Pinterest pin description. Every time I create a new fresh Pinterest image I make sure to fill the description box with relevant keywords that relate to the blog post.
Adding keywords to your Pinterest pin description will help make your pin searchable and help them rank for popular keywords that visitors search for. Below is an example of how to add keywords to your pin descriptions on Pinterest.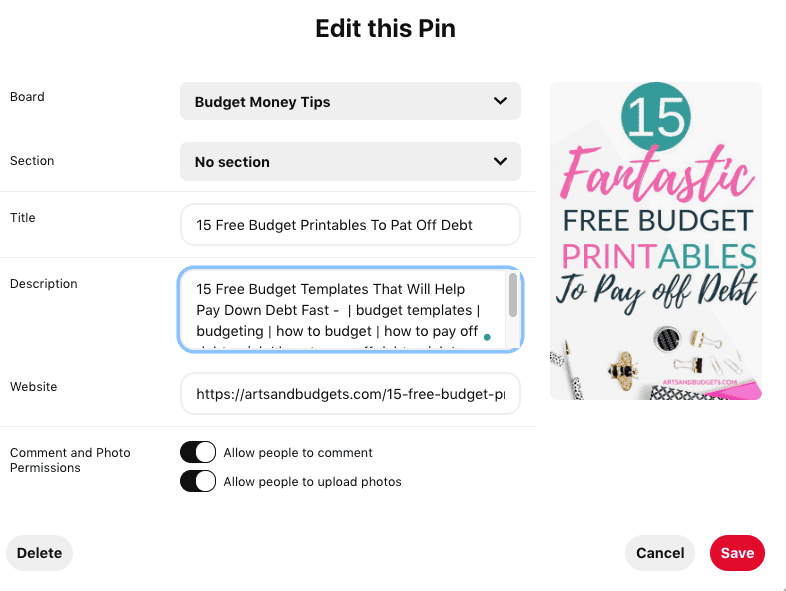 There you have it some of the best Pinterest practices that you can make in 2020 to boost exposure on the platform. Also, if you are looking to earn money from Pinterest I have a mini-course called Pinterest Sales Funnel which can help you set up your first Pinterest sales funnel with ease to increase income. Click here to check it out.