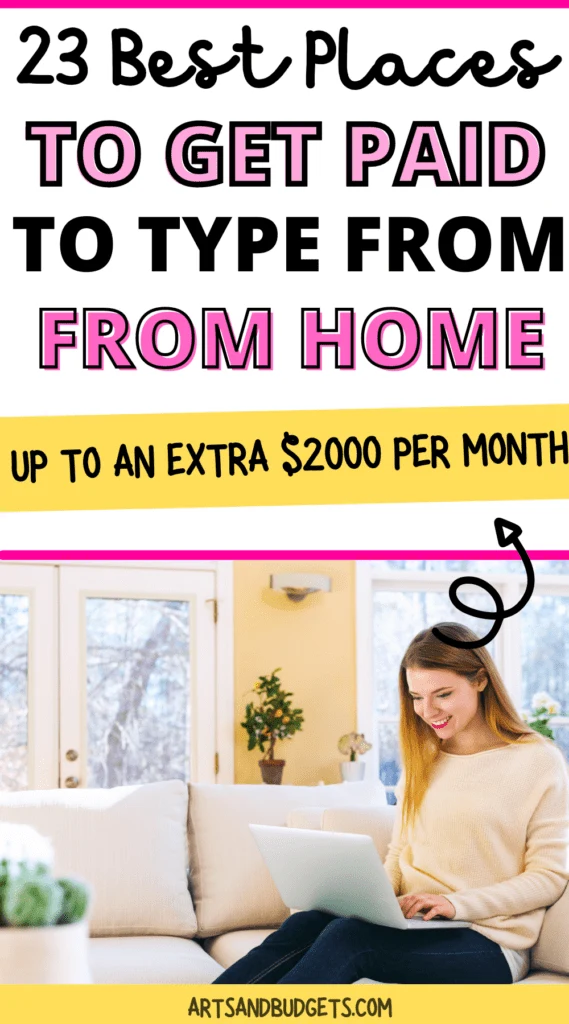 Are you looking for the best sites to get paid to type from home? This guide will give you some pointers on all the places you should look for when hunting for a typing gig.
Over the years, I have garnered solid interest in finding new ways to earn money online. As a work-from-home mom, I have a passion for trying out new side hustles and helping others find the best ones to increase wealth. So this guide will look at some credible sites to get paid to type from home this year.
How Can I Earn Money By Typing?
Working in data entry is the most basic way to make money by typing, which has an hourly rate of $16.04 according to Indeed. Most companies do have requirements to become a Data entry clerk such as at least 2 years of experience and a high school diploma.
Additionally, If you know your way around transcription, you can make money typing. A transcriptionist's job is to listen to audio recordings and type the dialogue that they hear. Transcriptionists must identify multiple voices on a tape, interpret words against background noise, and transcribe words spoken in various accents.
Working as a virtual assistant is another option. Typically, it entails completing many jobs for a single client based on their specific requirements.
The most common tasks for typing jobs from home are data entry, research, sorting spreadsheets from previously acquired data, scheduling, managing social media profiles, translating various documents, conducting customer support activities, answering emails, and other tasks. This guide will go in-depth into some of the other typing jobs available.
How Much Does a Typer Get Paid?
According to ZipRecruiter, a typewriter earns an average of $19 per hour. In addition to an hourly wage, typists are paid per word, per piece, or keystroke.
The salary is determined by location, education level, and years of experience. A transcription job typically pays $28 per hour according to ZipRecruiter. From my research on average, a typing job has the potential to pay around $2,400 to $4,000 per month.
23 Best Sites To Get Paid To Type From Home In 2022
1. BabbleType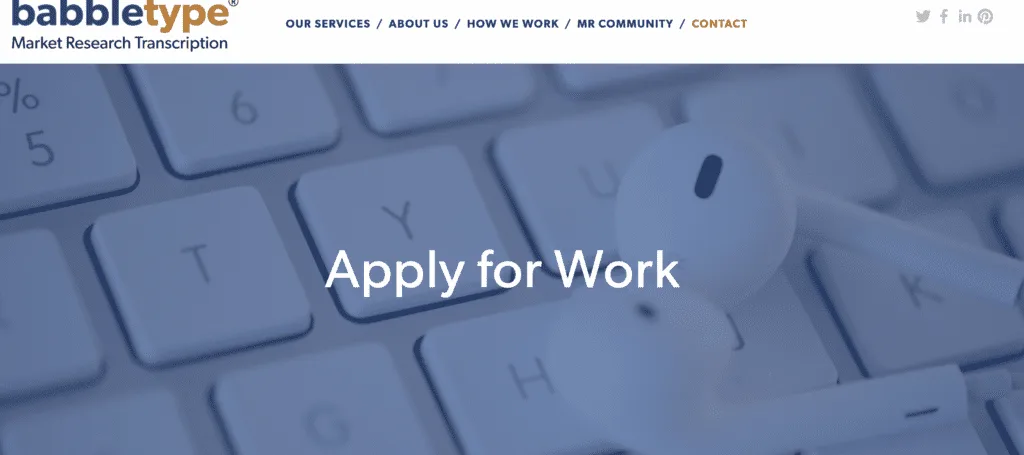 Babbletype is one of the most trustworthy companies to consider when working from home. Even as a part-time transcriber, you can earn up to $100 per week after you master the skill.
Everyone who applies for a job at the organization will be subjected to an interview process.
To assess your potential, you will need to complete a transcription test and phone interview with the employer. Listening to an audiotape and transcribing what you hear into a document is what this task entails. The tape is then forwarded to the client, who receives a written copy of the content.
Being a BabbleType employee demands a high level of fluency in the English language, excellent listening skills, and the ability to work with various transcript formats. The ability to work around your schedule is one of the benefits of working at BabbleType.
2. SigTrack
Join Sigtrack today if you're looking for a reputable online data entry job with flexible hours. Permanent residents of the United States alone are eligible for this opportunity. You'll need to undergo a thorough background check because you'll be dealing with sensitive information.
The payment transparency of this company is not to be doubted at any level. Moreover, there is an almost infinite supply of data entry and signature tagging projects.
The application process at Sigtrack is simple and quick. Complete the online application, and Sigtrack will contact you to arrange a Skype call. After a successful Skype call, Sigtrack creates your account so you can begin to work.
No college degree in particular or training is required, and no prior experience is required and you don't even have to type fast. These features make Sigtrack one of the easiest companies to join, especially if you want a data entry job.
3. CastingWords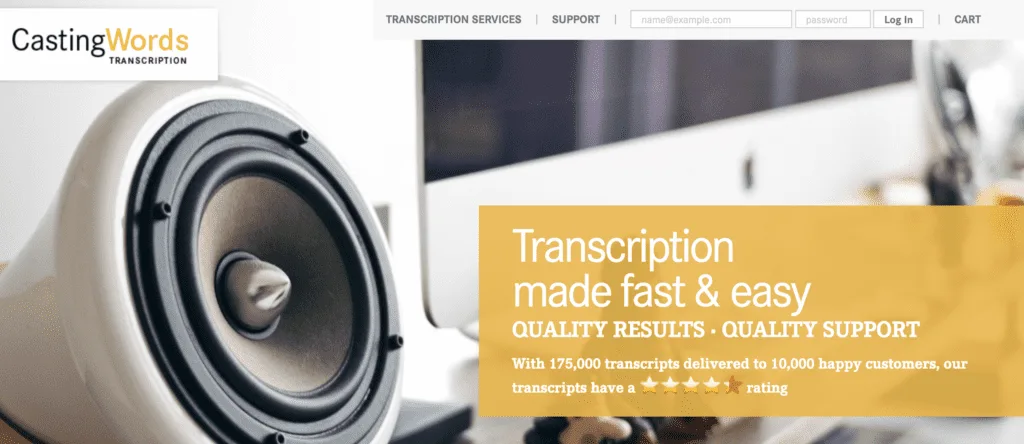 When you don't have sturdy skills, transcribing jobs at CastingWords is one of the simplest methods to start working from home. As long as you are at least 18 years old and live in a country that accepts PayPal payments, you're qualified to work for them. CastingWords hires independent contractors to accomplish transcribing projects for their clients.
CastingWords engages freelancers to perform transcription projects given by its clients. As a freelancer, you'd need to finish your transcription and edit it to match the company's quality criteria. You can work from home or anywhere with a computer and Internet access.
It's simple to apply to work for CastingWords. You must, however, pass a test in which you are required to transcribe a brief audio recording. You have the option of selecting a task from the list of available jobs. Time allocated descriptions appear in each task's description, indicating when you can complete the task.
4. Hollywood Transcriptions

For freelancers looking to make some extra money online, Hollywood Transcriptions comes highly recommended. As the name suggests, it's a company that offers transcription, translation, and captioning services to the entertainment business. With Hollywood Transcriptions, newbies are welcome as long as they meet its requirements.
You must sign a non-disclosure agreement because of the sensitive nature of the work. The application procedure is simple and quick. You are just required to fill out their application form and questionnaire found on their careers page. If your application is approved, they will get in touch with you for the next step of taking a transcribing exam.
Hollywood Transcriptions is a good place to work for newbie transcriptionists since they provide them a chance to learn the ropes. There also appears to be a steady stream of work. As an independent contractor, the more work you complete, the more money you make. So, if you are looking to get paid to type from home check out Hollywood Transcriptions.
5. Go Transcript

Work-at-home options are available with GoTranscript for transcribers who desire the opportunity to choose their schedules. GoTranscript is situated in the UK but provides transcription and translation jobs to freelancers worldwide.
To earn a good income, you must have excellent listening and research abilities, as well as a decent typing speed. Before providing paid work, GoTranscript thoroughly vets each applicant. GoTranscript positions require you to pass a guidelines test and a test audio project as a beginner.
With GoTranscript, you are not limited to a set time slot each day. It is a great option if you are seeking side hustles because you may work whenever it suits your schedule.
GoTranscript also offers editing, translation, subtitling, and captioning services in addition to transcribing. Newbies will handle entry-level transcription work. However, for more experienced and competent transcribers, GoTranscript offers specialized transcriptions.
6. Rev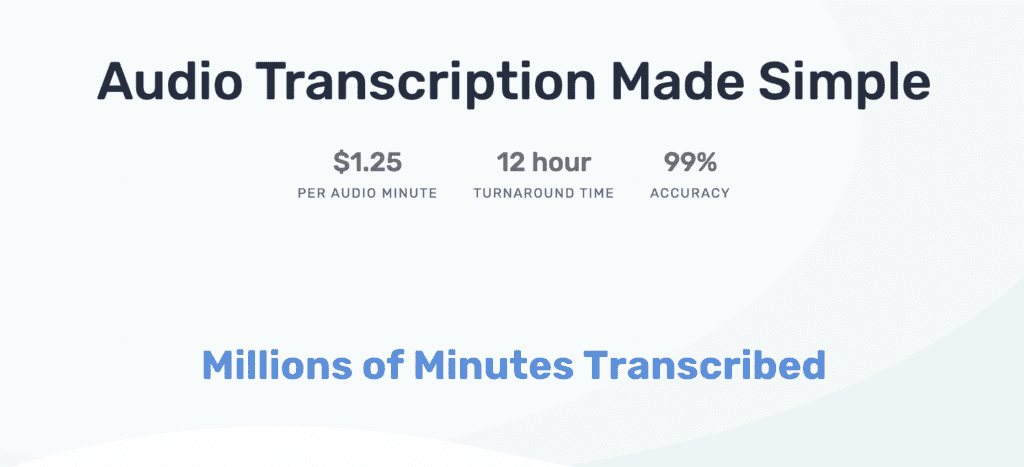 Rev is an online marketplace for remote work with a wide network of 60,000+ freelancers who give services to our 100,000+ global customers, including Amazon, Microsoft, Google, and so on. Rev's ties with large brands, as well as their high-profile references, make it clear that they're not a con.
You can work as much or as little as you want, whenever you want since the freelancing jobs are readily accessible on their site. Plus, you can choose from a range of projects that spark your interest. For any task done, freelancers are paid weekly via PayPal.
You have to listen to audio and video and then enter what is uttered. Working from home as a freelance transcriptionist, captioner, or subtitle translator could be the perfect fit for you if you're a speedy typist who enjoys the opportunity to learn new things while you work.
You can sign up and start earning money on the Rev platform within a few days after demonstrating that you match their transcriptionist and captioner qualifications.
7. TranscribeMe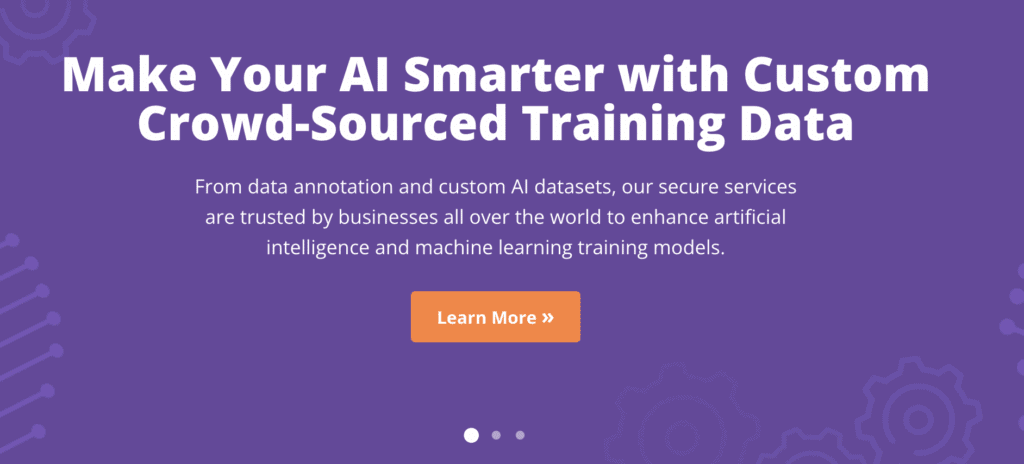 TranscribeMe is one of the largest transcription companies paying you to type audio. Jobs here are incredibly brief, with most consisting of only one to two-minute segments to convert from audio, so you can complete as much or as little work as you wish.
You must pass a TranscribeMe test to be eligible to work for the company. You'll be offered access to the company's style guide to study before you attempt the test. TranscribeMe-specific style questions are examined in addition to your mastery of English grammar and punctuation, so it's very important to understand the guide.
It is worth noting that you have two chances to pass the test. If you don't pass, there's a 30-day wait time before you may attempt again. As long as you're at least 18 years old and based in any country that enables you to have a PayPal account, then it's easy to work for TranscribeMe.
8. PeoplePerHour

If you are looking to get paid to type from home check out PeoplePerHour. To become part of the PeoplePerHour freelancer community, you must first fill out an online application. The site's moderation team reviews and approves each application, ensuring that only the best freelancers are paired to client assignments.
Since its inception in 2007, the marketplace has brought together marketers, entrepreneurs, and business owners with freelancers. Writing and design and business, technology, translation, social media management, and digital marketing are now delivered by the platform.
PeoplePerHour also provides a variety of flexible hiring options, such as the ability to browse gigs or post your projects, as well as a valuable scoring system to assist you with your hiring.
Freelancers can also create a portfolio of previous work and seek or receive endorsements from satisfied clients. When done correctly, this not only highlights your customer satisfaction but also allows you to include key phrases in your feedback that other buyers may love. Your profile is your most valuable asset.
Clients will review your profile when deciding who to collaborate with on a project, so you must present yourself in the best light possible. To personalize your profile, share your work experience, explain your abilities, and write your track record. Include examples of your work in your portfolio, be thorough, and keep your portfolio updated.
9. Speak Write

SpeakWrite is a great place to start or extend your work-from-home career in transcription. This company is a great one to get paid to type from home. It hires freelance transcriptionists who can work four hours a week for legal and government transcriptions. Legal transcription is more technical than general transcription; hence experience and skills in this area are required.
Although the organization specializes in government and legal transcribing, general transcription work is available. Legal transcriptionists must have at least one year of legal professional experience. You need one year of relevant office and transcription experience for a general transcribing job. While they don't give exact pay rates, the average earnings are significant.
They require a minimum of 60 words per minute and 90% accuracy in typing. SpeakWrite solely hires Americans and Canadians, recruits on a contract, and pays per word. You're expected to have the basic skills needed to be an effective transcriptionist. They include being an outstanding listener, working effectively, being resourceful, and having a strong understanding of English.
10. Daily Transcriptions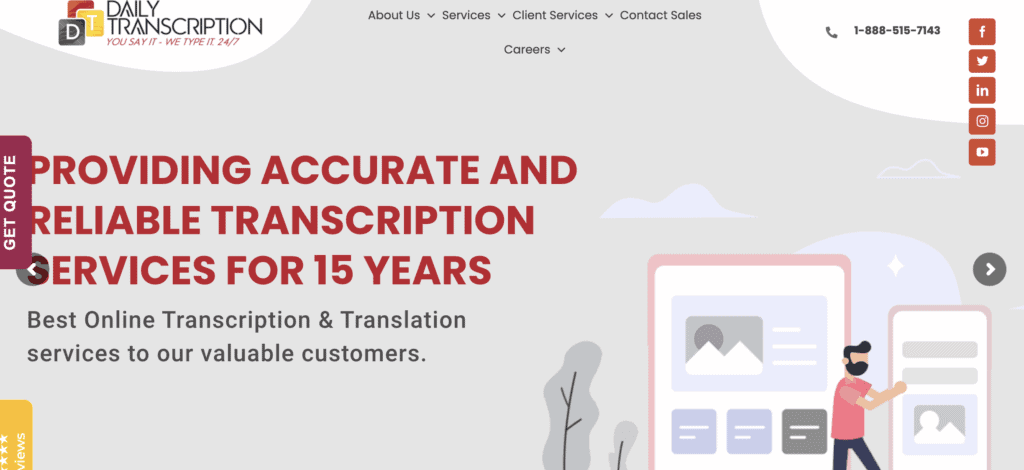 You can get paid to type from home with Daily Transcription. Translating and transcribing video and audio files from the academic, legal, and entertainment industries are among the jobs it offers. One of the best features of this company is that it hires bilingual freelancers. In contrast to several other transcription services, Daily Transcription does not need users to have prior transcription experience.
On the website, there are links for each area with job openings. To apply, you'll need to fill out an application form and take a skills assessment test. You'll be asked to take a transcription test in your area of expertise as part of the hiring process.
However, you must first meet the required typing speed and pass the assessment tests before you begin working as a transcriptionist with DT. It's a company that welcomes transcriptionists of all experience levels. As a result, it's a viable choice for those looking for transcription work from home.
11. Upwork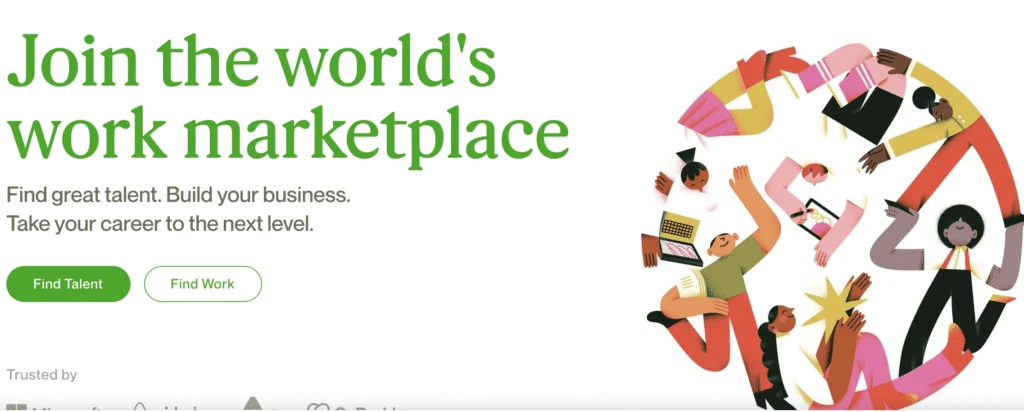 Upwork is one of the largest freelancing marketplaces globally, allowing businesses to hire freelancers to complete projects. It connects freelancers from all over the world with businesses that need their services. Working with bold startups and well-known businesses on Upwork allows you to meet your cash flow goals more efficiently.
You can also build a reliable pipeline of large and small projects by cultivating solid relationships. Create a profile on Upwork that demonstrates your skills and experience, as well as the type of work you're seeking. The platform will start matching you with projects that may interest you, and you can also search the site for tasks that interest you.
If an employer chooses you to complete a project, you will use the site's shared workspace to send and receive documents, manage expenses and time, and communicate with the employer. After completing the task, you will use the platform to generate and send a payment request.
12. Quicktate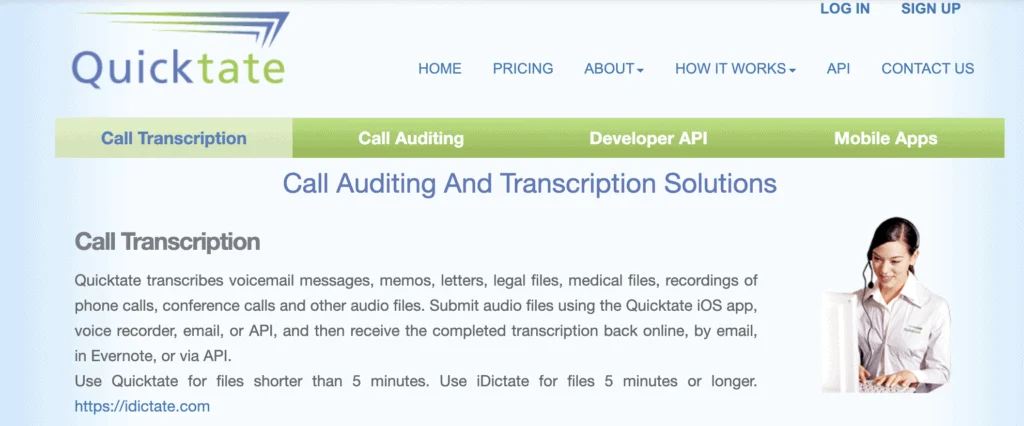 Quicktate, founded in 1999, offers transcription services to a diverse range of clients worldwide. They hire general transcribers to work from home regardless of experience, and they are always willing to work with new transcriptionists. You'll be working on medical files, voice mail messages, legal papers, phone records, letters, conference calls, and memoranda. These documents are available in a variety of lengths.
After you've typed what you've heard, play the audio file again, or as many times as necessary, and then proofread and run it through a grammar checker like Grammarly before sending the final document to Quicktate for consideration and feedback.
The company is less concerned with professional training and more interested in freelancers with good grammar and punctuation. Quicktate's iDictate branch employs transcribers who prefer to dictate papers in addition to providing transcription services.
13. Mircoworker
If you're looking for a way to make some additional money online, doing online microtasks can be a suitable fit. Microworkers is a crowd-sourcing platform that offers a decent alternative to Amazon's Mechanical Turk platform. Microworkers provide a wide range of projects to select.
You can try things like website testing, bookmarking, and even writing blog articles. If you've ever visited the website, you'll realize that firms need feedback to improve their services and products, which is why you may get paid to take surveys, for instance.
And as a result, companies are willing to pay for this data as they're looking for effective ways to beat their competitors. It's vital to note that you must first validate your phone number before you can begin working on Microworkers. After you sign up, you'll receive a pin to your phone number, which you'll need to enter into the platform. You'll be able to see extra details about the tasks once you've completed this onboarding process.
14. Clickworker
Jobs on Clickworker are done in minutes instead of hours. If you join Clickworker, you will be more like an independent contractor. As a result, you'll need to fill out a W-9 if you want to get compensated. Your Social Security number, full name, and home address are all required on the form.
To become a Clickworker, you must also be 18 years old. You'll be eligible for a set of micro-tasks if you're fluent in English and have access to an internet connection, a smartphone, and a computer. Data entry, survey participation, training AI systems, providing voice recordings, taking images, and more activities are all available on Clickworker.
Clickworker is a trustworthy website. The business has been around for a long time. It's worth noting that services like Clickworker are ideal for earning extra money on the side. You can't rely on sites like this for long-term employment.
15. Xerox

Xerox is noticeably dominating in the field of document technology innovation. They have a partnership that will meet your needs, whether you want to offer their products and services to your customers, you're a print supplier interested in offering Xerox-driven printing, or you want to collaborate with the company to develop solutions. They currently have a list of different typing work from home jobs such as Data Entry clerk, and administrative support
Through the Xerox® DocuShare® partnership, resellers gain access to cutting-edge technologies, incentives, marketing resources, and support to provide innovative and customized options to DocuShare customers while increasing their income streams.
You will also have access to a partner site where you can solve customer problems with value-added apps, software, and managed print services while earning recurring revenue. Compared to other sites reviewed in this guide, the scope of work at Xerox is a little more sophisticated and needs some business skills. But if this line of work appeals to you, then you should give it a try.
16. Freelancer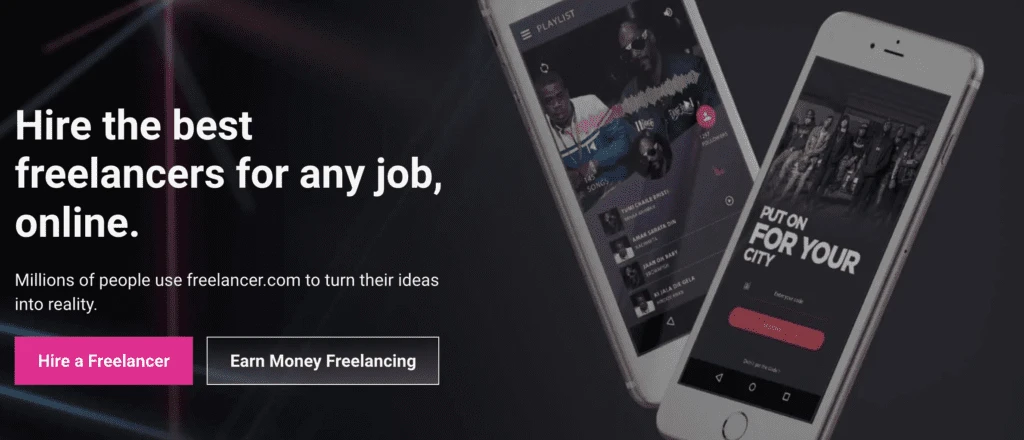 With over 45 million professionals from over 200 countries, Freelancer is one of the world's largest gatherings of freelancers and businesses. Employers can use the website to find freelancers for design, writing, data entry, software development, logistics, design, data science, engineering, marketing, sales, accounting, and other areas. You must be at least 18 years old to work on this platform.
The signup process is simple, and you can even use your Facebook account to log in instead. You can create an account as a freelancer looking for work, a customer looking for contractors, or one that allows you to do both. You can create a free account, but you'll need to pay to unlock more features and lower transaction fees.
17. Amazon Mechanical Turk

Mturk (Amazon Mechanical Turk) is a crowdsourcing platform that enables individuals and businesses to outsource processes and jobs to a distributed workforce that can complete them remotely. It could include anything from simple data validation and research to more subjective tasks like survey participation, content moderation, and so on.
Suppose you don't fancy working on surveys. In that case, there are plenty of other options available, such as audio or video transcriptions, classification assignments, excel spreadsheet tasks, and YouTube video reviews, to name a few.
The amount of time you devote to it determines most of your potential earnings. Work is immediately available after you sign up, but many of the higher-paying requesters require you to complete a certain number of HITs before working on their jobs. You'll need to complete 100, 500, or 1,000 HITs to gain access to some of the best tasks on the site.
18. Aberdeen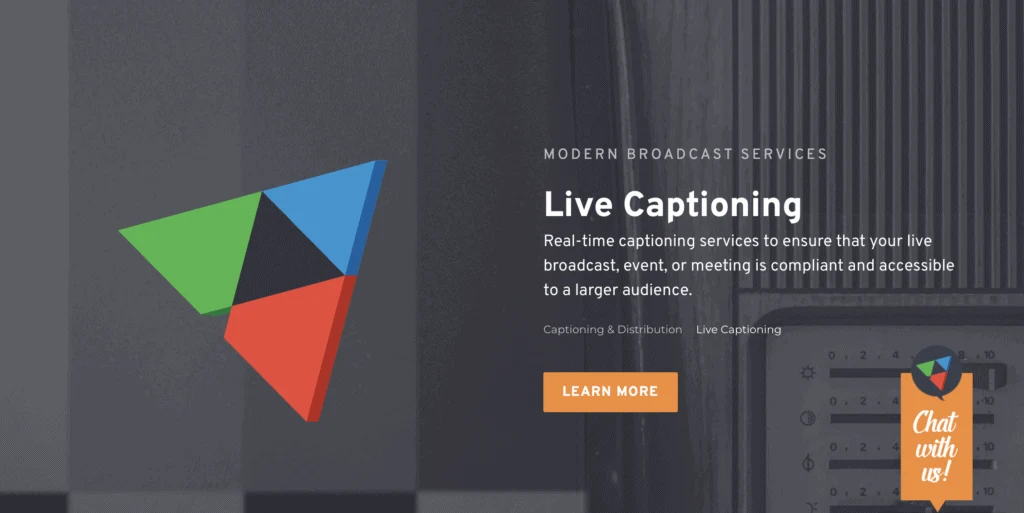 If you are looking for a job where you can get paid to type check out Aberdeen. This site currently has a closed captioner position where you can get paid to type from home. Some of the requirements for this work from home position are that you must have two computers (one will be for backup), three phone lines, be able to follow directions, and have a speed of 180-220 WPM.
You do have to pass a real-time close caption test with 98% accuracy before you will be contacted to discuss contractor options.
19. WeLocalize

Another place to get paid to type is WeLocalize. Through multilingual content and data translation, this site assists brands in capturing global business by accessing, engaging, and developing their foreign audiences. It also pays you to listen to music and type in the lyrics. Anyone can join this transnational company. It's a fantastic opportunity for you, especially if you can write in more than one language. The organization is based in the United States and offers translation and localization services worldwide.
Your application is examined once you've joined up with the company. If you're a successful candidate, you'll receive an email with an invitation code and instructions on downloading the translation software. The company requires your Apple ID in addition to your Gmail account when enrolling with its official site. The company pays all transcribers weekly, and there is no minimum level to meet to receive payment.
20. Scribie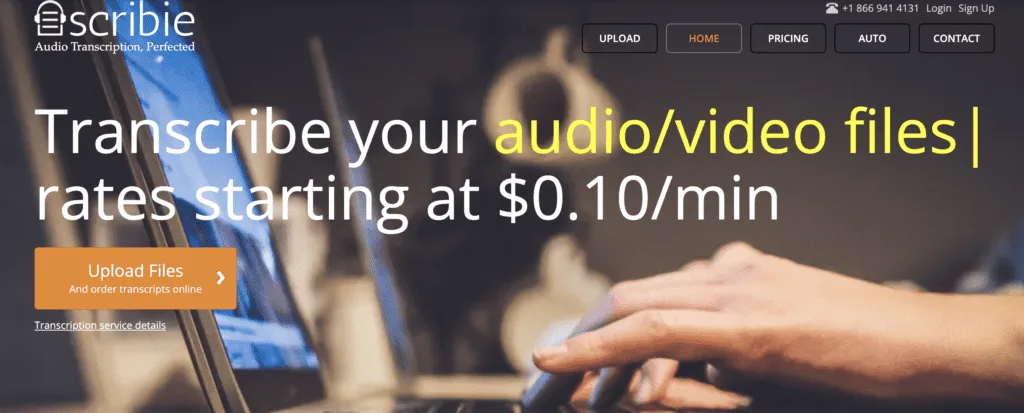 Scribie is a website whose major goal is to expedite transcription while maintaining high quality and accuracy. After doing some research, I discovered that Scribie is not a fraud. They are legitimate, and hired individuals make money through the site. The organization benefits freelancers by providing them with transcription assignments. You can apply to Scribie for a work-at-home position and become a Certified Transcriber.
They will then use their system to check your work, send your completed project to their clients, and pay you. Scribie, in other words, brings the client and the independent contractor together for the mutual advantage of both parties. All Scribie jobs are freelance, allowing transcribers to work with them whenever convenient.
You can log in at any moment and begin working on the accessible audio files. As qualified transcribers, you'll be working on audio recordings that are roughly 6 minutes long or less. One of the best features about working at Scribie is that you are not required to complete monthly transcriptions and that you are permitted to pre-listen to an audio file before deciding whether or not to transcript it.
21. OneSpace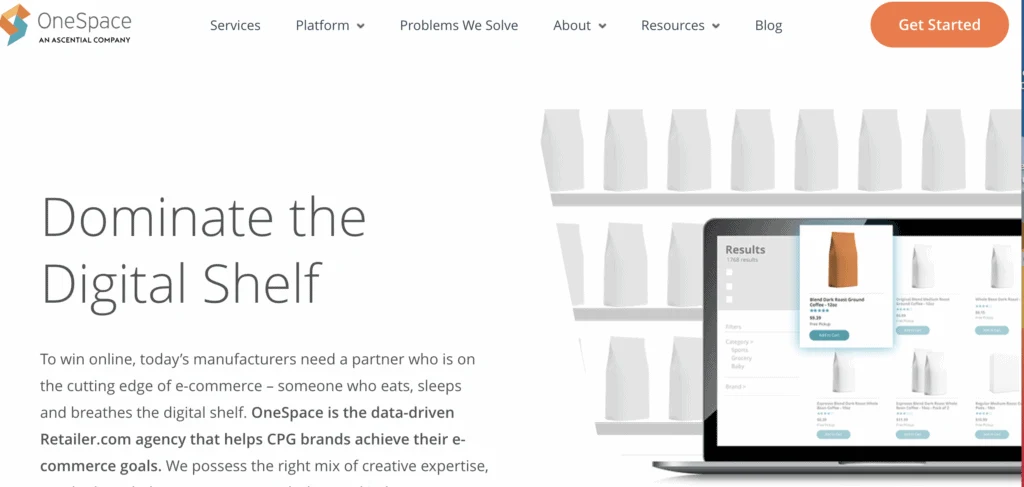 Another great place to get paid to type from home is One Space. This company has a transcribing job that involves listening to audio files and writing down the spoken words. The length of the audio files varies from less than 30 seconds to more than 10 minutes. Those who are fluent in English are eligible for this gig. An assessment may be required to test your ability level.
OneSpace, formerly known as Crowdsource, is an excellent firm to work for if you need some extra cash. They have a cloud-based platform where you can accomplish various activities online.
For all of your accepted work, you are compensated fairly. Aside from transcription, you'll have access to a variety of online activities and the freedom to set your schedule. As a result, you can work whenever and wherever you wish. To get started, fill out your profile information and create an account.
After you've created your account, you'll be able to access a variety of online projects that OneSpace has to offer, depending on your skill level. Keep in mind that you must first obtain a few credentials. To demonstrate your abilities, OneSpace needs all employees to undergo some training.
22. 2Captcha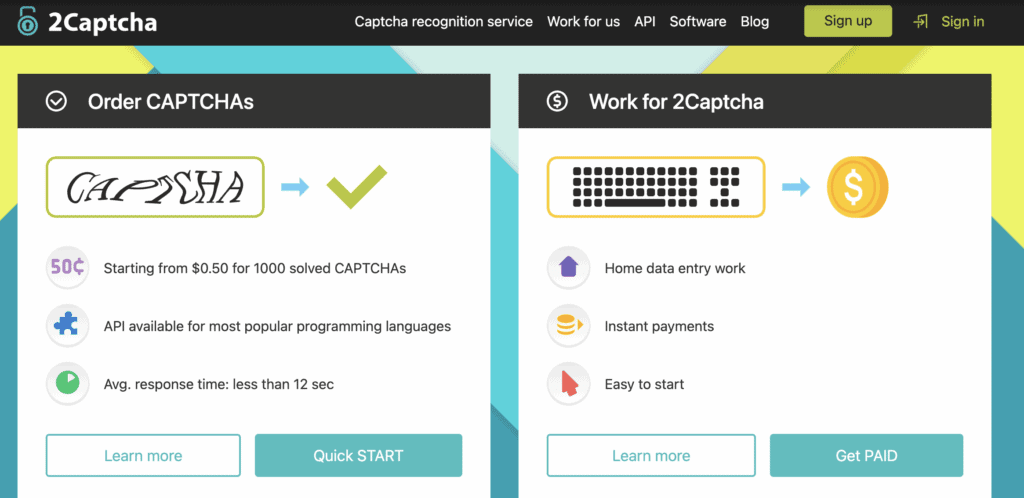 Is 2Captcha a legitimate way to get paid to type and work from home? Let's have a look. Captchas are presumably something that appears familiar. Before being granted access to something like a website's page, you must answer those hazy sentences or visual riddles. After completing the captcha, the worker is rewarded for their efforts, and the consumer receives a text transcript of the captcha.
Payouts are made in cash, and the minimum withdrawal amount is between 50 cents and one dollar. The fact that there are no payment fees for cashing out is noteworthy. Of course, they aren't going to make you rich, but solving captchas are an easy method to get started online, which is frequently the most difficult part for most people. It does not have limited access to captcha solving.
2Captcha makes it easy for workers to see how much time they'll have to wait between captchas. It appears to take between 10 and 20 seconds on average. If each captcha takes 5 seconds to complete, you'll be able to complete 2-4 captchas every minute, or 120-240 captchas per hour. If this sounds like an easy and decent side hustle to you, then look no further.
23. CyberDictate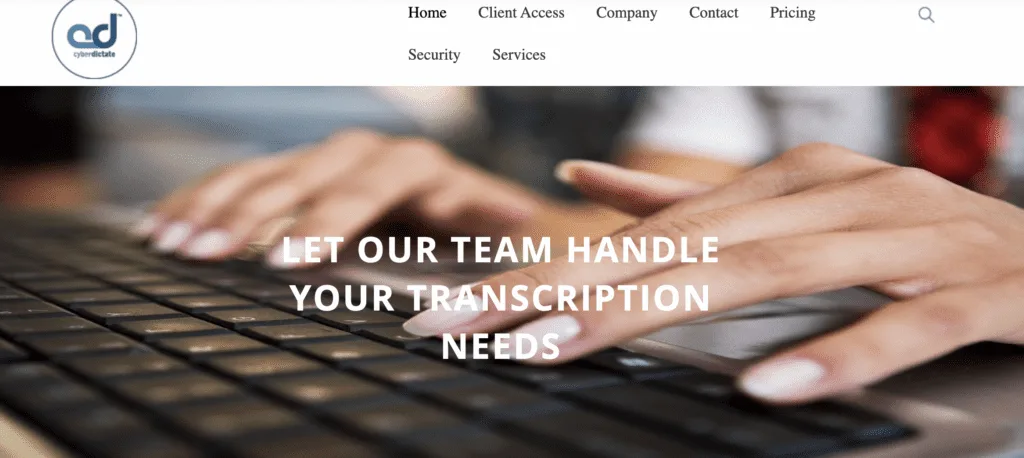 Lastly, if you are looking to get paid to type maybe consider CyberDictate. This company is an online network that compensates its members for their transcription work as freelancers. The organization provides expert transcription services to various law firm offices, legal, insurance firms, various protection services, and industry specialists across the United States. It is worth noting that the company will only hire transcribers who are citizens of the United States.
As a result, if you are interested in the position, you must prove that you are a US citizen. Furthermore, all applicants must pass a stringent assessment test to determine their qualifications and expertise.
Before taking the test, you must have a headset, foot pedal, and transcription software. The most recent versions of Corel WordPerfect, Microsoft Word, and Microsoft Excel are required.
With CyberDictate, the only way to make money is through transcription. It's as simple as converting audio legal files to written documents. However, it's not as straightforward as it appears. Overall, you'll need solid typing skills as well as a clear assessment of diction.
FAQ
What Kind of Job Can I Get with Typing Skills?
Virtual assistant jobs, data entry jobs, legal typing jobs, and writing jobs are just some of the few jobs where you can get paid to type. You can also apply to work as a caption editor. Caption editors write the text displayed on television screens during broadcasts.
They listen to audio and transcribe it into subtitles, usually using steganography software, which requires phonics understanding. There are also a plethora of translator jobs available on the internet.
Translators convert written material into another language. When they translate something, they must convert the words, style, tone, and sentiment so that the reader understands the message in both languages.
Do Typing Jobs Really Pay?
You can complete typing jobs on your own time and from the convenience of your own home. They're great if you don't need a full-time job, have fast internet access, and type quickly. If you put in the time and effort, you can earn between $10 and $15 per hour on average.
It is exceedingly dependent on the kind of typing task you perform. Tasks requiring no prior experience, a degree, or certification will pay significantly less than highly specialized typing jobs.
Is Typing 35 WPM Good?
The average typing speed is 40 words per minute. Typing speed is commonly expressed in words per minute, but as most people know, words vary in length. 35 WPM is a good place to start if you're a beginner and looking to get paid to type.
A typical professional typist works at speeds ranging from 43 to 80 words per minute (wpm), with some roles requiring speeds ranging from 80 to 95 wpm and some skilled typists working at speeds exceeding 120 wpm.
What Jobs Can I Get If I Type Fast?
Fast typists can work in a wide range of high-paying fields. Although being a fast typist is a valuable talent, having additional relevant abilities can boost your marketability and career prospects.
These skills could include software knowledge, precision, and dependability. Copyediting, medical transcription, administrative assistant, and freelance writing are just a few of the careers available to you as a quick typist.
How Fast Do You Need to Type to Get a Job?
Typists are in high demand for their speed and accuracy. 55-90 words per minute would be considered quite efficient in transcription or data entry tasks. Data entry might earn you anywhere from $5 to $25, depending on how fast you can type.
Most jobs presume basic typing skills and do not specify typing speed. To be productive at work, aim for at least 40 WPM typing speed. Some jobs demand more than others. A virtual assistant is expected to type at least 60 words per minute.
---
What Do I Need To Type From Home and Earn Money?
1. A Computer With High-Speed Internet
A high-speed data connection is required to run a successful freelance typing business. As a typist, you need at least 10 Mbps download speed, and 1 Mbps upload speed dedicated internet connection. That's adequate internet speed for two simultaneous connections.
2. Quiet Space
Make sure your office is calm and productive to counteract the urge to focus on other things at home. A peaceful environment is essential when working from home because it improves productivity.
Your family should be briefed that you will be unavailable during working hours. Don't use your phone or leave the ringtone on when working on a client's task. Finding a space also saves you the trouble of rearranging and relocating your existing furniture to make a home office work. If you are looking to get paid to type having a quiet is strongly recommend.
3. Great Headset
If you are looking to get paid to type from home I definitely recommend investing in a great headset. Making sure that the area is quiet along with having a great headset will help you succeed at your new typing job.
4. A Positive Mindset To Help Set The Tone
Staying active can help you sleep better, gain energy, and reduce stress. If you work from home, these can help you keep a positive attitude. Exercise isn't limited to morning runs or gym visits. Exercise is anything that gets your body moving.
Doing what you love during free hours can also help you cope with stressful situations at work while also adding to your quality of life. When you're not worried or sad, practice personal coping mechanisms. When things get tough, you'll be able to use your strategies.
Final Thoughts On How To Get Paid To Type
If you are looking to get paid to type from home this post shared 23 legit places to look into this month. It is possible to work from home and make a great living– I am living proof that you can do what you love and work from home.
Typing skills are necessary for many different industries. If you want a typing job, you'll need to practice the requisite skills. It's not too late to enhance your WPM speed if you're currently a slow typist.
If you are willing to learn, it can be a rewarding and enjoyable job. Writing and editing jobs require excellent grammar, spelling, and punctuation skills. In other instances, no extra effort or training is needed. This post shared some of the best companies to get paid to type. Do you currently have a typing job? If so, let us know about your experience below.