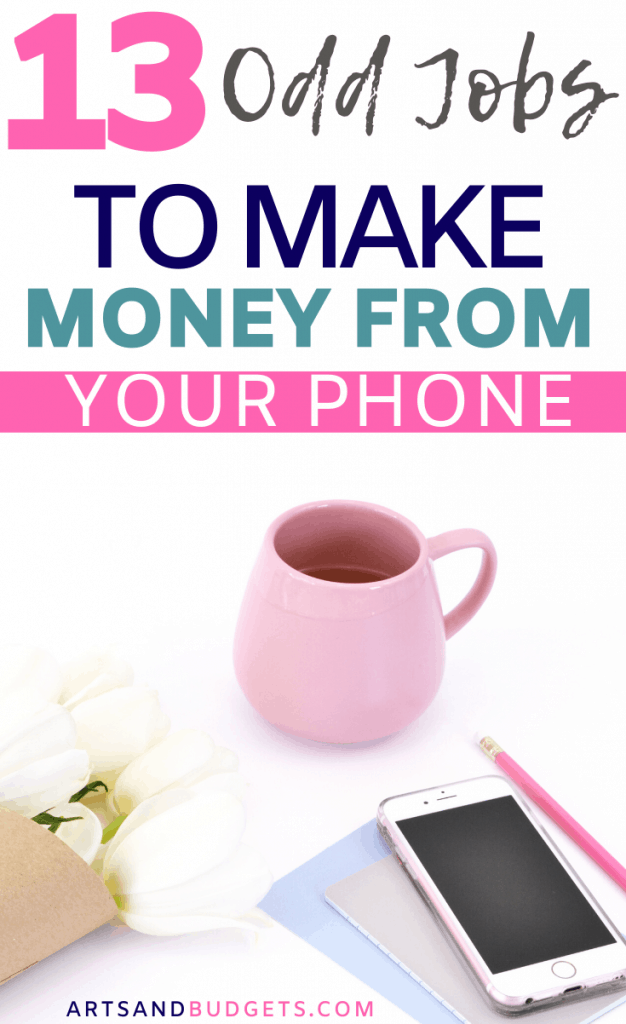 Since the holiday season is coming, it's the perfect time to pick up a new side hustle or find websites that offer fun and odd jobs to make extra money.
One of the best ways to make extra money is by completing different jobs right from your phone. Last year, I made an additional $1000 by completing different tasks on phone apps.
No matter if you work a 9 to 5 job or are currently unemployed, finding odd jobs is a great way to increase income. When you increase income, you can add to your savings, pay off debt, and even put money in your coffee fund and so much more.
The good news is there are a lot of websites and apps that offer odd jobs, and this post will cover 15 of the best apps to find odd jobs.
Related Posts
---
13 Apps For Odd Jobs To Make Money Each Month
1.

 

Swagbucks
Swagbucks is one of my favorite apps to make extra money. They recently just sent me $100 for completing different tasks and referring others to their website. Some of the tasks that you can do on their site include watch videos, complete surveys, search on Google, play video games and so much more.
On Swagbucks, you earn points every time you complete a task, such as watching a video or completing a survey. The points that you earn can be redeemed for gift cards from places such as Target, Walmart, PayPal and more.
Signing up for Swagbucks is free, and if you sign up now, you will earn a $10 bonus. Click here to sign up.
2. Fiverr
Fiverr is the world largest marketplace for digital services. This platform is great for freelancers and online entrepreneurs who want to offer services such as proofreading, editing, graphic design and much more to customers all around the world.
A lot of freelancers on Fiverr start off offering their services for $5 and go up from there. As a seller, you have the chance to choose your starting price point for your services.
I have seen different freelancers charge up to $700 or more for their service on the platform. With your services, you can add packages that are called "gig packages" on Fiverr.
In the gig package, you can offer buyers different service packages at different price points. Check out Fiverr by clicking here. 
3. Respondent
Respondent is an amazing company that is similar to actual focus groups. With this company, individuals can give their opinions on different products and services.
On Respondent, you can submit for different jobs and if you get accepted into a study, you will get paid via PayPal.
Respondent works with a lot of well-known companies such as All State, eBay and Weebly. One thing that I really like about this app is that they pay really well if you get accepted into a project. You can earn anywhere between $20 to $300 for completing a project.
Most projects are similar to focus groups as they will ask you a list of questions about a brand's product or service. Check out Respondent by clicking here.
4. Field Agent
Field agent is a mystery shopping app. Mystery shopping is flexible paid work that individuals can do in their spare time to make extra money. When you pick a mystery shopping assignment, you go inside stores such as Target and Walmart to make sure specific standards are being met, such as great customer service and cleanliness.
The Field Agent app lists a ton of mystery shopping jobs that you can apply for around your town. After you complete the assignment, you will get paid.
When you accept a Field Agent assignment, some of things you might do include collect videos, collect photos and gather information about the retail store. You can download the Field Agent app on your iOS and Android device. 
5. TaskRabbit
With TaskRabbit, you sign up to be a tasker and then bid on local jobs around your area. On this app, you can be your own boss and set your own rates to complete different jobs.
The platform connects individuals who are in need of help from anything from home repairs to running errands.
When you sign up, you have to follow 6 steps.
Sign up on the site through your app or computer.
Build your profile with the services you want to offer.
Verify your eligibility to the task by confirming your identity.
Pay a registration fee of $25. This is only for applicable cities, but it helps them provide the best service to you.
Set up your schedule and work area on the app.
Start getting jobs on demand and getting paid.
You can find the list of cities that offer TaskRabbit services by clicking here.
6. Easy Shift
Easy Shift is very similar to the app Field Agent because it is also a mystery shopping app that you can download to complete local jobs around your town.
On the Easy Shift app, you can get paid for completing small and simple tasks, such as taking a photo of a storefront or checking to see if a product is a certain price.
Most payments are sent to you within 48 hours after approval and sent through PayPal. To get started with this app, you can download it on your iOS or Android device and start making extra money the same day.
7. Gigwalk
Gigwalk is very similar to Field Agent as well because you can complete random jobs inside local stores. When you sign up, you can pick the gigs that interest you. Some gigs might take 5 minutes, and some might take a few hours. On average, you can make between $3 to $300 and even more.
The great thing about Gigwalk is that you can work when and where you want to. You can also get paid via PayPal when the job is finished and approved. With this app, you can download it on both iOS and Android devices.
8. Amazon Mechanical Turk
Amazon Mechanical Turk is a marketplace of virtual tasks that individuals who sign up can complete. When you sign up, you can apply for thousands of tasks that are available in the MTurk marketplace.
Some of the tasks you might find on this app are image and video processing jobs, data entry jobs, market research jobs and survey data jobs and much more.
After you get signed up for this app and submit your task for approval, you have to wait until the requester approves your work before you get paid. Once they approve the task that you completed, then your earnings will be displayed on the dashboard and on the earnings pages on the app. You can get a payment through Amazon gift cards or receive an actual cash payment via PayPal. Check out Amazon Mechanical Turk by clicking here.
9. Vindale Research
Vindale Research is one of my favorite apps to make extra money. This app is a free survey site that is secure and reliable. This is great for anyone who wants to earn extra money online.
On this app, you will get paid to take surveys to completion. With over 4,000 reviews on TrustPilot website, they have obtained a 4 out of 5 review and have become one of the most trusted survey sites.
With this odd job, you can get paid via PayPal when you complete the surveys. Currently when you sign up, you can earn $1 just for signing up.
10. Sweatcoin
Sweatcoin is a digital currency that you can get paid for taking steps. That's right, you can get paid for being active, which is something we all do every single day.
With this app, it will track the steps you take throughout the day. For every 1000 steps you take, you will earn 1 sweatcoin. You can then use those coins to buy items such as digital watches, energy drinks, music downloads, electronics and much more.
You can also get paid through Amazon gift cards and through PayPal money.
To get started, all you have to do is download the app and then go for a walk or run.  After that, you will begin to earn sweatcoins for every step you take and then get the chance to make money.
11. Zaarly
Zaarly hires home service providers and experts. This app selects local service providers who are able to perform quality jobs and errands for their customers.
Some of the services that you can get paid for on Zaarly are painting, cleaning, home repairs, plumbing and so much more. When you sign up, hundreds of people will be able to see the services that you offer in your area.
When a customer on the Zaarly app chooses your services, they will request an appointment for the job. Once the job is completed, you will get paid. You will have to pay a 10% transaction fee when you complete each job, which covers the benefit on the Zaarly app.
12. Carvertise
With this app, you can earn money from advertising on your car. This is a legit award-winning marketing firm that matches different brands with car owners.
Carvertise has been in business since 2012 and has put thousands of advertising wraps on cars on the road for brands.
Here is the process of getting accepted into their program.
You have to submit a driver application.
Then you get matched with a brand that likes your driving habits.
Then they wrap your car and pay you every month through direct deposit.
At the end of the campaign, Carvertise takes the ad off your car.
The campaigns run on average about 3 to 6 months, and you can earn between $300 to $600 per campaign.
Always remember that Carvertise will never ask you for money for being a driver. Check out Carvertise by clicking here.
13. Rover
If you love dogs and cats, this odd job might be great for you. On this app you can get paid for taking care of dogs and cats while their owners go to work or go out of town. 
On this app, you can earn up to $1000/ month by helping pet owners with their pets. Some of the job tasks on Rover are dog walking, pet sitting and much more.
---
Frequently Asked Questions
What odd jobs can I do for money?
There are a lot of odd jobs a person can do to make extra money. With apps such as Swagbucks, you can do a ton of different tasks such as completing surveys online and watching videos to make extra money.
What kind of odd jobs are there?
There are a ton of odd jobs out now, such as mystery shopping and also jobs that let you play video games and make money.
What are the highest paid unskilled jobs?
Some of the highest paid unskilled jobs that get paid a high salary without a degree are the following:
Postal service worker: Median annual wage $57,260
Construction and building inspectors: Median annual wage: $59,090
Makeup artist for theatrical performance: Median annual wage:$59,300
Signal and Track switch repairs: Median annual wage:$68,400
See a full list of jobs that have the potential to have a high salary without a degree by clicking here.
What skills are required for odd jobs?
The skills needed for odd jobs will vary depending on the jobs you accept. For example, if you pick up a mystery shopping job, the skills required will be different than other jobs that you might pick up.
Final Thoughts:
Whether you are looking for ways to make extra money or if you are looking to make more money to pay down debt, completing odd jobs on apps is a great way to increase income.
What makes completing odd jobs on different apps so amazing is that you can complete them on the go or in the comfort of your own home. You also have the opportunity to pick and choose which jobs you want to do and pass on the ones that don't fit you.
Do you currently complete different odd jobs on apps and make extra money? If so, tell me about your experience in the comments below.