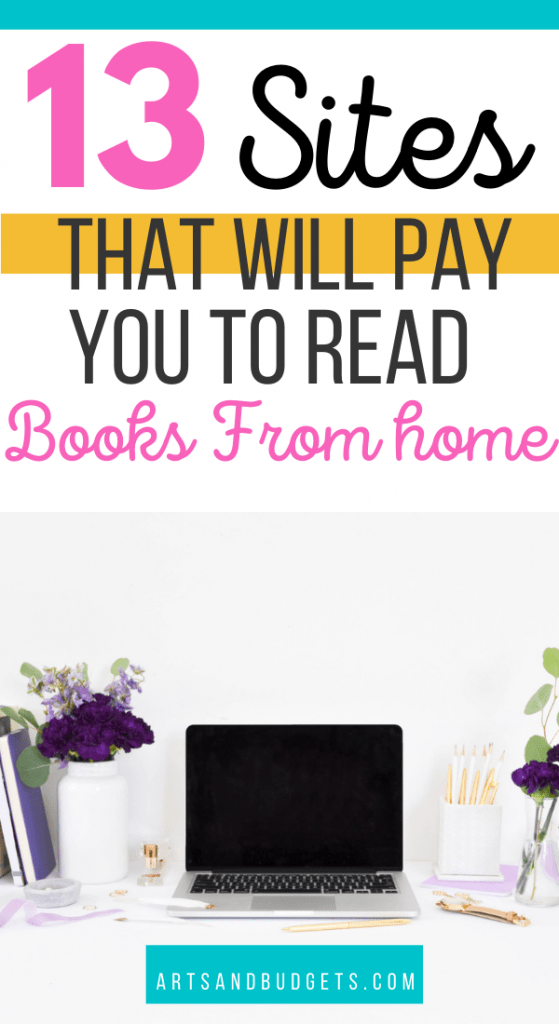 Did you know you can get paid to read? Recently, I just realized that a lot of people aren't aware that they can make extra money by doing what they love—reading.
A lot of different book companies put up book reviewing opportunities on their sites that individuals can apply for on a daily basis. As a book reviewer, you can give your personal opinion of the books chosen by the company.
Since books are being published every day, this side hustle is definitely in demand and is a great side gig to add to your list if you are looking for something new.
If you are a book reader or simply a person looking to make extra money, this list of companies hiring book readers will help you get started and find places online to get paid to read.
Related Posts
What are some Additional Ways To Make Money From Home?
One of the best ways to make extra money from home is by completing surveys online. This year I purchased most of my Christmas gifts from the money I earned through survey sites such as Swagbucks
Here are my favorite legit survey sites to join and make money:
---
13 Places Online To Get Paid To Read
1. Kirkus Media
Currently, Kirkus Media is looking for experienced book reviewers for both English and Spanish readers. They require most of their reviews to be at least 350 words and are due normally two weeks after the book is assigned to you.
Kirkus Media readers review genres such as children's books, fiction books, mystery & thriller, teen books, romance, and much more. All the books are of different lengths and are in either digital, hardcover, or paperback format.
If you are interested in working with Kirkus Media, you can send an email with your resume, writing samples, and a list of reviewing specialties to David Rapp. His email is directly on the application page. Click here to send your email application to become a book reader with Kirkus Media.
Pay: Freelance/ Project Basis
2. Publishers Weekly
Publisher Weekly is an online magazine that shares articles on international book publishing. This website is targeted at booksellers, publishers, literary agents, authors, and the media.
They have a section where you can view current editor and book reviewer job listings. Check out the current job listings by clicking here.
Pay: Freelance/ Project Basis
3. Upwork
Upwork is a website that lets clients hire professionals for freelance jobs. On this website, you can post your services and business professionals can hire you.
Recently, I saw individuals who offered services in reading and writing. Some of the jobs I saw on the website include beta reading, editing, educational freelance writing, and creative proofreading. As a result, you can post your services on this site and get paid by different clients. Check out Upwork by clicking here.
Pay: Freelance Basis
4. Women's Review of Books
Women's Review of Books has been out since 1983 and is a print publication. This magazine is currently looking for book reviewers to join their team.
Most readers who work with the Women's Review of Books team are bloggers, journalists, and book reviewers with some years of experience.
If you are accepted into their program, you will be paid $100 per review. To apply, send them an email inquiring about the book reviewer job listing. You can do so by clicking here.
Pay: $100 Per Review
[optin-monster slug="jhwgtegxtc0fjmgsibog"]
5. Book Browse
Book Browse has a program on their site called First Impressions, which lets their members read books that are coming out months ahead. This is often called an advance reading copy or ARC.
When you are a part of the First Impression program and get matched with a book, they request that the review is between 50 to 100 words and no longer than 300 words.
With Book Browse, the free book you receive to review is considered your payment. No cash payment will be sent to you. Check out Book Browse by clicking here.
Pay: Free Books
6. U.S. Review of Books
The U.S. Review of Books is a very popular book organization. In this organization, they review books of all genres, and then they publish the reviews in a monthly newsletter.
The standard reviews they accept are between 250 and 300 words and should summarize the book and reveal insight of the book. The reviewers are paid on a monthly basis and checks are sent by the 5th of each month.
There are review examples on their site that you can check out by clicking here. To check out more information about the U.S. Review of Books, click here.
Pay: Freelance basis once a month
7. Online Book Club
Another company to get paid to read is the Online Book Club. As a reviewer on this site, you can get paid between $5 and $60 to review a book.
Another plus from being a reviewer with Online Book Club is that you will also get free books along with getting paid to review the book.
So, if you love reading and finding new authors, this gig would be perfect for you. Check out the Online Book Club by clicking here.
Pay: $5 to $60
8. Reedsy Discovery
As a reviewer, you gain access to hundreds of books before they are published. Reedsy Discovery is the world of indie books and one of the most trusted book companies.
Hundreds of authors submit their books to Reedsy, so there is always a high demand for reviewers on this site. When you submit your application and get accepted, you will be able to build your profile and get known on the platform as a pro reviewer.
To find out more about Reedsy Discovery and to apply, click here.
Pay: Freelance basis
9. Instaread
Another great website that you can get paid to read is Instaread. Occasionally, this company has book reviewer openings that individuals can apply for.
The pay for a book reviewer with Instaread is $100 per review and each summary should be between 1000 and 1500 words. They also have a style guide for the type of review summaries they prefer. You can check it out by clicking here.
You can also download the Instaread app on your phone to see the different books they review. To apply to be a book reviewer with Instaread, click here. At times, the book review job openings will be closed, but keep checking back throughout the month.
Pay: $100
10. Booklist
Booklist is an awesome company to apply to if you are looking to make money reading a lot of different books. Booklist is actually the American Library Association's prepublication review journal for public and school librarians.
Their editorial content consists of book reviews that help librarians with reader advisory. They currently offer freelance opportunities for book reviewers. Each book review that you do you will be paid $15, but opportunities are extremely limited, so you might have to submit a few times to pick up a book to review. To find out more information about Booklist, click here.
Pay: $15 per review
11. Writeful Books
Writerful Books is based out of Melbourne Australia and is an author service company. They provide services such as book editing, beta reading and manuscript assessment.
Currently, they are looking for book reviewers to help handle the load of books on their website. They are looking for a panel of book reviewers to write engaging book reviews for their readers.
To apply, you can submit an application on their website with as much information as possible. They also want you to include your social media account and other sources.
They pay between $10 and $50 for each book review, and the top reviewers who publish the most quality book reviews will also be rewarded a $100 Amazon gift card. Check out Writeful Books by clicking here.
Pay: $10 to $50
12. GetAbstract
GetAbstract is the world's largest library of business book summaries. This company seeks to hire the best readers and is currently accepting applications for book reviewers.
On the site, you can submit a resume to write summaries on a freelance basis. To find out more information about GetAbstract, click here.
Pay: Freelance Basis
---
Additional Ways To Get Paid To Read
Swagbucks:

On this site, you can get paid to read different surveys and complete them. Swagbucks is one of my favorite ways to make extra money because there are a ton of other different ways to make money as well.

On this site, you can also get paid to watch videos, shop online, play games, and much more. You can earn gift cards to places such as Target, Walmart, PayPal, and much more. Check out Swagbucks by

clicking here

.
Opinion Outpost: On this site, you can get paid for your opinion on different brands. You can earn top rewards such as gift cards and cash payouts. Check them out by

clicking here

.
Life Points: Life Points is another survey site that you can get paid to read and complete surveys. Your opinions help influencers and brands create meaningful products and services. After you complete the different surveys, you will be rewarded through gift cards to popular stores.
---
Frequently Asked Questions
How can I get paid to read books aloud?
There are a few companies that actually have opportunities where you can get paid to read aloud. Most of these opportunities fall in the voice-over category.
Below are companies that hire people to read out loud. Please note that most of the opportunities want you to submit a voice-over demo.
How much do book reviewers get paid?
The average price range I have seen for book reviewers has been between $5 and $100 for book reviews. The amount paid to book reviewers depends on the company, as each company will have different requirements and payouts.
What job pays you to read books?
There are many jobs that will pay you to read books. Below are some ideas of careers that will pay you to read books, blog posts, articles and more.
Narrators
Proofreading and editing
Translators
Bloggers
What job should I do if I love reading?
If you love reading, I highly recommend the following job ideas to learn more about.
Copy editor
Grant writer
Lawyer
Librarian
Proofreader and editor
Final Thoughts
If you love reading, then working with some of the companies listed in this post might be perfect for you. If you are looking for some extra ways to make additional money, reading books and reviewing them might be the side hustle for you.
From my research, it's not a side hustle that will pay you millions, but it can definitely be a cool and fun gig that will help add to your current income to build wealth or pay off debt.