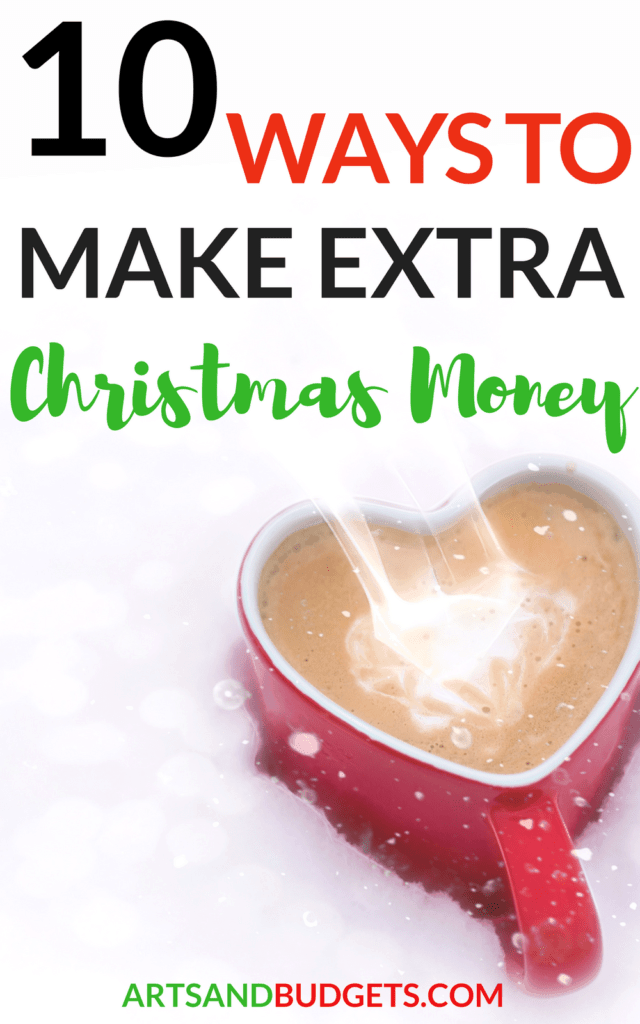 Are you ready to make extra money this holiday season? I absolutely love everything CHRISTMAS related! Everything from the Christmas movies to all the wonderful decorations. Most of all I love Christmas shopping!
But I don't want to go into debt buying gifts this year so I put together over 10 ways most individuals can make extra money this year.
The holidays can be very expensive and that's why I normally side hustle to earn extra money to pay for my Christmas shopping. Every single year I make extra money from the different side hustles listed in this post and normally don't have to touch any of the income that I make from my blog + biz.
Last year, I paid for ALL my Christmas shopping with side gigs! So, in this post, I will share 10 ways you can make extra money this month to prepare for the holiday season even if you already have a full-time job.
Related Posts:
---
How To Make Extra Christmas Money
1. Complete Surveys Online
This one is really cool because you can actually do some of the surveys right at your job. While I was working an office job I would do a few surveys on my mini-breaks to help bring in more money. Most of the surveys didn't take a ton of time completing and the payout was pretty awesome.
For the record, I am not a fan of the surveys that take hours and only pay $1 or less so I gathered a list of surveys that are my favorite that payout using PayPal or gift cards.
About a year ago I started looking into different survey sites to make extra money and some of the ones I found turned out to be AMAZING!!!. While working a full-time job I was able to make extra money and gift card rewards from different survey sites daily.
Last year I was able to pay for all my Christmas shopping with the help of this side hustle! Below are some of my favorite survey sites to earn gift card rewards and/or extra money online.
Below are some of my TOP favorite survey sites to earn extra money and rewards! If you find any other surveys not listed in this post make sure to do your research. If a survey site asks you for money– RUN! A survey site that is legit will NEVER ask you for money.
Also, be aware of the survey sites that claim you can earn $1000 and up for just taking one survey. Even though you can make great money completing surveys making $1000 and up per survey normally doesn't happen from completing just ONE survey.
2.Participate in Focus Groups
I absolutely love working with focus group companies because not only can meet amazing people but you can also test out different products, foods, and more. Recently, I participated in a focus group discussion for a topic on the "Weather"! I received $200 bucks for giving my opinions on the weather in my hometown of Chicago.
Focus groups normally want you to test out a new product, take a survey, or watch a new show to get your opinions. Most focus group companies pay pretty well and you might even get to try out a new product.
Also, when I was pregnant I did a couple of focus groups and one of my favorite ones was one that asked me questions about probiotics for children. Upon arrival, they had breakfast for us and I noticed that we were all expecting moms, which was super awesome to me. It turned out to be a great discussion and I met some awesome moms during the process.
After the focus group study, we got a check for $250. #Score! The study only took 2 hours and we got paid for our time and travel. There are a ton of different focus groups you can participate in depending on what you qualify for. Below are some focus groups you can check out.
3. Get Paid to Shop
If you like to shop then this side hustle is definitely for you. Yup, you got it! You can get paid to shop by working with a mystery shopping company. Mystery shopping is pretty cool because you can go to different stores such as Target, Walmart, and more and purchase items and get that money right back in your pockets.
Last Christmas, I earned extra funds from mystery shopping and didn't have to take any money from my regular income. In fact, all my Christmas spending money came from doing side jobs like the ones listed in this post! Pretty cool, huh? As always, make sure to do your research to see if mystery shopping is something that you would be interested in.
(Note: If you find other mystery shopping companies that are not listed below, NEVER pay the mystery shopping company to sign up or pay to see their shopping list! The legitimate ones never ask for payment from you. Also, check to see if the mystery company is a member of the MSPA).
4. Sell Your Old Stuff
I believe selling your old stuff might be the fastest way to make extra money. My husband and I didn't think we had anything in our house to sell, but BOY were we wrong! At the end of our search, we piled together over five boxes of great stuff to sell that we didn't use anymore. Below are some websites where you can sell your old stuff online.
5. Test Websites Online
Another cool way to make extra money fast is by testing out websites and giving your opinions on them. Places like Usertesting will pay you to give your opinion on the different websites on their site. On a good day, I normally make an extra $20-30 bucks just for completing quick and easy tasks which normally take around 10 minutes.
I started testing websites last year, and I really like how fast I could earn extra income. Each testing site varies in terms of income. Some will pay you $10 while others might pay you $12 per test so, it depends on which ones you qualify for during that time.
It should take about 15 to 30 minutes to complete each task depending on the test. Test assignments vary, but a person could make an extra $100 or more per month completing the different tests, which normally pays via PayPal.
6. Drive Your Car
Yes! You can make money by driving your car around your city. Now, this will vary from city to city but I know a lot of different people who make great extra income by picking up and dropping people off! My husband actually makes an extra $300 every weekend driving Uber for only a few hours per week. Below are different ways to make extra income with your car.
7. Teach English
Are you fluent in English? One of the coolest and funniest side jobs I signed up for is VIPKids! VipKids hires tutors to teach English to their student online as a second language. This job rocks because you can set your own schedule and can actually do the interview process online as well. You also don't have to be a certified teacher to apply. Some other places that hire tutors and teachers to teach English as a second language are:
8. Start A Blog
By far my favorite way to make extra money is starting a blog! Since I have started my blog I have been able to work from home and make more money than I did at my last full-time job. Crazy, right? I currently make over $1500 per month with just my blog alone and growing.
So, if you have a topic you are passionate about you can totally start a blog and get your voice heard! So, if you are looking to start up a blog check out my step by step tutorial on how to get started today by clicking here. Find out how to make money from blogging by clicking here!
9. Do Virtual Assistant Work
Did you know you can find a virtual assistant job right online? With one of my virtual assistant jobs, I made $15 hr an hr by completing tasks such as data entry and social media management. It didn't take a lot to complete the tasks and I was in the comfy of my own home. Here are my favorite Virtual Assistant job platforms
10. Write Online For Blogs
Are you a great writer and love to write? There a ton of places online that will pay talented writers to write for their blogs! It's one of the quickest ways to make extra money and you will be doing something that you love– writing! I was super shocked after finding a ton of places online that will actually pay writers to write for them. Some of my favorites places to write for online are
11. Babysit
Parents are always looking for new babysitters to help watch their children so this gig is one that will always be around. Websites like Care.com connects parents to a babysitter. The great thing about Care.com is that they actually do their due diligence and do all the background check to help the parents feel safe. So, if you are looking for a new gig and love working with children check out Care online!