Are you currently looking for ways to sell shoes online? Or, do you have shoes in your closet that you do not wear anymore? This guide will help you find the most convenient online marketplace to resell them. Most of these sites let you sell your shoes locally for free. Selling shoes online is a great way to make extra money throughout the year and one of the quickest ways to increase income.
As a side hustle coach, I always strive to find new ways to make extra income. While doing some digging, I found listing used shoes that are in pristine condition can be such a lucrative idea. In this guide, you will find some of the best sites to sell shoes online. Let's dive in.
28 Best Places to Sell Shoes Online & Make Extra Money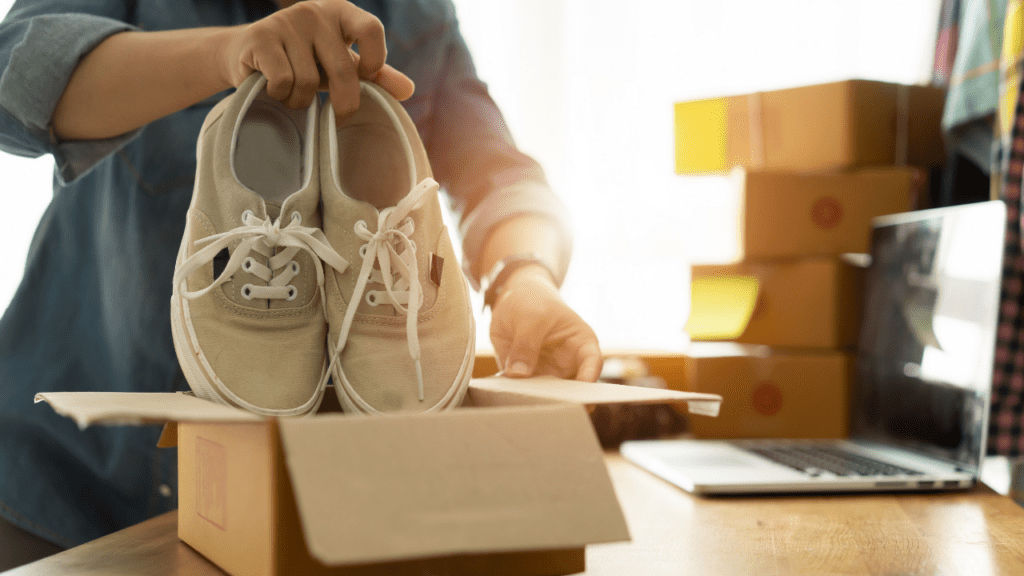 1. Poshmark
If you are looking for a marketplace to sell shoes online or home accessories you do not use anymore, Poshmark would be the perfect site to start. After signing up, Poshmark relieves you of the burden of handling the sales tax after a successful transaction. The seller fees on this marketplace are transparent and the buyer incurs all the shipping costs.
Apart from easy shipping, the listing process on Poshmark is effortless and the marketplace provides you with a shipping label. The seller does not incur any listing fees. There is a large, active market to tap into especially if you want to sell household items and second-hand shoes.
Like any other social media network, the platform gives you the option to participate in an engaging community of buyers and sellers. To learn more about Poshmark click here.
2. OfferUp
OfferUp is the ultimate channel to sell shoes online locally if you do not have the budget to build an e-commerce store from scratch. It is a leading marketplace where sellers can upload shoes and a range of household items via the mobile app. Sellers can also make a fortune flipping sneakers on this platform.
Same as Poshmark, OfferUp does not charge its users to create listings. All you need is a smartphone and be 18 years or older. To make communication a lot easier between buyers and sellers, OfferUp comes with a free messaging channel. Also, to combat scams, the marketplace discourages making transactions outside the mobile app.
For a small fee, you can have your listings featured more often than those of your competitors on OfferUp. It is an ideal channel for sellers looking to get buyers from their local community.
3. VarageSale
VarageSale is a perfect alternative to Craigslist and a great site to sell shoes online. It is the go-to site if you have shoes you want to get rid of after decluttering your home. You stand a chance of hitting high success if you list shoes that are in mint condition on VarageSale.
This marketplace is more like a garage sale. The noticeable difference is it happens virtually, hence the name. As a safety feature, the app takes time to review any identity and sign-up process manually, making it harder for the seller to get ripped off.
While there is a mobile app to help sellers manage their listings, you can choose to join either via your Facebook or email account. Based on location, the seller gets hold of potential buyers in nearby communities. You get access to a dashboard that keeps track of all the sale transactions and updates your listings in real-time.
4. StockX
Whether it is flipping deadstock sneakers, electronics, collectibles, or streetwear, StockX is designed to give the reseller smooth sailing while making a transaction. You get to reach millions of potential customers across the world. At the moment, the site prohibits the listing of used shoes.
Is StockX legit? You are wondering, perhaps. The marketplace exists firmly since about 29% of footwear is bought online, according to a report by the NPD Group. As the name suggests, this platform is a stock market where the seller agrees to make a sale after a purchase offer is made.
For authenticity reasons, StockX requires the seller to ship an item directly to their warehouse. This helps resellers to build a credible reputation in the marketplace. Like the stock market, the true price of a shoe is transparent and gets updated on the platform in real-time. You can let buyers place a bid or use a fixed price tag on your shoe listings.
5. Mercarci
Selling on Mercari is as easy as downloading the mobile app, signing up, taking photos of your shoes, then uploading them on the marketplace. It is a legitimate way to make extra income if you have shoes that collectors cherish the most.
While this is not an auction site, there is a private chatting option where you can negotiate the price and answer questions from potential buyers. The marketplace is kind of like eBay since you can literary list anything, except for illegal items.
To make sales, all you need to do is take good quality photos, write an honest product description, and answer questions from shoppers quite promptly. It is, however, worth noting that, unlike Poshmark, Mercari deducts the shipping costs from the seller fee. Mercari is one of my favorite platforms to sell shoes online.
6. Flyp
Flyp is an underrated marketplace for reselling designer footwear. While it takes little effort to make extra income from this platform, you need to post shoes that are in pristine condition, have no dents, stains, or discoloration.
Even though Flyp allows you to resell designer shoes, there are brands you are prohibited from listing on the site. So, it would be best to acquaint yourself with the fine print and details in the FAQ section. There are Pro Sellers you can work with on Flyp to push your shoes a lot faster—each with a varying commission percentage.
Pro Sellers help with price negotiation and you can get a decent amount if your shoes are in good shape. You also have the option to get paid via different mainstream payment channels like PayPal, Apple Pay, Venmo, or Cash App. PayPal, for instance, has a seller protection feature that helps you seamlessly deal with payment reversal and chargeback claims.
7. Facebook Marketplace
Facebook is a versatile channel that lets sellers make cross-border transactions without incurring hefty marketing costs. It is free to list and sell shoes on Facebook Marketplace.
The platform comes with a lenient learning curve and it is receptive to second-hand footwear.
Selling on Facebook Marketplace is among the tried and tested ways to reach out to potential buyers in the local community. It gives you the chance to narrow down to targeted audiences.
Once all the fees are included, Facebook leaves you with a slightly higher margin compared to listing items on eBay.
Merchant selling on this platform is convenient as buyers can filter results based on location, price, and category. Like any typical selling channel, you will get lots of inquiries from potential buyers. So, you want to polish up your communication templates for would-be shoppers.
8. Depop
Depop is a marketplace app for selling trendy shoes, second-hand clothing, and handcrafted items, or those that have been reworked. You can make the most out of Depop by taking photos of shoes you do not use anymore using your smartphone, then uploading them on the app.
Even though the fashion marketplace puts more energy on clothing and accessories, you still have the option to list shoes. As a seller, you get the chance to tap into a global community.
While you only need to take good-quality photos to get started, investing in a digital camera might be worthwhile if you want to be a seasoned reseller.
Apart from selling unwanted shoes, you can swap an item with another seller in minutes. While there are other options to get paid, Depop uses PayPal as its primary payment channel. Therefore, sellers can leverage the protection policies while making sale transactions with potential buyers.
9. Craigslist
By far, Craigslist is one of the popular online communities where you can find buyers for free. It is easy to create an ad in minutes, even if you are a newbie seller. When signing up, Craigslist will default to your local area. However, if you are looking to sell your shoes in a different location, you can choose the city or state where you want your listings to appear.
To make a sale on Craigslist, it is best to do intense research so you can know the best possible price of the secondhand shoe you want to list. Since the channel operates locally and there are different cities or towns to work with, you get to forecast how fast your items will move, depending on the density of population in a particular locale.
With the right pricing, you can rest easy knowing that you'll be overwhelmed by tons of legitimate inquiries from potential buyers.
10. Thredup
ThredUp works more like an online thrift store. It has all the features you need to make a successful sale. It is free and effortless to lighten up your closet using this online marketplace.
Once an order is made, thredUp sends you the shipping label which you will attach to the package when dropping it with USPS or FedEx.
After a successful sale, you can choose to either cash out the payment or use it as shopping credit and purchase items on the online marketplace. Since thredUp is deliberate at preserving their reputation, your items ought to meet their quality standards and pass their 12-point inspection. High chances are your used shoes will meet a new owner in a short time frame if they have no signs of wear, damage, or alterations.
11. Kidizen
Over time, your kids will outgrow stuff like clothes, accessories, books, shoes, or even diaper bags. Instead of disposing of these items, you can list them on Kidizen and recoup their resale value. Kidizen is available on both Android and iOS devices. It provides users with two options for selling used kids' shoes.
First, you can choose to sign up and create listings, then start selling. If you do not have the time to do it yourself, the other option would be to work with Style Scouts who sell on your behalf. Scouts are seasoned sellers who help you find items in the closet that your kids do not use anymore.
They assist in getting top dollar on all your listings, so they are useful if you want to reap the highest ROI. If you are a busy person, it would be ideal to work with Kidizen's verified Scouts since they come straight to your doorstep.
12. Plato's Closet
Plato's Closet is yet another solid alternative to established platforms like Poshmark or Mercari. So long as your designer shoe is slightly used, there is a large market base to tap on Plato's Closet.
Some so many vibrant buyers frequent in-stores all across different states. Compared to other options, Plato's Closet reduces all the blind spots that come with online shopping.
As a seller, chances of dealing with returns or chargeback claims are slim since shoppers get to walk into a physical store and verify the condition of an item.
You can take your shoes to any nearby store, accept an offer, and get paid in cash. It is that simple. Most often, Plato's Closet accepts popular footwear brands and accessories. The platform rewards you with points after selling you items, so you want to sign up for their loyalty program as well.
13. eBay
If you are looking to sell shoes online eBay is a great place to start. There is no limit to the kind of stuff you can list on eBay, of course, except for illegal items.
If your listings are below 50 each month, you the seller will not incur any fees. Selling on eBay is one of the easiest ways to access the global market. It also has a nationwide platform that you can opt to work with.
Even though there is a potential to flip second-hand shoes on eBay, you still need to know how to identify and navigate through fraudulent buyers. Some of the benefits of selling on eBay are you get a rating that helps build your credibility and the seller fees are much lower compared to other marketplaces. It is also great for search engine optimization, making your items more visible to your target audience.
14. Bonanza
Selling stuff on Bonanza offers you transparent transactions and getting started only takes minutes. There are no listing fees, store fees, or any hidden charges to incur. The fast-growing online marketplace would be ideal for sellers looking to open an online store but do not have the technical skills needed.
Besides the minimal fees after making a sale, merchants can import listings from Etsy, Shopify, Amazon, or eBay. After signing up, you get access to a dashboard that gives you item traffic statistics and insights that will help you make better business decisions. Bonanza not only lets you make sales but also allows merchants to build their brand reputation. It is worth noting that payments are made via PayPal and Amazon Pay only.
15. OnceWed
Do you have a wedding dress or shoes sitting idle in your closet? Selling them on OnceWed would be an easy way to make some extra bucks. OnceWed has a one-time listing fee which is pretty low. For a safe and secure transaction, the marketplace comes with a messaging platform where you can directly negotiate with the buyer without having to deal with middlemen.
The site holds a staggering potential in terms of its overall Google rankings. It has an active and sturdy social media presence, so the target audience is huge. The site puts lots of effort into flagging any fraudulent activity, making it difficult for the seller to get ripped off by unscrupulous buyers.
16. Buffalo Exchange
Buffalo Exchange is a consignment brick-and-mortar store with franchises across different states. It is not your typical thrift store as it offers a curated service to sellers. Apart from footwear, the marketplace has carved a niche in vintage and slightly used clothes categories. It also has an online platform where you can list your items.
It typically accepts both men's and women's shoes, or accessories that are in pristine condition.
You have the option to get paid in cash or via store credit which tends to be higher. The site lets merchants book an appointment if they want to sell in person. Booking an appointment to sell is a lot more convenient since you can sell your stuff locally.
17. Tradesy
If you have authentic brands filling up your wardrobe space, Tradesy would be an excellent marketplace to list them. Tradesy makes your stuff visible to a wide customer base. It is one of the most reliable sites for selling used designer clothing, shoes, accessories, wedding-related stuff, and handbags.
What makes this marketplace a favorite choice for most resellers is there are no joining fees. You will only part with a fraction after making a sale. The commission per transaction, however, is a bit higher compared to other platforms in the same line of business. On the bright side, it offers pre-paid shipping—a service you will barely find on a marketplace such as eBay.
18. Vinted
If all other options available seem not to suit your needs, perhaps Vinted would be the ultimate app you settle on. Vinted helps you get rid of shoes piled up in your closet that you will highly likely not wear anymore. It is a perfect alternative if listing and getting rated positively on a marketplace like eBay feels a bit time-consuming.
With over 12 million potential buyers all over the world, Vinted stands tall among the best sites to sell second-hand clothing. Listing an item on the marketplace is free and you have a messaging platform to give your buyers a smooth shopping experience.
19. Heroine
Both buyers and sellers on Heroine are community-driven. The site has curated space for women fashion enthusiasts. You can sell any women's footwear and receive offers that are in good faith from potential shoppers.
What makes this e-commerce stand out is merchants can sell in confidence. As a means to combat fraud, Heroine guarantees its users that all transactions are eligible for PayPal Buyer and Seller Protection.
To avoid getting kicked out of the site, make sure not to upload any replica shoes and be honest when writing their descriptions. Easy communication would also set you on the right track. Your buyers want prompt updates on their orders as well as the tracking information. Best of all, Heroine gives you a messaging channel to align the entire fulfillment process.
20. Crossroads Trading
Another awesome place to sell shoes online is Crossroads Trading which is a reliable platform that allows its users to sell shoes and accessories that are on-trend. As the seller, you can choose to get paid in cash or trade your slightly used clothes off with credit. When you opt to receive trade credit, you can use it to shop for an item in any of their storefronts.
If the seller considers getting paid in cash, the app pays them 30% of what the item would sell in the store. Choosing to get paid via trade credit, on the other hand, translates to 50% in trade of what the same item is selling at the store. Your part would be to send shoes that are trendy and in excellent condition to one of the nearby stores. Most of their store also offer drop-off services. This way, you get to dispose of your items for cash much faster.
21. 5miles
Same as other top-notch listing sites with a knack for second-hand shoes and accessories, 5miles makes getting started a painless process. You can sign up on the marketplace using your Facebook account. The app is easy to navigate and your items are more visible to potential buyers.
Besides footwear, you would be surprised at the wide range of categories at your disposal. Sellers can also list product types like art, collectibles, electronics, gardening, or even fashion and accessories. To make all members feel safe, 5miles uses a rigorous process when verifying profiles of both buyers and sellers.
You will need to take a selfie, then connect it with your Facebook account or email address. The platform's primary goal is to make getting scammed a rare encounter. So, if you are looking to sell shoes online check out this platform.
22. Klekt
Are you looking to regain some of what you spent on authentic sneakers? Klekt would probably be the most practical site for you. So just you know, most regular visitors refer to the platform as Klekt.
The site has put so much effort into building a community of sellers and buyers who are passionate about trending sneakers. It also has a noticeable category filled with lots of streetwear. Klekt has a popular blog with so many insights that would help sellers know better when it comes to flipping sneakers. Signing up on the e-commerce platform is fairly easy and there are no listing fees to worry about. So, if you are looking to sell shoes online check out Klekt.
23. Uptown Cheapskate
The name of this site might give you an impression that you will perhaps fetch thin margins.
There are other categories you can tap into apart from shoes. Uptown Cheapstake has over 80 franchise stores across different states and the site plans to open 20 more real soon.
It goes a long way to suggest that the demand for used shoes and other items from this marketplace is growing rapidly. On the site, you will find a store locator that will guide you to the nearest franchise where you can take your used shoes in person. Apart from cash or trade value, you can consign with them and get paid 60% of the price once your shoes sell online.
24. Swap
Making money while you declutter is quite practical on Swap. The site accepts women, men, and baby shoes that are in mint condition. The signing up criteria on this marketplace needs no lengthy efforts whatsoever.
Another great thing about the site is the commission rates are competitive and slightly lower than other reputable marketplaces.
Besides cash, you can also choose to get paid via in-store credit. Think of Swap.com as an online consignment store that makes it easy to connect with potential buyers and fulfill orders.
Swap.com makes the extra effort to update a list of top brands and that are moving fast on their platform. Apart from shoes, you also have the option to sell second-hand clothing. If you are looking to sell shoes online I highly recommend this platform.
25. Leprix
Leprix is a remarkable site with a staggering customer base that a seller could eye on. If you are looking to sell shoes you do not wear anymore, this site would be a solid option. The site is known for having stellar standards on all the vintage and designer franchise stores it runs.
The common options in the footwear category range from sneakers, to boots, sandals, and loafers, just to hint a few. I would recommend any seller looking to trade off their highly-priced footwear, to consider listing on this marketplace out.
The primary reason is buyers are more likely to shop on this platform as it has stringent policies when it comes to the authenticity of an item. Most of all, you can choose to consign with the nearest boutique partner.
26. Grailed
Grailed is a great place to sell shoes online. Are you a seasoned collector looking to expand your income stream? Selling your rare footwear brands on Grailed could prove to be a lucrative endeavor if you have authentic and the most in-demand items. Grailed updates its users with a list of weekly trending shoes.
It is perfect for sellers in the business of flipping sneakers and popular footwear brands. Apart from footwear, Grailed has other categories such as accessories, tailoring, tops, outwear, and bottoms. You can join the marketplace as a seller by signing up with your Facebook or Google account.
27. Goat
Goat is yet another useful site to sell shoes online. You can choose to list your shoes via the app or desktop. The shoes are tiered according to the trends, seasons, and demand. In so doing, shoppers can easily filter results and this makes it easy for your listing to be a lot more visible.
To sell on Goat, the first step is applying to be an authorized seller. For authenticity purposes, you will need to ship the shoes directly to Goat once an order is made. Before getting started, it is important to note that the site charges some listing and commission fees. Both of these rates will vary, depending on the location where the order was made.
28. The RealReal
Selling shoes online on the Realreal platform is uncomplicated. You just need to fill in your name, email address, phone number, and zip code. The seller has the option to ship their designer shoes to the platform or drop them off in person.
Consigning with this marketplace is such a fanciable experience, compared to most other sites. By listing your shoes on this platform, you have the potential to earn up to 85% of the actual sale price.
Sell Shoes Online Tips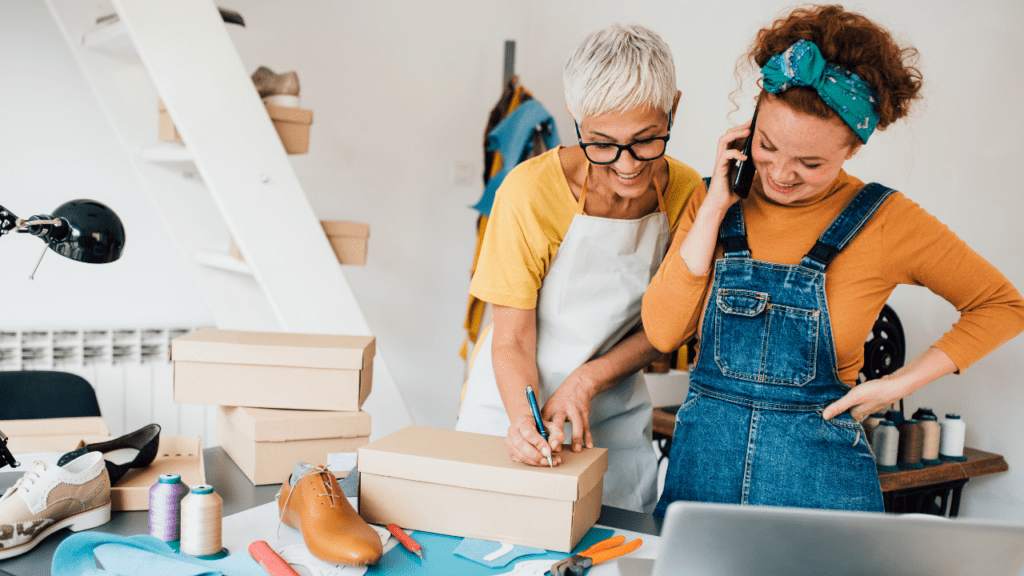 1. Conduct Research & Study Trends
The trends keep on changing each day. It is essential to keep track of what type of shoes are in demand during a particular season or online sale event. Some of the mainstream online marketplaces have active blogs that frequently post updates on weekly trends. Such kind of information would be useful if you are looking to venture into flipping shoes.
2. Clean Your Shoes
Listing shoes that are in pristine condition helps build your reputation as a seller. Your shoes need to look almost new. There are high chances you will get repeat business if you sell clean shoes that appear to have been well taken care of.
3. Upload High-Quality Photos
High-quality photos are the backbone of closing a sale. Potential buyers will be impressed if the images are clear and depict the true condition of the shoes. While uploading photos, make sure not to alter the image quality.
4. Be Honest
To build a credible reputation, you need to be upfront about the nature and condition of the shoes you are selling. Write honest item descriptions and accurate feedback to shoppers making inquiries.
FAQ
What Is The Best Website To Sell Shoes Online?
There are many trustworthy and dependable sites for selling shoes on the internet. Narrowing down to the best marketplace would be a strenuous task since all have their perks and downsides.
All you need to focus on is finding one that suits your needs best. Look out for one with the most flexible payment options and workable seller protection policies. You also want to compare the listing and commission fees.
How Can I Sell My Shoes Quickly?
You can sell your shoes quickly by writing honest item descriptions, taking high-quality photos, and responding promptly to questions from potential shoppers. It is also best to offer competitive pricing on your listings.
Does StockX Sell Used Shoes?
Unfortunately, StockX does not sell used shoes. It only accepts deadstock. Your account might be flagged for attempting to list used shoes on the platform.
How Can I Sell My Shoes?
You can sell your shoes by listing them on online marketplaces with a dedicated category for footwear. Each site has its policies for sellers looking to list shoes. Take time to compare the sites and see which would work for you best.
How Do I Sell Shoes on Goat?
The first step to selling shoes on Goat would be to make an application. Once the company verifies your identity, you will be approved to become an authorized seller.
After making a sale, you will need to ship the order directly to Goat's warehouse. The primary goal is to verify the authenticity of your item.
Final Thoughts on Best Places to Sell Shoes
One of the best ways to make extra money is to sell shoes online. You just need to find a marketplace that would be convenient for you. There are lots of platforms to check out on the internet. Some online marketplaces will charge you a listing fee which is usually a tiny fraction of the sale price. Others allow you to list your shoes for free.
Before settling on a particular online site or app, you also want to find out if there are any commission rates after making a sale.