Do you have items in your home that make it hard to declutter and stay organized? There are legit websites to sell stuff locally that you could use to make some extra income. Perhaps you want to trade in your mobile device or sell second-hand clothing. You can actually make great money by selling stuff online. In fact when I was pregnant with my first son my husband and I sold unwanted things around my house and ended up making over $300 really fast.
The most that you need to do would be to find the right marketplace which you can use to list your used items. As a work-from-home (WFH) mom, I know the efforts a first-timer might put in when trying to find a rewarding side hustle. If you have items that you do not use anymore, there are platforms that would help connect you with potential buyers.
In this guide, we will look at some of the legit websites to sell stuff locally that you can work with to build a credible reputation as an online seller.
12 Legit Websites to Sell Stuff Locally & Make Extra Money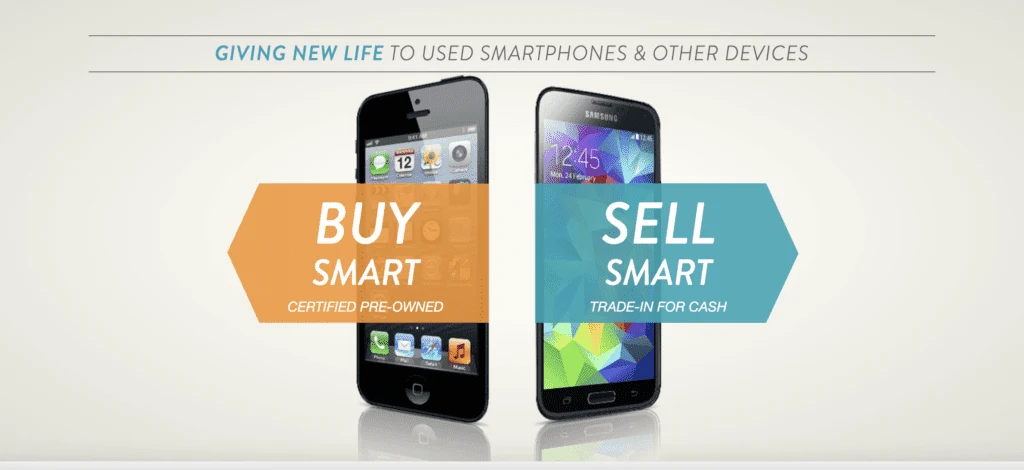 If you are looking for websites to sell stuff locally check out Gazelle. On this platform you can sell used electronic devices that are in pristine condition, then Gazelle would be a perfect marketplace. In terms of pricing, this platform is unmatched especially when listing notable brands like Samsung, iPhone, iPad, or MacBook. Since Gazelle deals with pre-owned brands, it is best to give a true account of the condition when writing a description of the device you want to list.
This way, you get paid fast and keep off poor customer reviews. Once you are on the right track, Gazelle will list you as a verified seller, making potential buyers gain confidence in your listings. To describe the cosmetic condition of a device, the marketplace will list it as fair, good, or excellent. It all depends on how noticeable the dents are, alongside the overall functionality of a device.
The checkout page on Gazelle is pretty straightforward for buyers. It also gives the buyers an option to pay in installments via Affirm, so your listings have the potential to move fast. You will not incur any fees when signing up as a seller, and the return policies on the marketplace are workable. All you will need to part with is the selling fees after making a successful transaction.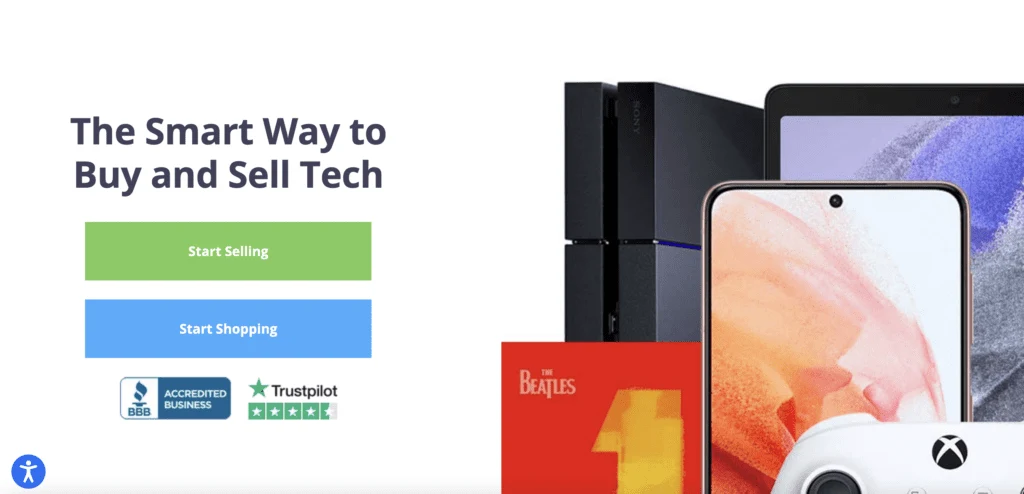 As the name suggests, Decluttr lets you sell stuff eating up space in your home that you do not use anymore. It is the go-to site when looking to remove clutter that is still in perfect working condition.
The site is also quite convenient to the extent that you do not need to meet up with a potential buyer in order to make a sale. You also get to avoid back and forth communication since Decluttr handles that for you in the background.
As a seller, you are able to cash in on unwanted items without having to look out for buyers. Decluttr has a mobile application that allows you to scan a listed item's barcode. The app is available on both Android and iOS devices.
Once you are done, the next step would be to upload images and a description of the gadget you want to sell via the app. Decluttr will give you a valuation of your item without having to incur any fees. Once you are satisfied with the price, the platform will send you a prepaid shipping label. So, the seller gets free, insured shipping via UPS.
By far, Decluttr is one of the rare marketplaces that will give competitive pricing if you want to convert unwanted stuff into cash. Not to mention its over 6 million loyal customers. There is a wide market base to tap into since you are not limited to listing mobile phones alone. If you have your old games, books, or smartwatch lying idle in your home, this would be the ideal marketplace to make that extra 500 dollars fast.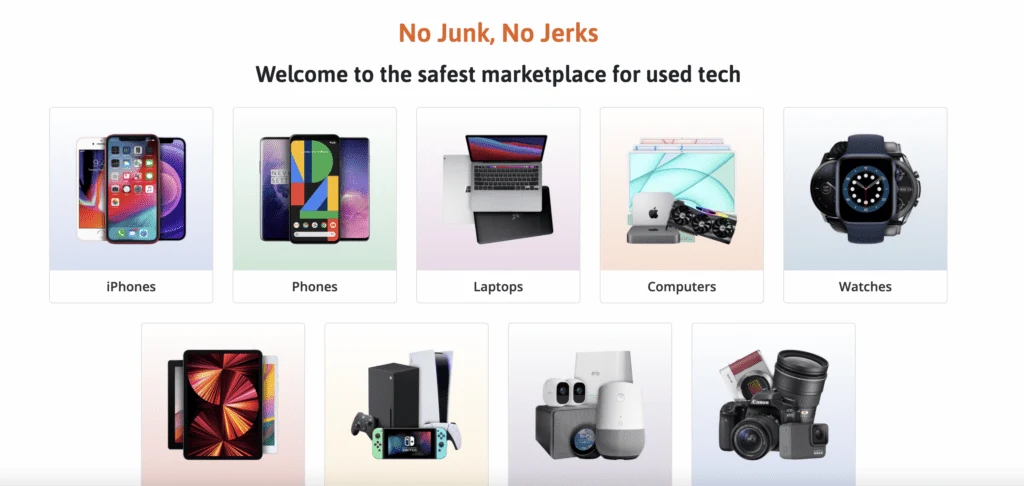 Another website to sell stuff locally is Swappa, which is truly a hidden gem. It is one of the rare platforms where you will find the latest gadgets that are barely two weeks old. Swappa is a suitable alternative to Gazelle if you want to sell pre-owned mobile phones brands like iPhone or Samsung. You can also list laptops, video games, cameras, watches, or home tech stuff.
It is also the go-to place if you want to sell your old iPhone and get a newer model. The platform's criteria to list items is pretty simple. Once your listed gadget is bought, you get paid instantly via PayPal. PayPal is the recommended payment channel on this marketplace as it provides both buyer and seller protection, not to mention how seamless the transactions are.
You do not need to wait till the item gets shipped to the buyer. The catch is, you will be responsible for shipping directly to the buyer once the listing is sold. Right on the platform, there is a communication feature where you can talk with potential buyers and negotiate the price before making a sale.
Swappa also helps make you look credible before the eyes of the buyers. Apart from review ratings, it lists the total number of successful transactions you have made.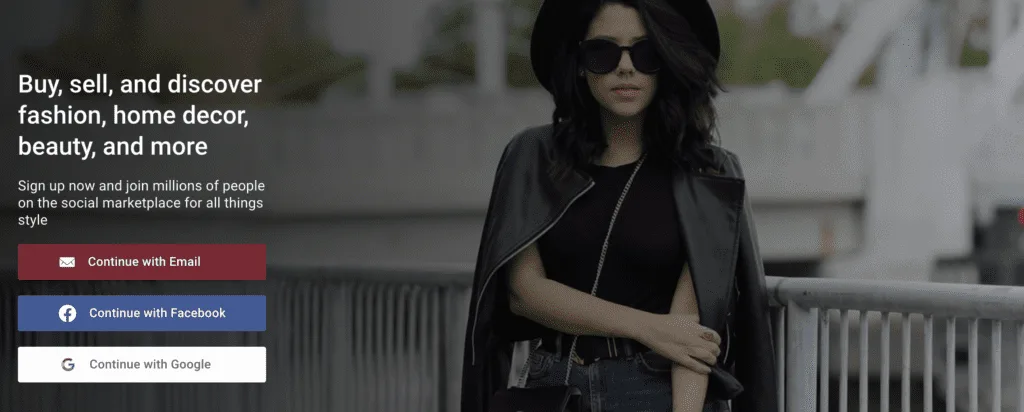 Unused clothing can fill up your wardrobe space, making it hard to declutter. Poshmark is a solid option for sellers looking to make extra income by listing second-hand clothing or home accessories they do not use anymore. To experience a smooth learning curve, this guide will teach you how to sell items on Poshmark.
The marketplace rewards sellers who list authentic brands and items that match the description. What makes it worth it to sell on Poshmark is there are no fulfillment fees to worry about. The buyer pays for all the shipping costs.
Once the buyer makes an order, you can print out a shipping label via the Poshmark app which is available on both Android and iOS devices. The marketplace also handles the sales tax on behalf of the seller. Poshmark is among the few platforms with transparent seller fees and getting paid is hassle-free.
To avoid earning a bad reputation, it is best to avoid listing counterfeits. You also need to upload high-quality photos that depict the condition of clothes you want to list on the marketplace.
One way to avoid returns or bad feedback is looking out for any damages on the items you want to list and being upfront about the defects when writing the product description. Most of all, you have the option to promote your products, which helps reach out to a wider customer base.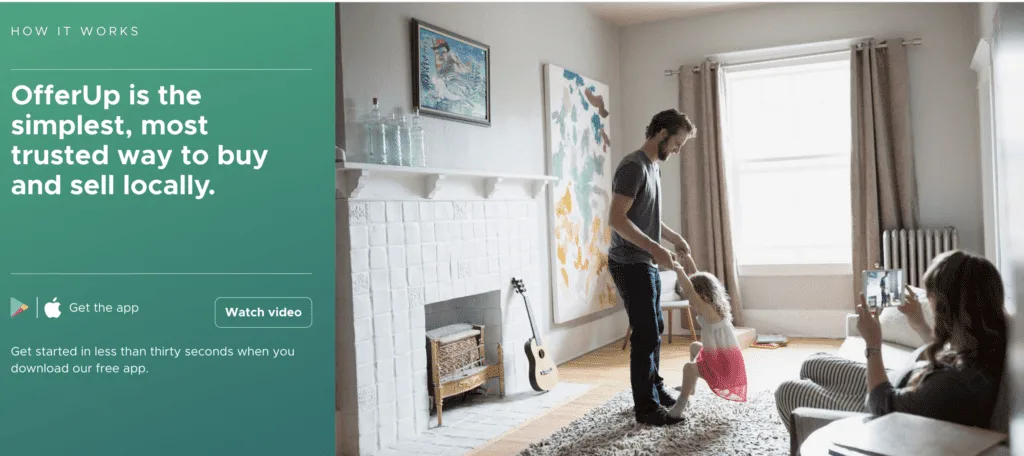 One of my favorite websites to sell stuff locally is OfferUp, formerly known as Letgo, gives you the same features as those you will find on eBay. You get to show potential buyers that your item is only available locally. It is also one of the legit places to sell sports cards online.
The platform lets you sell personal items such as electronics, furniture, or clothing without incurring any hidden fees. Selling on OfferUp is more or less the same as other apps. To start selling on the marketplace, you need to download the mobile app on your iOS or Android device.
The next step is to create an account. Signing up via Facebook makes you look credible to most buyers. You can also choose to promote your listings to make them sell a lot faster. While you can get paid directly by the buyer, OfferUp lets you accept payment through their app.
It is much safer than meeting up with a buyer physically. However, if you want to dodge the shipping fees, you want to meet up with a potential buyer in a public place like a mall or cafe. Once OfferUp deducts their shipping services fee, the payment will reflect into your account within five business days. The app is easy to use and you get to maximize your potential earnings since it is free to list and sell items.

There are chances you are already familiar with eBay. What you might not know is how to make money flipping items part-time on the marketplace. Compared to other platforms, eBay does not limit you to a particular niche or category of consumer products such as electronics.
It is a worthwhile channel to find a buyer interested in your baby's carrier or toys after outgrowing them. You can label your items "pickup only" if you want to sell items you do not use anymore locally. One of the major perks of using eBay to list stuff is you can get paid via PayPal even before the item is collected.
This way, you can resolve any issues that might come up through the seller protection program. The downside is, unlike other options such as OfferUp or Swappa, eBay charges a listing fee of $0.35 once you upload more than 200 items. Also, you will incur PayPal fees that stand at 2.9% plus $0.30 for every transaction, but this would be worth it since you will be using a secure payment method.
Even though there are fees to be paid from your end, eBay has over 170 million active users, so there is massive traffic to tap into. You also get to leverage the platform's seller protection feature which keeps you far from getting scammed by unscrupulous buyers.
The other fringe benefit about this marketplace is you can sync your account with marketing tools that only let you pay for their services once you sell your item. Being a cross-border selling channel, you are not limited to only selling locally. If you sell legit items, potential customers can easily build trust in your listings, then later leave positive feedback about your service.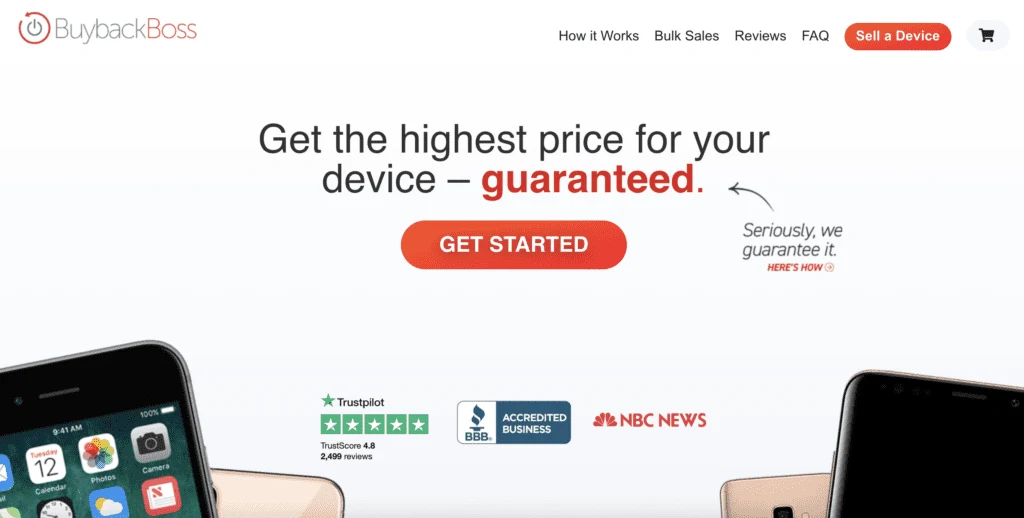 It does not matter the condition of your used gadget, BuyBack Boss is the ultimate channel with a price match that beats most of their online competitors. BuyBack Boss ranks among the most sought-after sites for selling pre-owned or factory-refurbished mobile phones on the internet.
While you might want that quick extra money, you do not want to sell an item at a dirt-cheap rate, yet it holds a higher resale value in the market. To get an offer from the platform, you just need to give a few details describing the condition and functionality of your mobile device. You won't part with any fees to get a quote from the online marketplace.
Shipping is absolutely free. All you need is to print out the shipping label via email, then place it on the package. The platform will need some time to verify and test the order before shipping it to the buyer. This is also where they check if the item has a clean IMEI number.
That goes a long way to show that the team on BuyBack Boss does their due diligence to keep customers coming back. In doing so, there is always huge traffic to leverage. What makes this marketplace a little distinct from the rest is you have the option to sell mobile devices in bulk.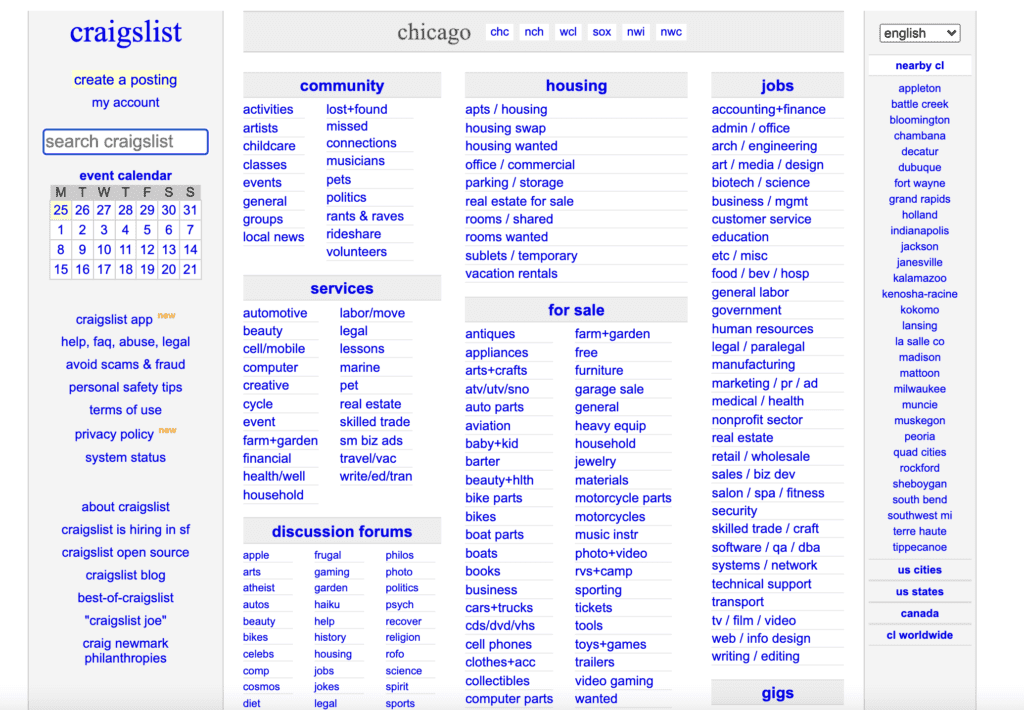 I will go with the bland notion that most of us have interacted with Craigslist before. Craigslist has lived on for nearly three decades and is an in-demand site for listing unwanted items. Selling your stuff locally on Craigslist is free and the present-day community board does not need you to create an account to start selling.
When visiting the site using your web browser, it will default to your local area in real-time. You can also browse different locations to choose where you want your listing to be seen. The next easy step would be to answer a few questions that would help describe the kind of posting you want to upload. What makes Craigslist different from a similar global selling channel is it puts first priority on the local market base.
By doing so, reaching out to a potential buyer in your local area becomes far more convenient. To sell stuff you do not use anymore, you need to work with competitive pricing, use catchy headlines, and disclose the true nature of your listing. When hunting for websites to sell stuff locally, Craigslist should come at the top of your list.
Compared to most other marketplaces, its search engine lets buyers automatically filter search results based on location, making it easy to connect and make a sale.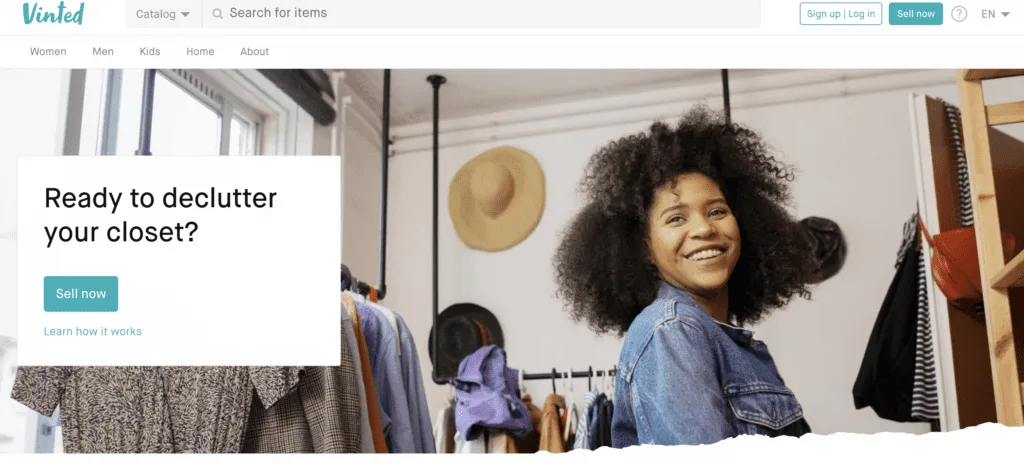 Vinted, just like Poshmark, is a stellar platform for selling second-hand clothing. If you have loads of clothes you do not wear anymore, this is the place to always go to, since there is no seller fee to worry about. All the shipping costs are incurred by your potential buyers.
While this platform is dominantly for listing second-hand clothing, some notable brands and resellers use it to build a reputation for their online business. You can create a Vinted seller profile in minutes via its mobile app or desktop site. Apart from uploading high-quality images and writing honest product descriptions, you will sell unwanted items fast if you spare some time to answer questions from potential buyers.
When describing an item, be upfront about the condition, size, and material used to make it. This way, you will garner positive feedback quite fast and attract more customers. To look more credible, the site allows you to verify your profile using your Google or Facebook account.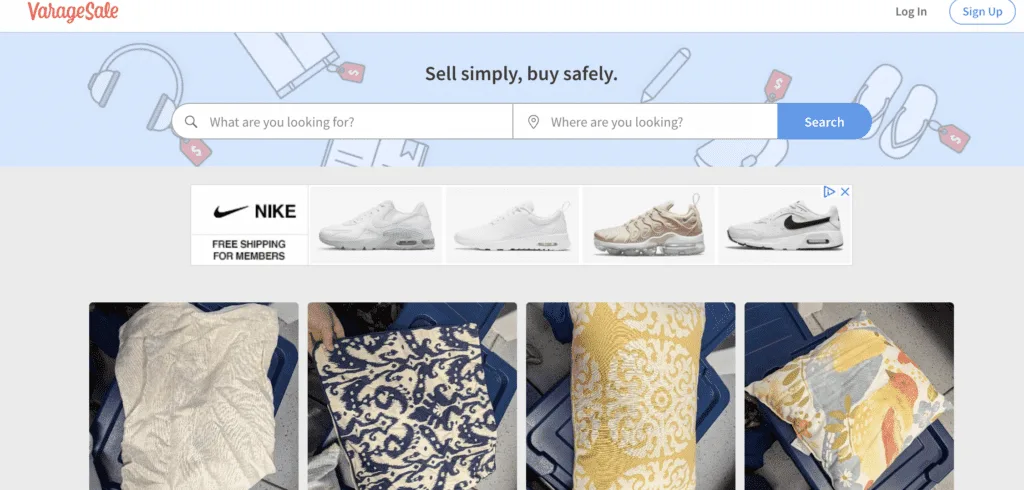 Listing old items on this marketplace is kind of like running an online garage sale. If you have no clue, VarageSale stands for 'virtual garage sale', so it is easy to sell just any unwanted item online.
The site has a blog page where sellers can learn how to flip used items for profit. You also get solid tips on how to work with the right pricing formula, depending on the items you are looking to sell. VarageSale, same as Craigslist, allows a buyer to filter results based on their location.
For this reason, the seller can list stuff and get customers locally and quickly. If you have items that you want to let go of, you can use this site to target communities that live nearby. It is far easier to build trust with people who are your neighbors.
Another exciting feature about this marketplace is verifying your profile via Facebook gives potential customers more confidence in your listings. Getting rid of items you do not use any longer is seamless because the VarageSale mobile app is fast and easy to use. There are also lots of categories where you can list items.

If you are looking for websites to sell stuff locally check out Facebook Marketplace. We all know about Facebook and its massive potential to create communities or connect with friends. But that is not all. Did you know you can use the social platform to build a successful e-commerce business? Facebook Marketplace has become one of the leading platforms for selling stuff locally.
To start selling, you just need an active Facebook account. If you are selling items locally, the marketplace is a bit safer compared to a site like Craigslist. You can be listed as an eligible seller if you meet Facebook's criteria and sell across different states.
With over 800 active users on Facebook Marketplace, you get access to a broader customer base. Therefore, the seller is not limited to only unwanted household items that are often sold locally. Instead, you have the potential to reach the retail level by buying some of the most sought-after items, then reselling them on the marketplace at a higher margin.
Same as eBay or Craigslist, you can literally sell anything on this online e-commerce channel. Individuals running brick-and-mortar stores, craftsmen, or Amazon sellers can also list their items on Facebook Marketplace.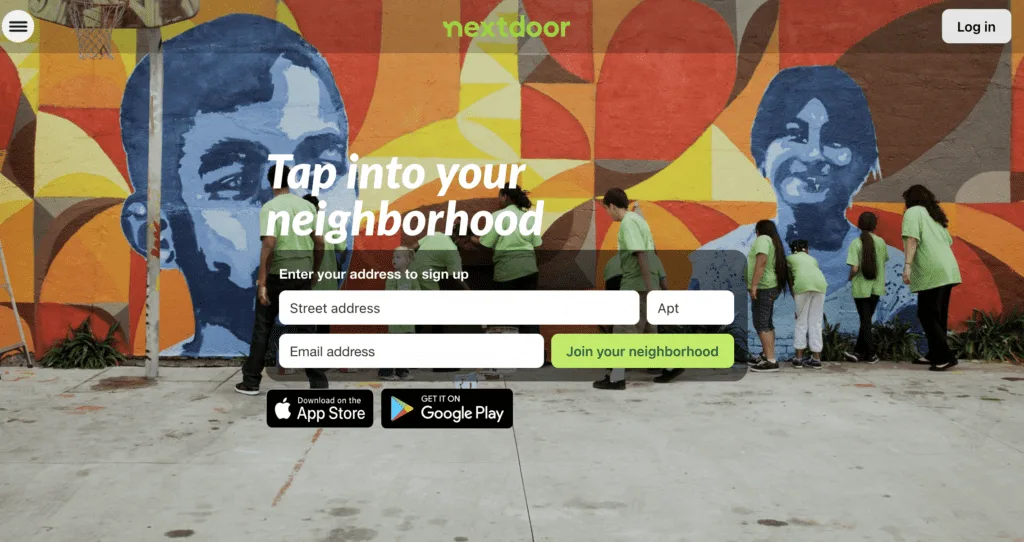 NextDoor is more like a social app that connects neighbors. It helps sellers reduce clutter without needing to worry about the shipping logistics. You will not find trouble getting repeat customers so long you can accurately describe the condition of an item. Selling on NextDoor is free.
There are buttons on the app to help make your items move visible. If your listings are not moving fast enough, there is a 'Discount' button for slashing the original price. NextDoor recently introduced a new feature to help reach neighbors in your broader local area.
This setting is not meant to boost your listings on the news feeds of all app users in your neighborhood. Instead, it lets you reach out to neighbors who are a bit farther away. You can strike a conversation with potential buyers by replying to comments in discussions. It is best to categorize your items so they can match with search results of what potential buyers are looking for. If you are looking for websites to sell stuff locally check out NextDoor.
Best Websites to Sell Stuff Locally: FAQ
Where Can I Sell My Stuff Online For Free?
When looking for websites to sell stuff locally there are lots of online marketplaces to sell your unwanted items for free. You just need to pick one that suits you best. As mentioned in this guide, platforms like Facebook Marketplace or OfferUp do not have any joining fees. Some will handle the shipping fees while others will charge you some seller fees. Before choosing the right site for selling your stuff online, you need to check if there are any fees hidden in the fine print.
What Is The Best Site To Sell Stuff?
There is not any particular site that I can recommend since each has its own perks and downsides. It also depends on the items you are looking to sell. If you want to get rid of used clothing, sites like Poshmark and Vinted stand out the most. For used mobile devices, you want to go with a marketplace such as Swappa or BuyBack Boss. Suppose you have different categories of items to sell, marketplaces like Craigslist or eBay would be useful.
What Is The Safest Way To Sell Items Online?
If you are looking for the best websites to sell stuff locally it's always a good idea to make sure you make sure the platforms are safe.
One of the safest ways to sell items is to use platforms with seller protection features. You also want to use a secure payment option like PayPal on all the sale transactions. If you have to reach the buyer in person, then you need to insist on meeting up in a public place, especially if you are listing your items on a site like Craigslist.
How Do I Sell Things Online locally?
1. Pick a suitable selling channel: As highlighted in this guide, there are lots of websites for listing used items, each with unique features and categories. Some will accept different types of items like electronics, clothing, and furniture, while others only accept single product listings. You want to know which platform gives you the best payment options and allows you to sell stuff locally with ease.
2. Upload high-quality photos: One of the primary things potential buyers do after landing on your listing, is looking at images of your listed item. They need to be of high quality and should resemble the actual item that you will ship to the buyer. Make sure to add multiple images and avoid editing or using backgrounds that would ruin their original quality.
3. Set Competitive prices: Before listing your items on an online marketplace, it is best to check the market selling price of the item. The difference between your listed price and that of other competitors needs to be negligible. Look at what similar items are selling for in order to set a realistic price.
4. Give buyers some room for negotiation: Even though you might have some sort of emotional attachment towards a specific item, potential buyers would want to feel like they are getting value for their hard-earned money. For this reason, letting the buyer negotiate a little bit would make it easier to sell the item.
5. Write honest product descriptions: Being upfront about any defects on an item you want to sell builds credibility and keeps you from having to deal with return orders. If the defect is visible, take a picture and upload it so potential buyers can be conscious of it before making a purchase.
6. Do not list counterfeits: Selling counterfeit clothing on a platform like Poshmark would be a recipe for creating a bad reputation. The same goes for eBay. Selling counterfeit items would mean that you will not last long on trusted marketplaces.
7. Clean up your items: Potential buyers will first stop at the photos to see if there are any visible defects on your listed items. If, for example, you want to sell second-hand clothing, uploading images of clean and tidy clothes would make them look like they are in pristine condition before the eyes of the buyer.
How Can A Seller Avoid Being Scammed Online?
One of the most dreaded things when selling stuff online is getting ripped off. It is possible to get scammed if you are not careful enough. On the bright side, there are ways to avoid getting scammed as a seller.
First, you want to use a trusted marketplace. I took time to review and write about some of the most credible sites for selling stuff online. So, this guide will bring you inches close to protecting your e-commerce business.
If possible, use a marketplace with seller protection features and a secure payment option like PayPal. It is also essential to do some due diligence and check out reviews about a particular site before using it to list your items.
When using a site like Craigslist where you might need to meet with the buyer in person, pick a public place, or tag a friend along. A platform like VarageSale verifies their users' IDs, so it is easy to confirm the buyer's profile and see if there are any warning signs that could prompt you to terminate any foreseeable sale transaction.
Final Thoughts On Websites To Sell Stuff Locally
If you are in search for the best websites to sell stuff locally this post shared 12 to get you started. Getting hold of legit websites to sell stuff locally is now easier than ever. All you need to do is choose one that is suitable for the particular item you want to list. Always make sure to check if there are any fees you might incur after selling an item, and work with safe payment channels.
Selling an item you do not use anymore is a worthwhile idea since you get to recoup its resale value. You just need to work with some of the best practices successful sellers use to build a reputable online presence. This way, you can build a profitable side hustle by flipping used items. I will be quick to update this guide once I find other credible sites for selling used stuff.
Related Article