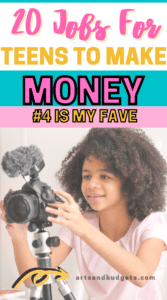 Are you looking for the best jobs for 11 year olds? Or are you looking for ways to assist your 11-year-old child in making money? If that's the case, this blog post is a handy resource.
As a parent and side-hustle coach, I understand the need to instruct our children on properly handling finances and the value of establishing several sources of income for their future financial security.
For this reason, I believe in giving children the freedom to find avenues leading to financial success. When I was younger, I engaged in different side hustles to get extra income, so I'm pleased to share these fascinating alternatives for 11-year-olds to generate money this year.
You'll be astounded by the legal means through which children earn extra income on the side. Because there is an increasing number of options accessible for pre-teens, now is the ideal moment to assist them in finding a new side business. So, let's dive in and explore the top 20 best and legit ways for 11-year-olds to make money in 2023.
What are the Child Labor Laws In The US?
Child labor laws in the United States regulate the employment of minors and protect their rights, health, and safety. These laws are enforced at both federal and state levels. The Fair Labor Standards Act (FLSA) is the primary federal legislation. Here are some vital elements of child labor laws in the U.S.:
Age Restrictions
Under the FLSA, children under 14 are typically restricted from working in non-agricultural occupations. The exceptions to this rule include working in a family business or the entertainment industry. Children aged 12-13 may work with parental consent, while those under 12 may work on a family farm.
Hours of Work
The work hours for children aged 14-15 are limited during the school year. They aren't allowed to work more than 3 hours per school day, 18 hours per week during school weeks, 8 hours per non-school day, or 40 hours per week during non-school weeks.
Children of this age bracket can only work between 7 a.m. and 7 p.m. Employers may extend this period to 9 p.m. during summer. There aren't any restrictions for children aged 16-17 years, except for specific hazardous jobs.
Hazardous Occupations
The FLSA restricts minors from working in hazardous jobs such as logging, mining, operating machinery, or handling explosives. Some hazardous occupations in the agricultural sectors are also limited to children over 16.
Minimum Wage and Overtime
The current federal minimum wage for minors stands at $7.25 per hour. However, employees under 20 may earn a youth minimum wage of $4.25 per hour for the first 90 days. Except for specific agricultural jobs, minors are entitled to overtime pay if they work more than 40 hours per week.
Breaks and Meal Periods
While many states have regulations, federal law doesn't require specific breaks or meal periods for minors. Employers ought to follow the laws of the state in which they operate.
Work Permits and Age Certificates
Some states may require a work permit or an age certificate for a minor to work. These documents ensure that an employer is aware of a minor's age and follows all the applicable child labor laws. It's worth noting that the requirements for obtaining a work permit or age certificate may vary by state.
Enforcement and Penalties
The U.S. Department of Labor's Wage and Hour Division enforces all federal child labor laws. An employer who violates these laws may face fines, penalties, or imprisonment in extreme cases.
State Child Labor Laws
Aside from the federal laws, each state has child labor laws that provide extra protections and restrictions. Employers need to comply with both federal and state laws. The stricter regulation should apply in case of a conflict between these two laws.
20 Best Jobs for 11-Year-Olds to Earn Money in 2023
1. Youtuber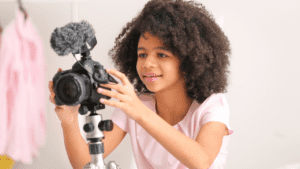 Here is a great job for 11 year olds. Starting a YouTube channel is a lucrative opportunity for 11-year-olds looking to earn money while exploring their interests and creativity. For instance, Ryan's World started as a review channel featuring a young kid named Ryan, who shared his two cents on different toys.
The channel has grown to include fun challenges, educational content, and more. Young YouTubers can build a solid audience and earn if they have the proper supervision from parents or guardians. Advertising revenue, merchandise sales, and brand partnerships are some ways young YouTubers can earn money.
2. Gift Wrapper ( Seasonal)
If you are looking for jobs for 11 year olds check out this one. 11-year-olds can work as gift wrappers during the holiday season or special events. The job description entails wrapping gifts for department stores, independent gift-wrapping businesses, or customers at shopping centers.
Working as a gift wrapper is an excellent way for young people to sharpen their customer service skills. It also boosts their attention to detail and creativity. Since this job is seasonal, it offers an excellent opportunity to earn extra income.
3. Social Media Influencer
If you have been looking for jobs for 11 years olds try the social media influencer route if your child loves to be on camera. Young people can become influencers via social media platforms like Instagram, YouTube, and TikTok. These platforms are great for 11-year-olds with unique talents, hobbies, or personalities. They allow young people to create content and grow their following.
Parents or guardians should monitor their child's social media activities to ensure safety and age-appropriate content. An 11-year-old social media influencer could earn money through sponsored posts, affiliate marketing, and brand collaborations.
4. Shovel Snow & Lawn Care Assistant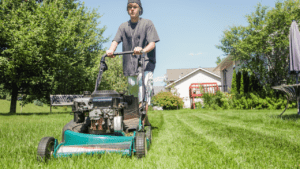 11-year-olds can offer services such as snow shoveling or lawn care assistants, depending on the region and climate. The job entails helping neighbors or local businesses with snow removal during winter.
The other option would be assisting with lawn care tasks such as trimming, raking, and mowing during warmer months. Working as a shovel snow or lawn care assistant teaches responsibility, the value of hard work, and time management.
5. Child Model
Child modeling suits kids with a photogenic appearance and natural talent for posing. 11-year-olds can pursue opportunities in commercials, catalogs, or print advertisements, to represent various products or brands. A parent or guardian actively ensures their child works with reputable clients and agencies.
6. Voiceover actor
Voiceover acting jobs are available for 11-year-olds with unique, clear, and expressive voices. They could be hired to do voiceover acting for animation projects, video games, audiobooks, and commercials.
As a parent or guardian, you should help your child find reputable casting calls and auditions. It ensures a safe and age-appropriate work environment. Voiceover acting could help 11-year-olds enhance their communication skills, gain confidence, and earn money.
7. Holiday Decorator
11-year-olds can offer their services as holiday decorators during the festive seasons. The job involves helping family members, friends, and neighbors set up decorations, arrange displays, and hang lights.
Working as a holiday decorator allows young kids to practice their organizational skills and creativity while earning some extra income during the holiday season.
7. Clean House Assistant
Young individuals can help with light cleaning duties such as tidying up, sweeping, or dusting. 11-year-olds could work as clean house assistants for neighbors, family members, or friends.
The job teaches responsibility and time management skills. Working as a clean house assistant can be a fulfilling way for young people to earn money and learn the worth of keeping a clean living space.
8. Music Performer/ Singer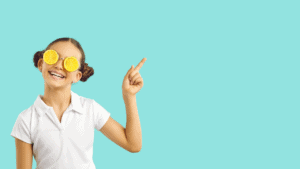 Talented kids who can sing or play a musical instrument may work as music performers. They can participate in community gatherings, local events, and talent shows, demonstrating their skills and entertaining audiences.
This job helps 11-year-old musicians develop self-confidence, stage presence, and a sense of professionalism. Talented kids could earn money through performance fees or tips.
9. Lemonade Stand
Operating a lemonade stand is one of the most common and dependable ways for young entrepreneurs to earn extra income. As a parent or guardian, you could assist your 11-year-old in setting up a stand in the neighborhood and selling beverages to passersby during warmer months.
Running a lemonade stand teaches young folks valuable lessons in marketing, money management, and customer service. It also teaches 11-year-olds the art of running a small business while making extra money.
Pre-Teens Jobs To Earn Money
10. T-Shirt Maker
Pre-teens with a flair for design can start their own t-shirt-making business. Platforms like Printiful or Redbubble allow users to sell their eye-catching custom shirts. The job allows young entrepreneurs to demonstrate their artistic skills and learn more about running a business, marketing, and customer service.
11. Blogger
Aspiring young writers who are passionate about a particular niche could start a blog to share their expertise, thoughts, and experiences on various topics. They could attract an audience by consistently producing quality content.
Becoming a blogger changed my life, and I have been able to work from anywhere in the world with my family. I currently earn over $10k a month from multiple income streams with my blogs.
If you are starting a blog, grab my free Blog Starter Guide by clicking here!
Young writers generate income through sponsored content, affiliate marketing, and advertising. Blogging also helps pre-teens enhance their writing skills, learn more about digital marketing, and develop a sense of commitment.
13. Dog Walker
Offering dog walking services to friends and neighbors is a viable job for responsible pre-teens who adore animals. This job teaches pre-teens the value of time management, patience, and responsibility.
They also get the chance to bond with different dog breeds. This role could expand to services such as pet sitting and providing comprehensive care to pet owners.
14. Babysitter- Jobs for 11 year olds
A pre-teen with childcare care experience and a nurturing nature could work as a babysitter. The job entails taking care of younger children while their parents are away.
It requires patience and trustworthiness. Pre-teens also develop problem-solving skills that could help them handle emergencies calmly and effectively.
15. Wash Cars
Car washing is an incredible job for pre-teens looking to provide a valuable service to their neighborhood. Pre-teens could either offer their services door-to-door or set up a small car washing station with the help of a parent or guardian.
While this is a credible opportunity to earn money, it teaches young entrepreneurs the importance of customer satisfaction, hard work, and attention to detail.
16. Clean Pools
Offering pool cleaning and maintenance services to neighbors is a suitable job for safety-conscious and detail-oriented pre-teens. The job requires a young fold to understand how to use pool cleaning equipment, apply the right chemicals, and maintain pool hygiene. Cleaning pools teaches pre-teens to maintain a solid work ethic and responsibility.
17. Create and Sell Digital Products
Creating and selling digital products such as online courses, digital planners, e-books, or printable artwork is a great side hustle for a tech-savvy preteen with an eye for design.
The job allows them to learn more about online sales platforms, develop an entrepreneurial spirit, and explore their creativity while generating income.
18. Office Assistant
Working as an office assistant in a small local company or family-owned business is excellent for a pre-teen with good organizational skills. An office assistant position involves helping with tasks such as managing schedules, filing, and answering phone calls.
It offers valuable skills in administrative tasks, communication, and time management. The job also exposes a pre-teen to a professional work environment.
19. Baker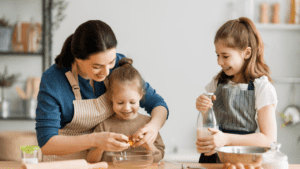 Starting a small baking business suits talented pre-teens with a passion for baking. A pre-teen can sell homemade treats such as pies, cookies, and cupcakes to family, friends, and neighbors.
This job teaches young individuals how to develop their culinary skills and understand the importance of food safety. It also helps them understand the basics of customer service, marketing, and presentation.
20. Fence Painter
Pre-teens who enjoy outdoor tasks can offer fence painting services to their neighborhood. The job entails helping the community to maintain and beautify fences for a fee.
It teaches pre-teens everything that goes into paying attention to details, customer satisfaction, and perseverance. Fence painting jobs also teach them about various painting tools and techniques.
FAQ
At what age can you work?
The typical minimum age to work in the U.S. is 14 years old. However, this rule has a few exceptions, such as specific agricultural jobs or working in a family-owned business. The specific age restrictions vary depending on state laws and the type of work.
Can an 11-year-old work?
Generally, an 11-year-old can't legally hold a formal job. However, they can earn money through various age-appropriate tasks or activities, including dog walking, helping neighbors with chores, or babysitting. These activities may require parental supervision and guidance.
How can 11-year-olds make money online?
Some common ways that 11-year-olds can make money are starting a blog, creating content, graphic design, or selling digital products. Parental supervision is recommended to ensure a safe and positive online experience.
What are some good summer jobs for 11-year-olds?
Some of the best summer jobs for 11-year-olds include car washing, lemonade stand operator, lawn care assistant, helping with gardening and landscaping tasks. These jobs help young kids learn responsibility, gain valuable skills, and develop a strong work ethic.
How can a kid make 30 dollars fast- jobs for 11 years old.
Yes, a kid can make 30 dollars fast by offering services to neighbors, friends, and family. Some practical ideas include lawn mowing, car washing, dog walking, or helping with household chores.
Final Thoughts on Jobs for 11-Year-Olds to Earn Money
Providing 11-year-olds with the chance to earn money teaches them valuable life skills and nurtures their sense of responsibility and independence. By exploring these diverse job opportunities, young kids can better understand money management and the importance of hard work.
As parents and guardians, supporting and encouraging their endeavors will set them on a successful future. So, take the time to discuss these options with your child. Together, you can find the perfect money-making opportunity that aligns with their interests and abilities.
Resources: