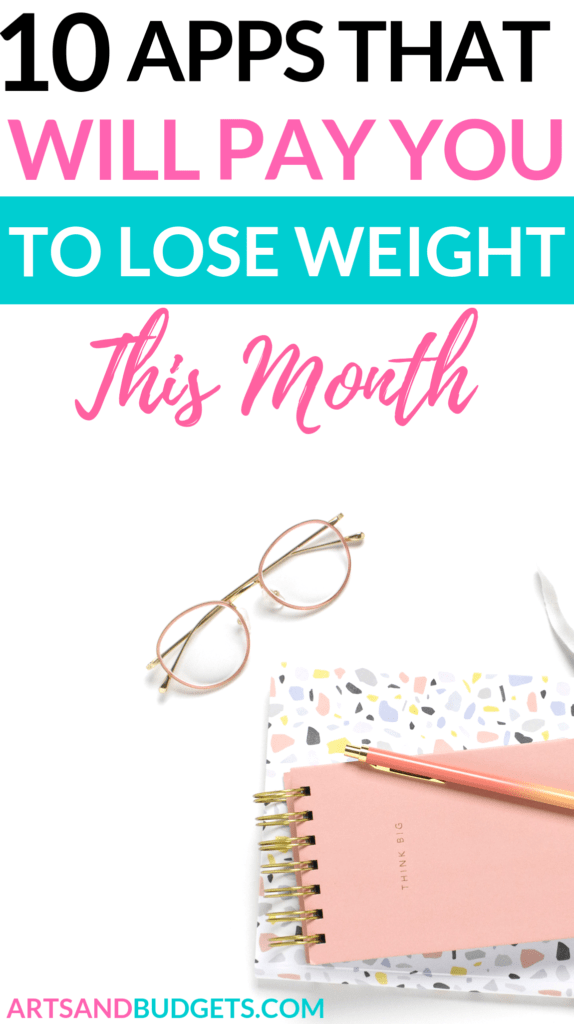 Did you know there are apps that pay you to walk and be active?
At times finding the motivation to work out can be hard to find, but what if you could get paid to get physically fit every month? Throughout my life, I have participated in many challenges with groups of people to lose extra weight. The ones I was most invested in were the ones that offered some kind of prize at the end for the winners.
Why is that?
Well, it's simple, People love to WIN and get free stuff!
So, I recently did some research and found out that certain apps will pay you to work out and lose weight. When I heard that I got super motivated to hit my goal of losing the extra 10 pounds I gained after having my son 8 months ago. This post will share 10 apps that will pay you to lose weight.
Related Posts
---
1. Sweatcoin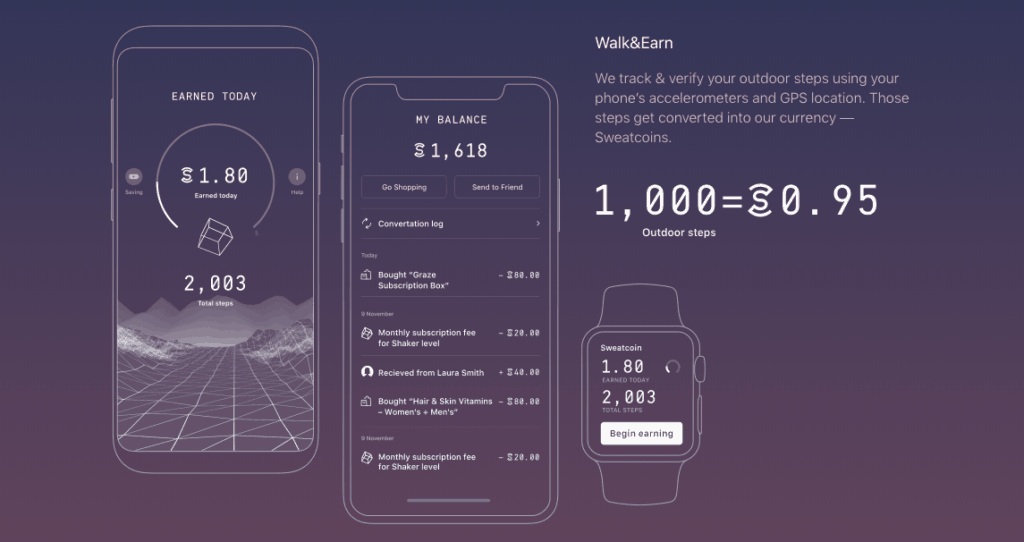 Sweatcoin motto is "It pays to walk" and that's exactly what they do. This company will pay individuals to walk. They track and verify outdoor steps using your phone accelerometers and GPS location. After they track the steps they get converted into currency as known as Sweatcoins. This company has been featured on CBS News, Digital Trends, Forbes, CNN, and more.
What can a person redeem for their Sweatcoins?
You can use your sweatcoins to get services or buy goods, such as iPhones, Apple watches, Amazon credits, Ebooks, and more. You can also donate your sweatcoins to your favorite charities.
One downside for me is that the app always has to be active on your phone in order to receive points. If you force it to quit or swipe up it will stop tracking your steps. But other than that I think the app is great if you want to earn prizes just by walking. Check out Sweatcoin here!
2. InstaCart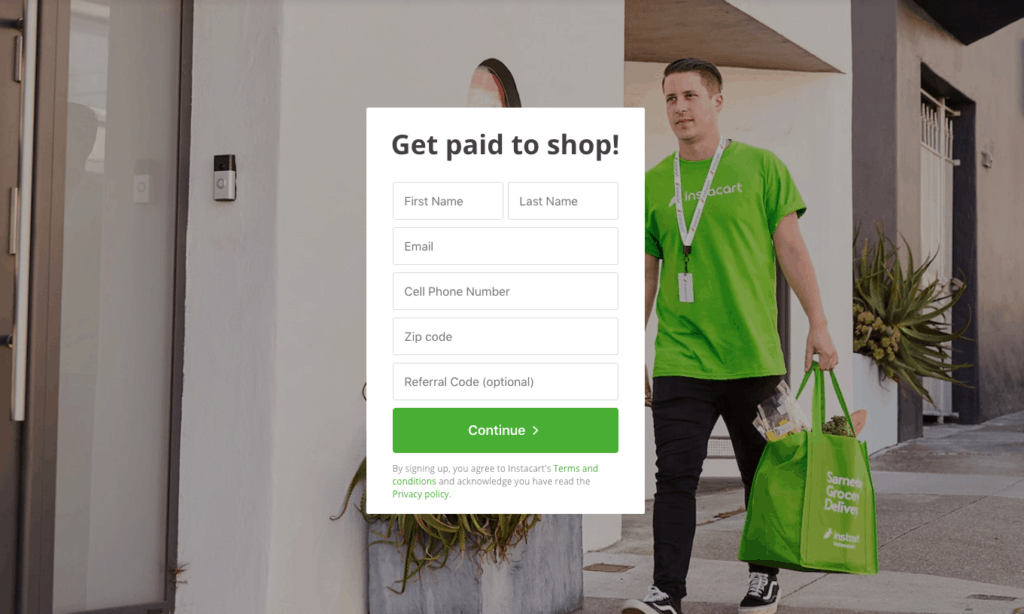 Another cool shopping app that pays you to walk or ride your bike is Instacart. With Instacart you will package items and groceries for people in your town. With this app, you will get paid weekly and don't need a car to sign up to be an In-store shopper with their company. With the In-store shopper gig, you will be a part-time employee of Instacart and be able to have a flexible schedule.
How does it work:
After receiving an order from the Instacart app on your smartphones you will be able to walk to your local grocery store and then shop and collect the items for the order. When the order is complete, you will bag the items in the store before moving on to the next order. After that, the orders will be ready for pick-up by an Instacart driver. With this app, it's super easy to make an additional $500 a month. Sign up for Instacart by clicking here!
[optin-monster-shortcode id="v9jcri3ua0kudnvr"]
3. Rover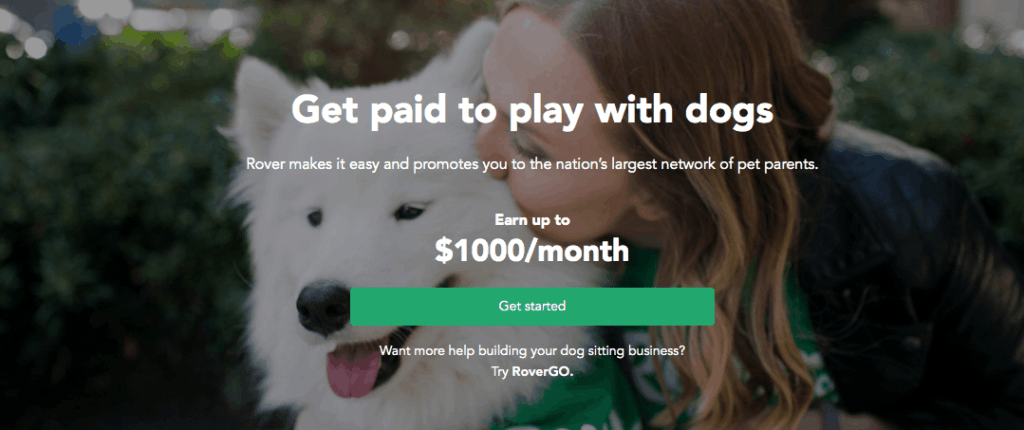 This one is fun if you love walking dogs. Rover is a service that hires people to walk dogs around their town. It's currently the #1 pet sitting and dog walking app.
This app makes it super easy to join and puts you in front of thousands of people looking for dog walkers.
How much money can a person earn?
On their direct site, it states that a person can earn up to $1000 a month by walking dogs with their company.
You can also set your own hours and work when you are available. You can also set up your personal preferences such as the size of the dogs you want to walk and other favorites that work for you.
4. Postmates

Postmates is one of my favorite apps because you can get paid by picking up and dropping off food and other items in your own town. With this app, you can get paid by walking or by riding a bike which are both great ways to get in shape.
With this app, there are no fees and time commitments so you take home 100% of what you earn daily.
When you sign up to work with this company, Postmates will send you everything you need to be successful, such as a free delivery bag, and a prepaid card.
How and when are you paid?
With Postmates, you can get free weekly payments or you can cash out instantly anytime you want. Many people make an extra $500 -$1000 per month by delivering food to people in your town. Check out Postmates by clicking here.
5. Healthy Wages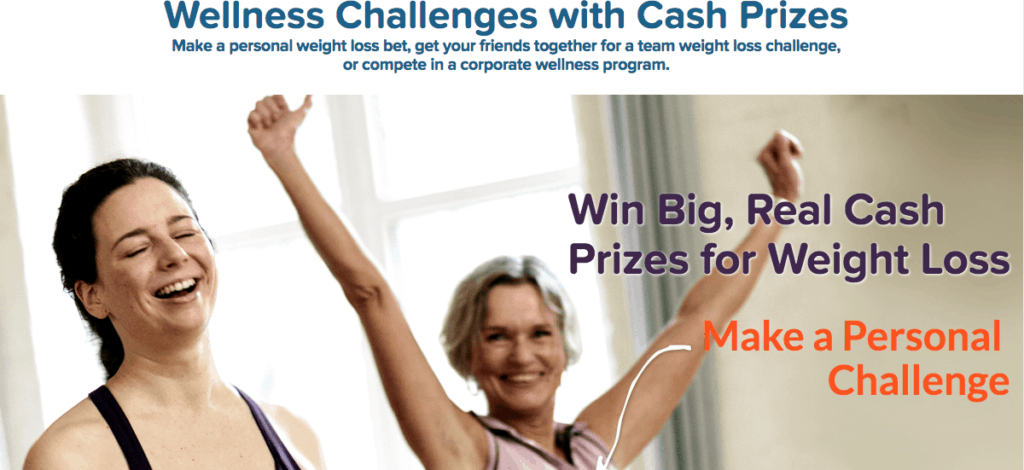 Healthy wages uses cash prizes to make weight loss fun and effective! They have a set of different challenges that you can pick from every week. So if you are looking to get paid to walk and lose weight this might be a great fit for you.
How To Use Their System:
Sign up for a challenge

: First, go to the Healthy Wages website and sign up for the challenge that you want to participate in. You can participate in multiple challenges if you want to.

Use a Healthy wage calculator:

If you sign up for the individual weight loss challenge, you will have to use the Healthy Wage calculator to determine what your prize amount will be.

Place your bet:

After you receive your prize amount you can place your bet and sign up.

Verify your weight:

After you place your bet, you are required to upload a video to verify your weight.

Lose Weight and win cash prizes:

If you accomplish your weight loss goal they will pay you what you earn. Keep in mind, for some challenges you put in money upfront for the bets to participate.
Check out Healthy wages by clicking here!
6. StepBet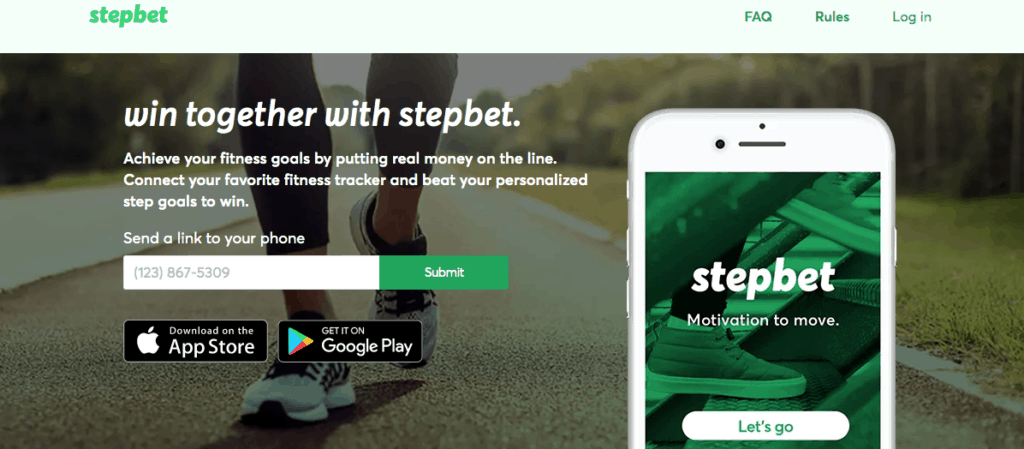 Make your steps count with StepBet! With this app, you can win money if you meet your weight loss goal. When you sign up on the app, you will select a game to get your step goal first. After that, you will join in with other people in what is called a "Pot".
During the game, you must reach your personalized step goal for each week of the game. If you meet your goal for the whole game, you split the pot with your group; which means you split the money with the other group members that met their step goal as well. Check out Stepbet by clicking here!
7. Lympo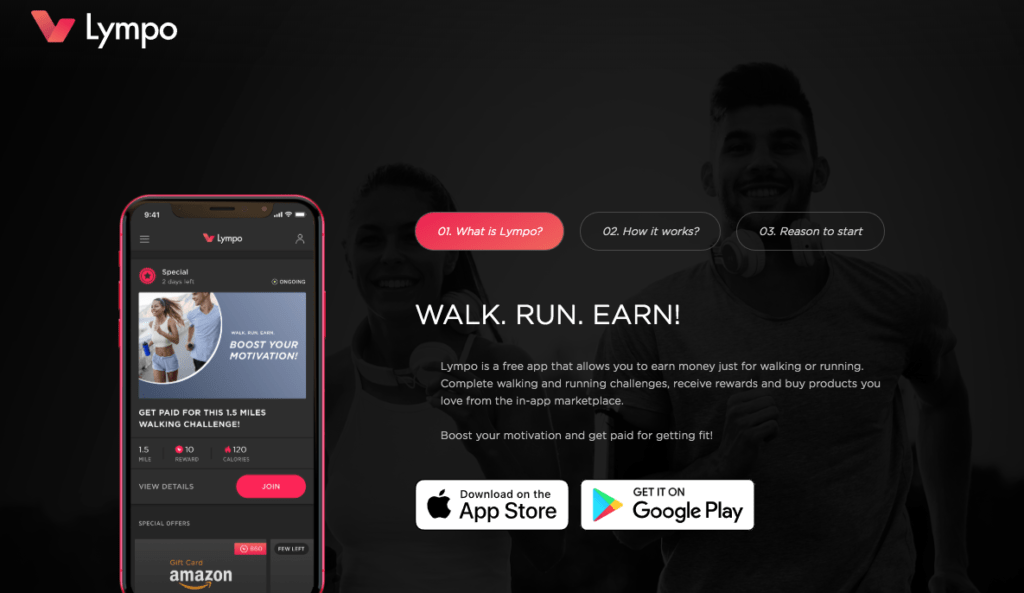 Lympo is a free app that lets you earn money just for walking or running. They are designed to help individuals achieve fitness goals in an easier way. After you complete walking and running challenges you receive rewards and use them to buy products that you already love in their app marketplace.
This app is cool because you can find new challenges every single day. You will also be rewarded after each challenge that you complete. Challenges can be completed either indoors or outdoors which is super convenient if the weather where you live keeps you indoors! After you complete the challenges, your income will be stored in the in-app digital wallet. Check out Lympo here!
8. Charity Miles
This app actually lets people who sign up make money to donate to charities. When you get started you will download the app from the Apple or Android app stores for free. After you download the app, you can create an account and choose the charity you want to raise money for. Finally, you will begin logging in your movement which can be walking, running, dancing and biking.
You will earn money for every mile you move and get the opportunity to help earn money for the charity of your choice. Sign up for Charity Miles here!
9. Carrot

With the Carrot app, it pays users to walk and allows users to earn rewards for each step taken. This app is free to sign up and allows all users to earn rewards for each step taken. The rewards can be used to play games, purchase special offers listed on their app, and to compete in their challenges.
This app also gives you your own personalized activity goal which is based on your own activity history. Sign up for Carrot here!
10. Achievement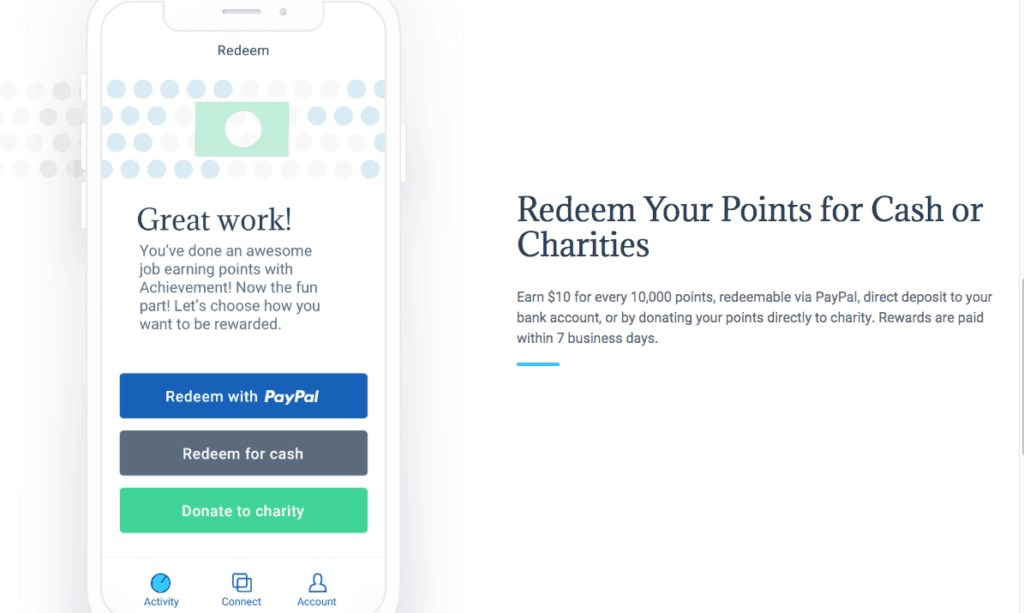 This app will pay you for tracking your healthy behaviors such as water intake, exercising, daily walking, and dieting. The achievement app has paid out over $500,000 to individuals that use the app and currently have over 2 million users. If you are looking for legit exercising apps, it's also one of the top apps in the app store, which is a huge plus. One of their missions is to help people have a better health outcome.
How can someone earn points?
On the app, you can earn points for things such as walking, logging in meals, and answering questions about yourself.
What can you get for using the app?
When you earn 10,000 points you can redeem the points for $10 cash via PayPal. Points are rewarded every 7 days.
Check out Achievement by clicking here.
What are some ways you make money while being active?