A few years ago, I was paying an estimated $125 a month for my cell phone bill. Every single month I was losing money because I didn't know about any cell phone services that offered affordable plans. Since then, I have gotten a lower cell phone bill for my business phone, but it's still on the higher end.
Recently Tello Mobile reached out to me and introduced me to their fantastic service and cell phone plans. Because of their amazing customer service, I decided to test them out. I ended up choosing the unlimited data/minutes/text plan and I am so happy that I did. My plan came out to be only $39/ month and I couldn't believe how affordable my new plan with Tello was.
At the time that I signed up for Tello, I already had a T-mobile cell phone plan for my business phone. I decided to test both services out in my town of Chicago to see if the coverage was similar, and sure enough, Tello's services didn't miss a beat. I actually had a little bit more coverage with my Tello phone.
RELATED POSTS
---
How To Save Thousands On Your Cell Phone Bill This Year
What's Tello Mobile?
Tello is an affordable and quality cell phone provider who will never tie you to a contract or surprise you with any hidden fees. If you are looking for a cell phone service that has terrific coverage and won't break your pocket, Tello is the one to look into.
They have flexible plans that start at just $5 to $39 with unlimited text and minutes. Currently, Tello uses Sprint's nationwide coverage, and from my personal experience, I didn't have any issues with drop calls when I tried the service out for a whole month.
Tello's Amazing Coverage
Currently, Tello uses Sprint's towers. To find out if Tello covers your area, click here. Below is a map of Tello's coverage, and as you can see, they have amazing coverage throughout the states.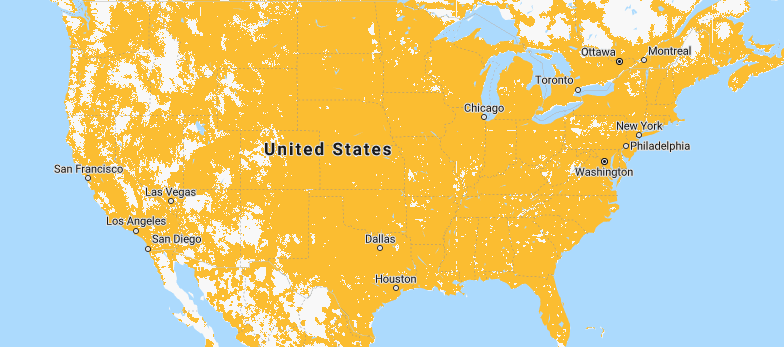 Tello's Phone Plans
Tello has a variety of different cell phone plans to fit your needs. They have a section on their site where you can build your own plan, and it's super easy to do. Below is an example of how you can build your cell phone plan on the Tello's website.

You can also choose from plans that are already set up as seen below.

So no matter what type of phone plan you are in search for you can find it on the Tello's website.
Can I Bring My Own Phone?
Yes, you can bring your own phone from your old provider, or you can get a new or refurbished phone from the Tello shop. In the Tello phone shop, they have a list of new and refurbished phones ranging from Apple iPhones such as the iPhone 8 to Samsung phones such as the Samsung Galaxy S9. If you want to bring your own phone, you can do that as well. When you bring over your own phone, there are no activation fees and no contract to sign. To find out more information about how to bring your own phone Tello click here.
Final Thoughts
If you are looking for an amazing and affordable cell phone provider check out Tello. Not only do they have great phone service starting at only $5/month but they also have excellent customer service.
By switching over to Tello you can save money each year on your cell phone bill. I don't know about you but an extra $1000 saved from my cell phone bill can go into my emergency fund or to pay off debt. To check out Tello's reviews from other Tello users click here and to check out the Tello website click here.