Are you looking to save a lot of money on baby formula or to get free formula coupons throughout the year?
I know a ton of moms who aren't aware that they can actually get free formula coupons the first year after having a baby. With baby formula being so expensive it's a good idea to look into other options to help with the cost.
Did you know that a family can spend an additional $150-$300 a month of formula?
It's true! Most families add an additional $150-300 a month to their grocery bills for baby formula. Even though I picked up a few side gigs the first year my son was born I didn't have a regular job so we lived off one income which was my husband's income.
After my breastmilk supply decreased, I decided to start supplementing with formula and I soon found out how expensive it can be. By the time I had my second son I was much wiser on where to find freebies and where to buy formula on budget. This post will share the places I researched and found super helpful for me to save a ton of money on formula each month.
Related Posts
---
10 Easy Ways To Save A lot of Money On Baby Formula
1. Check Out Your Local Food Bank
At times a local food bank or pantry will have cans of baby formula that they can give you if you are really low and need help with buying more. You can even ask them if they know of other places that may have a free formula or formula samples in your area.
You can find a local pantry or bank in two ways. The first way is actually pretty simple! Simply go to Google and type in the keywords "Local Food Bank". After that, you will see a list of food banks in your area that you can check out. To find a local pantry online check out the Feeding America Database by clicking here.
2. Sign up For Reward Programs
Another awesome way to get free formula coupons is by signing up for different formula rewards programs by Enfamil, Similac, and Gerber. When I got pregnant with my second son I signed up for a lot of different reward programs and some of the programs offered free formula and coupons for the formula.
Enfamil and Similac even sent me boxes of free formula which were much bigger than your average samples. Throughout the year both Enfamil and Similac will send you coupons between the prices of $5 to $10 for baby formula. The coupons can be used at any grocery store.
How To Sign Up?
When you go on the Enfamil site and sign up for their reward program you can get up to $400 in free gifts and coupons including free formula samples throughout the year. To sign up for the program click here and submit your basic information.
Another formula brand that will send you free gifts and coupons for a full year is Similac. When you sign up for their reward program you will you get a ton of free formula samples and even coupons you can use at almost any store. Check out the Similac program by clicking here.
Other places to get free formula samples and coupons are Nestle Baby, Nature's One and Parent one.
You can also sign up for programs such as Everyday Family and request free monthly samples as well. The everyday Family program works with different companies in order to send parents out freebies every single month. Check out Everyday Family by clicking here.
3. Get Gift Cards From Swagbucks
During my first year of being a mom, I would often use the coupons I got from Swagbucks to help with buying formula. Swagbucks is an awesome website that lets you earn points by doing tasks such as taking surveys, watching videos, referring your friends and family, and using them as your daily search engine.
Whenever I would get to about 2,500 points I would redeem my points for a $25 gift card to Walmart gift card. After that, I would print out my Walmart gift card and then take it to my local Walmart store and buy formula. My husband and I would save an estimated $100 per month by using the Walmart gift cards from Swagbucks. Check out Swagbucks by clicking here.
4. Buy Formula Online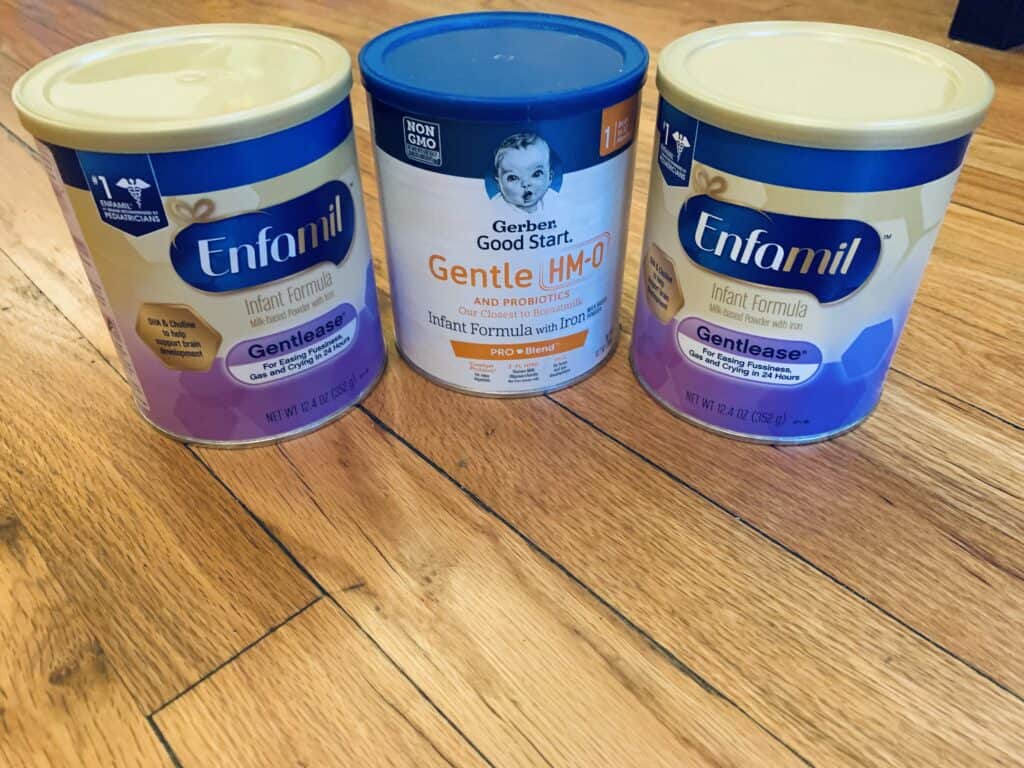 If you buy formula online you can use sites such as Rakuten which will give you cashback from shopping online at places like Walmart and Target. Also when you join you will get a $10 bonus for free. Get $10 from Rakuten by clicking here.
Another way you can save money by purchasing formula online is by downloading the Honey Chrome extension. The Honey Chrome extension is free and helps you find the best deals at your favorite stores online. Check out the Honey extension by clicking here.
5. Look For Coupons On The Formula Boxes
From time to time when you buy a can of baby formula they will give you a coupon to use for a certain amount off that you can present to the cashier next time you buy new formula. Just recently I got a $5 off coupon from the Gerber brand of formula. The coupons can definitely add up and help with the cost of future cans of formula. So next time you are at the store buying more formula check out the cans to see if you see any coupons.
6. Ask Your Doctor for Free Samples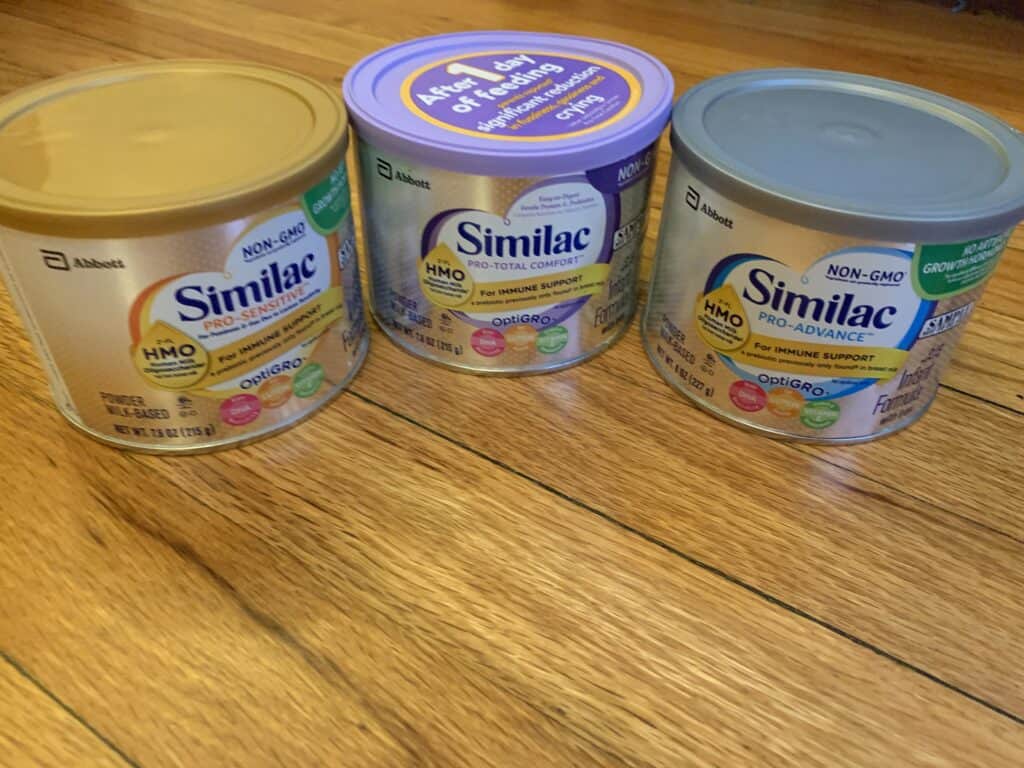 Did you know you can ask your doctor for formula samples while you are pregnant? During my first pregnancy, I was given a ton of free samples and even baby diapers before I had my baby boy. At your next appointment ask your doctor or nurse if they give away any freebies such as formula samples and if they do totally take them home.
7. Sign Up For Assistance
There are a lot of different assistance programs where you can apply to get free baby food and formula such as WIC, which stands for Women, Infants, and Children. If you qualify for WIC you can sign up to get free coupons every single month to get free baby formula and free baby food.
Also while being in the program you will have access to a lactation specialist and also a nutritionist. The overall program is amazing and helps a lot of women who need assistance with buying formula each month. Check out WIC by clicking here.
8. Join Motherhood Perks
Motherhood Perks is an awesome site that sends you freebies throughout the year which include formula. Some of the companies that partner with Motherhood Perks are Enfamil, Buy Buy Baby and Baby Registry. Throughout the year they will send you up to $1500 in freebies just by signing up for free. Check out Motherhood Perks by clicking here.
9. Join Amazon Family
I am actually apart of Amazon Family and it's an amazing benefit to joining Amazon prime. You can be expecting, raising a toddler or even raising a teenager and Amazon will still send you monthly freebies when you join Amazon Family.
With this program, you can get up to 20% off diapers, baby food, & more. It's a great program if you are looking to save up to 20% off baby formula each month and other baby items. Check out Amazon Family by clicking here.
10. Buy in Bulk
A great way to save money on buying baby formula is by buying formula in bulk. When I had my first son I breastfed him for the first 6 months but after my supply decreased I started giving him Gerber baby formula. During that time buying the formula in bulk helped us save money. Since I had just started my blog I wasn't making any money and we were living off one income which was from my husband's job.
So things were very tight during that time so buying the larger cans of baby formula really helped us over buying the smaller cans. You can go on Amazon and check the prices for buying the formula in bulk.
That's it for now! What are some ways you save on baby formula each month?