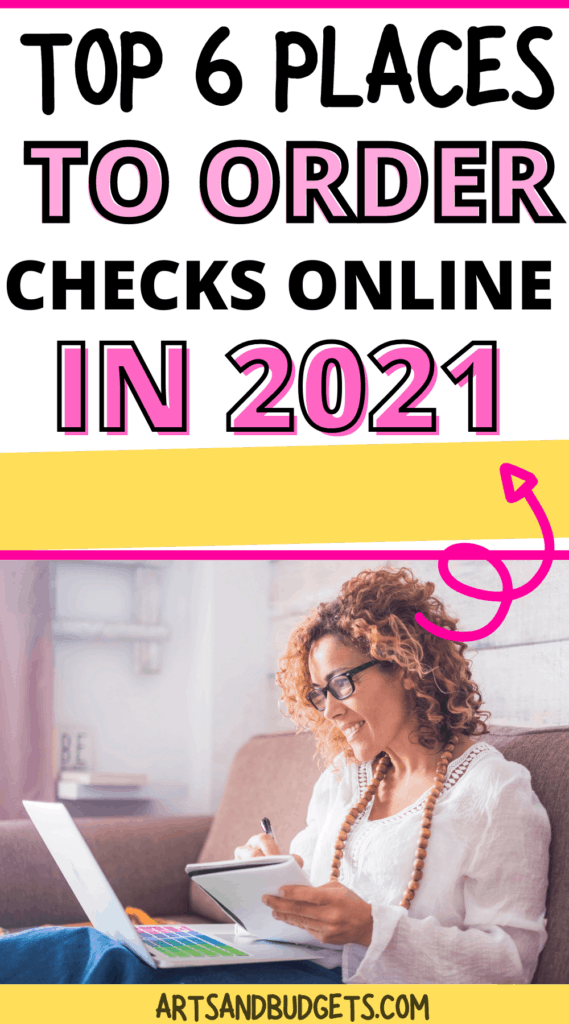 Have you ever wondered how to order check online? Or have you thought about how safe it is to order via the internet? If you are wondering if it's safe to order checks online, the quick answer is yes, it's safe to order them online, but it has to be from secure and high-security companies.
Fortunately, there are many legit companies where you can purchase checks online safely. In addition, many companies offer many different options that you can choose from for designs and high security on their sites to make sure the process is easy and stress-free.
To help you on your journey, whether you are just starting out and not sure how to write a check or looking for alternatives to bank checks, this post will help you get started. I researched and found the best places online to order checks rapidly. So if you are looking to order some new checks, this post will help point you in the right direction.
Is It Safe To Order Checks Online?
Yes, it is safe to order checks online. However, you want to make sure that you research the company you are thinking about purchasing your checks from online.
Look for things such as the security & terms of the website, usually located at the bottom of the companies' homepage. Additionally, look up reviews of the company in a Google search and see what others are saying about the company. Researching the company will help you stay safe when purchasing online.
Can I Order Checks From Anywhere?
You can order checks from anywhere you like, but it's a great idea to find reputable companies with great reviews when thinking about purchasing personal checks online. While buying checks from a bank is usually the usual route, you might save money buying checks from a national chain such as Walmart Checks.
---
The Top 6 Best Places To Order Checks Online
1. Checks In The Mail
The company Checks in the mail is one of the leading suppliers and direct marketers of bank checks. Their primary mission is to create the most functional and attractive products in the mailing industry.
They currently offer a wide variety of checks to meet the needs of their consumers. A great thing about this company is that they have over 200 check designs, personalized address labels, checkbook covers, and more to choose from on their site.
Additionally, they pride themselves on giving their customers the best customer service to make purchasing checks online an easy process. They have a team of knowledgeable sales and service associates to provide any assistance their customers might need when purchasing checks on their platform.
They have also have an excellent security & term page on their site, which goes over how they are safe to use for customers. In addition, the security section on their site states that when you purchase checks from their site, the checks are printed using your financial institutions' security specifications. Currently, the starting price for a box of 100 is $26.25.
2. Costco Checks
In partnership with Harland Clark Check Printing, Costo Checks has a significant amount of options that you can search through and pick. In addition, they have a large selection of check designs from your favorite movies to cool animal images.
One of the best features about this company is that its high-security checks have 25 security features that help prevent fraud and identify theft for their customers. The high-security checks include invisible & visible fluorescent fibers, watermarks, heat-sensitive ink, and holograms.
Another bonus is that the company offers free delivery and has a massive commitment to serving their customers with high-quality customers service. For a set of 200 checks (Costo smallest order option), the starting price is around $30.00 for both business and Gold Star members. Because of their high security and high-quality check option, this company is one of my favorites on the list.
Related Post: Coinstar Gift card Exchange: How To Get Cash Fast
3. Bradford Exchange Checks
Currently, in Illinois, Bradford Exchange Checks is another trusted company to purchase checks from online. They have excellent customers service, which is open seven days a week to help assist their customers.
Bradford Exchange Checks has high-tech printing capabilities with high-security measures to ensure that their customers receive the highest quality. They also offer exclusive personal check artistry that most banks don't offer which is also a huge plus.
The free standard shipping takes an estimated 12 to 15 business days to be delivered. However, you do have several additional options to get a set of checks to arrive faster. Additionally, since Bradford Exchange Checks are printed to the standards of retail & financial industries, banks will accept checks from them.
Currently, Bradford Exchange Checks offers 70% off bank check prices. So the starting price for a box of 120 single checks is $9.99 before tax.
4. Sam's Club Checks
Sam' Club Checks are super easy to order from and meet all bank requirements for checks. Also, If you are a business and need many checks, this might be an excellent option for you. Sam's Club Checks offer high-security checks in bulks of 600 and 900 sets. The average price for a group of 660 is $34.68 before tax, and for a set of 1320, the price is $69.40 before tax.
Sam's Club Checks also offers many different checks such as Manual business checks, software compatible checks, and more. In addition to their variety of checks to choose from, they also have security features, including chemically sensitive paper, Mircopring signature line, padlock icon, and check safe backer.
These features will help give a person peace of mind and, most importantly, protect them from fraud. Additionally, they have the highest levels of security to protect your transactions online. Check out Sam's Club Check click here.
Related Post: 28 Legit Ways To Get Free Money In 2021: Up To $2000
5. Walmart Checks
Who doesn't know about Walmart? Not only can you get amazing items for a discount at this store, but you can also purchase checks too. Walmart Checks are high security to help protect people from identity theft and fraud.
This site also has plenty of low prices. For example, you can get a box of checks for only $7.46, containing 150 single personalized checks. If you are looking at their high-security checks a box of those starts at $17.46 for a box of 150. Both deals are amazing when purchasing this item online.
Walmart Checks has a variety of designs to choose from such as Disney, character checks, inspiration, religion, and much more.
A great thing about this site is that your order will ship in about three business days and they also have a very secure check out on their site to help with safety.
So, if you are looking for a great deal and looking for a variety of different designs that you can choose from, check out Walmart Checks.
6. Carousel Checks
If you are looking for the best deals and prices on checks, this place might be an excellent option. With Carousel Checks, you can order between business and personal checks. Their checks are also compatible with any financial or bank institution. They also have the padlock icon located on their checks for security purposes to help prevent fraud and include deposit tickets which helps track banking deposits.
While they have great prices, keep in mind that it will take 2 to 3 weeks to receive your checks from this company. So if If you aren't in a hurry to get checks this might be a great option to save money.
FAQ
How To Order Checks Online?
In addition to the places listed in this post, if you are looking to order checks online, you have a few great options, such as purchasing checks directly from a bank.
If you are looking to purchase checks directly from a central bank, you can look into Bank of America, PNC Bank, Chase Bank, and Wells Fargo.
Most banks will allow you to order checks by visiting the actual branch in person. You can go to your regular bank and inquire about ordering a set of new checks to get started. If you aren't sure where the closest bank to you is, simply search online to find the nearest branch.
Banks will also allow you to order checks online but to make sure this is an option, give your bank a call before going in.
Additionally, you can look into online companies such as Checks in the Mail, Check Advantage, Wal-mart Checks, and Check Unlimited to save money on purchasing checks online.
Is It Cheaper To Order Checks Online Or At The Bank?
There are many legit places to order checks online for a lower price than a bank. For example, sites such as Sam's Checks have an option where you can purchase 660 checks for an estimated $34.68 for a set of 600 before tax. Prices will vary depending on which design you choose, but currently, that's the average for this box of check of Disney checks.
Who Has The Cheapest Checks Online?
Some of the cheapest checks online I have seen have been on the Carousel Checks website. Currently, you can get 125 checks per box for $8.99. You can also check out Walmart Checks, where you can get a box of checks of 150 checks for $8.46 before tax.
Is It Safe To Order Checks Online From Costco?
Yes, it is safe to order checks online from Costco. Costco checks offer high-quality products and top security to ensure an excellent experience for their customers on their site. While you can buy groceries from Costco, you can also purchase high-security checks through their parent, Harland Clarke Check printing.
So if you are looking to purchase checks from Costco, you can through their high-security site, and if you are looking to chat directly with someone on the Costco Checks team to get started, you can call their customer service.
Is it safe to order checks from checks in the mail?
Yes, it's safe to order checks from Checks In The Mail. They are just as safe as if you order a check from a bank. When you order checks from this company, you get printed checks using specifications required by all financial and bank institutions. Their checks include chemically sensitive paper, the padlock icon, the MP signature line, and the check safe backer.
Are Walmart Checks Safe?
Yes, Walmart checks are safe. The Walmart Checks site has high security to help protect people from identity theft and fraud. They have a very secure site to make sure to protect their customers when they order checks online.
What Are Secure or High-Security Checks?
High-security checks are designed with layers of defense to protect people from identity theft and fraud. These types of checks offer a much higher form of security than conventional checks.
---
Tips For Ordering Checks Online
1. Order Checks From Well-Known Companies
If you are looking to order checks online make sure you order from high-security sites such as the companies listed in this post. If you aren't sure about a company, do research online to see reviews of the company on sites such as the Better Business Bureau.
2. Make Sure The Checks Have The Padlock Symbol
One of the essential features of checks is the Padlock symbol. This padlock symbol is on the front and back of checks. It is intended to provide indications to the ones accepting the checks that additional security featured have made in the checks and production process design.
Having the padlocks on the checks make the checks harder to change by scammers. To read more about the importance of the Padlock symbol and why it should be on every check you order, click here.
3. Check The Sites Security & Terms of Service Page
When you order checks online, check out the company's security and terms of service page. This page should lay out all their security measures and how they plan to protect your privacy while using their platform. Here is an excellent example of the Check By Mail security & term page.
Final Thoughts about How to Order Checks Online Safely
While ordering checks online is safe, it's always a great idea to make sure to do research and search for each company online.
In addition, it's a great idea to check reviews of the company and explore the website security, which is usually located at the bottom of the site's home page.
So, if you are looking to order checks, you have quite a few safe options to look into, and as always, you can always look into purchasing checks from your bank.