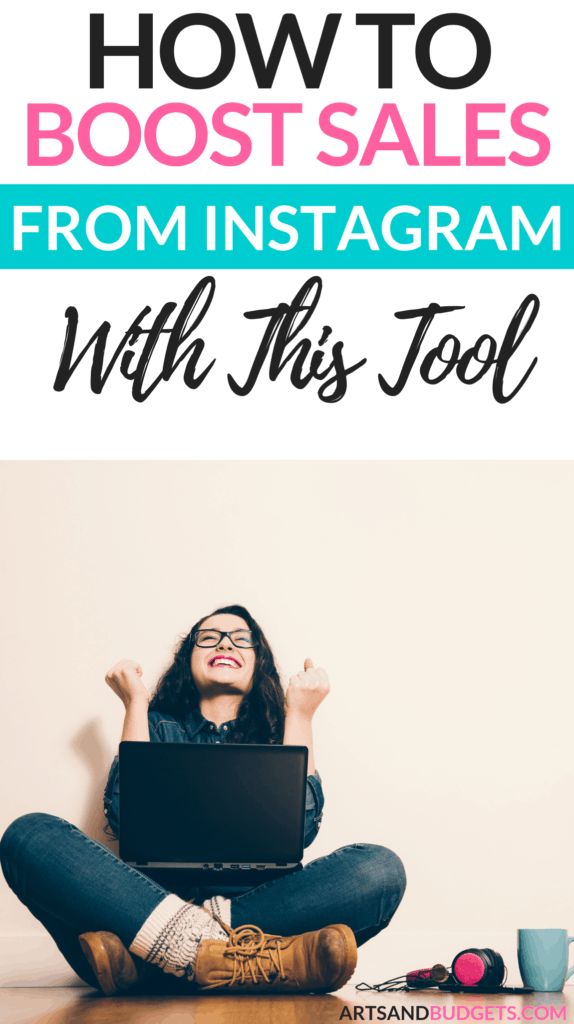 Disclaimer: The following is a sponsored post by Apphi. All opinions are my own.
Are you currently looking for an Instagram tool to help boost sales and make money on the platform?
Perfect!
Since growing my Instagram followers to over 10k I have been able to make money every month by using the platform. Being active on Instagram has given me the chance to book paid sponsored posts and be able to sell my actual products to my followers.
One of the major things that have helped me make money from Instagram is having a consistent posting schedule. Since keeping a consistent posting schedule I have been able to add 100+ followers each day and build multiple connections with others in my niche.
If you are just starting out on Instagram or if you haven't got the results you desire, I can tell you from experience it's possible to increase your business income using Instagram.
Instagram Growth For Business
Some additional things that have helped me increase my following and income from Instagram are using relevant hashtags and connecting with others by commenting and liking their content on a daily basis.
Since I have to stay consistent on Instagram every single day a tool that can help take off the load is Apphi.
Apphi is an Instagram manager that helps individuals schedule and automatically post content on Instagram. This tool helps you schedule everything all in one sitting and will automatically post content on Instagram for you.
Since I have been able to stay consistent on Instagram and get more done in a less amount of time I have been able to increase the sales of my actual products. I also have been able to grow my overall Instagram page successfully.
So, if you are looking to boost sales and save time this tool can help you achieve that quickly. This post will share some of the awesome features that can help any business increase sales and income rapidly.
Related Posts
---
How To Boost Sales & Make Money From Your Instagram With This Tool
1. Consistent Posting Schedule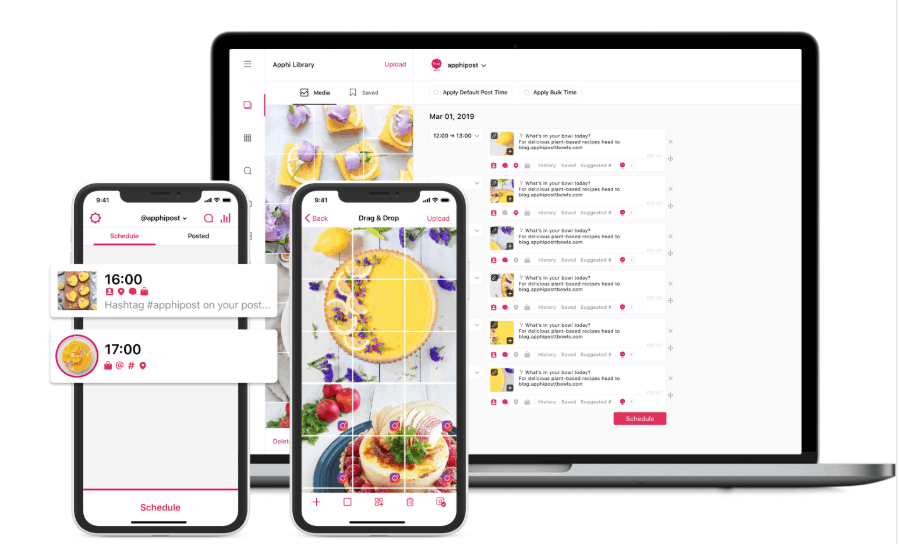 Being consistent on Instagram is one of the main reasons how I grew my business so quickly to over 10k followers on the platform. When you first start to grow your Instagram page, it's a great idea to post at least once a day. Being consistent with your posting schedule will help you grow your business rapidly and increase your sales because you are showcasing your brand and connecting with new followers daily.
To help prepare my schedule for the week I take time out on Sundays and map out all the possible content that I can post on my two Instagram profiles. This helps me not get stressed out trying to figure out what to post the day of. With the Apphi tool, you can plan out all your posts and stories ahead of time and be ahead of your business schedule. This will give you more time to spend growing your business income and less time trying to figure out what to post on Instagram the day of.
I use to be the person who would spend hours trying to figure out what to post on Instagram and that way of handling my Instagram page cost me money and time.
With this Instagram Scheduler App, I don't have to wait until the day of to post new content which saves me so much time and money. Some of the scheduling features I love about this tool are
It will automatically post to your personal Instagram feed and stories.
You can schedule multiple posts at once.
It will give you the best times to post throughout the day.
2. Keep All Accounts In One Place
Since I have two Instagram accounts keeping them all in one place helps my business not only continue to grow but also helps me organize my content correctly and not get confused.
To help me stay on top of growing two Instagram accounts I make sure to review each account separately. I also create content specifically for both.
For example, each morning I review which posts are getting the most feedback from the day before and whichever posts are ranking well I make a note of it so that I can know what type of content to post on a daily basis.
The cool thing about Apphi is that you can add unlimited Instagram accounts which can help individuals with more than 1 Instagram account stay consistent and increase sales on auto-pilot.
One of the things that have helped me grow my following to 10k on my brand Instagram page is being able to stay manage my content correctly.
3. Get Content Inspiration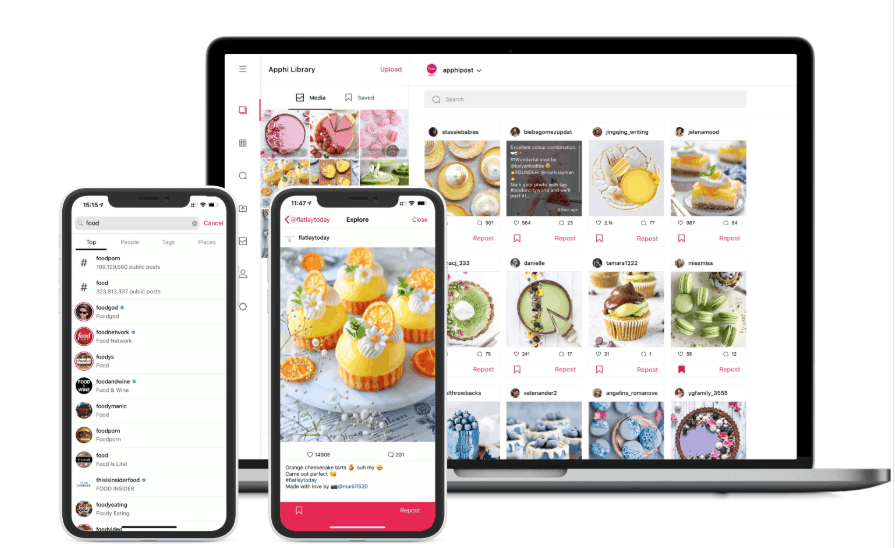 Another feature that I love about this tool is that you can search for different hashtags. When you search for hashtags, places, and people on Instagram you are able to view the number of comments, views and likes right in the thumbnails. This feature will help you find popular posts fairly quickly.
Furthermore, finding relevant hashtags is huge if you want your content to be seen by hundreds of people on a daily basis. One of the main goals of using hashtags on Instagram is to connect with your target audience to help grow your page in an organic way.
For example, I share a lot of content about budgeting so some of the hashtags I would research would be in the budgeting and make money communities.
I wouldn't want to be put generic hashtags that millions of people are using because that wouldn't help my following. Another goal of using hashtags is to find your audience on the platform and you can do that with the Apphi tool very quickly.
Since this tool helps you find the right people fast you will save time and money. You want people to come to your Instagram profile that loves what you post and finding the best hashtags will help you find the right people. This tool helps individuals search for hashtags, locations, and people. This is huge because I would spend hours trying to find the best hashtags and now I can do it in less time.
Another awesome feature is that you can track your competitor's content and engagement to study what you may need to improve on. Tracking your competitors content and engagement can also help you figure out what's popular in your niche and how you can use the data to grow your own brand.
4. Boost Sales From Your Instagram
With this Instagram tool, you are able to save content for future reposts which will save you a ton of time and help boost your sales. Also if you sell products you can tag products and post your website URL on stories to help convert your followers into customers right from Instagram.
This feature will help increase traffic to your actual website which will help you boost sales.
Some ways you can use this tool to help send followers to your actual website are:
When you have a masterclass that is coming up, you can show the image of the actual class and post it on your Instagram story. After that, you can put the masterclass link in the story to make it easy for people to sign up. The classes can be free to grow your email list. They can also be paid classes where you charge a certain amount for people to attend the classes live.

When you have a new blog post you can show a little preview of the post in your Instagram story or show an image of the actual post on your Instagram feed. To get your followers back to your website you can post the post URL link in your bio and let them know where to find the link in the caption on the post. To get them back to your site from your Instagram story you can share your website link. (

Note: You have to have at least 10k followers to share website links in Instagram stories.

)
5. Advanced Analytics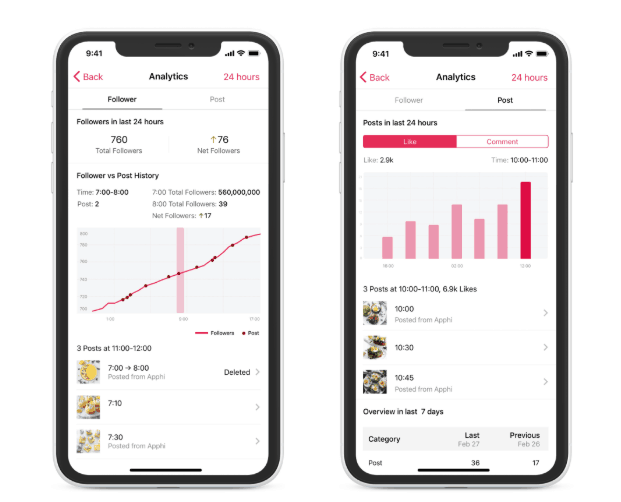 Studying your analytics on Instagram can help grow your profile because you can get a sense of what content your audience actually likes. By studying my analytics I have been able to figure out what content my followers actual enjoy and what content they don't like as much.
This tool makes it easy to learn what is working and what isn't working with their advanced analytics feature. It's built with engagement analytics which will help give you data of what to focus on when creating products for your business.
Since I sell digital products, reviewing my analytics on a daily basis helps me figure out what type of products to create and sell. After figuring what products to sell by studying my analytics, I create those products and make money from selling actual products on the platform.
So if you are looking for a tool that can help you boost sales and help you figure out what content is actually working this is the tool for you.
Final Thoughts
In order to grow an Instagram profile you have to stay consistent, post content that connects with your audience daily, use relevant hashtags and connect with others in your niche. The apphi tool can help you achieve all that and more in less time. If you want to test out this tool you can try it out for FREE! They also have a Basic, Full, Pro, Team and Business plans with different features you can check out here.