I grew up in a house where "debt" was seen normal and a way to pay off other debt. By the time I started college I had a ton of credit card debt because my Mom thought it was a great idea to build up my credit by taking out multiple credit cards in my name. At the time I didn't know the dangers of getting multiple credit cards and how that decision would become a hugely regrettable mistake.
There I was a young 18-year-old girl with credit card debt!
By the time I graduated from college with my master's degree, I not only had credit card debt but I also had student loan debt too! While in my 20's I didn't think about the long term effects that debt would have on me well into my 30's.
Once I was in my 30's, I realized that debt was a huge problem but I hadn't yet learned how to budget and save my money effectively.
I was living paycheck to paycheck, working both an office temp job and as a substitute teacher at the time, however, I had no idea how I was going to get ahead with my finances and get out of this deep abyss I dug myself into.
It wasn't until I got angry!
I got angry with myself for getting into that debt-filled mess in the first place! Something seriously needed to change! I mean, I knew that if I kept doing the same thing over and over again I would get the same results. So, I began to change my spending habits and tried something different.
Now, it didn't happen overnight but it was the start I needed.
At this point, I was married and pregnant with my first child so that was the motivation I needed to really kick my budgeting and saving plan into gear.
I began my journey with studying first. I began to read what the Bible said about debt and I gained an understanding of what it might mean to take control of my finances. I also studied other individuals who paid off debt such as Dave Ramsey and a blogger and friend, Aja McClanahan. At that point, I began my break up with debt.
At the beginning of my journey I needed a few things:
I knew that I needed something to help with organizing things because good organization helps me stay focused.
I also needed a fun and innovative way to budget because of my creative nature.
Since I love fun colors and bold letters I knew that having my binder formatted in that way would keep me motivated.
I knew that the normal way of budgeting wouldn't work for me because I tried those methods and failed every time.
Since I didn't want to grab any default budget templates from off the internet, my husband and I decided to create a set of budget templates ourselves.
Since setting up a budget, my husband and I have paid off more than $10,000 of my credit card debt and currently paying down my LAST credit card for good!
Follow me on my journey here! To kick-off why I love budgeting and how it saved my financial life, I will share my top tips to help you kick start your budgeting journey.
---
Related Posts
---
1. Map Out Monthly Bills
To set up my budget, one of the first things I did was to I map out all of my monthly bills. I decided to create a monthly bill template to help me get on track as seen below.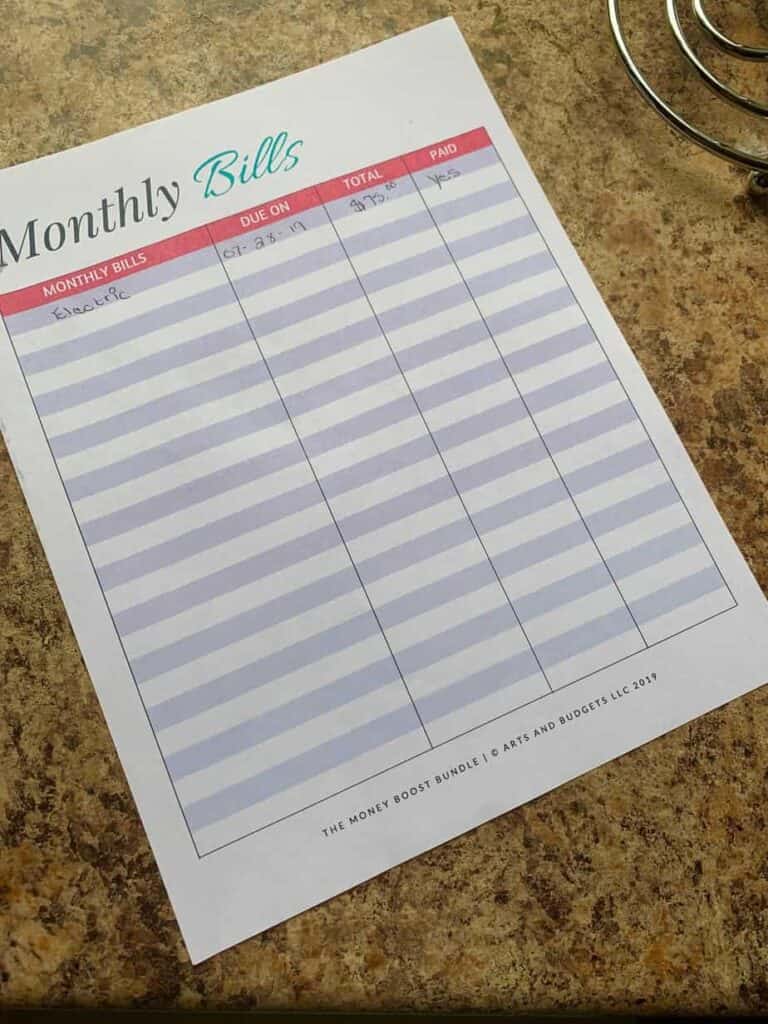 This template helps me see my monthly bills for each month. Before I got serious about paying off debt, my monthly bills were not organized, which made it difficult to know which bills were coming out each month. Below are some tips to help set up a monthly bill plan using a template similar to the one I created.
Write out each of your monthly bills for the month.
On the template put when each bill is due and the total of the bill.
Lastly, write down when you actually paid the bill for your records.
2. Figure Out Monthly Income
Another area I really focused on to help stick to my budget, was to figure out my monthly income. Since my monthly income is always different, I needed something that would track my monthly income from my blog and also from the different side hustles I have.
Since I am a visual person, writing it down on paper helps me stay focused. Below, you will see an example of how to track and use the paycheck budget template. This template helps me figure out my monthly income and my monthly expenses to see how much I can save each month.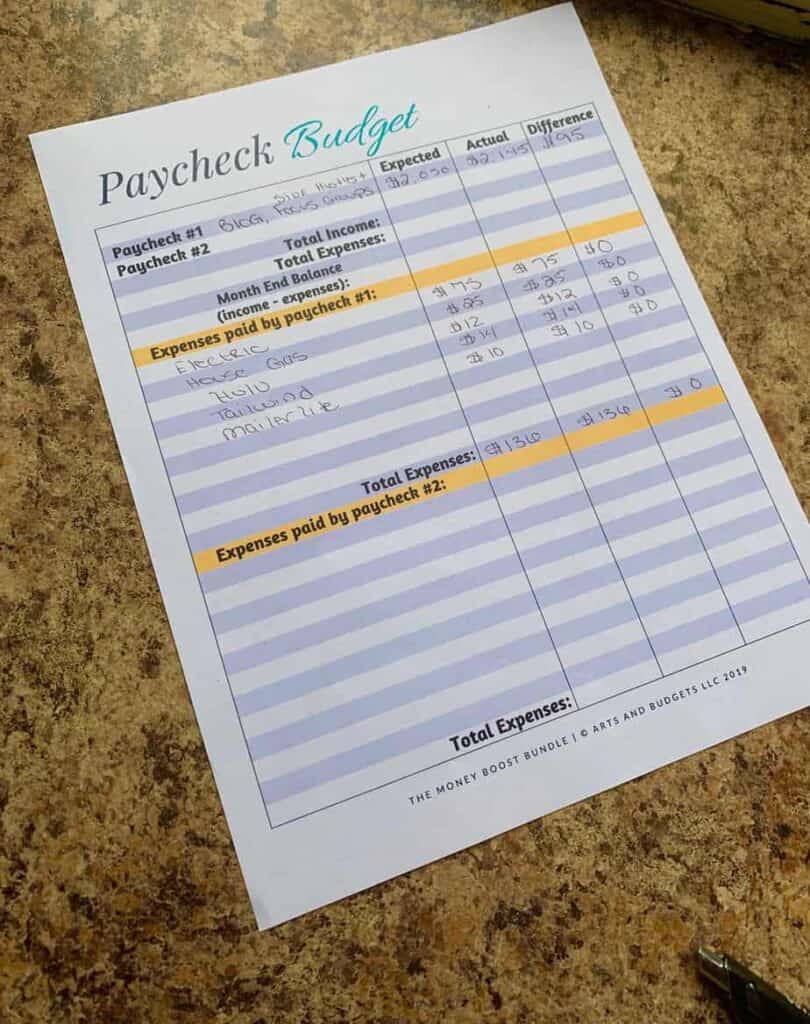 3. Figure out Priority Bills For Each Month
Each month, I figure out my priority bills first. Priority bills are bills such as rent, electric, house gas and more. These bills normally come out at around the same time each month. For my priority bills, I use a monthly calendar so that I can see when each bill is due for that month and pay them in advance.
This method helps me stay focus and also helps me stay super organized. Since my paychecks vary each month, I make sure to write down my priority bills on my monthly calendar to know which paycheck will pay which bill.
4. Track Variable Costs
I use to be the type of person that would just use my debit card and spent money without having a real plan. When I got serious about budgeting I started to track variable costs for each month. Variable costs are expenses that can change each month depending on the need for the services or products.
Some variable costs are:
Beauty
Food
Gas
Home Products & Decor
Tracking your variable costs is huge if you want to stick to a budget and not overspend. Below are tips on how to track your variable costs each month.
Write out all of your variable expenses for the month.

Set a cash limit amount for each variable expense.

Set up cash envelopes for each expense (food, gas, home, etc.)
Below are my variable costs and the cash envelopes I used to stay on track. You can grab these cash envelopes on Amazon by clicking here if you are looking for some awesome and easy to use ones. This method is called the Cash Envelopes System.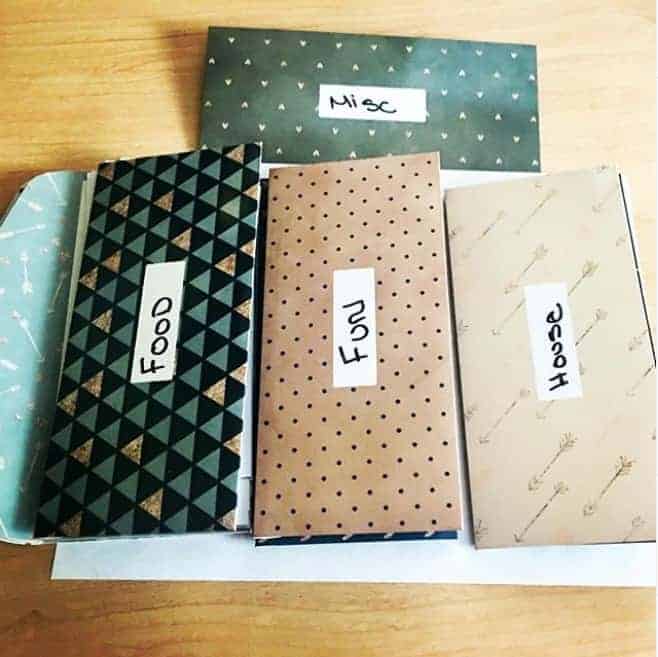 What's the Cash Envelope system?
The cash envelope system helps individuals stick to a weekly and monthly budget. With this system, you put your expenses into categorized envelopes such as gas, food, entertainment/fun, groceries and more.
After each paycheck, you put a certain amount of money in each envelope category and only spend the amount you put in the envelope until your next payday. This is a simple way to stay on budget and not overspend.
5. Create a Plan and Stick with it
This may be easier said than done, but consistency works! Once you create a solid budget plan, try to stick with it. When I started seeing results and started paying down the debt that I had, I knew it was because my husband and I got on the same page and didn't give up on our budget.
So, think about what motivates you and what will help you stick to your monthly budget.
Don't overthink! Make it fun and do what will work best for you.
6. Use Budget Templates
Another important step for me was to use actual Budget templates. I needed something that was going to work for people like me, so I created a complete set of printable budget templates that can help anyone organize their monthly bills and expenses with ease.
These printables have helped me stay on track and save a ton of money throughout my journey. Grab the free monthly expenses tracker by signing clicking here. If you want to see the full bundle of budget templates click here!
7. Track Debt
While setting up my budget, I soon found out that I had some credit card debt that I needed to pay off first since it was the smallest amount. I took a day to write down all my debt so that I could see it on paper.
Then I organized the debt from smallest to largest amount and started paying down the smallest debts first. In my case, it was one of my credit card of $4,500. After staying on track I became super motivated to pay off the smallest debt so my husband and I stayed on a tight budget.
Each time I got paid I sent an extra payment to that credit card to help pay it down faster. We were able to pay off the first debt within' months and currently paying off the last credit card out of a total of 5.
So, write down all your debts and figure out the plan of action you want to take first. Some like me, pay off the smallest balances first while others pay off the ones with the biggest interest rate also known as the debt avalanche method.
It's also a good idea to put a little bit more towards the balance to help pay it down quicker and to beat out the interest.
8. Track Savings
Another area I focus on is my savings. Before my 30's I never had a savings account because I honestly didn't know how to effectively save money. I was the person to always overspend and be broke at the end of the month. Since I knew this area was a bit of a struggle for me, I made sure to focus on this every single month.
The Savings Plan
At the beginning of each month, I calculate what I make in income and expenses for the month; and then after figuring out those totals, I decide how much to put in my savings. After meeting with a financial advisor I currently, I take out 20% of my income and I put it towards savings. I also take out 25% for business taxes and 10% for church tithes each month.
Because everyone's financial situation is different make sure to connect with an accountant or financial advisor to find out what to withhold for taxes for yourself.
9. Make it FUN
This part was super important to me. I wanted to make sure I could follow a budget plan that was colorful and fun since I am a highly artsy person. Fun for me included bright and bold colors, new budget templates that I could follow, cash envelopes, posters, sticky notes, and binders.
Think about how you can make your budgeting plan fun and include all those things in your new plan.
10. Don't Give Up
The beginning can be hard but if you don't give up, I promise you will see results.
For me, thinking about my future plans is a great motivator! Each month I write out what my future would look like if I didn't have any debt and that helps me stay focused.
Think about what your future would look like without debt. Would you travel? Would you buy a new car with cash? Think about what financial freedom looks like for you and write it down every single month. This will help you see the bigger picture and help you stay focused and motivated to pay off every penny of debt.
What are your current budget goals?
Let's Connect! Follow me on Instagram to see my journey to debt freedom here!
Also, Let's connect on Facebook here!