Ready to side hustle?
How many of you guys have experienced some form of debt while on your creative journey?
I know firsthand how expensive recording equipment can be, how photography accessories can add up, or how much money it take to run a profitable blog (Email provider, landing page builder, hosting, themes– just to name a few.
Oh! Let's not get into how much student loan debt many creatives get into while in college to fund their educations. Whew! After graduating with my Masters of arts degree I finished grad school without a job and I ended up substitute teaching. While the experience was great and I loved teaching and helping my little students —I knew there was more.
I quickly became passionate about finding side hustles while on my creative journey. At that time, I was doing stage plays and also performing around my city and to my surprise I found a TON of side hustles to help fund some of the cost of staying up to date with my creative passion.
In this post, I have listed 8 ways you can make extra money starting today.
RELATED POSTS
1. Start A Blog
Yes! One of the best decisions I made last year was to start a blog. At the time, I had just found out I was pregnant with my first child so after chatting with my husband we decided that I would stay at home instead of working my then job. So– Let me ask you. Are you passionate about something and like to write? Well, starting a blog might be up your alley!
Since I have started my blog I have made extra money while working from home. When I first started my blog, my first main focus was developing great content. With great content, a person can make a great living as a blogger. How can a person make a living blogger? There are a ton of ways a person can.
For example, you can make money from affiliate marketing through your blog. Michelle From Making Sense of cent made over $900,000 last year– What! Yup! She made over $900,000 directly from her blog and a large portion of that came from affiliate marketing! Check out her Girl BOSS Forbes article here.
With Affiliate Marketing you are rewarded for recommending and promoting products and services that you have on your blog. You will receive a commission for any sales that occur from your referral link. For example, if you are an affiliate for a survey site and post your direct link on your website, you will get rewarded every time someone signs up through your link. Pretty cool, right? If you want to find more ways on how to make money blogging check out my post about how to make money blogging here.
If you are new to the blogging world and haven't gotten started You can start a blog as soon as TODAY, YO! For more information on how to set up and start a profitable blog today check out my step-by-step detail tutorial here and start making money today.
2. Put Your Services On Fiverr
Are you great at designing logos, handling social media management or editing photos? Well, putting your services on Fiverr might be a great option. Tons of people put their services on Fiverr and make great money. Just like the Ebook designer below who has his services on Fiverr starting at $15 dollars and going all the way to $125 for premium design!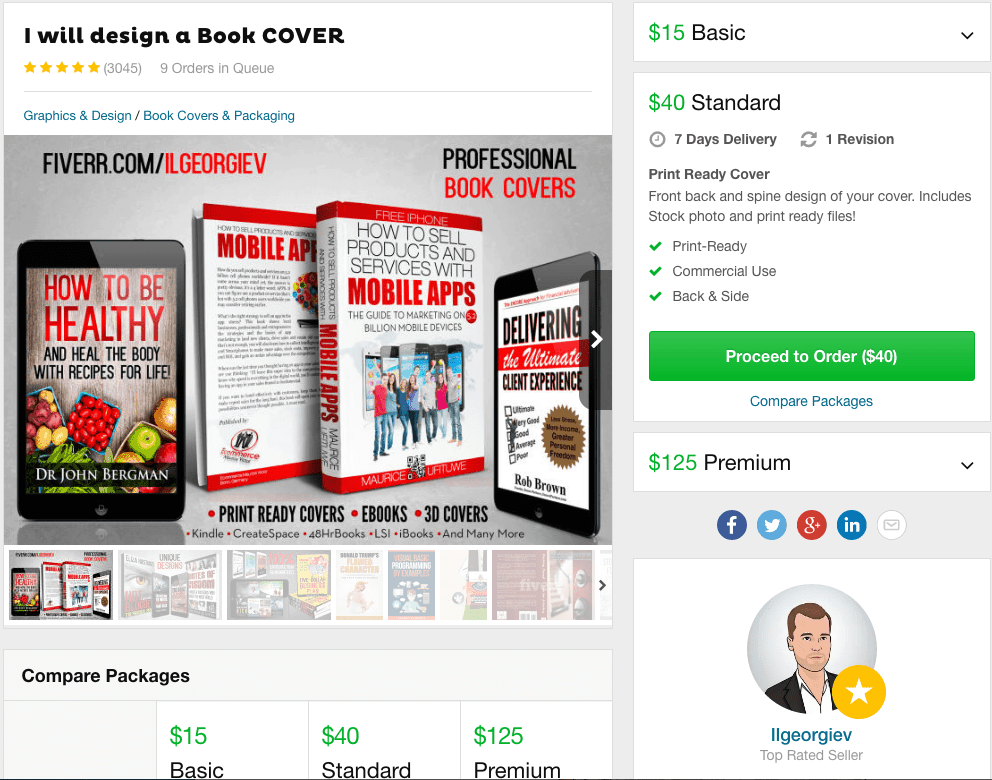 For these jobs, pay may vary but it can definitely add extra income to your pocket. You can do what you love and make extra money while doing it. That sounds Rockstar to me! Check out Fiverr here.
.

3. Create An E-Course

E-courses are definitely on the rise right now and I think it's super amazing! I am currently developing my first mini and full E-courses and I am super excited to share it soon. I recently just did an interview with Kristin from Believe in A Budget and she shares how she made over $60,000 with her blog this YEAR and most of that came from her E-course Pinterest Presence! Whattttt!! Yup, over $60,000 with her blog! Don't think you teach anything? Let me be the first to say you CAN! Everyone has something that they are good at even if it's unique such as this E-course developer, Lee!

He developed a Virtual Reality Developer Training course! Which he developed on Teachable- (I highly recommend teachable! They are uber awesome and it's very user-friendly.) Check his school out here & Check out these other examples to get your creative ideas flowing by clicking here.
4. Sign Up To Take Surveys Online
About a year ago I started looking into different survey sites to make extra money and some of the ones I found turned out to be AMAZING!!!. While working a full-time job I was able to make extra money and gift card rewards from different survey sites daily. Last year I was able to pay for a lot of debt with the help of survey side hustles! Check out some of my favorite survey sites by clicking here!
It's best to sign up for as many as you can to make the most money. They are all FREE to sign up for and you can start making money right when you sign up!
5. Write Online
Recently, I researched a ton of companies that actually pay bloggers to write for their websites. Pretty AWESOME, right? Writing for other companies online is a great side hustle that you can do to make extra income. Oh, and you will be doing something that you love- writing! Some of my favorites places online are Listverese, Hubpages, Money Pantry, Her View From Home, Knowledge Nut, HowlRound, and Doctor of Credits,
6. Teach Online
How cool is teaching online?– pretty cool! As a former substitute teacher, I was thrilled to find out about the different education based­ work from home jobs. The great part about it is that you can do it in the comfort of your home. Below are different ways to make extra money in the education field online. My faves are Berlitz, Cambly, PrepNow, & VIPKids.
7. Sell Unwanted Items Online
One of the fastest ways to make extra money is by selling old or unwanted items in your own home. Right before I had my son we had to get rid of a lot of stuff so we sold the majority of the items around our house we didn't use anymore. We ended up having around 6 to 7 boxes of stuff that we were willing to sell. Some of my favorite places to sell online are : Facebook Market Place (this should be located at the bottom of your Facebook app when you log in– It's right next to the notifications and friend requests option at the bottom of the screen), LetGo, Gazelle, Swap, Bookscouter & Cash4Book.
8. Sign Up For Sponsored Posts
With brand promotion gigs, you can share and promote products that you actually love and get paid for it. Most of the time, you have to apply to the company directly to see if you get accepted but it doesn't hurt to try, right?! Some of my favorite are: Linqia, IZEA, and TapInfluence
.So there you have it! 🙂 8 different ways you can side hustles starting TODAY!
What are some ways you side hustle?
.
.