Are you on Instagram?
If so, do you use Instagram hashtags to enhance your presence on the platform?
I love love love Instagram and recently just learned about the awesomeness of how to use Hashtags in the right way!
I say the "right" way because I use to just put up any hashtags on my images such as "Like4like", and #"LikeMyPhoto"
Not only did I get a TON of spammers on my page when I did that but I also didn't see much engagement and didn't see any growth for months.
It was until last year that I switched up my hashtag game that my engagement quickly grew. I started to focus on building a community within' my niche so I began to do hashtag research and I soon learned about relevant hashtags that I could specifically use for creatives, business owners, and bloggers.
Not only did my engagement go up but my following went up as well.
I actually grew my account from 2k to 10k in 3 months, yo! Crazy, right?
This post will share some quick tips on how to boost your Instagram profile by using hashtags.
---
Why Do We Have To Use Hashtags?
Not only can using relevant hashtags can bring massive engagement to your page and connect you with others in your niche to build a solid community but it's the best method to use for sorting photos throughout the Instagram platform.
Since there is an estimated of over 90 million photos posted on the platform each day it can be very difficult for Instagram to sort through all the photos alone. So, Instagram relies on the hashtag database to sort photos. That's why using relevant hashtags every time you post a photo will help a lot with engagement and reach. Using hashtags is the best way to get your posts seen by thousands of people who will enjoy your content the most.
Can You Use Just Any Hashtags?
The quick answer for this would be, "No."
Here is why.
It's super important to have your "target market" in mind when compiling your list of hashtags for two main reasons.
Number ONE: It's important because targeted users are more likely to ENJOY your content and actually engage when you post something new.
Number TWO: Targeted users are also more likely to visit your website or purchase your new Ebook or course over those who aren't as interested in your niche.
Get it?
Picking the right hashtags can play a huge role in how many targeted followers you get to visit your page and stick around. The key is not just to get "any" followers but get followers who actually want to stick around."
For example, if you use the hashtag "Creative" you will see that it has over 56.7 million posts which means it will attract a ton of random posts. But, if you narrow down your hashtags to something such as "Creativemarketing" or "Creativelifestyle" it will give you more of a specific targeted audience and reach. The key is to find your audience and attract them to your page. Below I will share some quick Instagram hashtag tips to help boost your engagement on the platform
---
1. Use all 30 hashtags
Ok! This is a gem that a lot of people don't take advantage of when posting a new photo. By using all 30 hashtags you increase the chances of your photos being seen by more potential clients & followers. Right after I post a photo on Instagram I post 30 relevant hashtags under the photo in the comment section.
In the beginning, like most people, I didn't post many hashtags under my photos. As a result of that, I didn't get very much engagement on my pictures or my Instagram profile. By posting very few random hashtags on my photos I didn't see much growth on my photos.
For example– check out one of my first pictures on Instagram below and look at my engagement on the photo.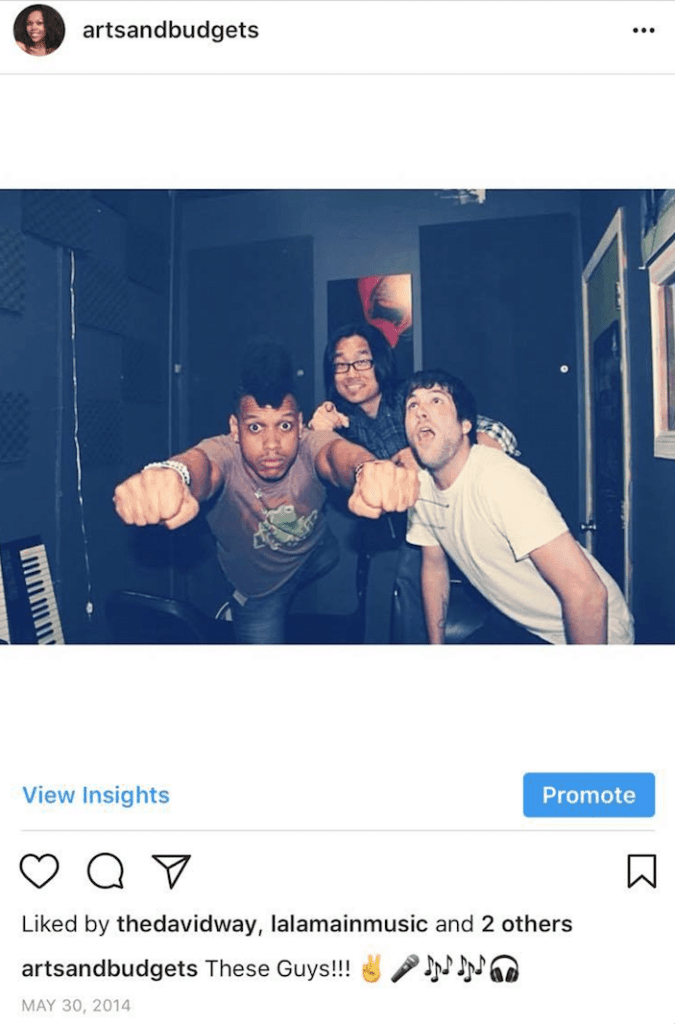 Pretty rockstar photo, right? But look at the engagement– close to NONE!
On the specific photo, I didn't use any hashtags at all so it isn't surprising to me now that it didn't get much engagement. On Instagram, you can use up to 30 different hashtags for each photo. I always suggest using all 30 to expand your reach every time you post.
Using all relevant 30 hashtags played a huge part in my engagement going up. Below is one of my latest photos on my page.
This photo got over 600 likes and over 60 comments and I credit some of that to the hashtags that I used under the photo in the comment section.
2. Use Hashtags in your niche
Using relevant hashtags is so important because it helps you connect with people in your niche and connects you to people who are interested in what you post daily. You want to use hashtags that your potential new followers are already browsing.
A fashion blogger wouldn't gain as much success using random hashtags such as #DogLife or #TechnologyLove.
Now, why would that be? Simply put– It would put the fashion blogger's photos in front of the technology and animal niches and wouldn't put their work in front of their niche industry of fashion. So, if you are just beginning it's a great idea to do some hashtag research within' your niche.
Since hashtags research is super important when building a profile, one of the first things I did when I started adding hashtags was research and analyze the different hashtags in my industry. When picking hashtags you should have your "Ideal" user in mind that you want to attract.
Think about who your ideal user is. Is it Moms? Dads? Animals Lovers? Creative Business owners?
If you are just starting out with hashtags it's a good idea to do hashtag research and research what others in your niche are using for hashtags and come up with a set of 30 (or more) that fit you. No two people will have the "same" hashtags but it's wise to see what others within' your industry are using too.
3. Hashtag Research
When you do hashtags research it's a good idea to search what hashtags people in your niche are using but don't copy their hashtags exact. It's important to come up with hashtags that fit in with your feed & theme of your profile. It's a great idea to go with hashtags that go with your business and audience.
Remember it's important that you stay true to your feed because you will attract the followers who will love your content. What better way to do then by finding your own personal group of hashtags.
Remember it's important that you stay true to your feed because you will attract followers who will love your content. A good way to do that is by finding hashtags that go with your brand and theme.
Also, make sure to switch up hashtags every so often to see how the hashtags are performing. You can also conduct hashtag research by using the Instagram search option by clicking the magnifying glass at the end of your Instagram homepage and selecting "Tags". When you type in a specific hashtag in the search box Instagram will give you some other suggestions of other hashtags that might fit in with your niche.
4. Post Your Hashtags right after your post
When you post your photo make sure to post your hashtags in the comment section or in your caption of the post. Hashtags appear in the hashtag feed in the order that you post your photo so if you post a photo at 5 pm and then post your hashtags at 7 pm you will miss a huge chance for engagement as photos normally have the highest spark right when you post.
Posting hashtags way later on your photo will quickly get the photo lost in the hashtag feed. To save time I type all my hashtags out in google doc then copied them onto my "note" section on my iPhone. Right before I post I copy the hashtags from my phone and put it in the comment section of my photo within' seconds and no longer than 1 minute after posting.
5. Super Popular Hashtags
Using hashtags with a ton posts makes it harder for your photos to get seen in the hashtag feed. Normally when you post with a hashtag that has let's say 30 million other posts your post can get buried because the feed moves very quickly.
For example, the hashtag #Fashion has over 300 million posts which mean if a fashion blogger uses that hashtag when they first start out on Instagram their photos might get lost in the Instagram hashtag feed.
When I researched the #Fashion hashtag and I noticed that the photos changed in the feed within seconds when I refreshed the page.
That's why it's better to use hashtags with a smaller pool of photos in it. Keeping hashtags close to your brand really helps with sending the right people to your profile and not spammers.
What does it mean to narrow down hashtags?
Narrowing hashtags mean to break down your focus hashtag word even deeper. For example, if you search the hashtag, "#Excerise" you will see a ton of different posts with a wide demographic. Using more narrow hashtags with a deeper focus such as "Cardio" or "fitmom" will help narrow down your audience a little bit more.
6. Irrelevant hashtags
When I first started posting hashtags on Instagram I would put hashtags such as #followback #happy #Love and #like4like on some of my photos. It didn't matter if I posted a picture of my dog or if I posted a picture of a recording studio I would normally put those default hashtags on my photos.
The problem that I came across is that my hashtags weren't relevant for the photos I was posting so I would attract random spammy accounts to my page. When it comes to posting hashtags it's a good idea to post hashtags that are relevant to your theme and/or niche. Since I post a lot of creative content and also content about side hustles and budgeting I built a list of relevant hashtags for those niches.
7. Keep Your Hashtags Organized
When building up your hashtags library it's important to make sure to keep them organized in an excel or Google sheet document. Since you will probably track your hashtags manually it's a great idea to store them in an excel document to put less stress on you. This will also help you keep track to which hashtags are working best for you and which ones aren't.
Using a tool such Iconosquare can help with storing hashtags for you and keeping your content organized when you can fit it into your budget. This tool automatically stores top hashtags and give you a report on which hashtags works best from the content that you post.
8. Follow Your Hashtags
Another cool way to see what people are posting with the hashtags that you use is by following it on Instagram. This method is awesome if you want to connect with others in your niche and see what they are posting on a daily basis.
I currently follow the hashtag " BoyMomLife" and get to see what other bloggers who are boy moms post every day. I also engage with some of that content I see in my feed with that hashtags. So, follow a few of your relveant hashtags and research what others are posting.
So there you have it!! After I started implementing those 7 hashtag strategies I saw an increase in my engagement on my Instagram page.
---