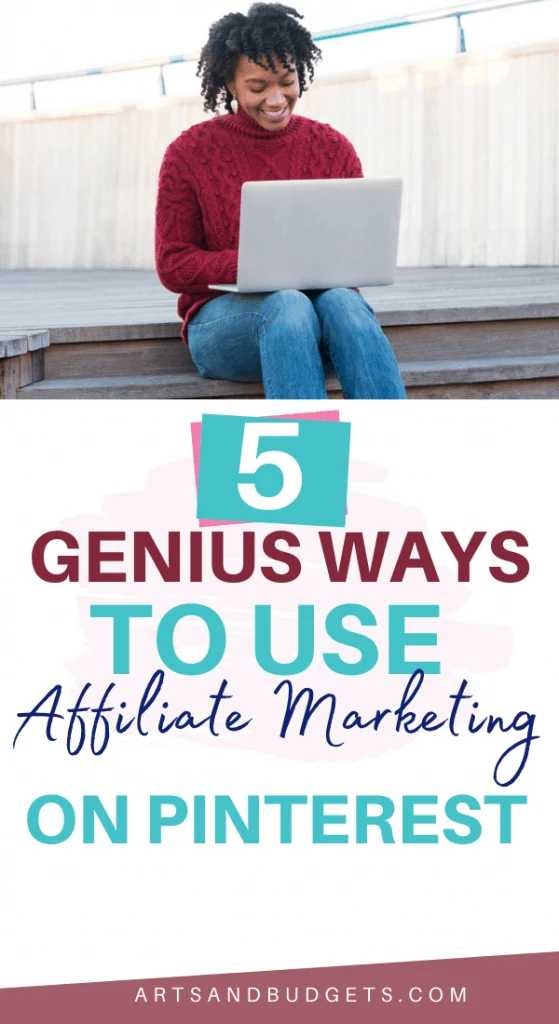 Do you have a blog that you promote on Pinterest?
If so, you could be making extra income right from this platform.
Is it possible! Yes! I currently make money right from using Pinterest!
Yes, I do! Just recently I shared in a post how I made over $1800 blogging in one month! So, you can TOTALLY make great money from blogging and doing what you love!
One of the ways I make extra money with Arts and Budgets is through affiliate marketing. Affiliate marketing is one of my favorite ways to make passive income.
So – What is affiliate marketing?
With Affiliate Marketing you are rewarded for recommending and promoting products and services that you have on your blog. You will receive a commission for any sales that occur from your referral link. For example, if you are an affiliate for a survey site and post your direct link on your website, you will get rewarded every time someone signs up through your link. Pretty cool, right?
There's something for everyone in affiliate marketing.
Some of the products you can promote are as follows: Cell phone companies, digital products, other blogger's Ebooks and E-courses (after you have purchased them), clothes, crafts, blog-related products such as web design, web hosting, and more.
The opportunities are absolutely endless in this field!
Below I have listed 5 ways you can promote your affiliate products from your blog on Pinterest to make extra money!
Ok! Let's Get started To Find Different Ways You Can Promote Affiliate Links On Pinterest!
RELATED POSTS
10 Pinterest Tips To Rapidly Grow Your Blog + Biz
---
1. Write A Review Post
This is one of the best ways to promote your product online. One way you can do this is by purchasing someone's e-book or e-course and then writing up a review about how it has helped you, your business, and or blog. If the author or course creator has an affiliate program ask them about how you can sign up to be an affiliate for their program to promote their product.
Once you get accepted into their affiliate program you can then write up a blog post about why you love the product and why your readers would love the product too. In this post, you will include your affiliate link from the creator's program, and every time someone clicks the link and purchases the product through your link you will be rewarded and paid. Pretty awesome, right? Once you finish writing your review post you can make a pinnable image and start promoting via Pinterest.
2. Write A Tutorial Blog Post
This is also another amazing way to promote affiliate products. Is there something that you do very well? Or is there something that people ask you for help with? If so, then you can probably write up a tutorial post and post it on Pinterest. An example of a tutorial post is my post on "How to Start a Blog" HERE.
3. Make Multiple Pinnable Images
So, when you've written up a review and or a tutorial post, the next thing you want to do is make multiple pinnable images for the post. I normally design 2 to 3 pinnable images for all my Pinterest posts right on Canva. Below is an example of one of my posts with 2 different pinnable images. Creating more than one pin image for the same post help with maximizing exposure on Pinterest.
4. Create a Resource Page
Do you have a list of your favorite blogging recommendations and resources? If so, then create a resource page with a list of your favorite products and, include your affiliate links to your favorite products and resources. After that, make a pinnable image of the resource page and post it to Pinterest to promote it. For an example of how to set up a resource page, check out how I set up mine

HERE

.
5. Promote On Group Boards
Another cool way to promote your favorite affiliate products is by utilizing different group boards on Pinterest. If you make 2 to 3 different pinnable images of the same post, that will make it easier to promote your review, resource page, and/or tutorial posts onto different Pinterest groups boards. If you are looking for more information on Pinterest Group Boards and how to join them, check out my detailed Pinterest post HERE.
Additional Ways To Make Money With Affiliate Marketing On Pinterest
Add Affiliate Links to Your Website: This one is more for your website, but it's another cool way to promote your favorite products! Simply get the ad from your affiliate company and post it on your website. One of my favorite places to purchase great themes is Restored 316. On my blog, I include a banner of their website in the right sidebar. When clicked, it leads my readers directly to their site to check out their rock star themes.
And… If you are looking for new affiliate marketing programs to sign up for FREE, below are my favorites!
ShareASale – This program has a TON of different affiliate products to pick from! I Love it!!!!
OfferJuice – I just recently started working with OfferJuice and it's AMAZING. I made extra income very quickly just by promoting their awesome surveys!!
IGain – I really love IGain customer service and they are really easy to get set up.
Bluehost – Bluehost is my probably my favorite hosting site and it's super easy to use! If you are looking to start a blog… this is A GEM!
SurveySavvy – This is a pretty cool survey site! I just signed up but so far I am really loving it!
Linqia – Is another awesome program for sponsored posts.
Amazon Associate – This program is one of the easiest affiliate programs to join and use! When anyone clicks on an Amazon product you recommend and then purchases that item, you will earn a commission!
To maximize your exposure on Pinterest make sure to check out my detailed post on how to get your pins seen in the Pinterest Smart Feed by clicking here!
So, there you have it! 5 different ways to promote your affiliate products via Pinterest! Oh, and make sure to disclose when you promote affiliate links on your posts as well. That's just a friendly reminder to your readers that affiliate links are included in the post. If you are looking for an Affiliate WordPress plugin to post in your posts check out FMTC Affiliate Disclosure.
What are your favorite AFFILIATE Networks?